Cielo pintado de rosa/ Pink painted sky - Fotografía y haiku - Daily&Fresh (120/365)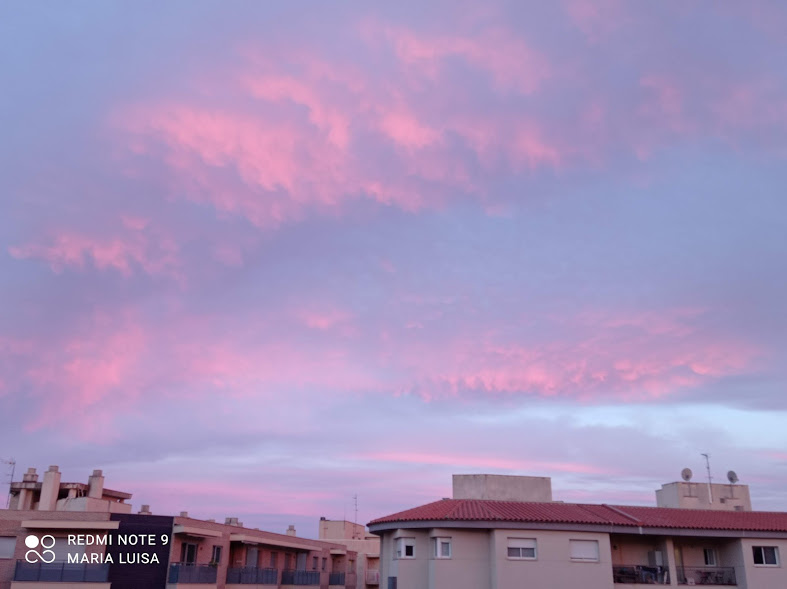 Hospitalet, Cataluña.
Esta fotografía es del jueves 14 de julio a las 21:34. El cielo mostraba aún su azul pero se pintó de rosa, originando franjas violáceas, en distintos grados de intensidad. Es increíble la luminosidad existente a esa hora. Realmente una excelente pintura, que inspiró un haiku y, recuerden, el haiku no lleva título.
Celeste arco
rosado sobre azul
desplegado.


This picture is from Thursday July 14 at 9:34 PM. The sky still showed its blue but was painted pink, creating purple stripes, in different degrees of intensity. The existing luminosity at that time is incredible an excellent painting, which inspired a haiku
Celestial pink
bow on blue
unfurled.


♠Para el texto en inglés, utilicé el Traductor de Google.
♥Mi amiga @sacra97 sigue la iniciativa Daily&Fresh de @gamer00, yo los sigo a ambos.
♥Las fotografías y los separadores de párrafos son de mi propiedad, puedo utilizarlos en otras publicaciones.
♥Publicación original de 
@mllg
♠ For the English text, I used Google Translate.♥ My friend @ sacra97 follows @ gamer00's Daily & Fresh, I follow both of them
♥The photograph and the paragraph separators are my property. Y could use them in other posts
♥ Original post by @mllg

GRACIAS POR LEER Y VALORAR MI PUBLICACIÓN
THANK YOU FOR READING AND VALUE MY POST



---
---