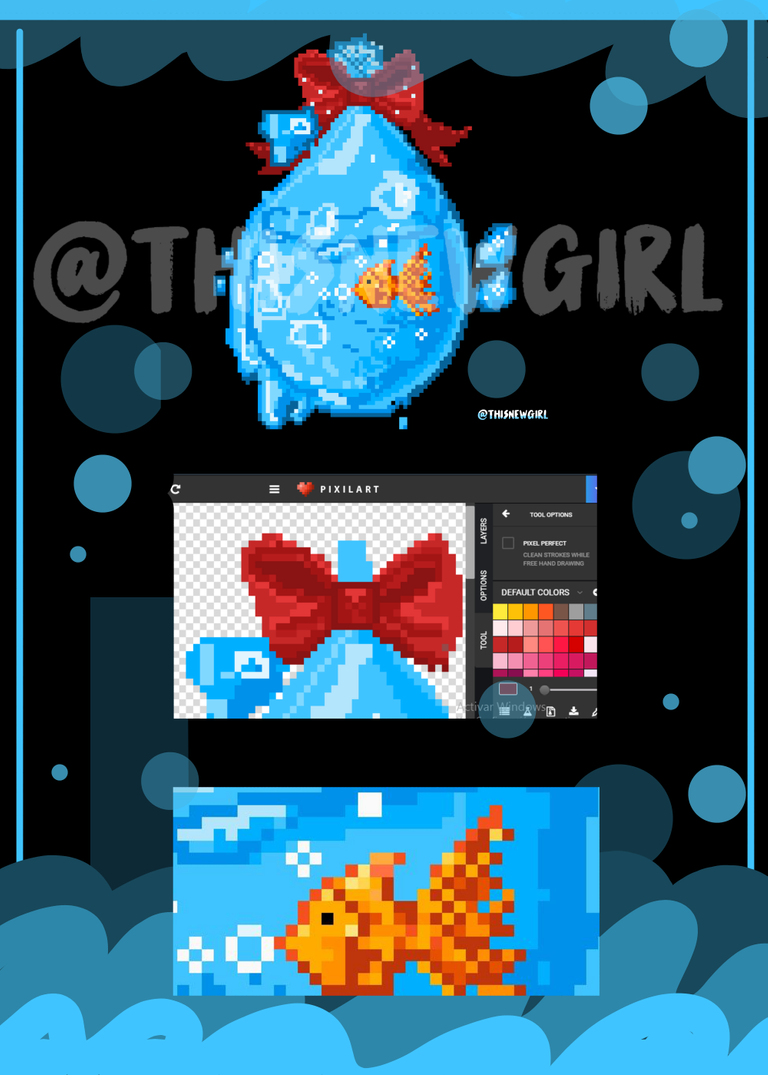 Hello hive friends
little and big bees!
This time I bring you my process
and step by step making pixel art
and recommending you visit my gallery in NFT Showroom
where I will be selling a lot of pixel art that I will make this week!
Hola amigos de hive
pequeñas y grandes abejitas !
En esta oportunidad les traigo mi proceso y paso a paso realizando pixel art
y de recomendandoles visitar mi galería en NFT Showroom en donde estaré vendiendo mucho pixel art que realizaré esta semana!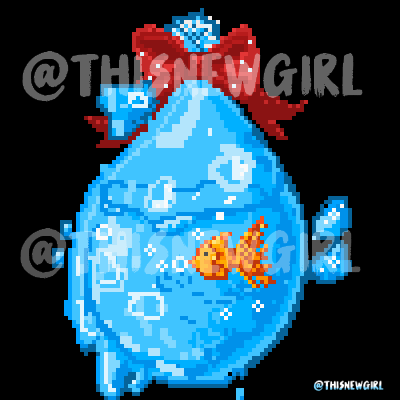 Final score
copyrighted
DRAWING PROCESS :
Primero elige un formato a usar ~

realiza un boceto simple

y comienza a colocar los colores que quieres utilizar
A continuacion están las imagenes de mi proceso
El programa que utilicé fue :
Pixilart <3
First choose a format to use ~

make a simple sketch

and start placing the colors you want to use
Below are the images of my process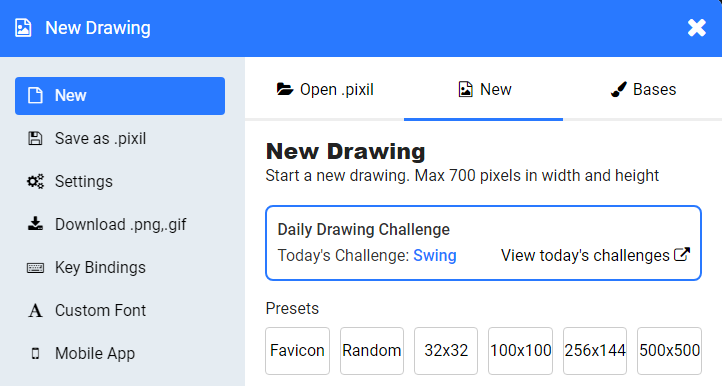 I don't want to miss the opportunity
to highly recommend to all the artists and creators of Hive ~ <3
join NFT Showroom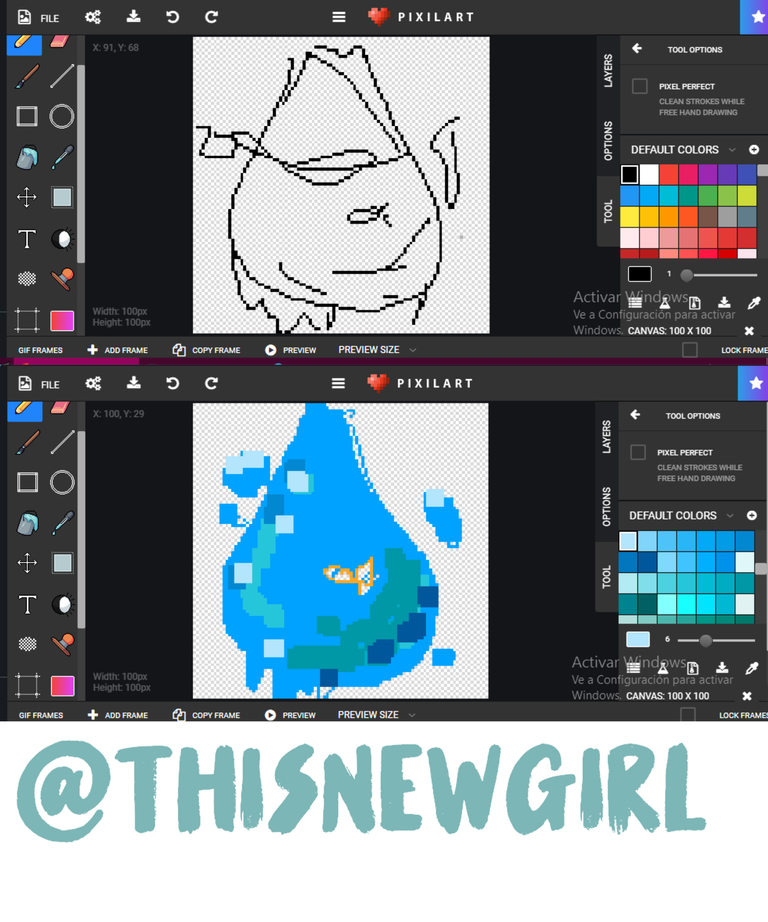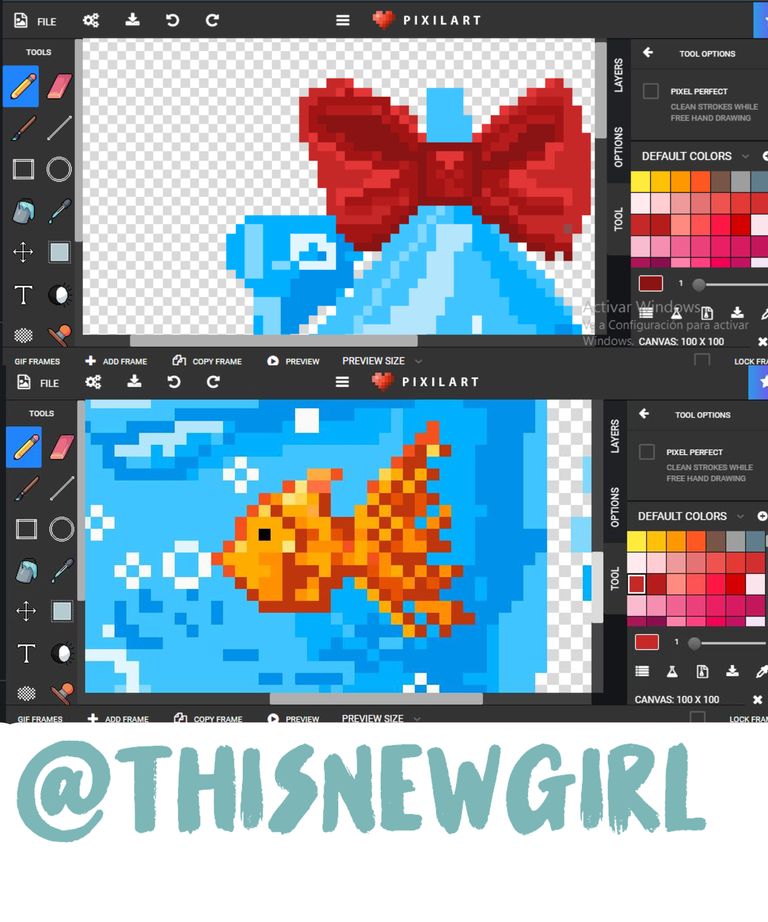 Note:
When you test pixel art you should do it frame by color frame <3
It is an activity in which you must have enough patience
Nota:
Cuando pruebas pixel art debes hacerlo cuadro a cuadro de color <3
Es una actividad en la que debes tener bastante paciencia
click here to follow me on twitter
ℍ𝕚! 𝕀𝕗 𝕪𝕠𝕦 𝕘𝕠𝕥 𝕙𝕖𝕣𝕖, 𝕥𝕒𝕜𝕖 𝕒 𝕝𝕠𝕠𝕜 𝕒𝕥 𝕞𝕪 𝕠𝕥𝕙𝕖𝕣 𝕡𝕠𝕤𝕥𝕤! 𝕐𝕠𝕦𝕣 𝕧𝕠𝕥𝕖 𝕙𝕖𝕝𝕡𝕤 𝕞𝕖 𝕘𝕣𝕠𝕨
the links you see below are direct entries to each of my posts
💐𝐵𝓁𝑜𝑜𝓂𝒾𝓃𝑔 𝑜𝓋𝑒𝓇 𝓎𝑜𝓊💐 15/08/2020 𝔻𝕒𝕚𝕝𝕪 𝔻𝕣𝕒𝕨𝕚𝕟𝕘 ℙ𝕣𝕠𝕔𝕖𝕤𝕤[Eng/Esp]
☘️𝒮𝒽𝑜𝓌 𝓎𝑜𝓊𝓇 𝒾𝓃𝓃𝑒𝓇 𝓁𝒾𝑔𝒽𝓉☘️ 14/08/2020𝔻𝕒𝕚𝕝𝕪 𝔻𝕣𝕒𝕨𝕚𝕟𝕘 ℙ𝕣𝕠𝕔𝕖𝕤𝕤[Eng/Esp]
🍋𝒯𝑜𝒶𝓈𝓉𝑒𝒹 𝐿𝑒𝓂𝑜𝓃🍋13/08/2020 𝔻𝕣𝕒𝕨𝕚𝕟𝕘 ℙ𝕣𝕠𝕔𝕖𝕤𝕤
𝐿𝒶𝓊𝑔𝒽𝓉𝑒𝓇 𝒾𝓃 𝓉𝒽𝑒 𝒹𝒶𝓇𝓀_____ 𝒹𝓇𝒶𝓌𝒾𝓃𝑔 𝓅𝓇𝑜𝒸𝑒𝓈𝓈 𝔸𝕦𝕘𝕦𝕤𝕥 𝟙𝟚, 𝟚𝟘𝟚𝟘
🐰𝐸𝓃𝒸𝒶𝓅𝓈𝓊𝓁𝒶𝓉𝑒𝒹 𝒷𝓊𝓃𝓃𝓎🥕__ 𝕕𝕒𝕚𝕝𝕪 𝕚𝕝𝕝𝕦𝕤𝕥𝕣𝕒𝕥𝕚𝕠𝕟 𝟙𝟘/𝟘𝟠/𝟚𝟘𝟚𝟘 ♥意桜いゴ佳🌸 (process/ Daily drawing challenge)
☘️ doodling bunnys ☘️ ☘️ 09/2020
🌹 𝔻𝕒𝕚𝕝𝕪 𝕚𝕝𝕝𝕦𝕤𝕥𝕣𝕒𝕥𝕚𝕠𝕟 𝕒𝕦𝕘𝕦𝕤𝕥 🌹 08/2020 🍀 KIKI´S ADVENTURE! drawing process/ 𝑔𝒾𝒻 𝒸𝓇𝑒𝒶𝓉𝒾❀𝓃 and video drawing process 🍀
🥝 today's second 𝔻𝕒𝕚𝕝𝕪 𝕚𝕝𝕝𝕦𝕤𝕥𝕣𝕒𝕥𝕚𝕠𝕟🥝 Someone from another planet ☄️
🐝𝔻𝕒𝕚𝕝𝕪 𝕚𝕝𝕝𝕦𝕤𝕥𝕣𝕒𝕥𝕚𝕠𝕟 𝕒𝕦𝕘𝕦𝕤𝕥🐝 06/2020 (illustration process)🍂
🌸 𝔻𝕒𝕚𝕝𝕪 𝕚𝕝𝕝𝕦𝕤𝕥𝕣𝕒𝕥𝕚𝕠𝕟 𝕒𝕦𝕘𝕦𝕤𝕥 🌸 05/2020 (Drawing process)
🌸𝒜 𝒷𝑒𝒶𝓊𝓉𝒾𝒻𝓊𝓁 𝒹𝓇𝑒𝓈𝓈🌸 𝔻𝕒𝕚𝕝𝕪 𝕚𝕝𝕝𝕦𝕤𝕥𝕣𝕒𝕥𝕚𝕠𝕟 𝕒𝕦𝕘𝕦𝕤𝕥 𝟘𝟙/𝟚𝟘𝟚𝟘🌸 (Drawing process)
🎀 𝒜 𝑔𝓇𝑒𝒶𝓉 𝒻𝓇𝒾𝑒𝓃𝒹𝓈𝒽𝒾𝓅 🎀 𝔻𝕒𝕚𝕝𝕪 𝕚𝕝𝕝𝕦𝕤𝕥𝕣𝕒𝕥𝕚𝕠𝕟 𝕛𝕦𝕝𝕪 𝟛𝟙/ 𝟚𝟘𝟚𝟘
_______𝐿𝒶𝓋𝓊 𝓂𝑒 𝒻𝑜𝓇 𝓉𝒽𝑒 𝓇𝑒𝓈𝓉 of our lives ________🎀𝕕𝕒𝕚𝕝𝕪 𝕕𝕣𝕒𝕨𝕚𝕟𝕘 𝕞𝕠𝕟𝕕𝕒𝕪 𝕛𝕦𝕝𝕪 𝟚𝟟 𝟚𝟘𝟚𝟘🎀
my last post: a portrait of: 𝕱𝖆𝖇𝖎𝖎 𝕻𝖚𝖋𝖋𝖑𝖊 sunset aesthetic
click here if you wanna see my recent post
𝕱𝖆𝖇𝖎𝖎 𝕻𝖚𝖋𝖋𝖑𝖊 𝒟𝒾𝑔𝒾𝓉𝒶𝓁 𝒹𝓇𝒶𝓌𝒾𝓃𝑔🎀𝓂𝓎 𝒻𝒶𝓋𝑜𝓇𝒾𝓉𝑒 𝓎𝑜𝓊𝓉𝓊𝒷𝑒𝓇 🎀 𝒹𝓇𝒶𝓌𝒾𝓃𝑔 𝓅𝓇𝑜𝒸𝑒𝓈𝓈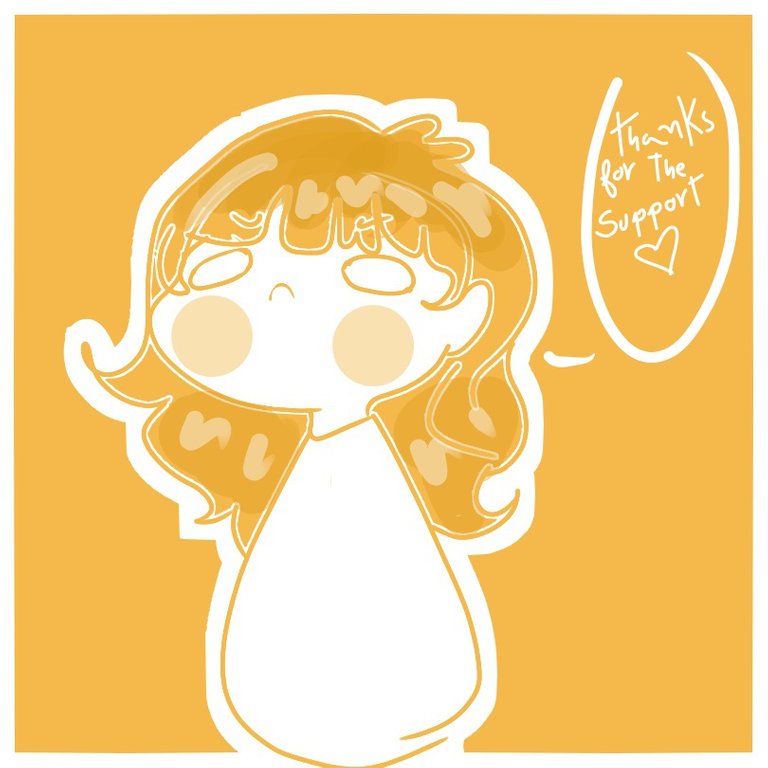 Thank you very much to all the people who vote for my post, you really help me a lot <3 ;; u ;; I'm bad at remembering names but believe me I appreciate you very much because you promote art <3