Have a nice day! Today I will present to your attention my new picture, which is called " Young Fishermen" :-)
For some reason, I wanted to draw my childhood memories. On warm, hot days, we always went to the river as children. It was dangerous but very fun. In our river there were small trout fish and even carp and perch. The river was not far from the house and the nature around was simply amazing.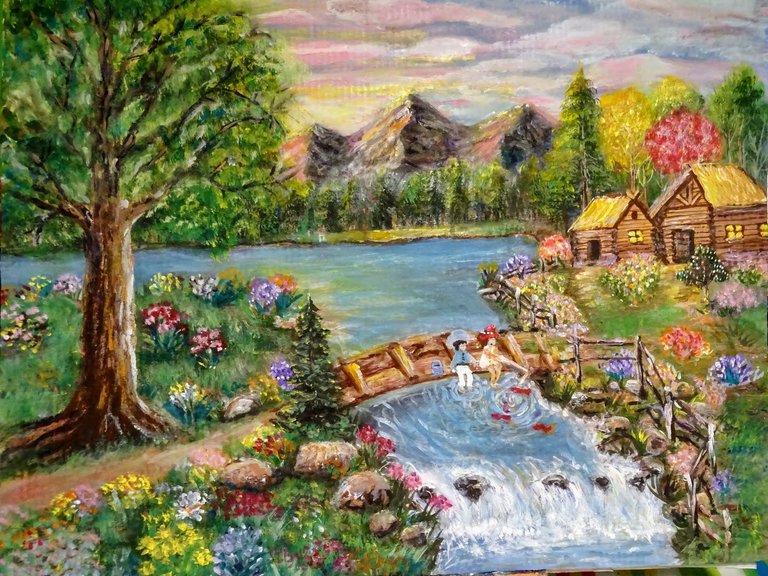 Every morning we woke up to the sound of birds singing. And what the air was like there. Now in the city it is even difficult to imagine that the air is so fragrant and almost floral. What kind of flowers did not grow in those glades.
That's why I started painting this landscape. First, I drew my favorite bridge across the river.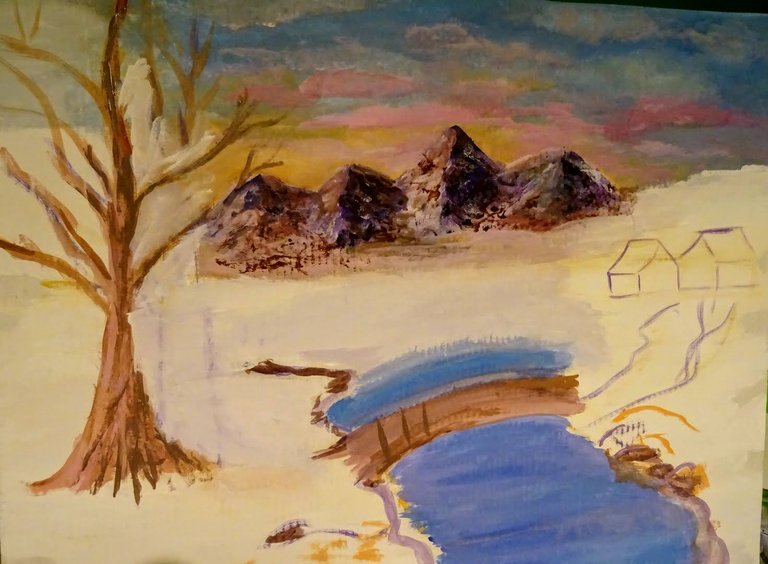 Then I thought about the location of the mountains that were visible from our window. And I marked out a massive oak tree, to which the children and I often came to collect acorns.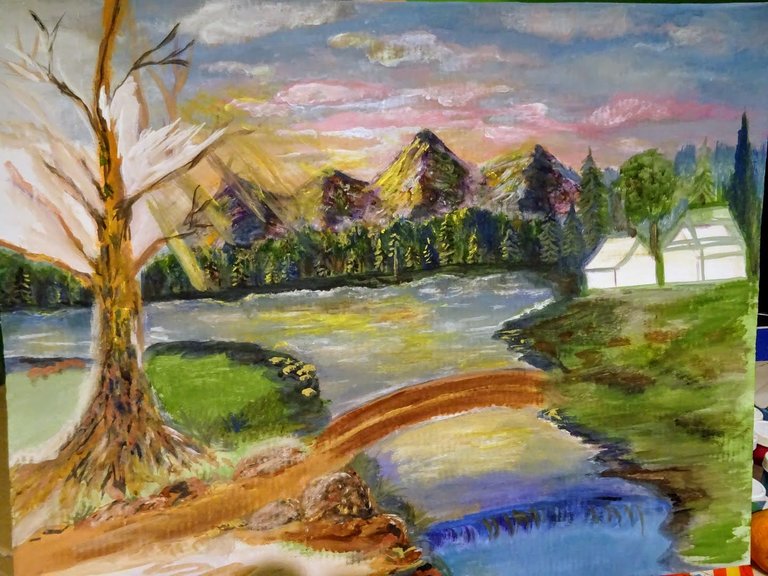 Then she drew a forest in the background. All sorts of trees were there. And firs, and firs, and redwoods...
This time I wanted to show the first rays of the rising sun in the sky. As a child, I loved to run away early to my favorite clearing and watch the squirrels and other agile animals that lived in our forest.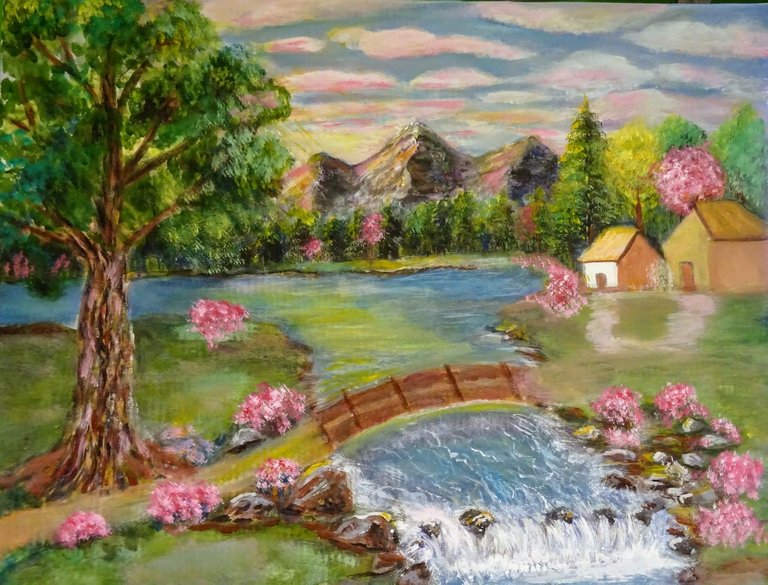 There were many different flowers growing near the river, but I liked the lilac and rose bushes best of all, and bees always flew to them, which circled over them all day, collecting pollen...
I love drawing to come up with a story for my work. Then the case moves faster and more interesting :-)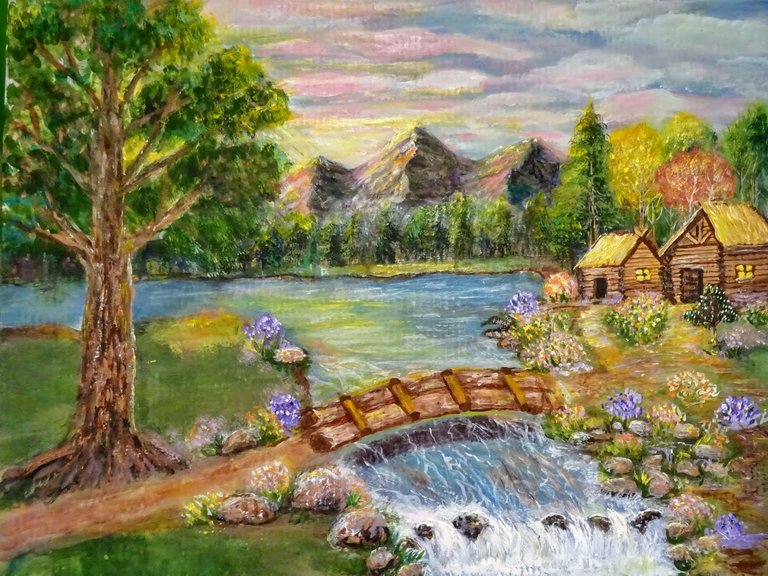 We especially liked to sit near a small waterfall and listen to the sound of water. And there was always a lot of fish in this place. Once they even caught a golden trout with their hands. True everyone was soaked from head to toe :-)
That's how I got a story, accompanied by my creativity :-) Did you like it?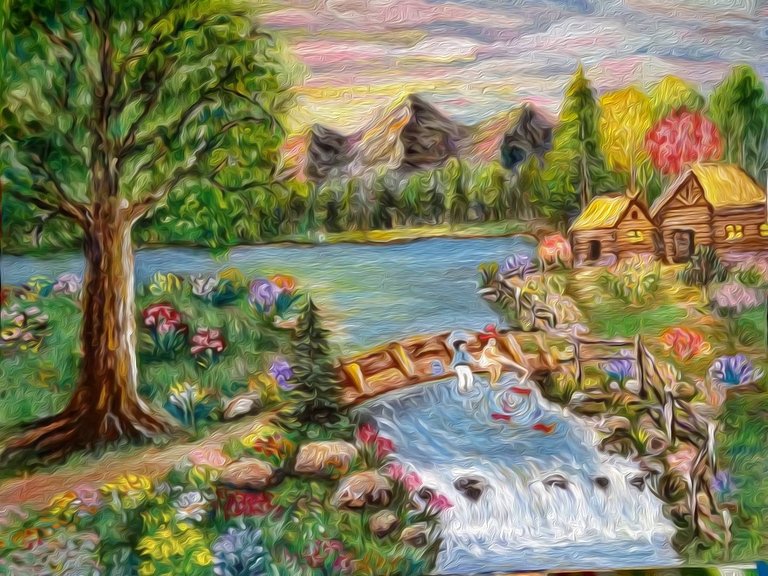 Still and so :-)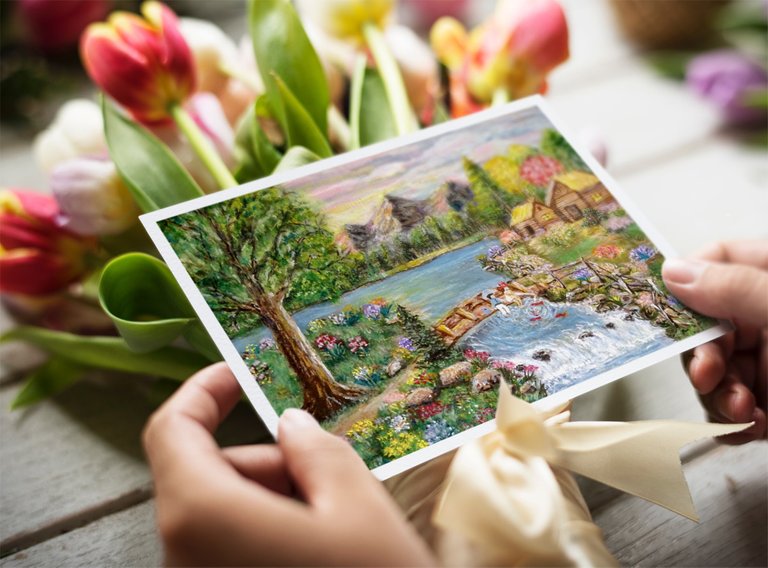 With some imitation of watercolor painting :-)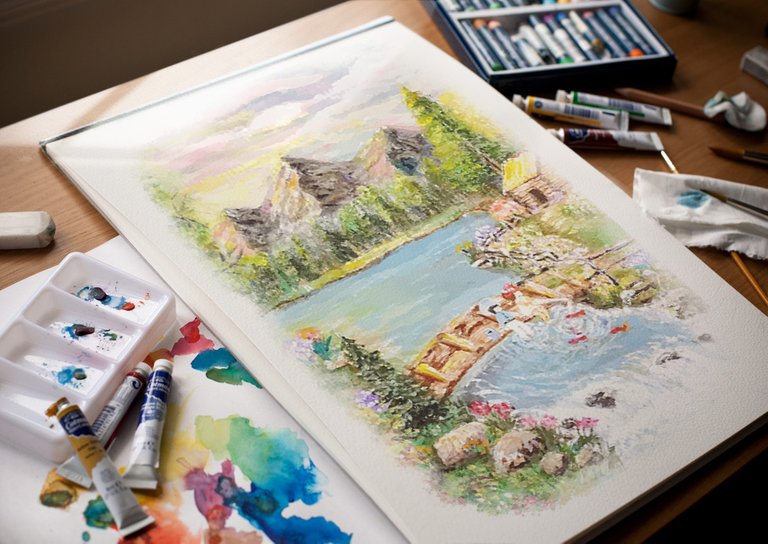 ---
If you like my drawings, then check them out here ! Thank you for supporting me in my work! Your advice helps me a lot! I published many of my works in this portfolio on the website "Deviant Art", and in General, during the year of painting, I drew more than 100 paintings, of course some of them are just drawings, so to speak, a sample of the brush :-)
But there are also good paintings that have received approval even from professional masters of painting!
---
Thank you for Your attention and visit.
I appreciate Your feedback and comments.
I wish you luck and have a nice day!
Best wishes!