Hey! I hope everybody's doing well.
For my participation this week in Splinterlands Art Contest // Week 106 . I took advantage of how dark and mysterious the card I chose is, to do something special and different from the drawings I usually do, since it is the Halloween season, so I thought it was perfect and fun for these days; it is Grim Reaper of the Death element, I hope you like it a lot. As always I made some changes when I recreated the character I chose for this opportunity, to give my own touch to the card, but always respecting the original design of the card.
All my illustrations are made with colored pencils, also with some markers for some details that I want to highlight and paint only for more complex backgrounds. I hope you like the final result of the card I chose, I did it with a lot of love.
Thanks to #splinterlands for giving us the opportunity to express our art in the best possible way through this contest, which I find impressive to see and be part of.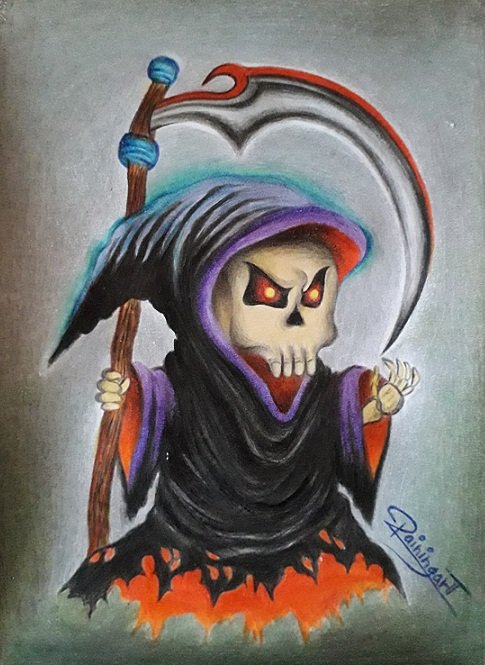 The Making Process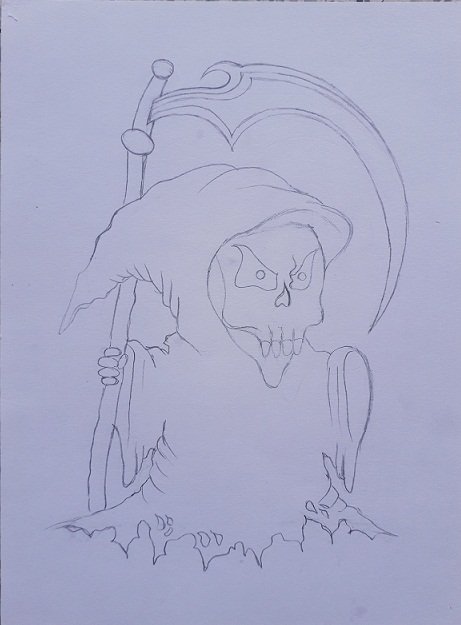 As a first step to make my illustration will always be, of course, to capture with pencil all the parts of my drawing, which in this case will be the character of the card I chose this week. Then, once I have a good base I can start applying the color.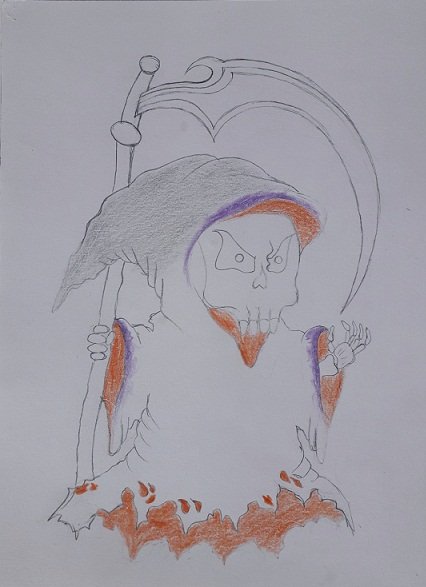 Now in the second image you can see how I start to color the inside of the mantle of this mini reaper in orange, and also some details in purple.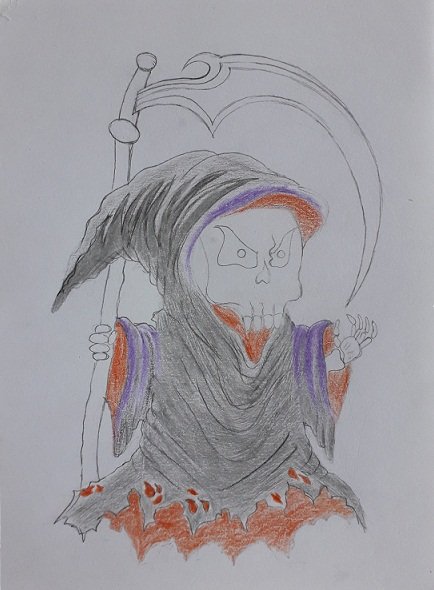 in this step I applied a little bit of gray on the outside of his mantle, always in a very soft way to create a kind of base on which I will continue working on the next images.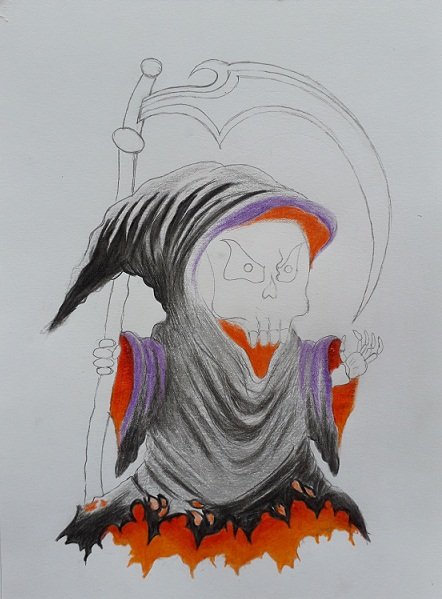 Little by little I'm intensifying more the colors I applied previously, something I love to do since I was a child when I started drawing; since In my illustrations I always try to emphasize the colors a lot.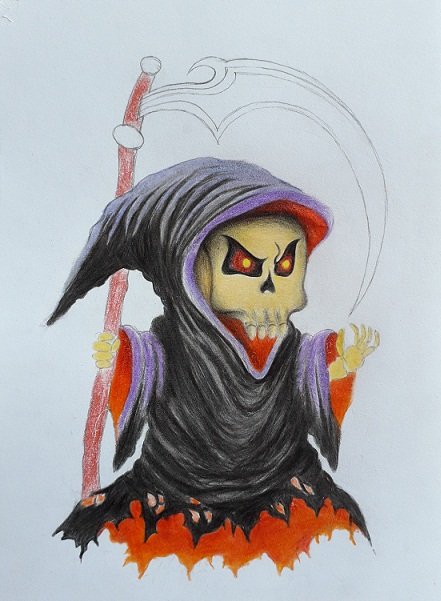 Once I advanced a little more in the color of the mantle that this mini character is wearing, I passed to the skull as such, I applied the cream color as a base and with different shades of gray to give shade in some parts; for the eyes I used black, red and a little bit of yellow to give that point of light.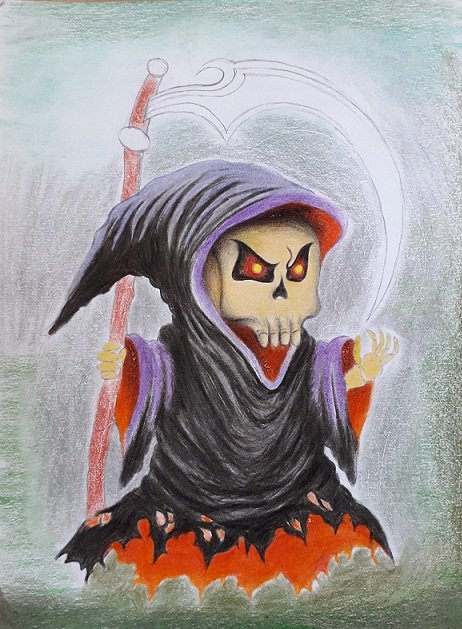 As you can see in the image on top, I just started working on the background of my illustration, without applying very intense color until I discovered how dark it would be.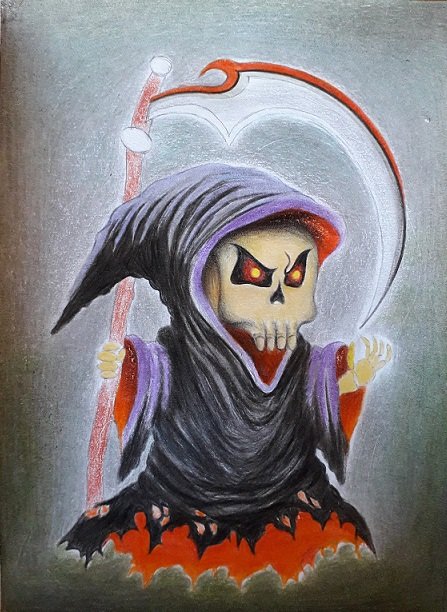 Since I wanted the red and purple color of this character's mantle to stand out as much as in the original card, I decided to make a degraded in gray tones.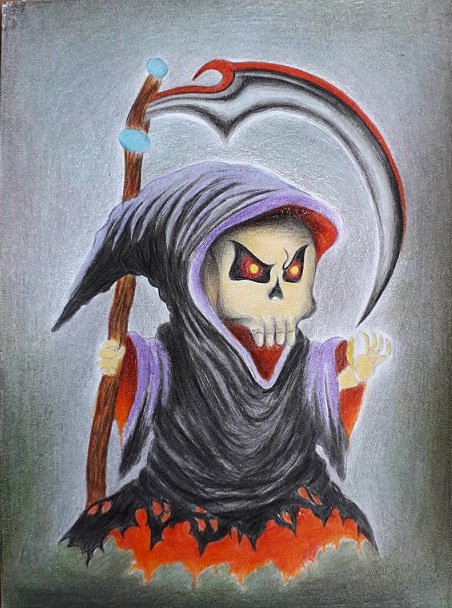 To completely finish the background I intensified the colors much more; I also applied color to the big scythe that holds and characterizes this character. Finally I finished the last details and now my drawing is ready.

Final Result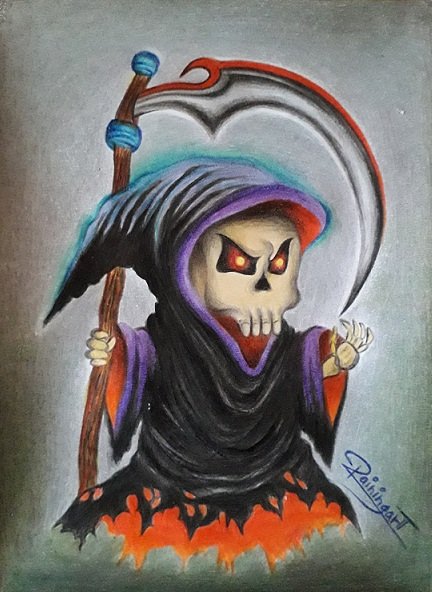 Reference Card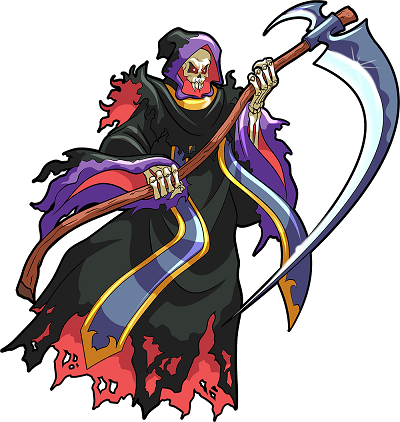 Soon you will be able to see more of my art. Thank you for your support!