"Algo que marca la diferencia en el arte es que no hay reglas", esto fue lo que me dijo @yazp mientras yo elaboraba este collage…y sí, la verdad es que tiene mucha razón. El arte es libre y por esto es que carece de reglas…somos completamente libres para imaginar y dejarnos llevar por la creatividad para crear y dar una forma tangible a nuestras ideas.
Something that makes a difference in art is that there are no rules, this is what @yazp told me while I was making this collage...and yes, the truth is that he is very right. Art is free and that's why it lacks rules...we are completely free to imagine and let ourselves be led by creativity to create and give a tangible form to our ideas.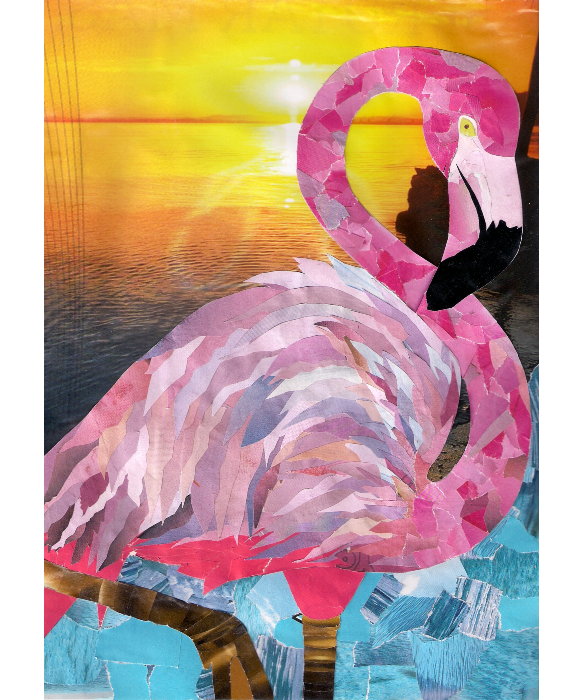 A diferencia de los otros collages que he elaborado, en este, había algo en particular que no terminaba de gustarme… "quizás debí de haber hecho esto en lugar de esto otro" fue lo que le dije a @yazp y su respuesta fue la frase con la que inicio este post, pero al concluir y observar con atención mi resultado final fue inevitable que no me agradara.
Tengo una extraña fascinación por elaborar collages de animales y en esta ocasión quise aventurarme a elaborar un collage de esta hermosa ave. Para mí, la parte más difícil de elaborar en un collage de cualquier ave son las plumas, porque la intención es lograr ese efecto característico de un plumaje.
Unlike the other collages I've made, in this one, there was something in particular that I didn't like... "maybe I should have done this instead of that" was what I told @yazp and his response was the phrase with which I started that post, but when I concluded and looked carefully at my final result it was inevitable that I didn't like it.
I have a strange fascination for making animal collages and on this occasion I wanted to venture to make a collage of this beautiful bird. For me, the most difficult part of elaborating a collage of any bird is the feathers, because the intention is to achieve that characteristic effect of a plumage.

PROCESO || PROCESS
Comienzo dibujando la silueta del animal. A diferencia del Collage del Tigre para el Flamenco no necesito una gran cantidad de detalles dentro del dibujo, pues esos detalles son los que iré creando con los recortes de revista, así que en esta oportunidad el interés principal es la silueta.
I start by drawing the silhouette of the animal. Unlike the Tiger Collage for the Flamenco I don't need a lot of details inside the drawing, because those details are the ones I will be creating with the magazine clippings, so in this opportunity the main interest is the silhouette.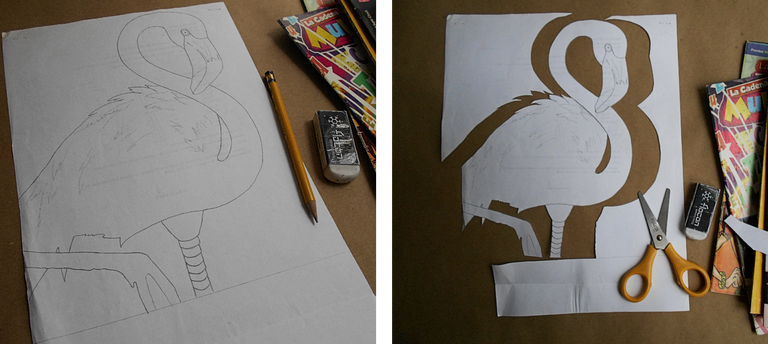 ---
De las revistas tomé diferentes tonalidades de rosado, morado y azul para crear cierto contraste en el plumaje. Esta vez más que rasgar, recorté algo parecido a unas plumas…muchas y de diferentes tamaños.
From the magazines I took different shades of pink, purple and blue to create some contrast in the plumage. This time more than tearing, I cut out something like feathers...many and of different sizes.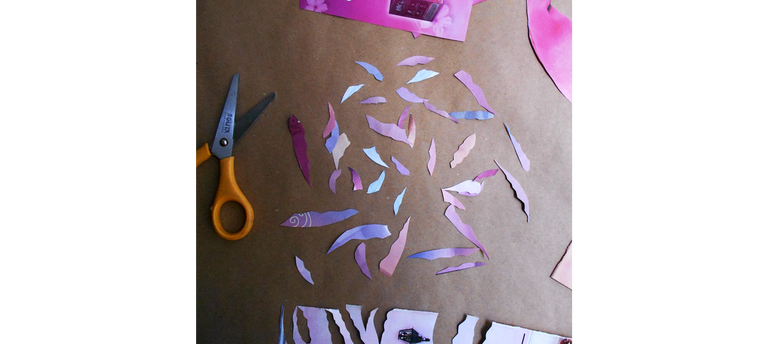 ---
Luego, sólo queda comenzar a rellenar con los recortes. Para el cuello empleé un color fucsia, pues quería un color casi uniforme y bastante distinto al del plumaje. Creo que una de las tantas cosas que me divierte de los collages es jugar con las diferentes tonalidades de colores.
Then all that remains is to start filling in the clippings. For the neck I used a fuchsia color, because I wanted an almost uniform color and quite different from the plumage. I think that one of the many things that amuses me about collages is playing with the different color shades.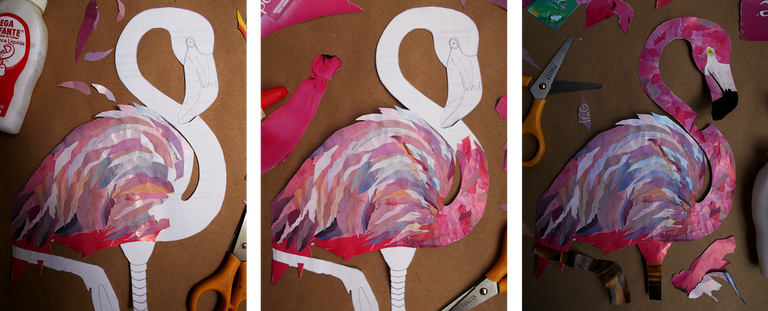 ---
Revisando algunas revisas, me encontré con una gran fotografía del atardecer en una playa…así que no dudé en seleccionarla como fondo. En la parte inferior, coloqué fragmentos azules para simular un "efecto acuático". Los Flamencos habitan en zonas con abundante agua como lagunas y lagos y esto es más o menos lo que quise imitar.
Going through some reviews, I came across a great picture of the sunset on a beach...so I didn't hesitate to select it as a background. At the bottom, I placed blue fragments to simulate a "water effect". Flamingos live in areas with abundant water like lagoons and lakes and this is more or less what I wanted to imitate.

RESULTADO FINAL || FINAL RESULT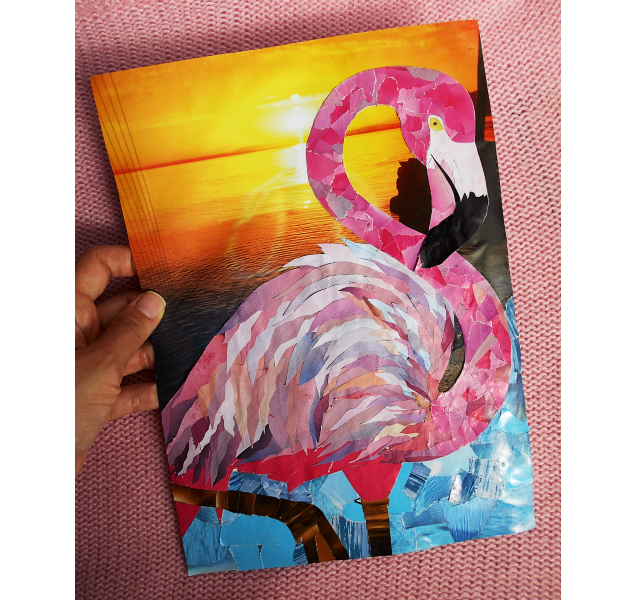 ---
« Mirando un poco más de cerca »
« Looking a little closer »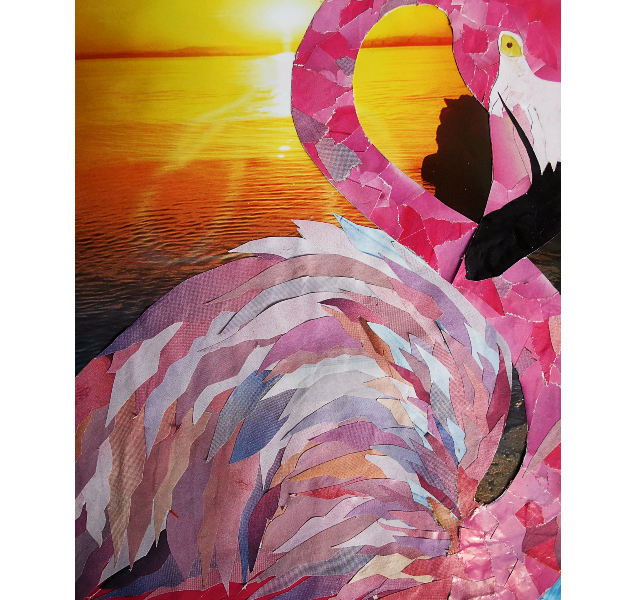 Detalles
Details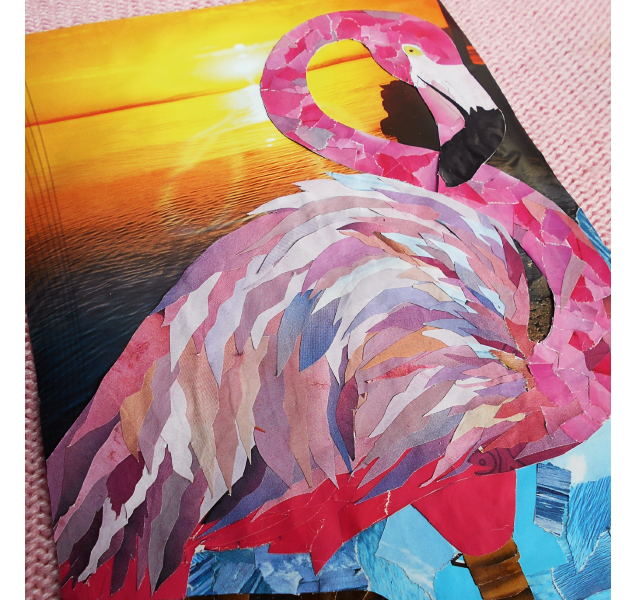 ---
¡Gracias por leer esta publicación!
Thank you for reading this publication!
---
📷 Fotografía por | Photography by : @maryed, Nikon Coolpix S2800.
✂ Separador | Separator: cryptosharon
Translated with www.DeepL.com/Translator (free version)