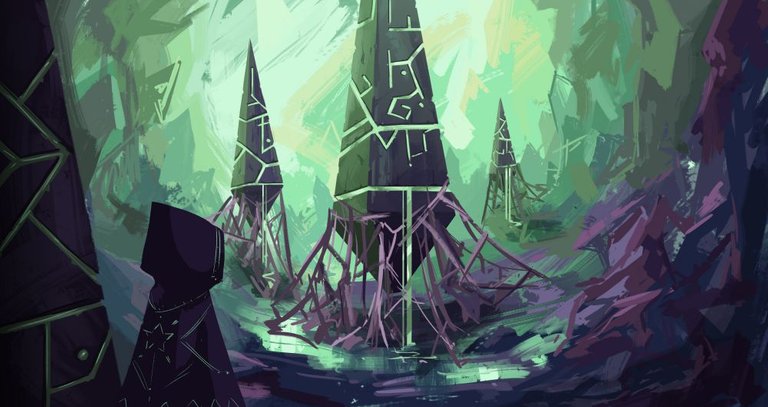 Hi everyone! :D I'm excited to finally share this art with you. Since I've started the adventure series over a month ago, it has evolved incredibly. The first one I did in half an hour, while this one took me 3+h. I'm pushing my comfort zone with each painting and especially this one. My goal is to improve my attention to details and patience. Details can take way longer than painting big shapes. However, details is the best way to tell stories in art.
Check out the full resolution of the painting and the additional story here: https://knownorigin.io/edition/202125
Retweets are much appreciated: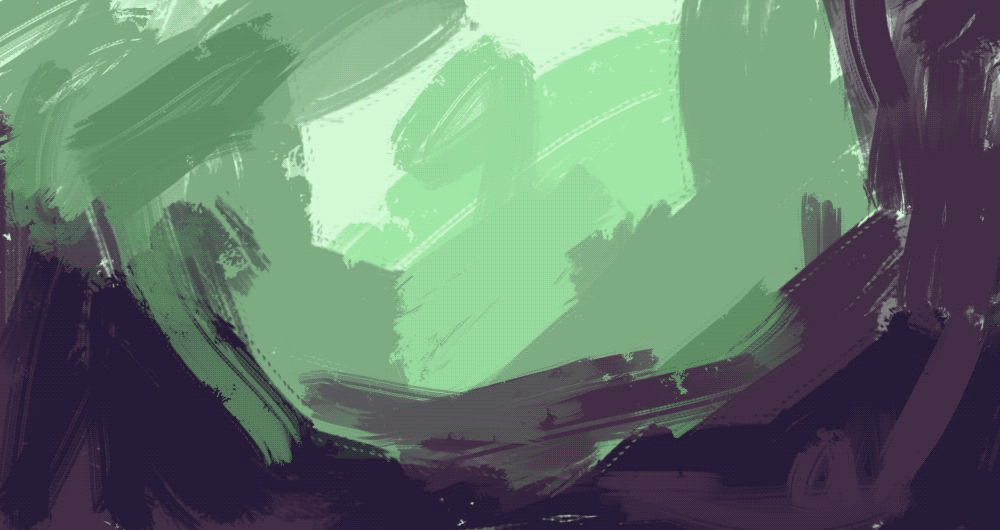 I used strong color contrast, but I always make sure my values read well- I use a black layer set on "color" layer adjustment. I use a lot of various contrasts in this painting to create a tense atmosphere, as these obelisks are actually malicious. They're killing the environment- check the link above for the story. Moreover, this painting is a strong contrast to my previous rather cheerful scenes, but I feel together they create a more diverse and interesting world building. There is good and bad and overcoming problems can be really rewarding.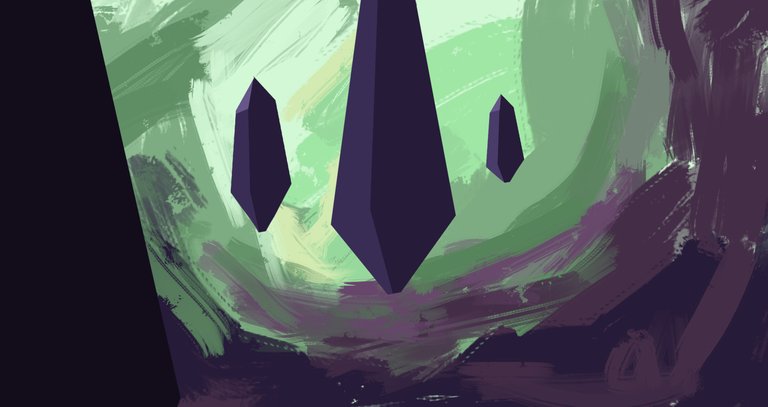 I drew the obelisks on a separate layer, to make it easier to adjust them and add all details later. I wasn't happy with the initial shape, as it felt too bulky, so I made them longer and sharper. Also I used object repetition to accentuate the feeling of space and distance. The objects in the distance start blending with the background.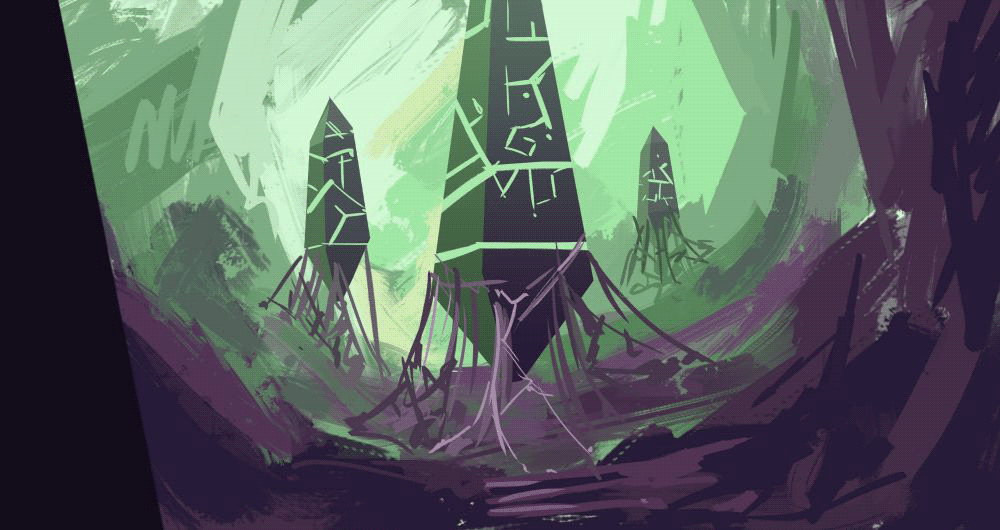 Here you can see the engraving variations, I had a hard time deciding which one to stick to. I really like the "eye" version, but it felt too repetitive and simplistic. I spent a lot of time on this step and detailing out the engravings.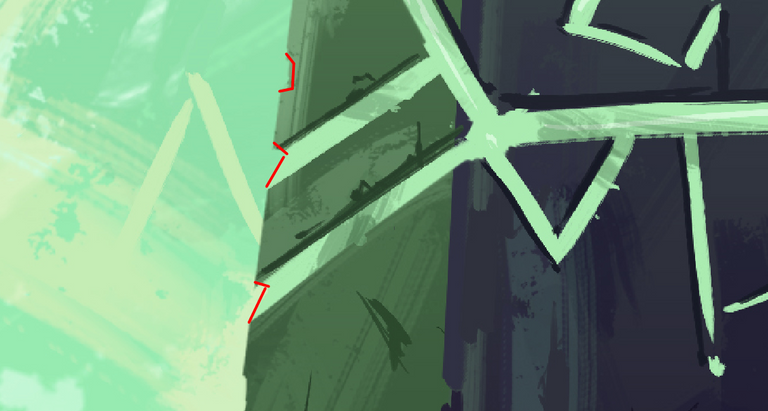 Here you can see the close up, all of the various cracks and textures. I still keep the brush strokes free and painterly, otherwise it would stand out too much in the painting.
The sky is the light source, so I used dark lines from above to create the illusion of engraving. Reversing this would create bevel effect instead of cut out. This is accentuated with how the edges end.

I really love how the liquid turned out- I start with the sky color and then add reflections over it. These kind of reflections are always vertical, but you can add small distortions.
At the end I used some color and hue adjustments to accentuate the cold/unsettling atmosphere more.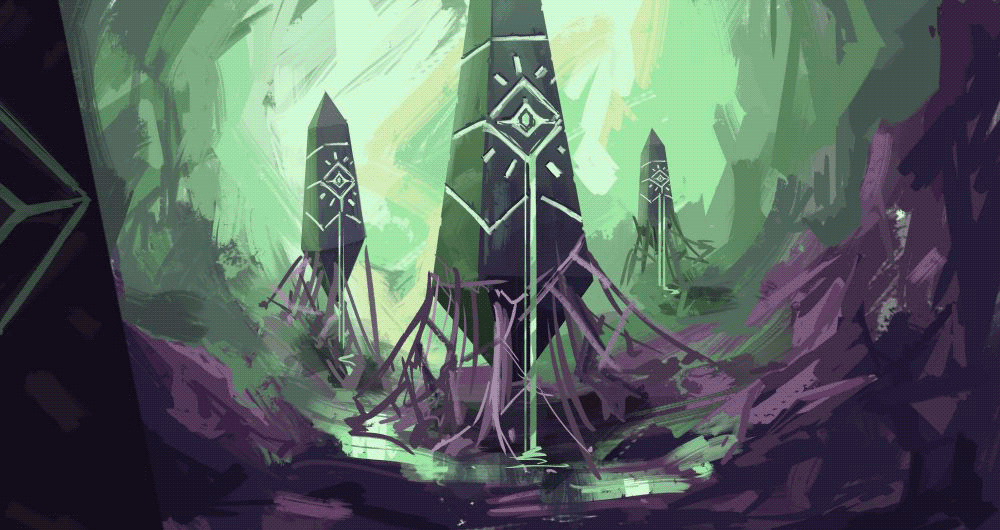 Last but not least- the main character- the hero. She's an adventurer looking for knowledge and ways to make her world a better place.
Full process gif: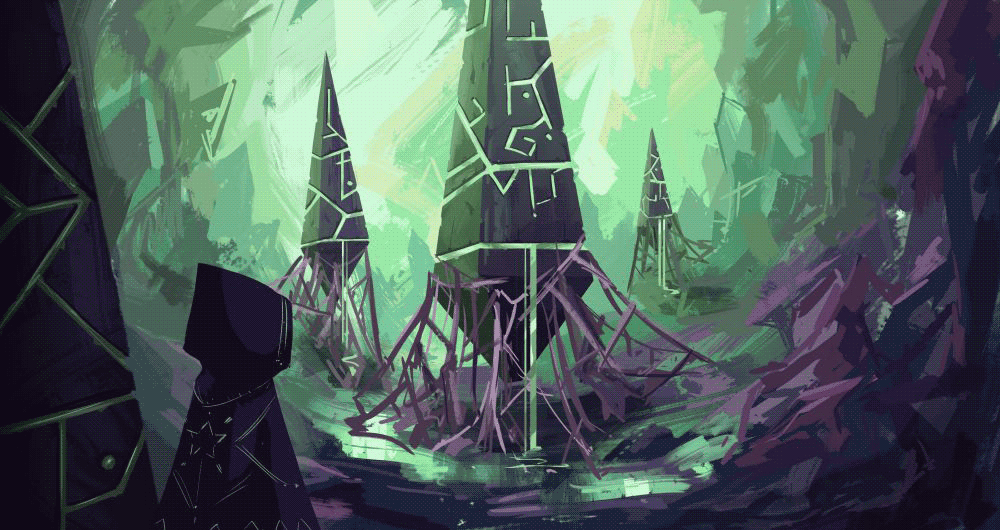 Dragon head winners: (my blog) @mproxima (pixelart community) @flauwy
https://nftshowroom.com/kristyglas/gallery
Also I've started tokenizing some photos (Full Commercial) on Lensy https://lensy.io/kristyglas/gallery :) You can use Hive keychain to log in.
Thank you for checking out my post ^_^