Cucaracha montañera Pinturadigital + gif 🌛Mountain cockroach Digitalpainting + Gif
!Hola, feliz noche!
Viajando a la montaña, quise detenerme para fotografiar a una cucaracha que me topé por el camino, la luz de luna y las estrellas iluminaban la noche. Fue una noche especial y mágica. Tuve una conversación corta con este tan pequeño y odiado animal y me dijo que vivía mucho más tranquila fuera de la ciudad, lejos de los gritos y zapatazos habituales.
Hello, happy evening!
Traveling to the mountains, I wanted to stop to photograph a cockroach that I came across on the road, the moonlight and the stars illuminated the night. It was a special and magical night. I had a short conversation with this very small and hated animal and it told me that it lived much more quietly outside the city, away from the usual shouting and stomping.
---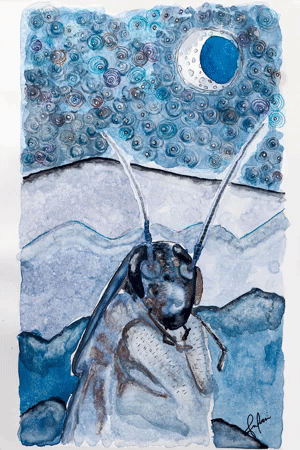 ---
Comparto con ustedes esta ilustración que convertí en un gif y que está dentro de mi galería en
@nftshowroom
Están disponible sólo 4 ediciones.
I share with you this illustration that I turned into a gif and that is inside my gallery at @nftshowroom.
Only 4 editions are available.
El contenido de este y todos mis post son de mi autoría.
---
Si te gustó mi publicación apóyame con un upvote 🔼 If you liked my post support me with an upvote y si quieres también puedes seguirme ❤️and if you want you can also follow me.
Para conocer más de mi trabajo artístico búscame como @fulani en Hive.blog - Steemit y en Dtube 🎨 To find out more about my artistic work, look for me as @fulani on Hive.blog - Steemit and on Dtube.
---
O visitar mis redes sociales:

Arte Fulani
Fulani

artefulani.blogspot.com
---
Si todavía no tienes cuenta en Hive y quieres monetizar tus contenidos
sigue este link para registrarte ✅
If you don't have a Hive account yet and want to monetize your content
follow this link to register
Regístrate en HIVE
---
❤️🧡💛!Hasta el próximo post!💜!See you later!💜💙💚!
---
---