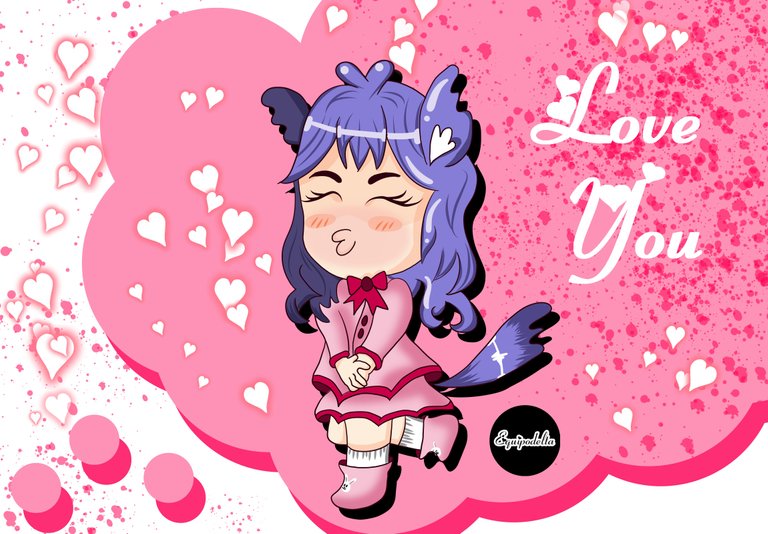 I love cartoons, i am like a child watching children's content, I prefer a thousand times to watch a comic book than a movie, it is not easy to give life to a character.
These days I hadn't realized that this chibi drawing has been with us for many years. I could cite some of them, but I'm sure you know them. So it's not just a caricature, it's a specific kind of art, chibi art, those little chubby and rounded dolls, with a chubby body.
The most current cartoons are accentuating this type of design, something I hadn't noticed until a few days ago. They all give us messages... Generally cartoons in this style, carry tender messages of friendship and sharing, something very rare in these times where the comic strips on television do nothing but show violence.
With this aura of love, I make my design, wishing it is to your liking and share it with someone you love, because it carries a message of love sealed with a kiss.

Amo la caricatura, soy como una niña viendo contenido infantil, prefiero mil veces ver una comiquita que ver una película, no es fácil darle vida a un personaje.
Estos días no me había percatado que esto del dibujo chibi está con nosotros desde hace muchos años atrás. incluso en las historietas. Podría citar algunos, pero estoy segura que los conoces. De modo que no es solo una caricatura, es un tipo de arte específico, el arte chíbi, esos muñequitos cachetones y redonditos, con un cuerpo rellenito.
Las caricaturas más actuales están acentuando este tipo de diseño, cosa que no me había fijado sino, hasta unos días atrás. Todos nos dan mensajes... Generalmente las caricaturas en este estilo, llevan mensajes tiernos de amistad y compartir, algo muy escaso en estos tiempos donde las comiquitas en televisión no hacen sino mostrar violencia.
Con esta aura de amor, hago mi diseño, deseando sea de tu agrado y lo compartas con alguien que amas, pues lleva un mensaje de amor sellado con un beso.

Paso a Paso / Step by Step.

Boceto / Sketch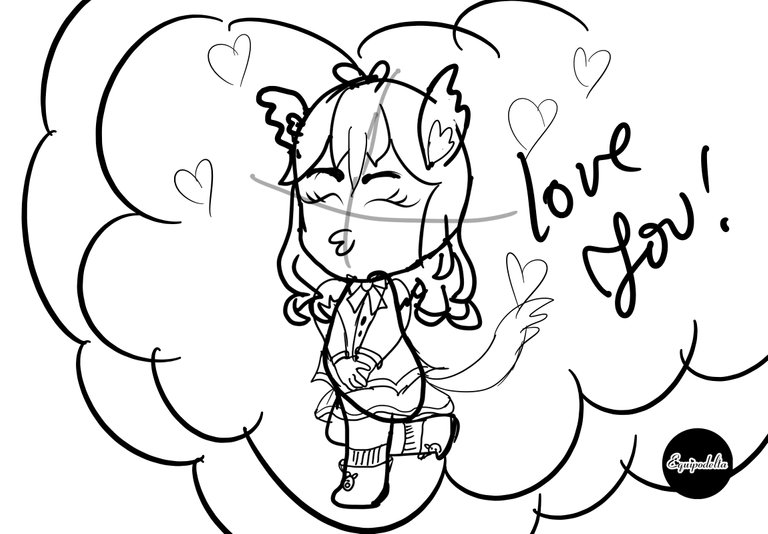 Hablemos del boceto y de mi inspiración. Quería estilo chibi pero algo furry, por lo cual agregue unas orejitas y una colita al diseño. ¿Que tipo de animal es? es un zorro.
Let's talk about the sketch and my inspiration. I wanted a chibi style but something furry, so I added some ears and a little tail to the design. What kind of animal is it? It's a fox.

Line art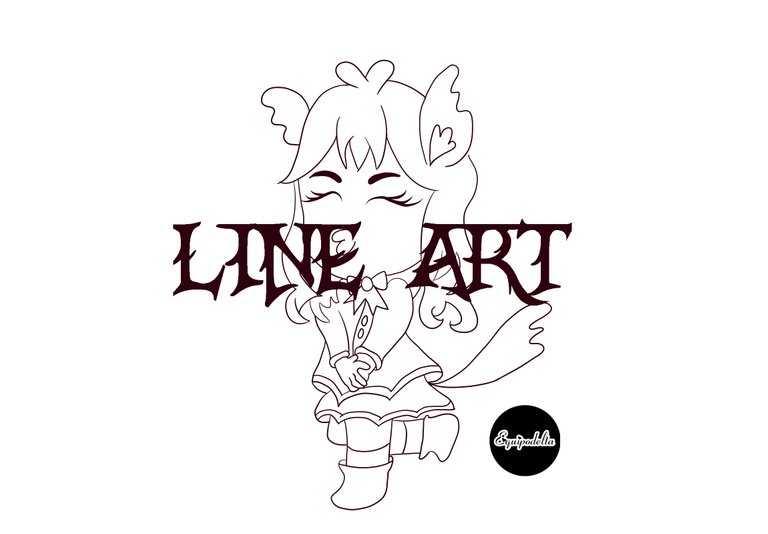 El line art, como te diste cuenta, uso un tono más claro, no sé donde ubicarlo pero está entre un escarlata a marrón intenso, en mi paleta de colores lo fijé así por lo cual siempre uso ese, ya que en tutoriales nos recomiendan no usar líneas de color negro pues tienden a endurecer el diseño.
The line art, as you noticed, I use a lighter tone, I do not know where to place it but it is between a scarlet to deep brown, in my color palette I set it so I always use that, because in tutorials we recommend not to use black lines because they tend to harden the design.

Color Base. / Base Color.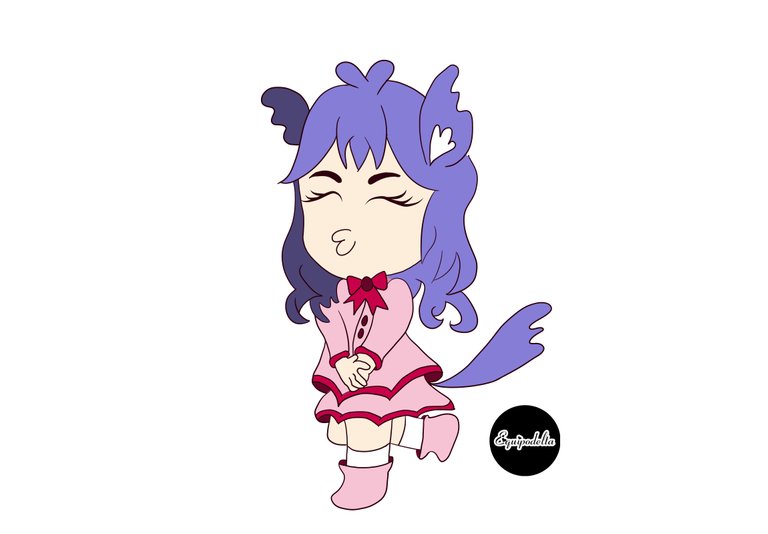 Los colores a emplear, no tanto pasteles, pero en tonos rosa en degradado, haciendo que el más resaltante sea el morado en su cabello, esperando que sea armonioso. como no manipulé la opacidad de las capas para aclarar el color, los mismos fueron agregados en una misma capa.
The colors to be used, not so much pastels, but in shades of pink in gradient, making the most prominent is the purple in his hair, hoping that it is harmonious. As I did not manipulate the opacity of the layers to lighten the color, they were added in the same layer.

Sombreado en piel / Shading in skin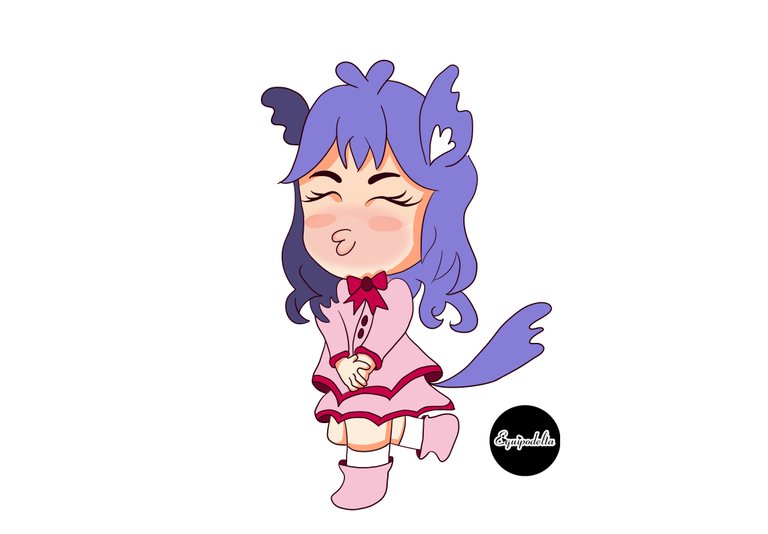 Quise aplicar rubor anime, considero que no me salió bien del todo, pero continué por curiosidad. Del mismo modo que sabes que trabajo, estas fueron manipuladas en su opacidad.
I wanted to apply anime blush, I consider that it didn't work out at all, but I continued out of curiosity. Just as you know what I work with, these were manipulated in their opacity.

Detalles en el cabello / Hair details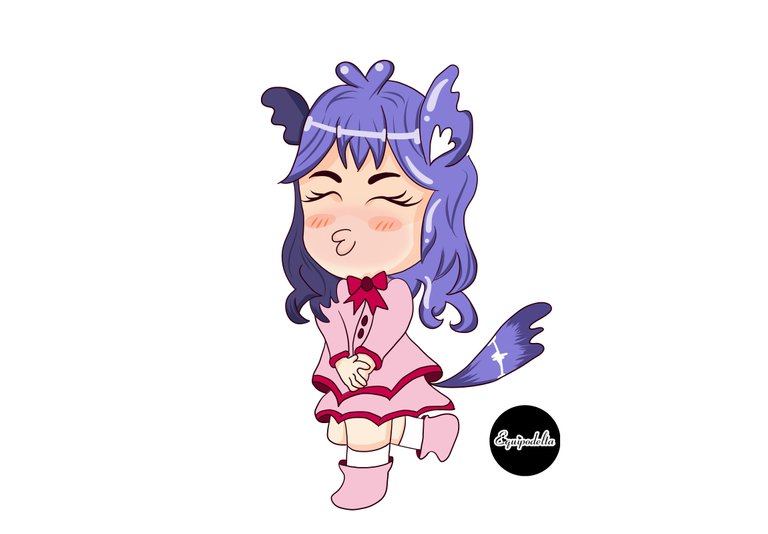 Cada quien tiene un estilo personal de aplicar sombras y luces hoy estuve inventando algo diferente con respecto a las luces en el cabello sin dejar a un lado esa forma de caramelo que tanto me gusta dejarle gracias al pincel. En caricatura somos libres de hacer lo que queramos, pero hay críticos que critican, es la verdad, y dicen que ciertas cosas no se deben hacer como por ejemplo usar aerografía en estos diseños, sin embargo veo que muchos lo hacen y les queda bien, por lo cual no veo porque lo ven de mal gusto.
Everyone has a personal style of applying shadows and lights. Today I was inventing something different with respect to the lights in the hair without leaving aside that form of candy that I like so much to leave thanks to the brush. In cartoons we are free to do what we want, but there are critics who criticize, it's the truth, and they say that certain things should not be done such as using airbrush in these designs, however I see that many do it and it fits well, so I do not see why they see it in bad taste.

Trabajando en el fondo / Working in the background
Desde que empecé a trazar las primeras líneas, pensé nubes, nubes, acolchado, cómodo, aerografía, sencillez, esa boca cómica y un mensaje claro, de Te amo, dedicable y usando la misma paleta de colores en degradado.
Since I began to draw the first lines, I thought clouds, clouds, quilted, comfortable, airbrushed, simple, that comical mouth and a clear message, of I love you, dedicable and using the same palette of colors in gradient.

Detalles Técnicos / Technical Details
Drawing Process: 4 hours
Program: MediBang Paint Pro.
Graphics tablet: Huion (Usb Pen Tablet).

Gif Process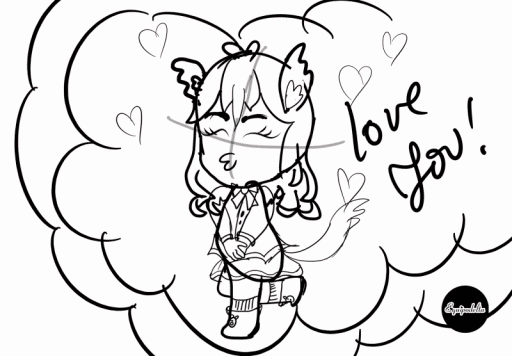 😘 Un mensaje sellado con un beso / A message sealed with a kiss 😘