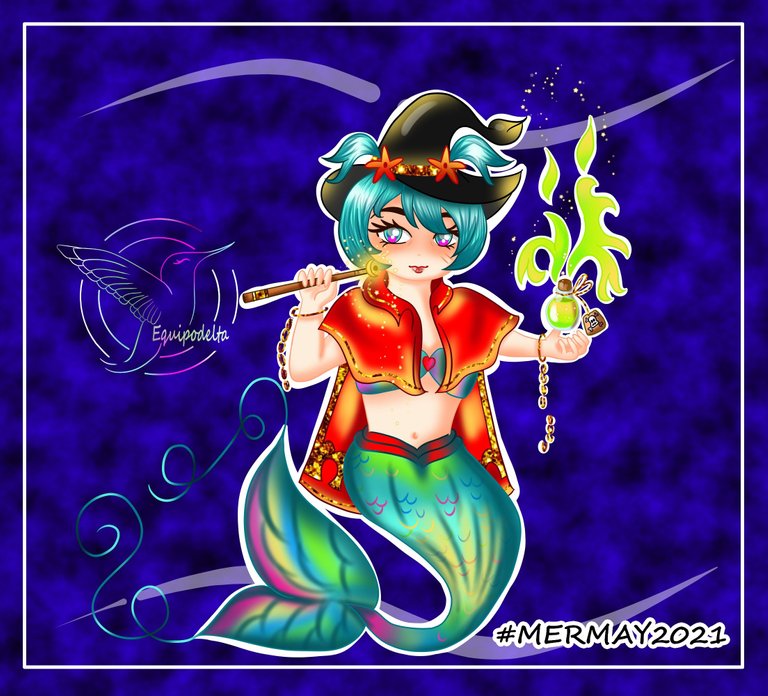 Greetings my dear ones.
I took my time to design the appropriate word for today. This challenge is carried out by @gris.visa on Instagram which as I explained before, has the purpose of breaking that artistic block we feel when we have no ideas to draw, so it can be very practical to use words that inspire us.
When I tell myself that I took my time, it's really because I usually don't take long to make them but this time it took me 12 hours approximately. I had difficulty with the position and perspective of one of the hands, if I show the sketch you would not understand, because there were too many lines, in fact I had to start erasing them because I did not understand myself where the thing was going.
I modified the position of the mermaid's tail many times until I saw the final one. Besides the idea of today's challenge "potion" I was inspired by something crazy, I imagined a mermaid, with the air of a bottle genie, wizard, witch and even a snake tail, all these ideas in my head made me something difficult to unify and not look weird.
I hope you like it.
Saludos mis queridos.
Me tomé mi tiempo para diseñar la palabra que correspondía para hoy. Este reto lo lleva a cabo @gris.visa en Instagram que como expliqué anteriormente, tiene la finalidad de romper ese bloqueo artístico que sentimos cuando no tenemos ideas para dibujar, por lo cual puede ser muy práctico utilizar palabras que nos inspiren.
Cuando me digo que me tomé mi tiempo, realmente es porque normalmente no me tardo mucho en hacerlos pero esta vez tardé 12 horas aproximadamente. Me fue de dificultad con la posición y perspectiva de una de las manos, si muestro el boceto no entenderías, pues eran demasiadas rayas, de hecho tuve que comenzar a borrarlas pues ni yo misma entendía por donde iba la cosa.
La cola de la sirena la modifiqué de posición muchas veces hasta ver la definitiva. Además de la idea del reto de hoy "poción" me inspiré en algo loco, imaginé una sirena, con aires de genio de botella, maga, bruja y hasta cola de serpiente, todas esas ideas en mi cabeza me hicieron algo difícil de unificar y que no se viera raro.
Espero les guste.
---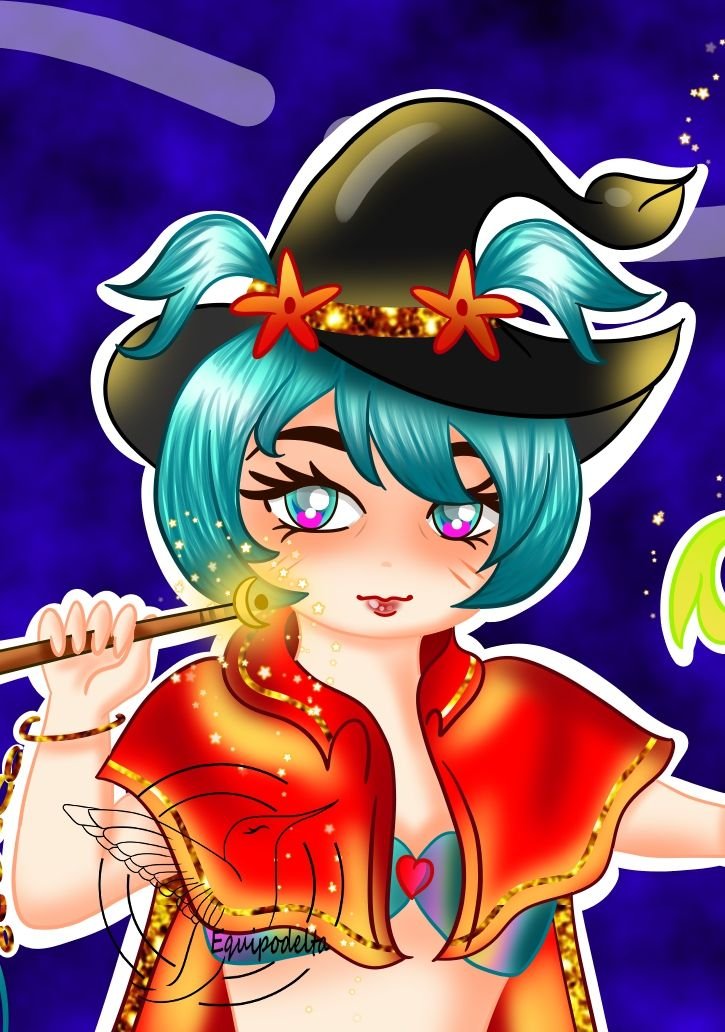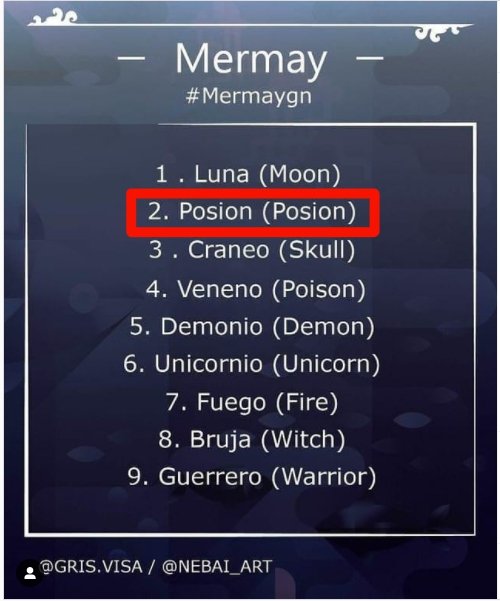 Paso a paso. / Step by Step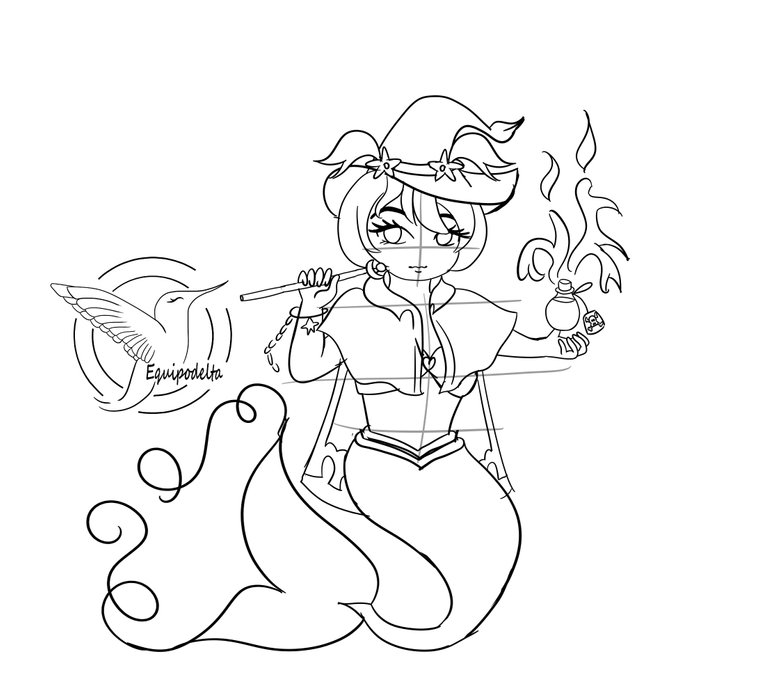 Boceto / Sketch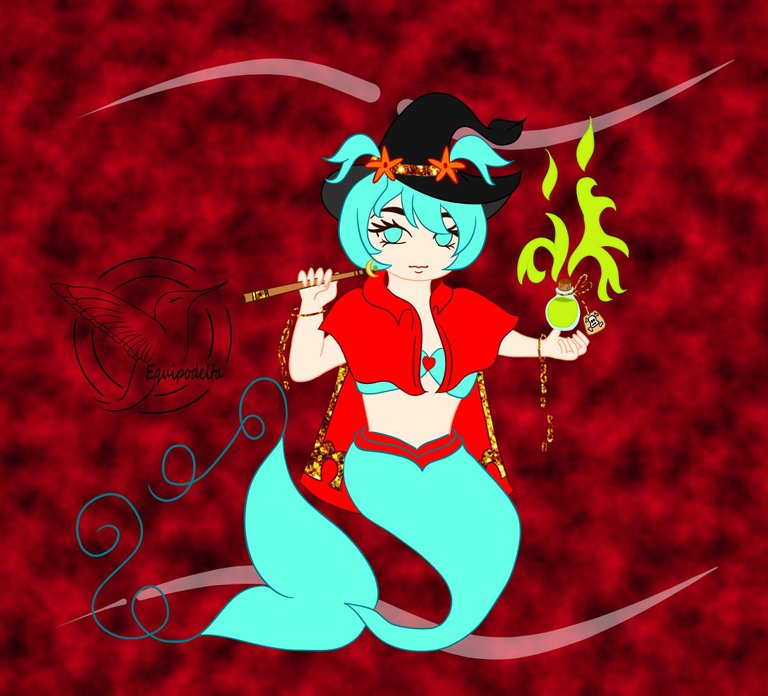 Base Color.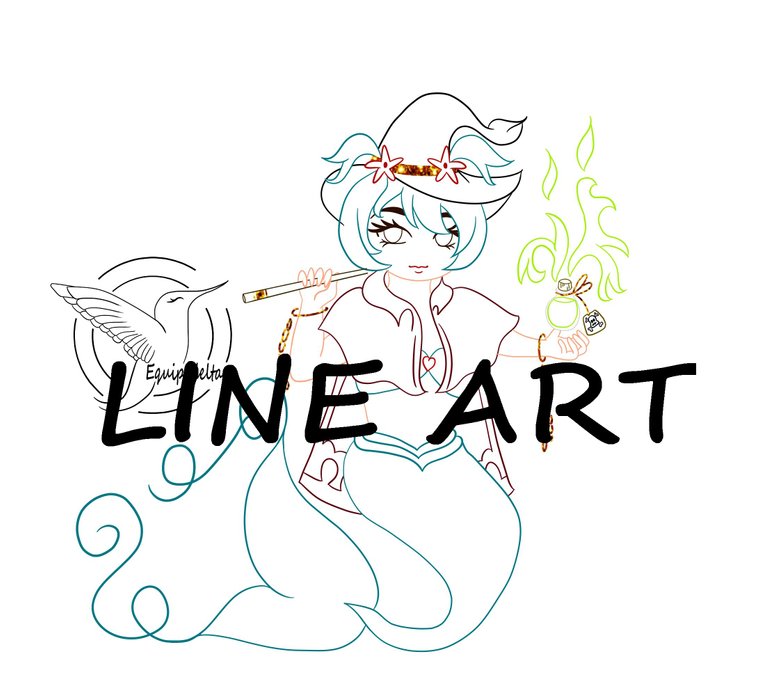 Line art.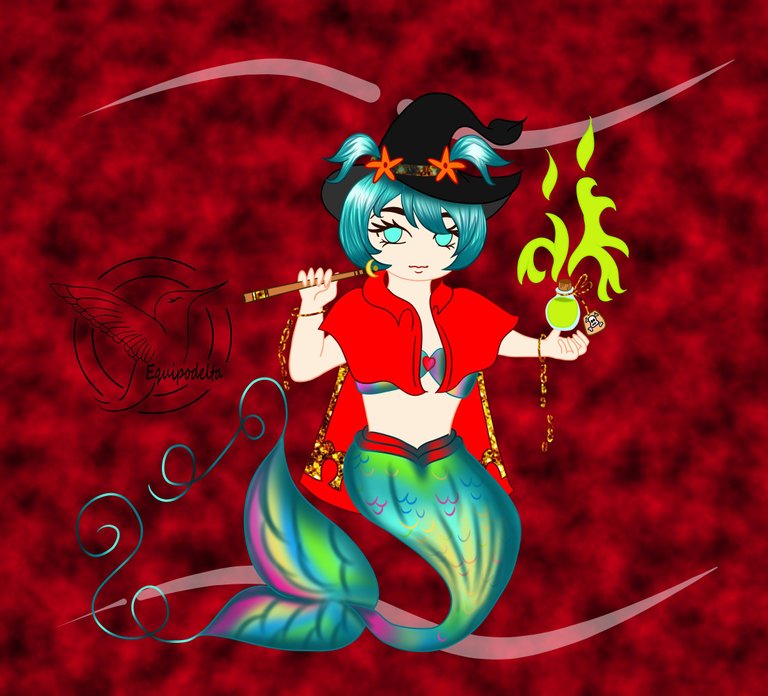 Cabello / Hair.
---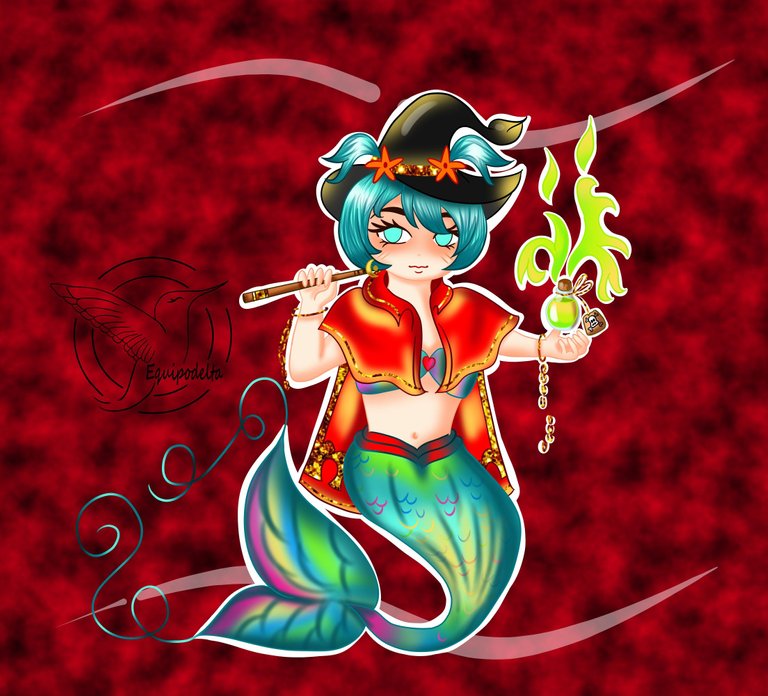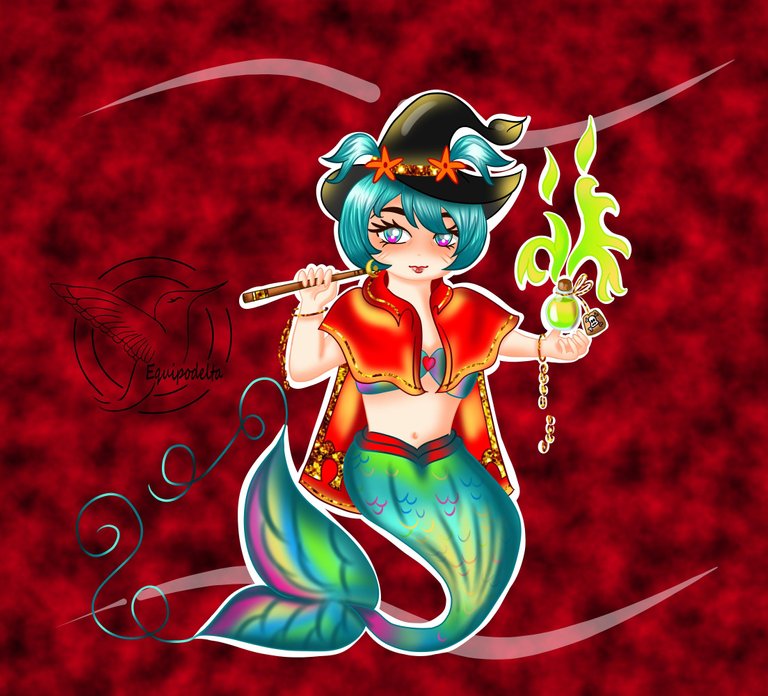 Detalles Técnicos / Technical Details



The background was achieved playing with Medibang textures, I'm almost never satisfied and I have no idea of the background or color that I will use, it turns out that it was red, but as the wizard layer is red, my design was lost, so I just inverted colors and solved the problem, because I liked the texture achieved.
In the same way I used downloadable brushes from Medibang which are always free and the details in Gold color, it is a personal brush that I created a long time ago.
As for the design as such, it is designed in pure airbrushing. Although it took me a lot of time on this design, I can say that I had a lot of fun.
El fondo lo logré jugando con las texturas de Medibang, casi nunca estoy conforme ni tengo idea del fondo o color que emplearé, resulta que estaba rojo, pero como la capa de mago es roja, se perdía mi diseño, así que solo invertí colores y resuelto el problema, pues la textura lograda me había gustado.
De la misma forma empleé pinceles descargables de Medibang los cuales todos siempre son gratuitos y los detalles en color Oro, es un pincel personal que creé hace mucho tiempo.
En cuanto al diseño como tal, esta diseñado en pura aerografía. A pesar que me tardé un montón en este diseño, puedo decir que me divertí mucho.
Time lapse: 12 Hours
Program: MediBang Paint Pro.
Graphics tablet: Huion (Usb Pen Tablet). Model 420.
Used Medibang brushes:
Aerógrafo.
Pluma (gruesa).
Pluma.
Pluma tinta.
Pluma redonda.
Star.
Pincel personalizado Oro2.
Used Medibang tools:
Borrador.
Texto.
Línea curva
Carpetas / recorte.
Ajuste entrecruzado.
Linea curva (elipse)
Figuras geométricas (rectángulo)
Opciones de capas: Carpetas, recorte.

PNG Format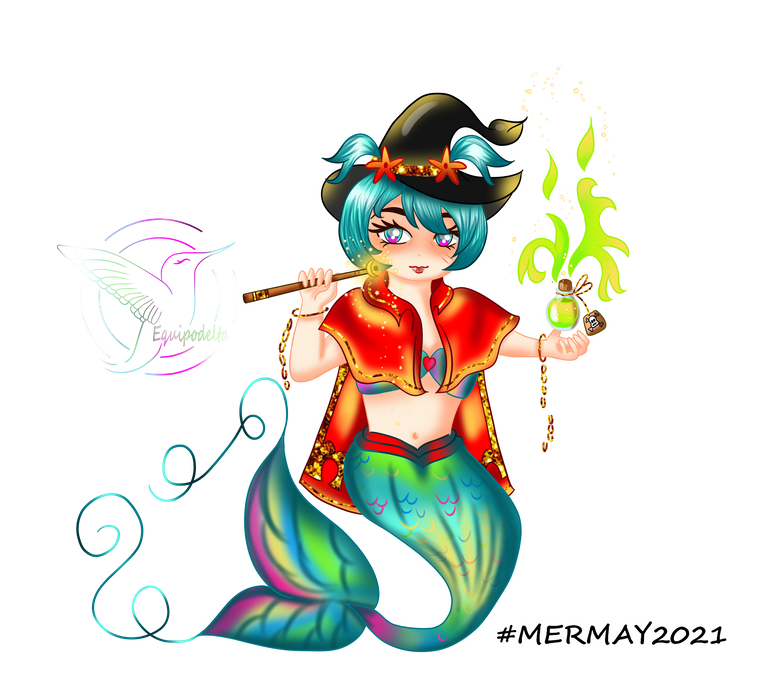 Mi canal Youtube, tiene un montón de tutoriales muy útiles para ti.
My Youtube channel, has a lot of very useful tutorials for you.