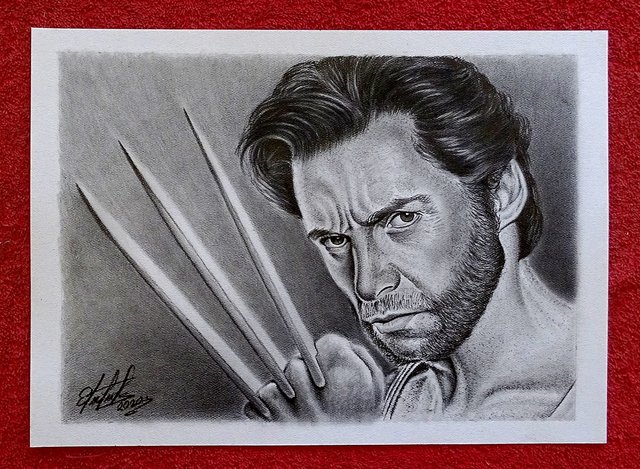 Welcome friends from the community and lovers of drawing, I am back again to present you a new portrait in realistic drawing and it is a superhero that appears in the X MEN film saga. They know him as Wolverine. He is "Logan" starring .. Hugh Jackman.

Bienvenidos amigos de la comunidad y amantes al dibujo estoy de vuelta nuevamente para presentarles un nuevo retrato en dibujo realista y se trata de un superhéroe que aparece en la saga de peliculas de los X MEN. Lo conocen como Wolverine. El es "Logan" protagonizada por.. Hugh Jackman.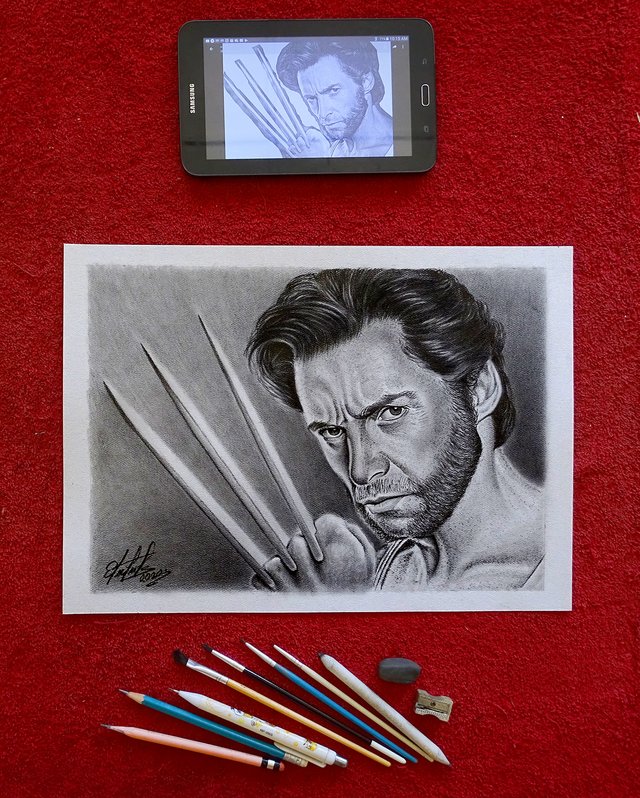 Fuente
Wolverine the famous character with his fearsome claws made with fictitious materials: "The adamantium" and who is also one of my favorite characters and to make this portrait in drawing I use my usual drawing tools which are the 2B, 6B and A mechanical pencil to start construction and with great patience the main parts of the face such as the look, eyebrows, nose and lips. Then the different texture of the skin would come creating a very soft graphite layer like caressing the paper so that later with the help of soft bristle brushes I will expand the graphite to create a smooth and even surface including the tonal differences for the lights and shadows to give volume and thus shape the face. Then with the use of the 6B pencil I begin the creation of the hair and then with the moldable eraser, remove the different strands with their lights. Then with the same 6B pencil and with the very fine tip I draw the small hairs on the chin and part of the beard and with the moldable eraser taking out small lights and then go with the claws and the background making a gradient from the dark to a small clarity to finish this work in drawing.

Wolverine el famoso personaje con sus temibles garrar hechas con materiales ficticios: "El adamantium" y que tambien es uno de mis personajes favoritos y para realizar este retrato en dibujo utilizo mis acostumbradas herramientas de dibujo que son el los lápices de grafito 2B, 6B y un portaminas para asi iniciar la construccion y con mucha paciencia las partes principales del rostro como es la mirada, cejas, nariz y labios. Luego vendría las diferentes textura de la piel creando una capa de grafito muy suave como acariciando el papel para que luego con la ayuda de pinceles de cerda suave voy expandiendo el grafito para así crear una superficie suave y pareja incluyendo las diferencias tonales para las luces y sombras para darle volumen y así darle forma al rostro. Luego con el uso del lápiz 6B empiezo la creación del cabello para luego con el borrador moldeable ir sacando los distintos mechones con sus luces. Luego con el mismo lapiz 6B y con la punta muy fina dibujo los pequeños vellos de la barbilla y parte de la barba y con el borrador moldeable sacando pequeñas luces para luego ir con las garras y el fondo haciendo un degradado de lo oscuro a una pequeña claridad para asi dar terminado este trabajo en dibujo.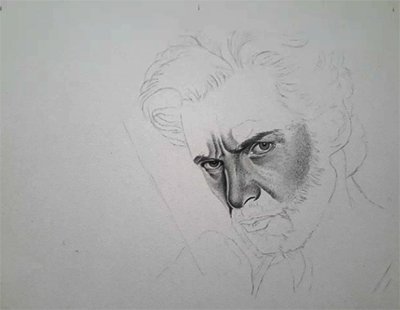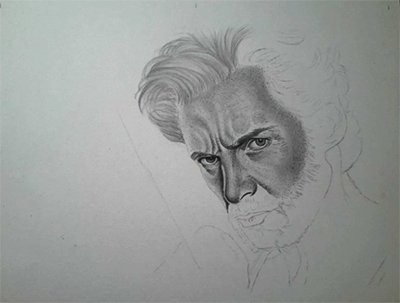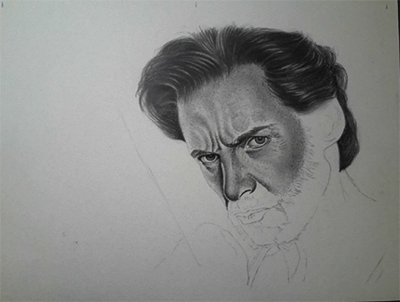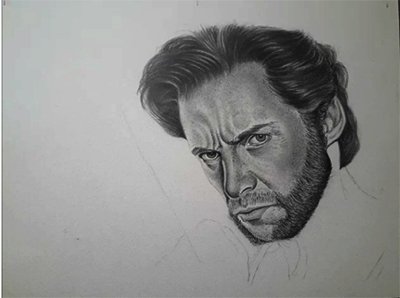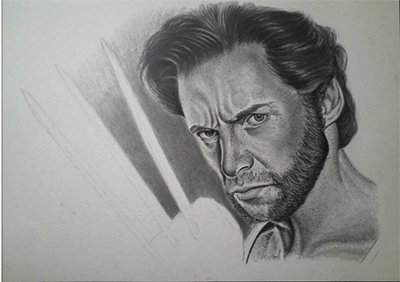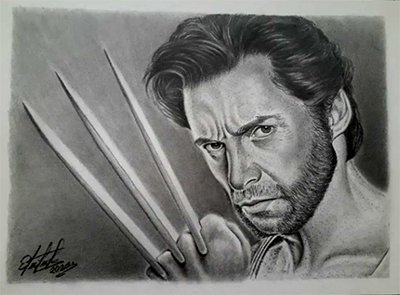 The following materials that were used for this work are:
Prixma cardboard of size 38x28 centimeters.
Pencil 6B and 2B.
Mechanical pencil.
Soft bristle brushes
I blur.
Moldable eraser.
Sharpener.

Los siguientes materiales que se usaron para este trabajo son:
Cartulina prixma de tamaño 38x28 centimetros.
Lapiz 6B y 2B.
Portamina.
Pinceles de cerda suave
difumino.
Borrador moldeable.
Sacapuntas.
This is a handmade and signed work. the time of its creation was 5 to 6 hours of work. The images were taken with a Sony Cyber-Shot DCS HX400V camera. For GIF and image sequence creations, use programs like .. Adobe Photoshop CS6. Windows movie maker. Bloggif.

Este es un trabajo hecho a mano y firmado. el tiempo de su creación fue de 5 a 6 horas de trabajo. Las imágenes fueron tomadas con una camara Sony Cyber-Shot DCS HX400V. Para las creaciones de los GIF y la secuencia de imágenes, use los programas como .. Adobe Photoshop CS6. Creador de películas de Windows. Bloggif.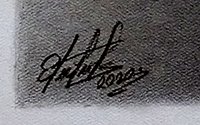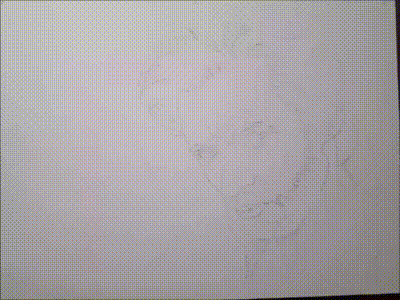 I hope you have enjoyed this work and awaiting your comments. Also thank you for taking the time to visit this Post. I wish you blessings and successes in each of your projects. My name is Elvis Sanchez and I am at your service and you can find me here or on my social networks. We will see each other again in the next project. See you soon.

Espero que hayan disfrutado de este trabajo y en la espera de sus comentarios. También darle gracias por tomar su tiempo en visitar este Post. Les deseo bendiciones y éxitos en cada uno de sus proyectos. Mi nombre es Elvis Sanchez y estoy a la orden y me pueden ubicar por aquí o en mis redes sociales. Nos volveremos a ver en el próximo proyecto. Hasta pronto.