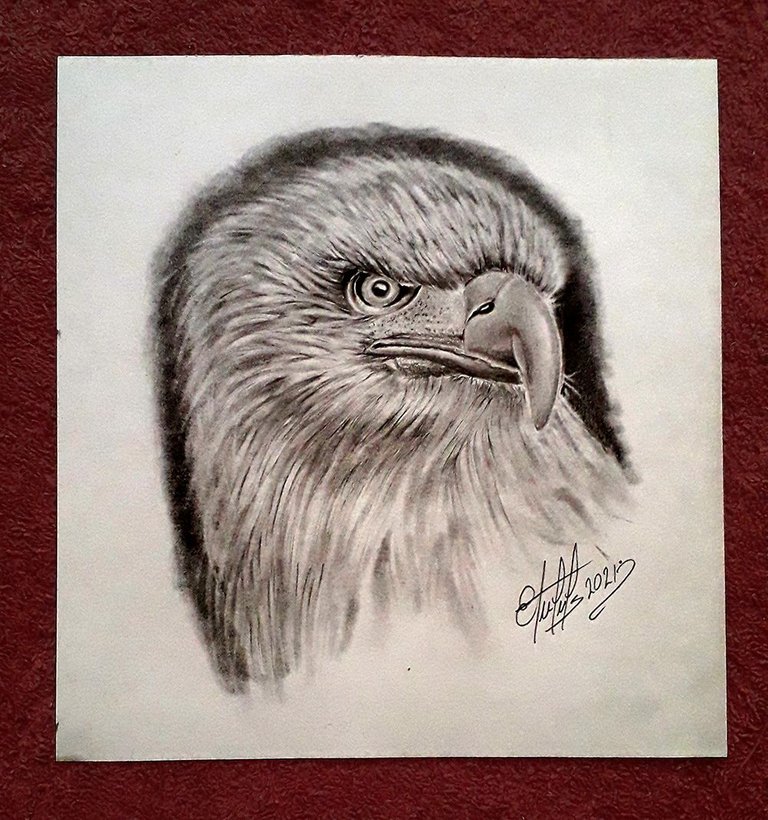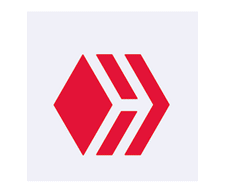 Hello friends of the community and lovers of drawing, today I want to present you a new portrait in realistic drawing and this day I make a drawing of a bird of prey with an intimidating look and that when seeing it fly symbolizes majesty, power and speed and it is a Eagle.

Hola amigos de la comunidad y amantes al dibujo hoy les quiero presentar un nuevo retrato en dibujo realista y este dia realice un dibujo de un ave rapaz con una mirada intimidante y que al verla volar simboliza majestuosidad, poder y velocidad y se trata de un Águila.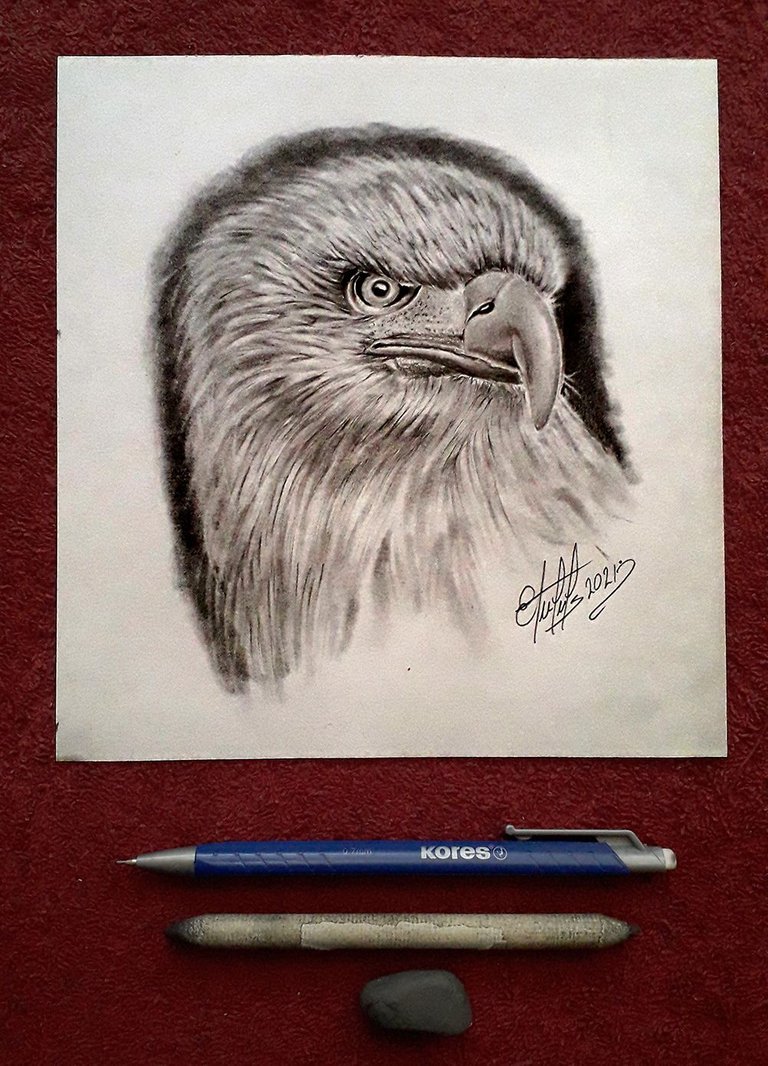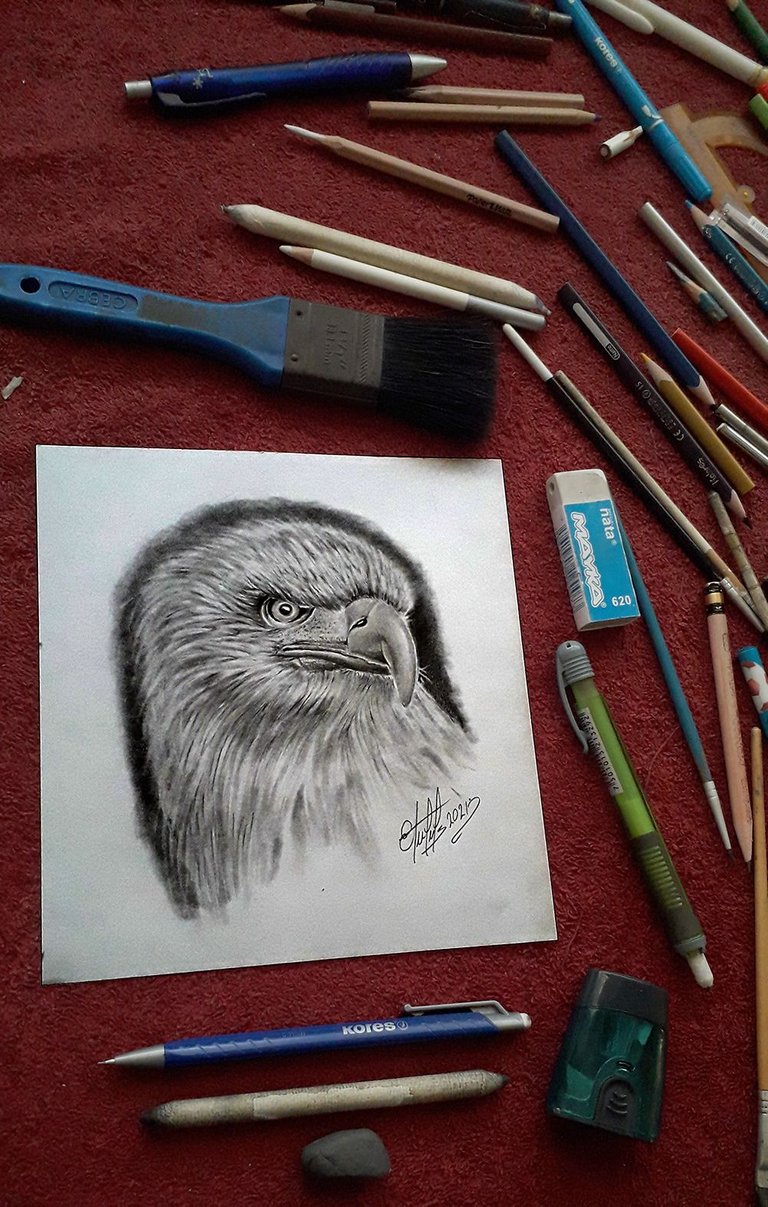 To draw this Bird of Prey, just use a mechanical pencil with 2B leads, I blur and the moldable eraser and start to build the sketch with its different details of the bird such as its plumage, eye, nose and beak.
After doing this with the same with the mechanical pencil 2B we are going to start creating the part of the skin that is near the eye and the shape of the beak making very gentle circular movements and marking some shadows and lights in order to create the volume. Then with the use of the blur with a very gentle pressure we expand the graphite for a smooth surface.
Then we continue with its plumage and we will begin to use the blur but this time we load it with graphite and then we expand it throughout the entire area of the plumage as a dark spot. Then we take the moldable eraser and create small spots of lights and then with the mechanical pencil create small and long shadows to simulate its plumage.

Para dibujar este Ave de rapaz solo utilice un portaminas con minas 2B, difumino y el borrador moldeable y comienzo a construir el boceto con sus distintos detalles del ave como su plumaje, ojo, nariz y el pico
Ya hecho esto con el mismo con el portaminas 2B vamos a comenzar a crear la parte de piel que se encuentra cerca del ojo y la forma del pico haciendo movimientos circulares muy suave e ir marcando algunas sombras y luces para así crear el volumen. Luego con el uso del difumino con una presión muy suave expandimos el grafito para una superficie suave.
Luego continuamos con su plumaje y comenzaremos a usar el difumino pero esta vez lo cargamos de grafito y luego lo expandimos por todo área del plumaje como se fuera una mancha oscura. Luego tomamos el borrador moldeable y creamos pequeñas manchas de luces para luego con el portaminas crear pequeñas sombras y largas para simular su plumaje.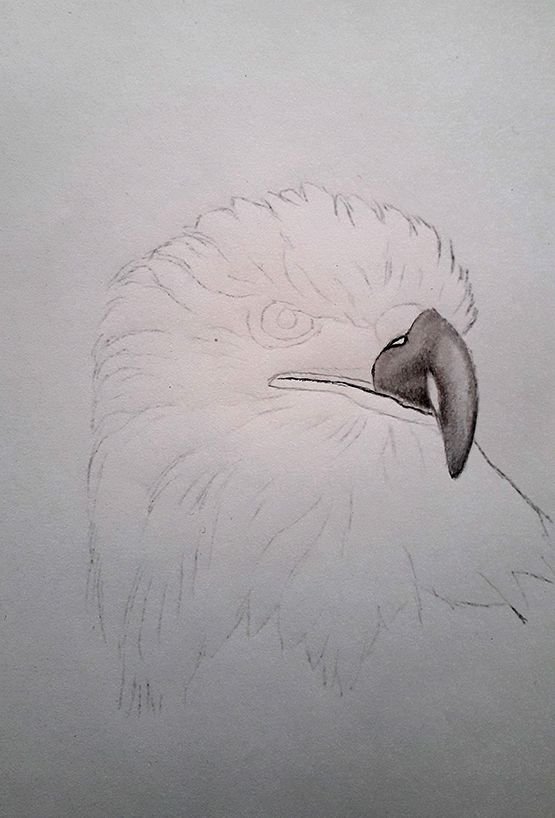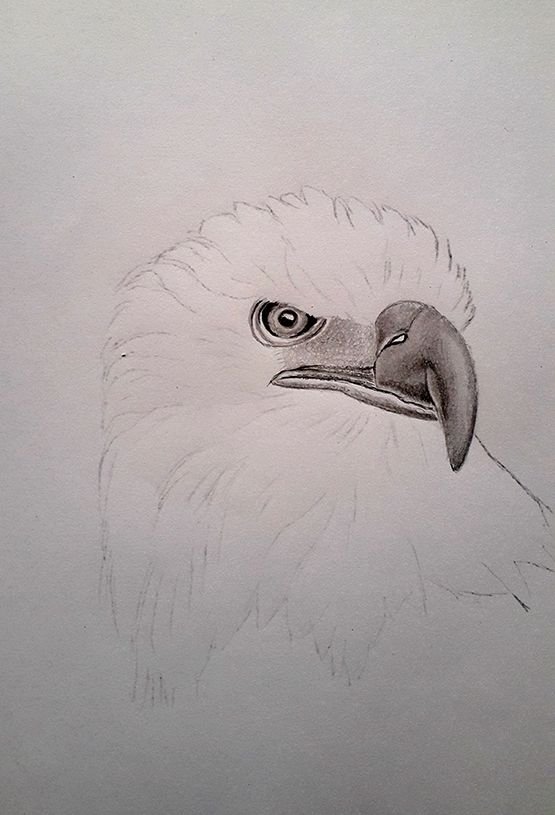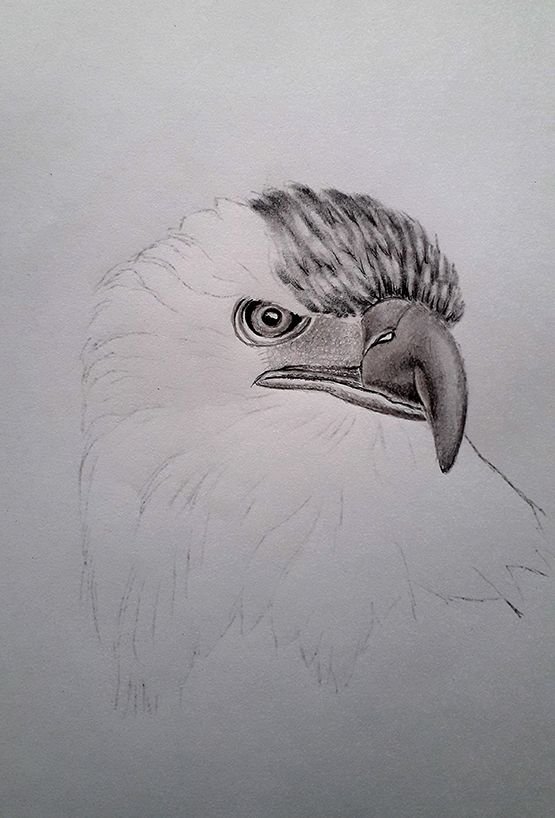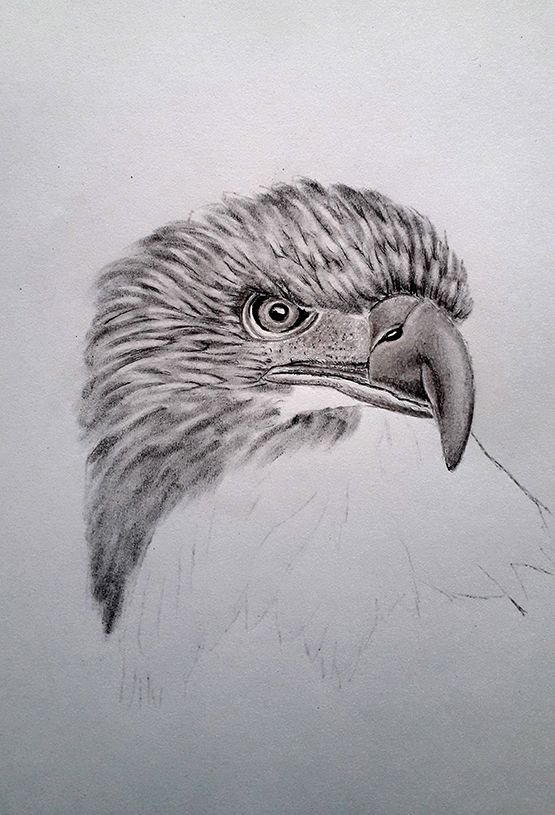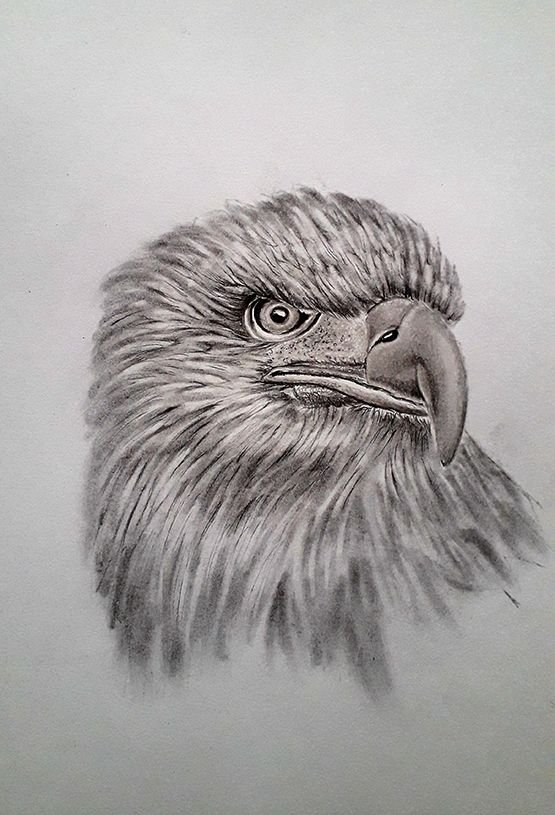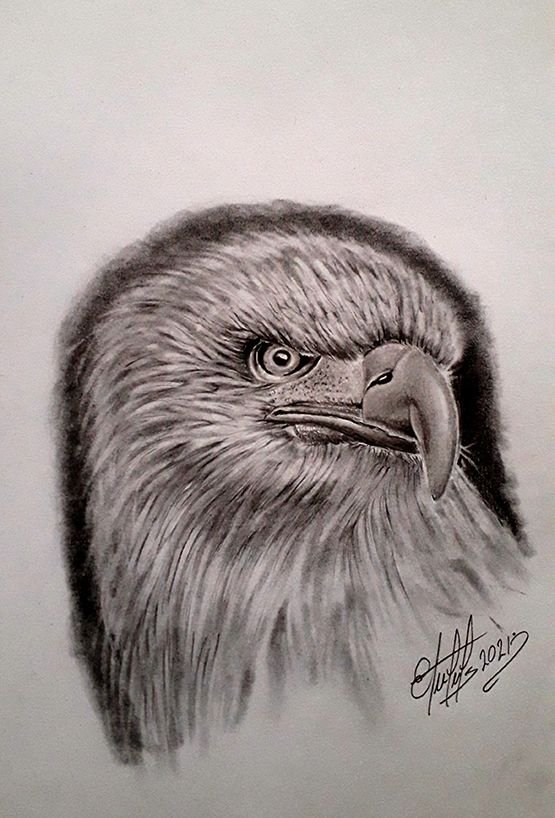 Process from the beginning to the final result that took 2 hours of work and is 18 x 19 centimeters in size.
Proceso desde el inicio hasta el resultado final que tomo 2 horas de trabajo y que tiene de tamaño 18 x 19 centímetros.

The following materials that were used for this work are:
School drawing notebook 34.3 x 28 centimeters. With leaves of 135 g / m. Trimmed at 18 x 19 centimeters.
2B mines frame.
Moldable eraser.
Different.
Los siguientes materiales que se usaron para este trabajo son:
Cuaderno de dibujo escolar de tamaño 34.3 x 28 centímetros. con hojas de 135 g/m. Recortado a 18 x 19 centímetros.
Portaminas de minas 2B.
Borrador Moldeable.
Difumino.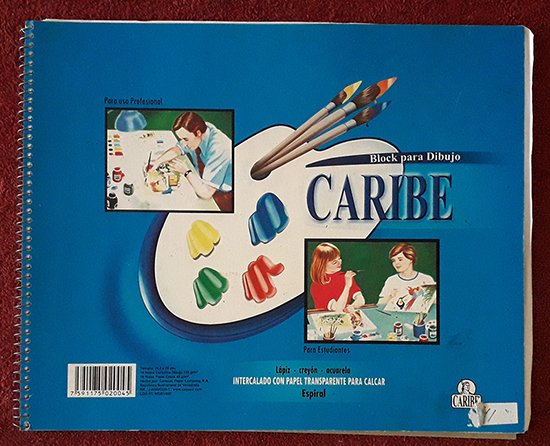 This is a hand-made and signed work. The images were taken by a Samsung J4 smartphone.
Este es un trabajo hecho a mano y firmado. Las imágenes fueron tomadas por un teléfono inteligente Samsung J4.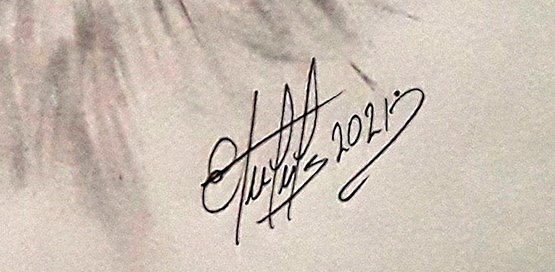 I hope you have enjoyed this work and awaiting your comments. Also thank you for taking the time to visit this Post. I wish you blessings and successes in each of your projects. My name is Elvis Sanchez and I am at your service and you can find me here or on my social networks. We will see each other again in the next project. See you soon.

Espero que hayan disfrutado de este trabajo y en la espera de sus comentarios. También darle gracias por tomar su tiempo en visitar este Post. Les deseo bendiciones y éxitos en cada uno de sus proyectos. Mi nombre es Elvis Sanchez y estoy a la orden y me pueden ubicar por aquí o en mis redes sociales. Nos volveremos a ver en el próximo proyecto. Hasta pronto.