Next strong commission I got... okay half strong, being a painting made in gray scale mostly facilitated much of the process.
Continuation of the book cover saga I leave you the following painting.
Siguiente comisión fuerte que me ha tocado... okay fuerte a medias, el ser una pintura hecho a escala de grises en su mayoría facilitaba gran parte del proceso.
En continuidad de la saga de portada de libros le dejo la siguiente pintura.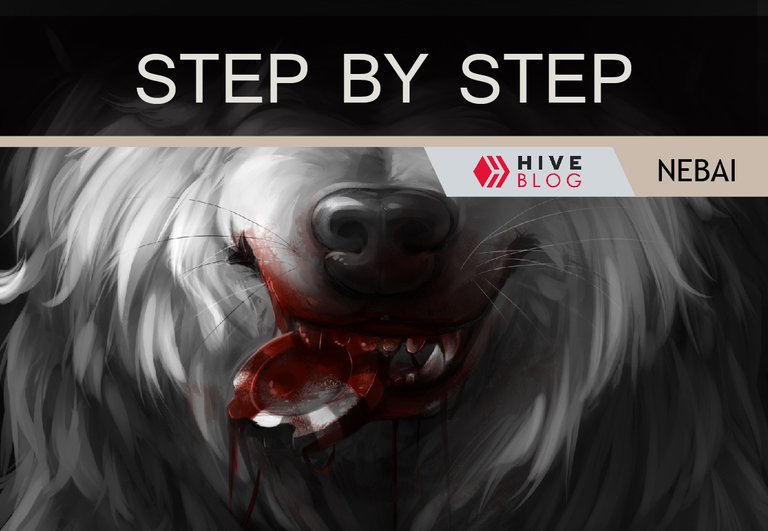 This one has an interesting theme... although personally it doesn't surpass the first one of all. (Quick section, who is interested in the post I mentioned, would be this end of the advertising space :3)
A wolf with blood in his mouth... sounds like it will end happily ever after, I would give it a look; but as my job is to paint, I will take care of it.
Este tiene una temática interesante... aunque personalmente no supere la primera de todas. (Apartado rapido, quien este interesado en el post que menciono, seria este, fin del espacio publicitario :3)
Un lobo con sangre en la boca... suena que tendrá un bien final yo la daría un vistazo; pero como mi trabajo es de pintar ahora en ello me encargare.

Process/Proceso:
---
I will use this post to talk more about how the shapes and lights work, taking into account that almost the whole process was in grayscale.
Aprovechare este post para hablar más sobre el cómo funciona las formas y las luces, tomando en cuenta que casi todo el proceso fue en escala de grises.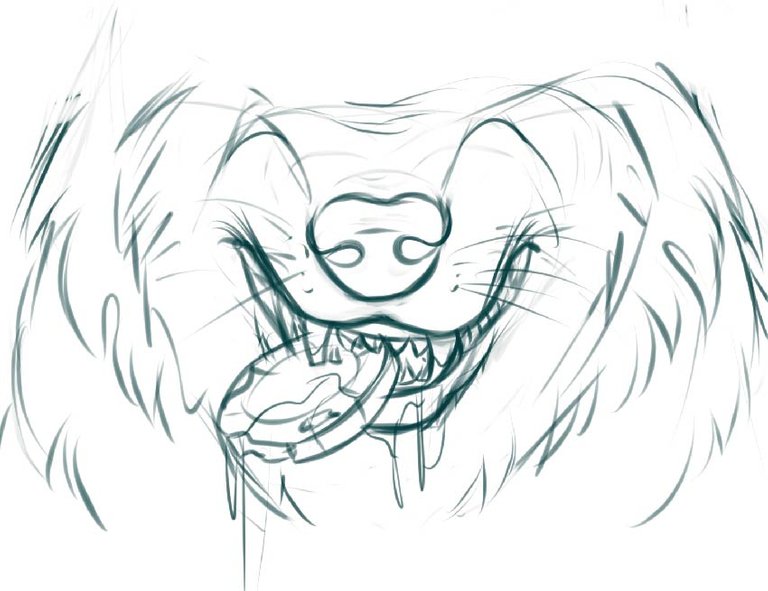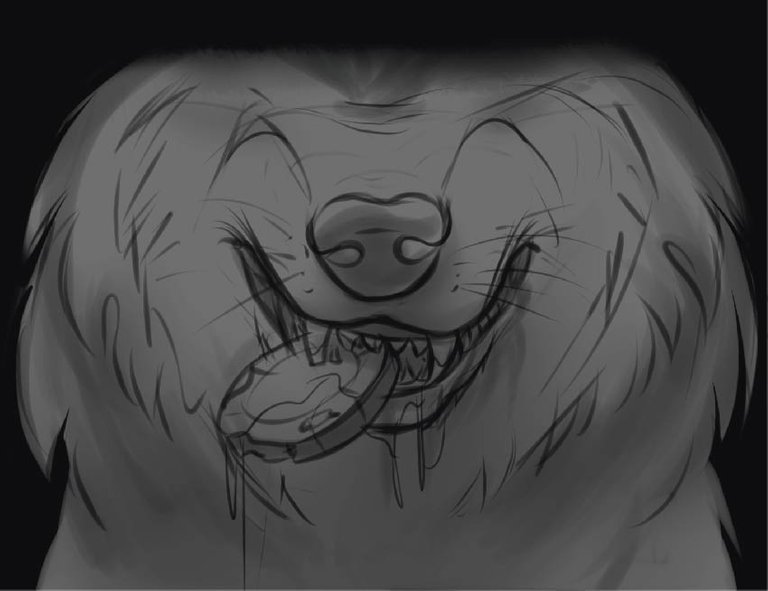 The sketch was the simplest to make... although I have rarely worked with canine figures in front view; the best thing I could recommend for any painting is the use of references, it helps to understand and remember fundamentals.
El boceto fue lo más sencillo en elaborar... aunque pocas veces he trabajado con figuras caninas en vista frontales; lo mejor que pudo recomendar para toda pintura es el uso de referencias, ayuda a comprender y recordar fundamentos.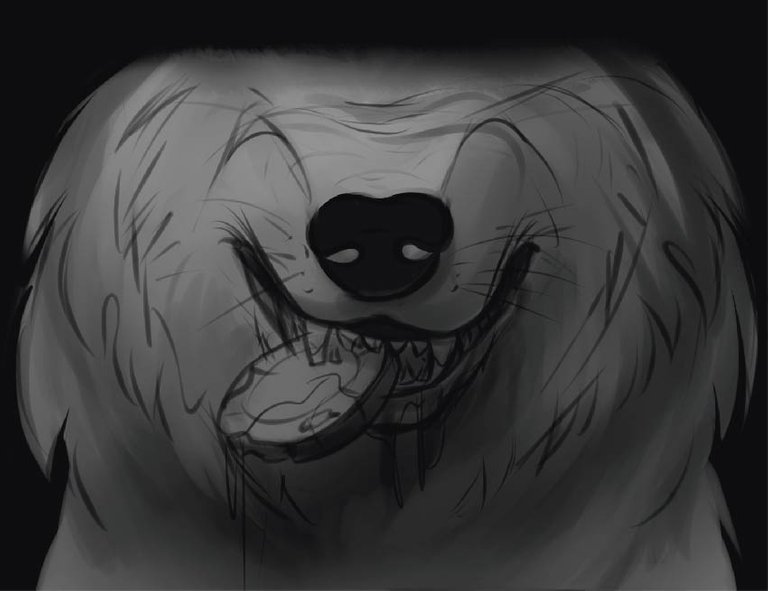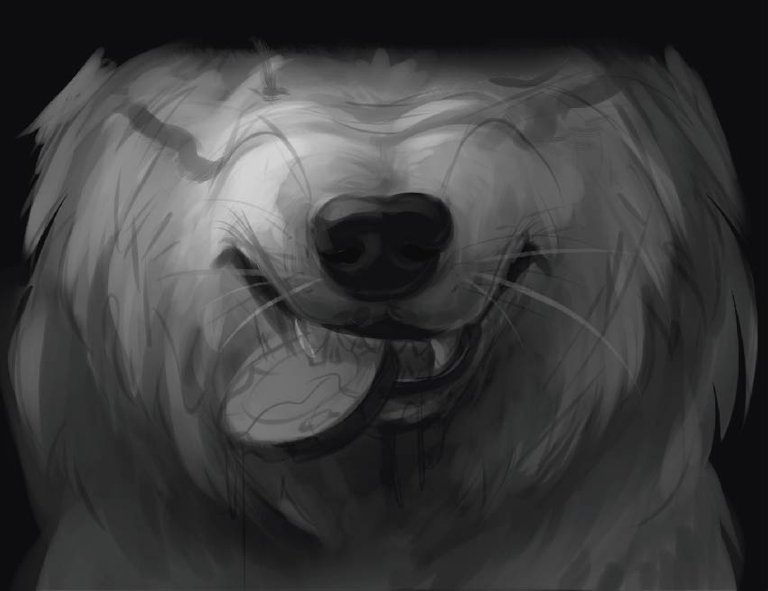 For painting it is important to think of basic figures; cubes and spheres was in this case. In the beginning it is important to avoid seeing details and go to the more general areas and tones.
Para la hora de pintar es importante pensar en figuras básicas; cubos y esferas fue en este caso. En los comienzo es importante evitar ver los detalles e irse a las áreas y tonos más generales.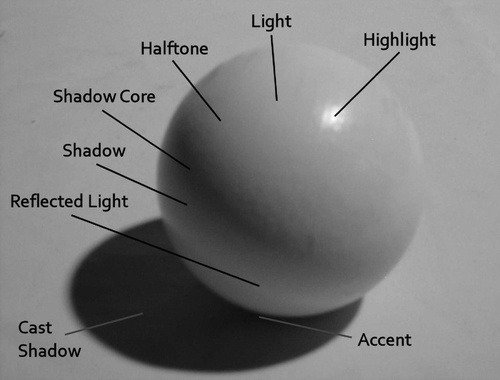 The key to achieving the feeling of depth in all forms is in the reflected lights, those little light tones at the end of the shadows; depending on the environment and nearby objects they will tend to be one tone or another.
La clave para lograr la sensación de profundidad en toda forma está en las luces reflejas, esos pequeños brillos que se dan al final de las sombras; dependiendo del ambiente y los objetos cercanos tenderán a una tonalidad u otra.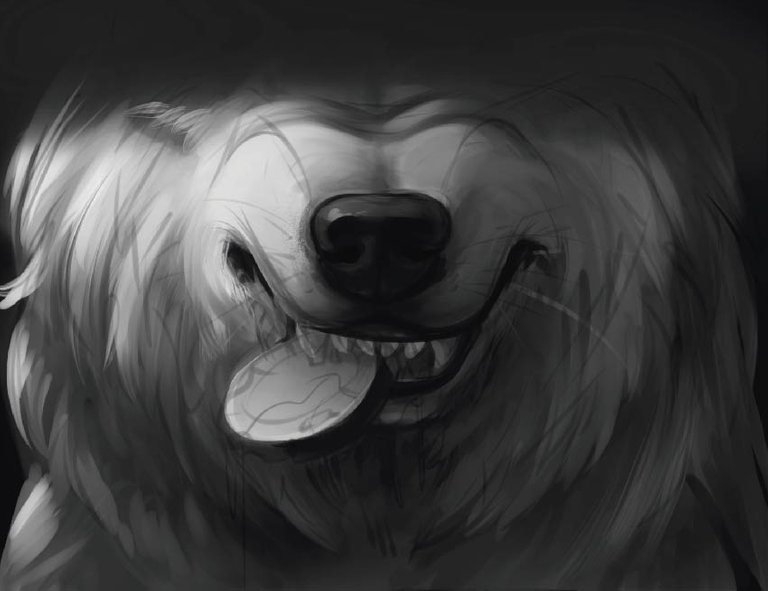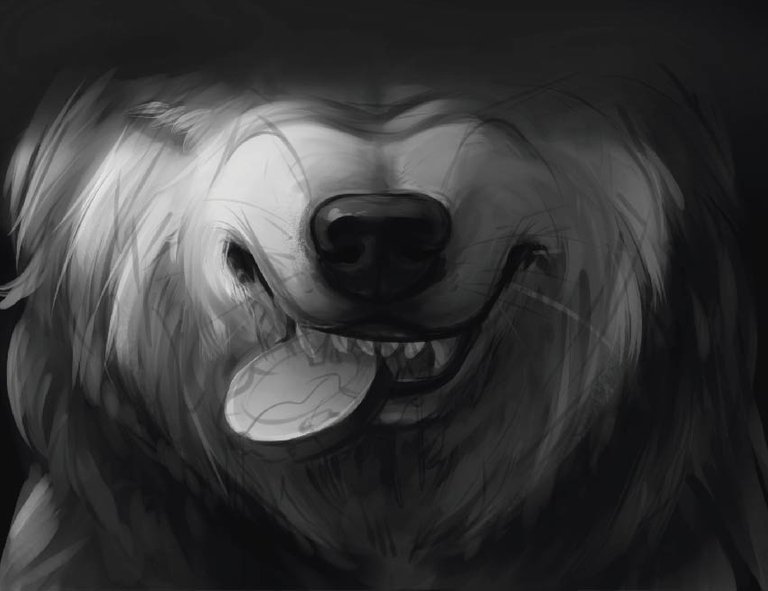 In the case of greys, the opaque areas will not be brighter than the areas where the light falls directly.
El el caso de los grises, las zonas opacadas no serán más luminosas que las zonas donde cae la luz directamente.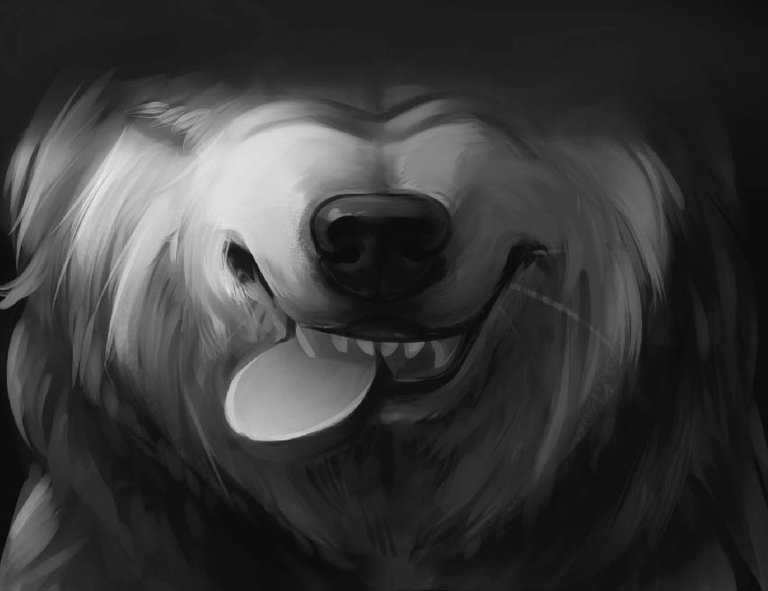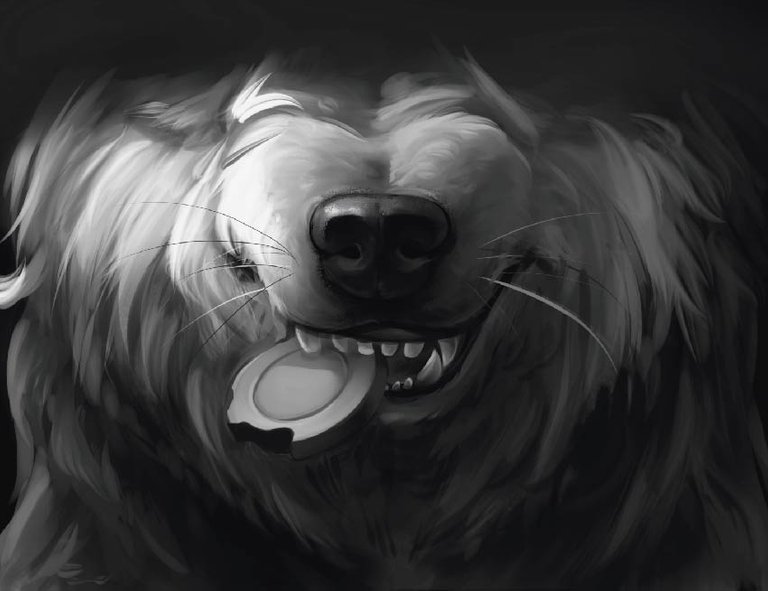 Always remember this information: The color white when shaded will never be brighter than black when exposed to light. This is another principle when working with shapes and bringing them to a depth effect.
Siempre recuerden esta información: El color blanco puesto en sombra, nunca será más luminoso que el negro expuesto a la luz. Es otro de los principios a la hora de trabajar con formas y llevarlos a un efecto de profundidad.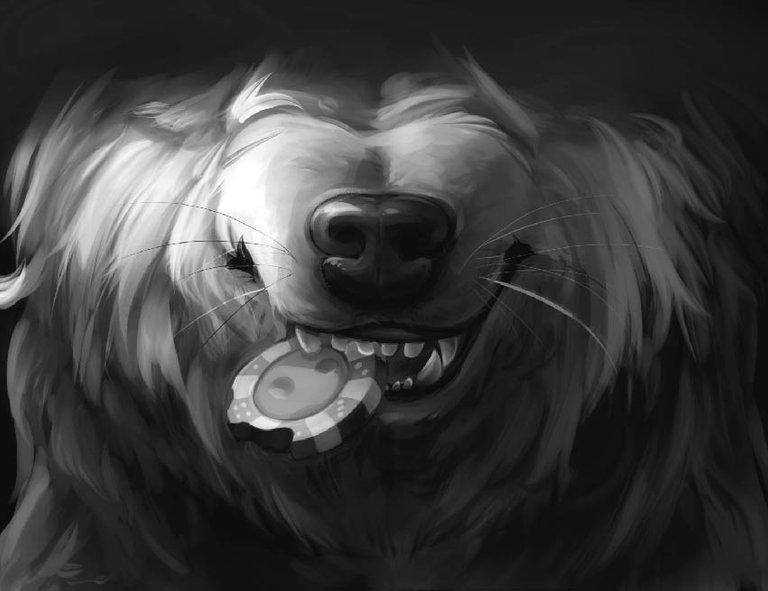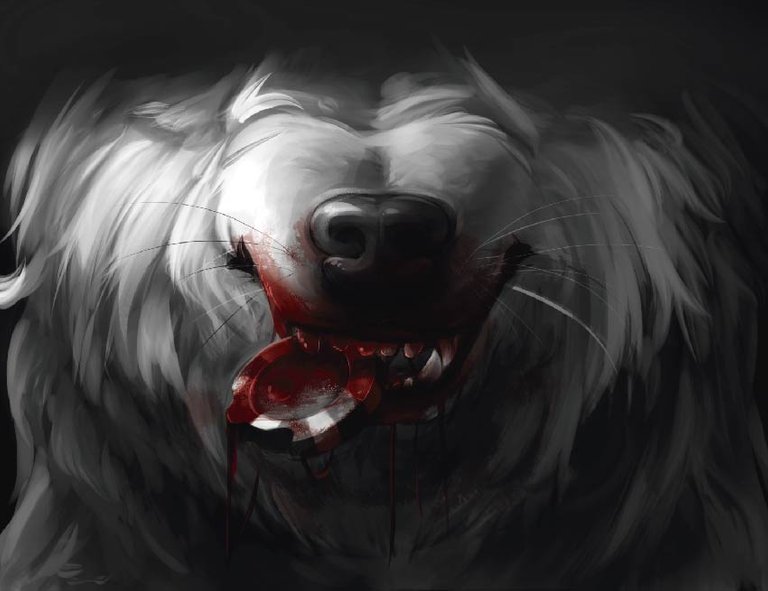 Once you are sure about the bases and that you are creating the expected effect, it's time to start with the details; a small brush, the color picker and let's begin fixing the half weird strokes, add texture (in this case a textured brush works better) or add small details to get more interest.
Una vez seguros con las bases y que se crea ese efecto esperado es que se comenzará con los detalles; un pincel pequeño, la gotera y hora de arreglar los trazos medio raros, agregar textura (en este caso un pincel con textura funciona mejor) o pequeños detallitos para agarrar más interés.
With the foundation in place, moving to tones is much easier. For the colors it's important to play a little more with the color circle... but information for other post.
Con la base establecida, pasar a los tonos es mucho más sencillo. Para los colores es importante jugar un poco más con el círculo cromático... pero información para un siguiente post.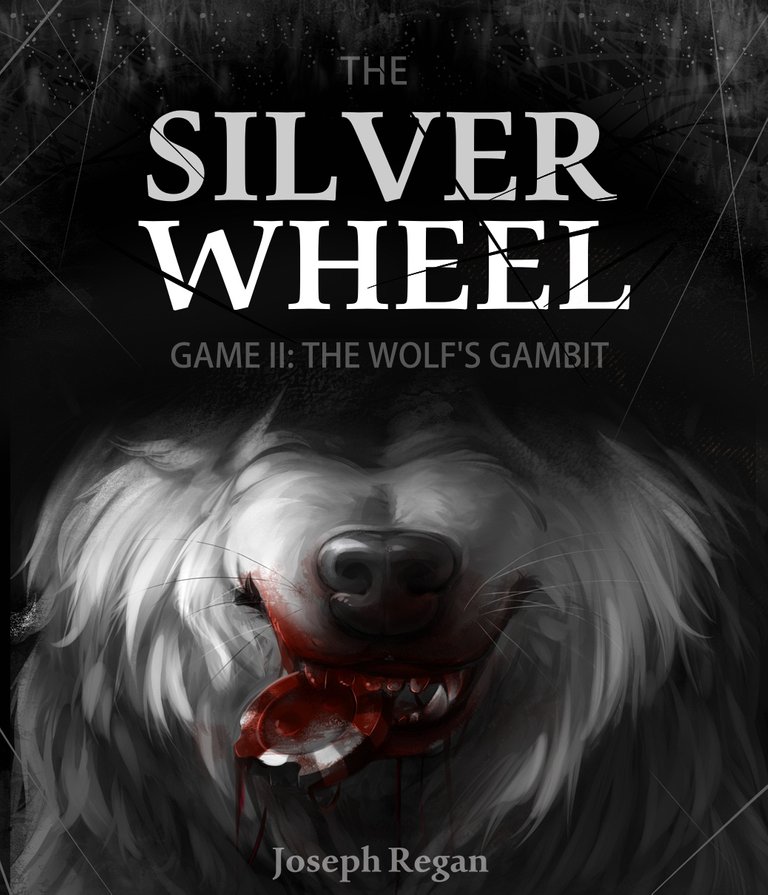 This would be the complete design, who is interested in knowing more about the history, you can read it.
Este sería el diseño completo, quien este interesado conocer mas la historia, puede leerla.
Herramientas / Tools: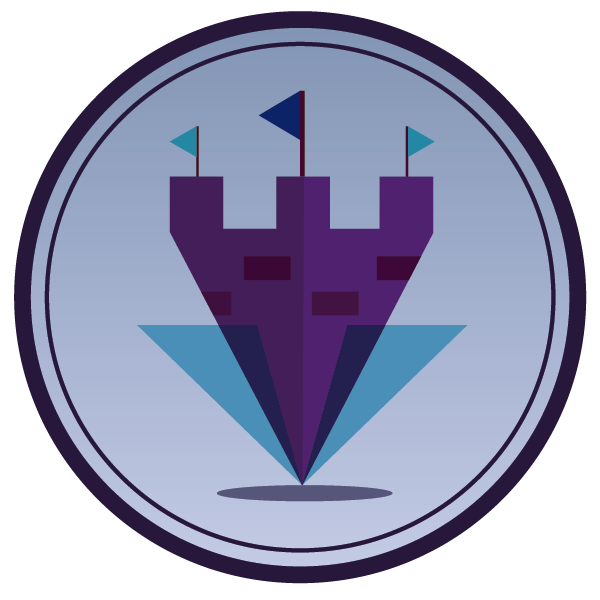 También estamos compartiendo un Grupo de Artistas para todas las plataformas. / We are sharing as well an Art Group for all platforms.
https://discord.gg/HYy6fkD

Si les gusta mis trabajos, su apoyo significaría mucho / If you like my work, your support would mean a lot.