Hello people, today I present to you Jack, the second NFT of the dragon portrait collection, minted on Pixeos art gallery.
This friend originated as an exercise in expression, I wanted to achieve absolute joy, however, it ended up resulting in something similar to mischief, it was not what I wanted, But it wasn't bad either.
Hola gente, hoy les presento a Jack, el segundo NFT de la colección de cabezas de dragones, disponible en la galería de arte de Pixeos.

Este amigo se originó como un ejercicio de expresión quería lograr absoluta alegría, sin embargo, terminó resultando en algo similar a la picardía, no era lo que quería, pero tampoco está mal.
The Mischievous Jack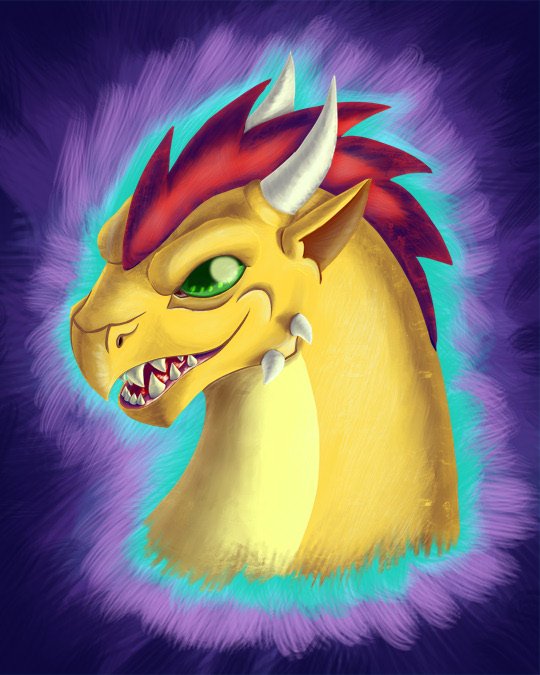 Process | Proceso
---
I started by doing the pencil sketch and scanned it.
Empecé haciendo el boceto a lápiz y lo escaneé.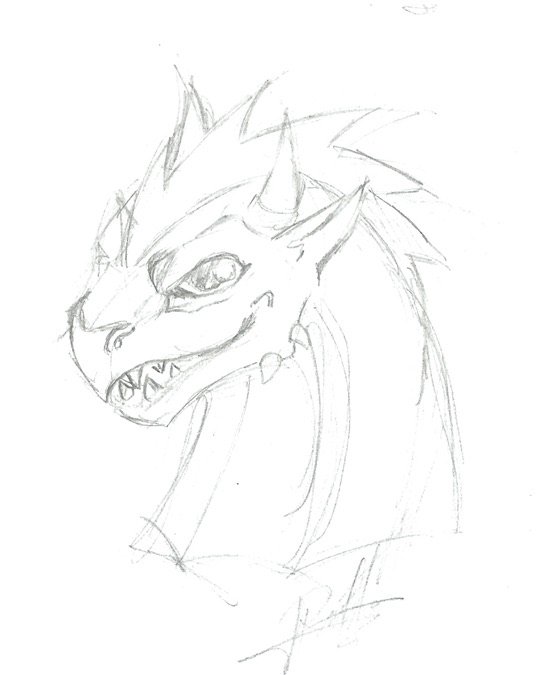 I made the lines with the linework layer, and I made some pertinent changes.
Hice las líneas con la capa de linework, e hice otros cambios pertinentes.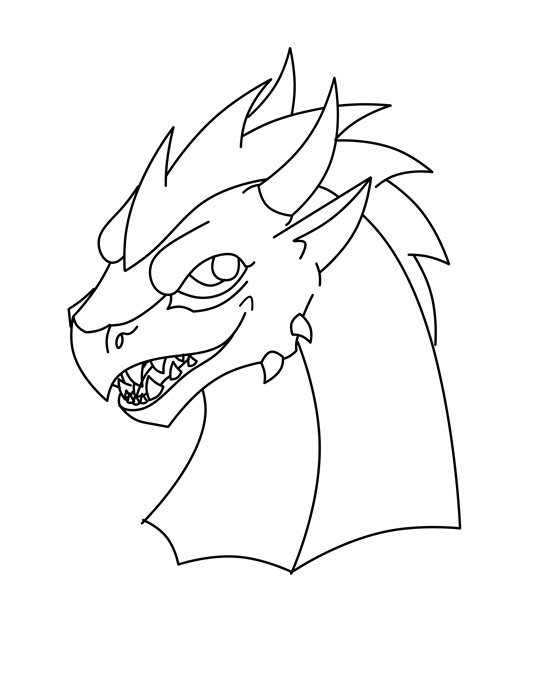 I chose the base colors and well, this is where I spent months looking at the file in a colorful version of the fear of the white canvas.
Elegí los colores base y bueno, aquí es donde me quedé meses viendo el archivo en una versión mas colorida del miedo a la hoja blanca.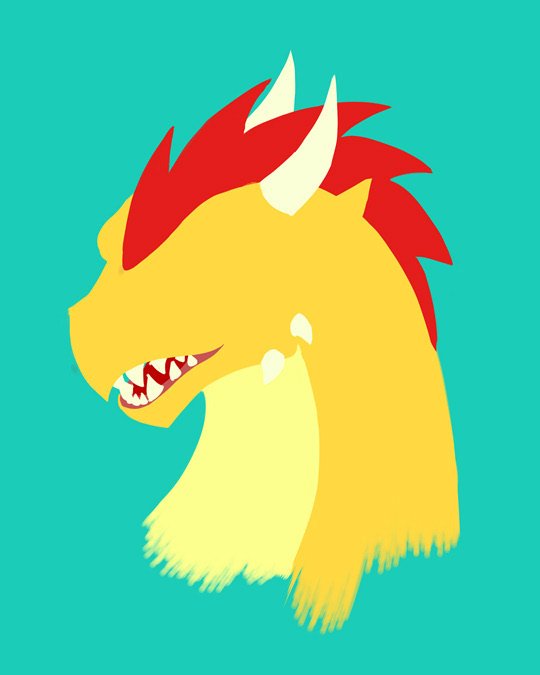 The first shadows were the most difficult part of this drawing, I had a very vague idea of how I wanted to do them, but every time I did something it looked so " wrong" that I undo it, that's why at the beginning I made some quite light attempts, it was after making those attempts with a watercolor texture that I finally could get out of this blockade.
Las primeras sombras fueron lo más difícil de este dibujo, tenía una idea muy vaga de como quería hacerlas, pero cada vez que hacía algo se veía tan "mal" que lo deshacía, por eso al principio hice unos intentos bastante leves, fue después de hacer esas sombras y con una textura de acuarela que finalmente pude salir de este bloqueo.
---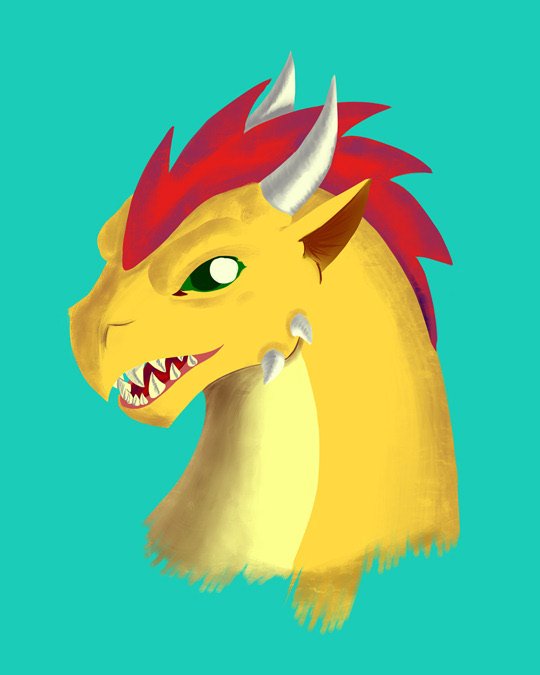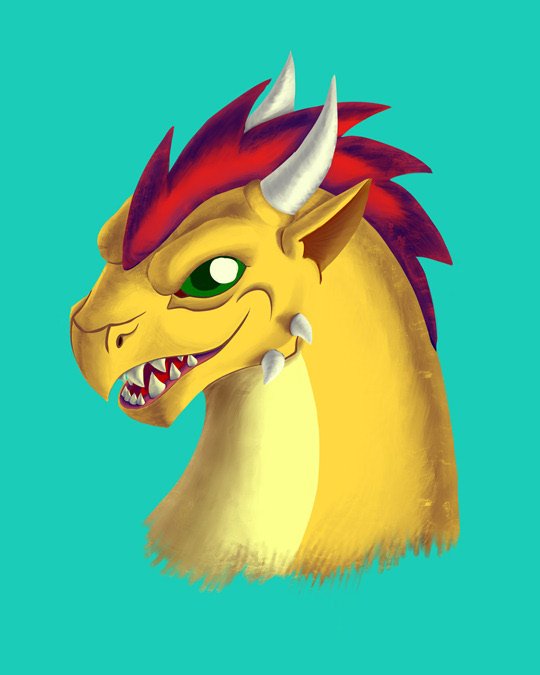 ---
With shadows defined adding the lights was easy, then I finished the eye with all its details, I don't usually paint with the eye layer visible, I get distracted whenever I see it unfinished, but in this case it helped me not to get lost when making the shadows, I will see if I repeat this pattern or if it is better to add it at the end.
Con las sombras definidas agregar las luces fue sencillo, luego terminé el ojo con todos sus detalles, no suelo pintar con la capa del ojo visible, me distraigo siempre que lo veo inconcluso, pero en este caso me ayudó a no perderme a la hora de hacer las sombras, veré si repito este patrón o si me resulta mejor agregarlo al final.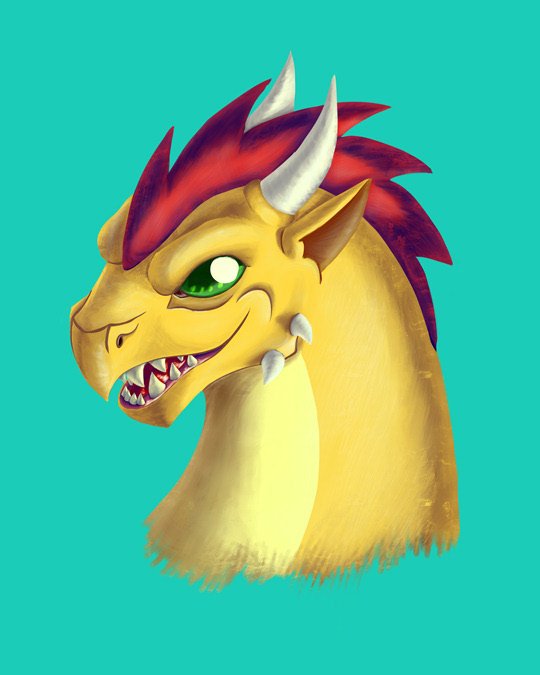 For the background I used my usual method, but instead of using a monochromatic composition of colors, I wanted to use neighboring colors, and of course I went for sure, light purple, light greenish blue and dark purple is a combination that never fails.
As you can see I originally thought of another distribution of colors and even thought of putting a canvas texture on it, but then I left it normal because the whole dragon had been painted without that texture.
Para el fondo usé el método habitual, pero en vez de usar una composición monocromática, quise usar colores vecinos, y por supuesto me fui por lo seguro, morado claro, azul verdoso claro y morado oscuro es una combinación que nunca falla.

Pueden ver que originalmente pensé en otra distribución de colores e incluso pensé en ponerle una textura de lienzo, pero luego lo dejé normal porque todo el dragón lo había pintado sin esa textura.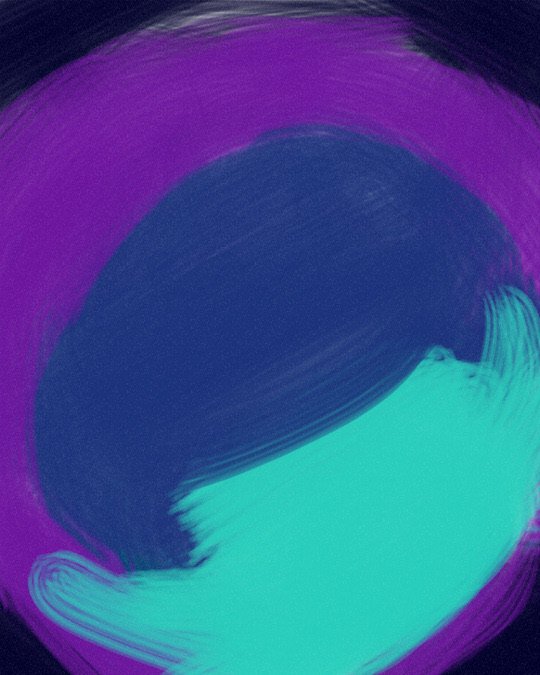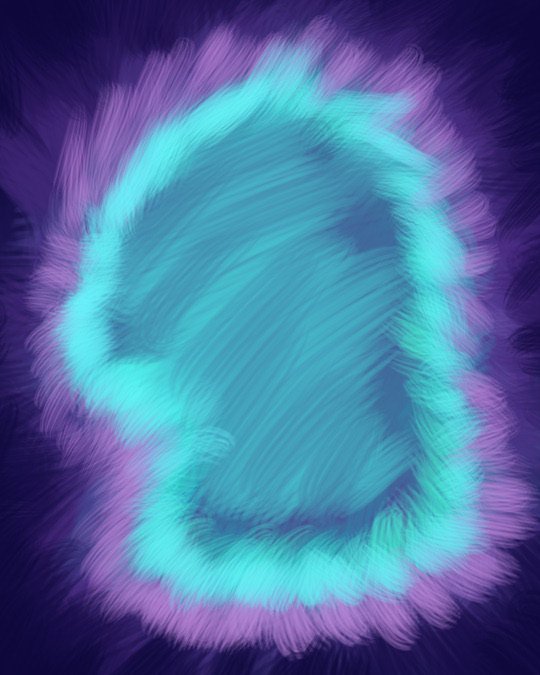 ---
With the background done, I only had to add Jack, at this point the light reflection of his eye was too intense to match the aesthetics so I lowered the opacity and that was it.
Con el fondo hecho solo faltó agregar a Jack, en este punto el brillo de su ojo era demasiado intenso como para pegar con la estética así que le bajé opacidad y listo.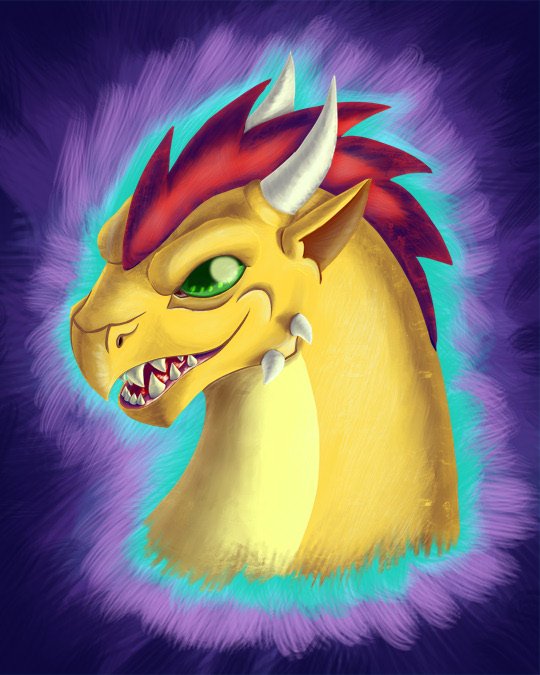 The result left me satisfied, Jack is one of the drawings that I most wanted to digitize, from the moment I finished his black and white smile I was excited to think how it would be colored, originally I wanted it to be fiery red, although it would end up being a malicious version of what it is now Ají.
In the end I decided on yellow skin, red crest and a huge green eye, its background was going to be a degraded purple following the pattern I used for Spike, however, Jack, as the mischievous rogue he is, just asked for more and more colors, I hope I don't have another dragon so demanding in its coloring in the short term... but knowing me, most likely for the next one I will have to use the whole rainbow.😢
El resultado me dejó satisfecha, Jack es uno de los dibujos que más quería digitalizar, desde el momento en que terminé su sonrisa en blanco y negro me emocionaba pensar como iba a ser coloreado, originalmente quería que fuera rojo ardiente, aunque terminaría siendo una versión maliciosa de lo que es ahora Ají.

Al final me decidí por el amarillo, la cresta roja y un enorme ojo verde, su fondo iba a ser un morado degradado siguiendo el patrón que usé para Spike, sin embargo, Jack, como el pícaro bribón que es, solo pidió más y más colores, espero no tener otro dragón tan exigente en su colorido a corto plazo... pero conociéndome,lo mas probable es que para el próximo tenga que usar todo el arcoiris.😢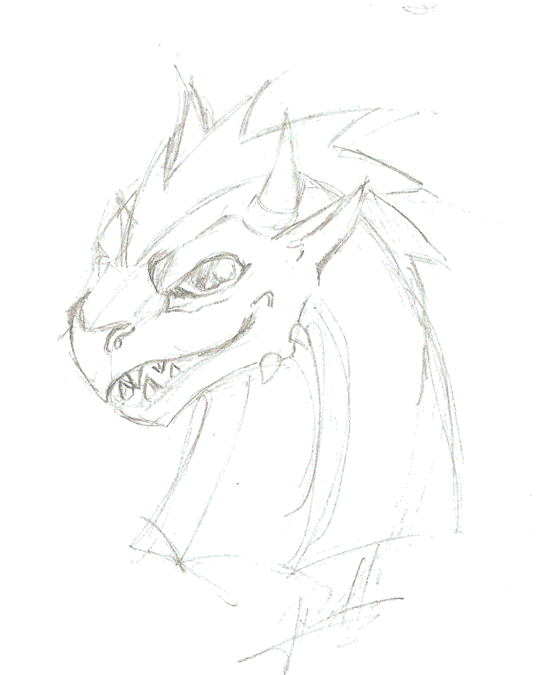 If you are interested in buying Jack you can enter here and bid for him, although if you don't want someone else to take it you can get it by paying the purchase price.
Si estás interesado en comprar a Spike puedes entrar aquí y ofertar por él, aunque si no quieres que te lo ganen lo puedes obtener pagando el precio de compra.
---
I hope you liked them and if you have any corrections or suggestions do not hesitate to comment, that will help me to improve.
Espero que le hayan gustado y si tienen alguna corrección o sugerencia no duden en comentarla, eso me ayudará a mejorar.
Tools/Materiales
Pencil and paper/Lápiz y papel
Paint Tool Sai 2
Tablet Huion H640P
Brush/Pinceles
| Bristle brush/Pincel de cerdas | Shades/Sombras |
| --- | --- |
| | |
| Airbrush/Aerógrafo | Lineart |
| | |
---
My social media:
Twitter, Instagram, Artstation
Here you can buy my NFT here:
Pixeos art gallery, Nftshowroom
Mis redes sociales:
Twitter, Instagram, Artstation
Por aquí pueden comprar mis NFT:
Pixeos art gallery, Nftshowroom