🍨 Merengada de Oreo en acuarela 👨‍🎨 Watercolor Oreo milkshake 🍨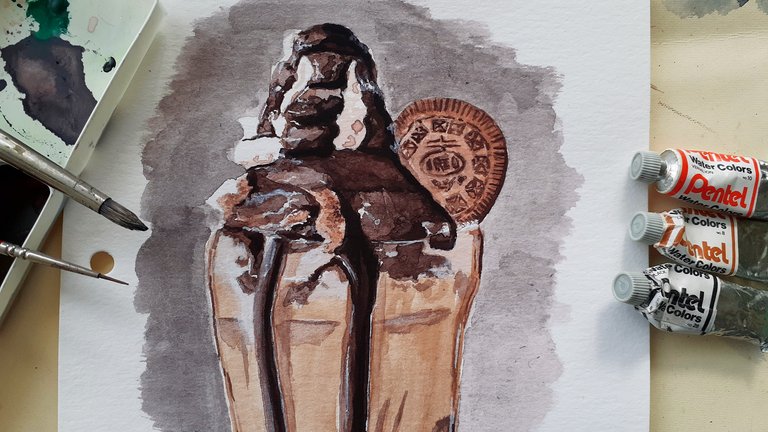 Saludos hivers; tenía abandonada la acuarela, ya que estoy también haciendo arte digital. En HIVE hay múltiples caminos para monetizar el arte; uno publicando y otro con NFT Showroom.
Regreso con las acuarelas, pintando una deliciosa merengada de oreo, de un restaurante que me pidió una sesión de fotos, para algunas de sus especialidades. Entre ellas destaca la famosa merengada de oreo con chocolate.
Greetings hivers; I had abandoned watercolor, since I am also doing digital art. In HIVE there are multiple ways to monetize art; one by publishing and another with NFT Showroom.
I return with the watercolors, painting a delicious oreo milkshake, from a restaurant that asked me for a photo session, for some of their specialties. Among them the famous oreo milkshake with chocolate stands out.
Este es mi primer trabajo de solo acuarela. En los anteriores siempre finalizaba con toques de creyón, sin embargo quise tener algo solo de acuarela y pensé que esta merengada es lo mejor. Todavía no me atrevo en los retratos, el no ayudarme con creyones. Aunque con los creyones le podría hacer las gotas en el vaso...
This is my first watercolor-only work. In the previous ones I always finished with touches of crayon, however I wanted to have something only in watercolor and I thought that this milkshake is the best. I still don't dare in the portraits, not helping me with crayons. Although with the crayons I could make the drops in the glass...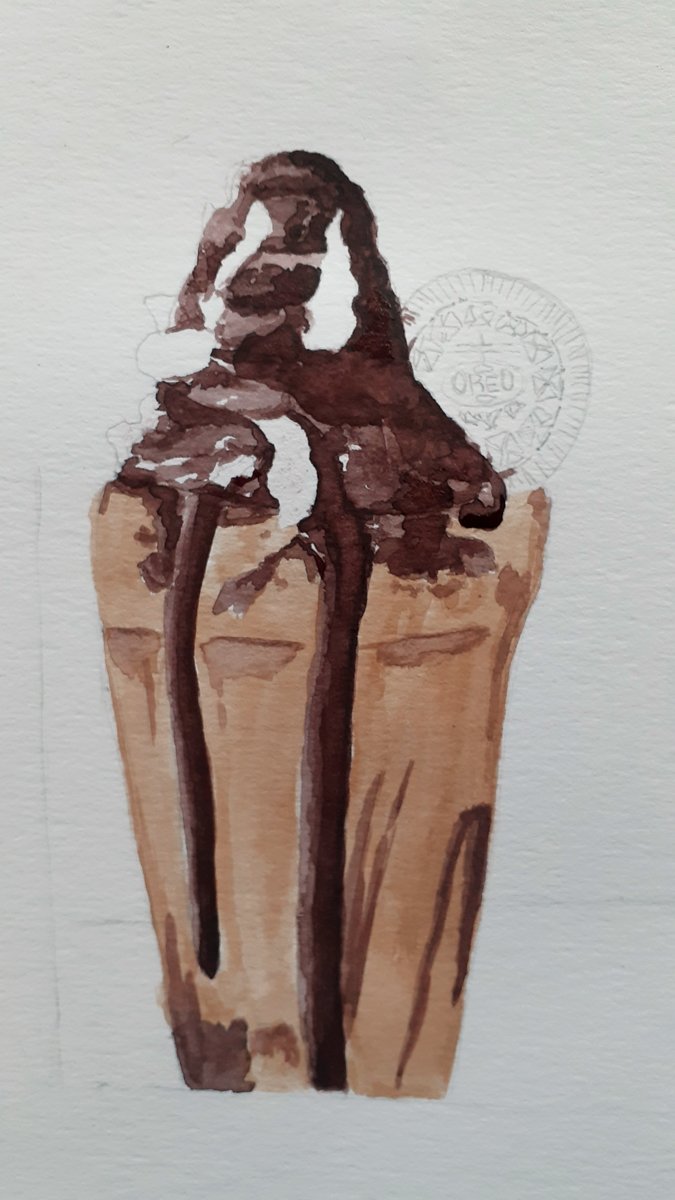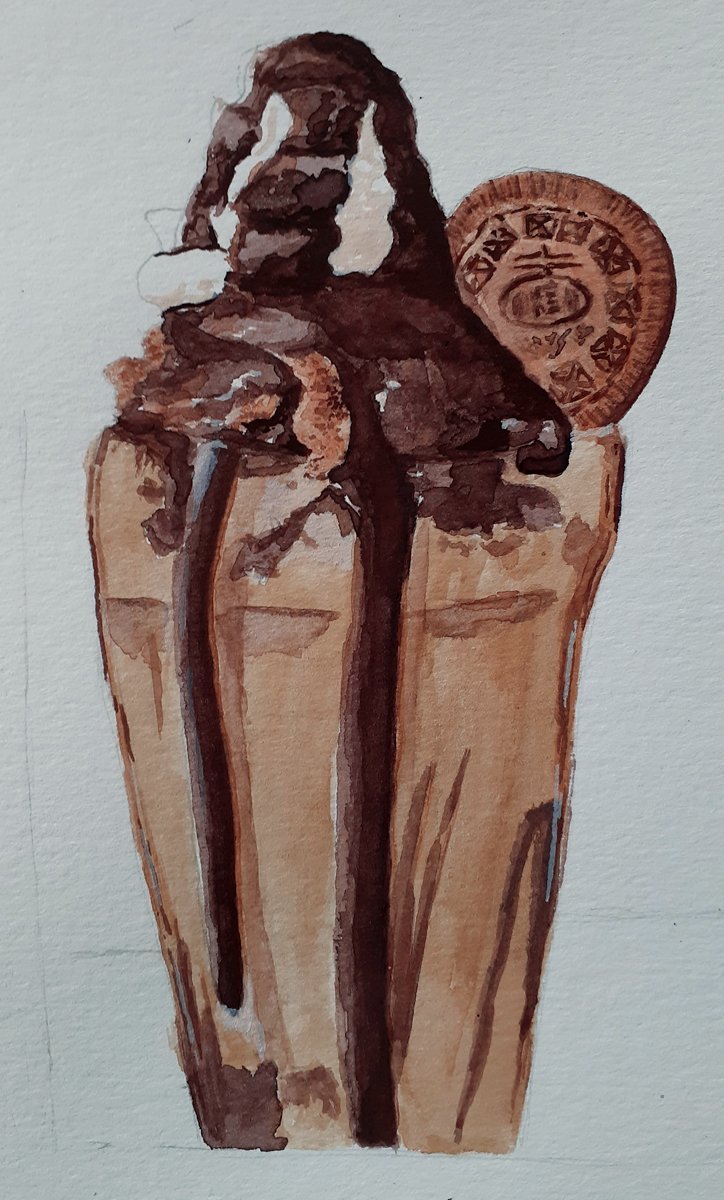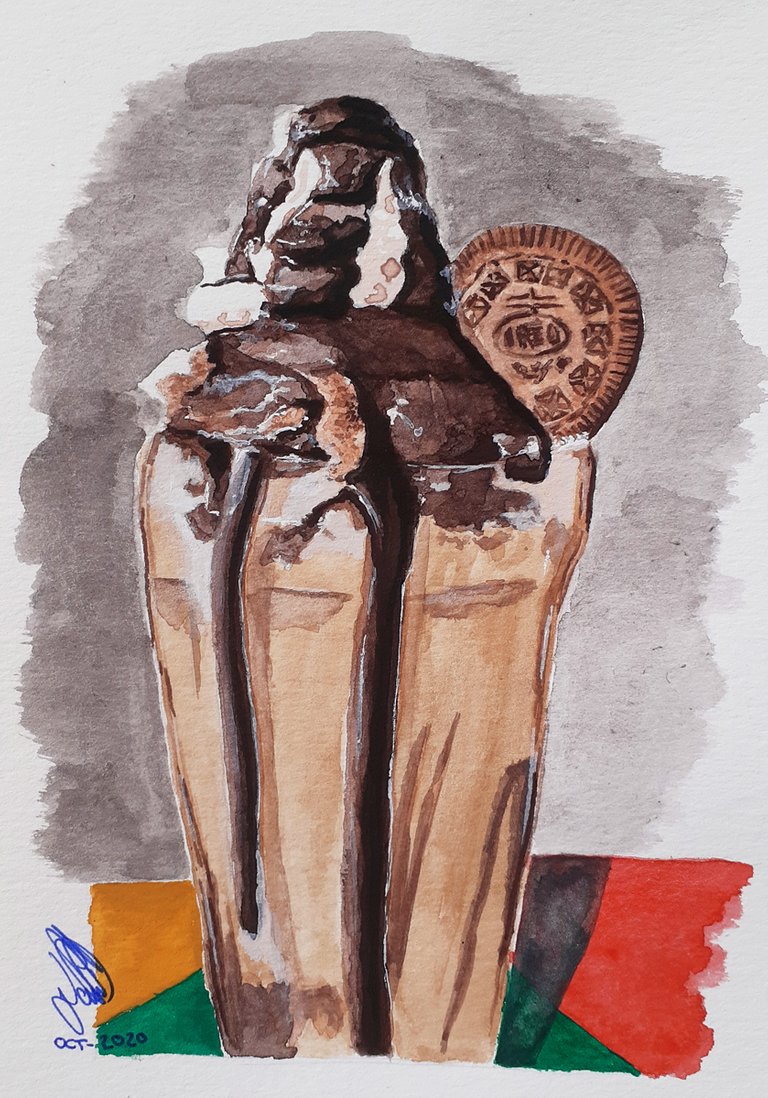 Esta es la foto original que usé. Tardé un poco en decidir porque me gustaban las galletas en las otras, sin embargo ganó la crema.
Por supuesto, comencé con el líquido de la merengada por ser lo más amplio en la imagen. Lo importante es conseguir un buen tono del color para que parezca más real.
Luego pasé al chocolate derretido, que era lo más oscuro. Para seguir con la galleta, la cual la dejé un poco rústica y no me esmeré tanto en los detalles para el hiper realismo.
Al final un poco de blanco sucio para la crema y los retoques con blanco puro para los brillos.
This is the original photo I used. It took me a while to decide because I liked the cookies in the others, however the cream won.
Of course, I started with the liquid of the milkshake because it was the widest in the picture. The important thing is to get a good color tone so that it looks more real.
Then I went to the melted chocolate, which was the darkest thing. To continue with the cookie, which I left a bit rustic and I didn't go into so much detail for hyper realism.
In the end, a little bit of dirty white for the cream and touches up with pure white for the glosses.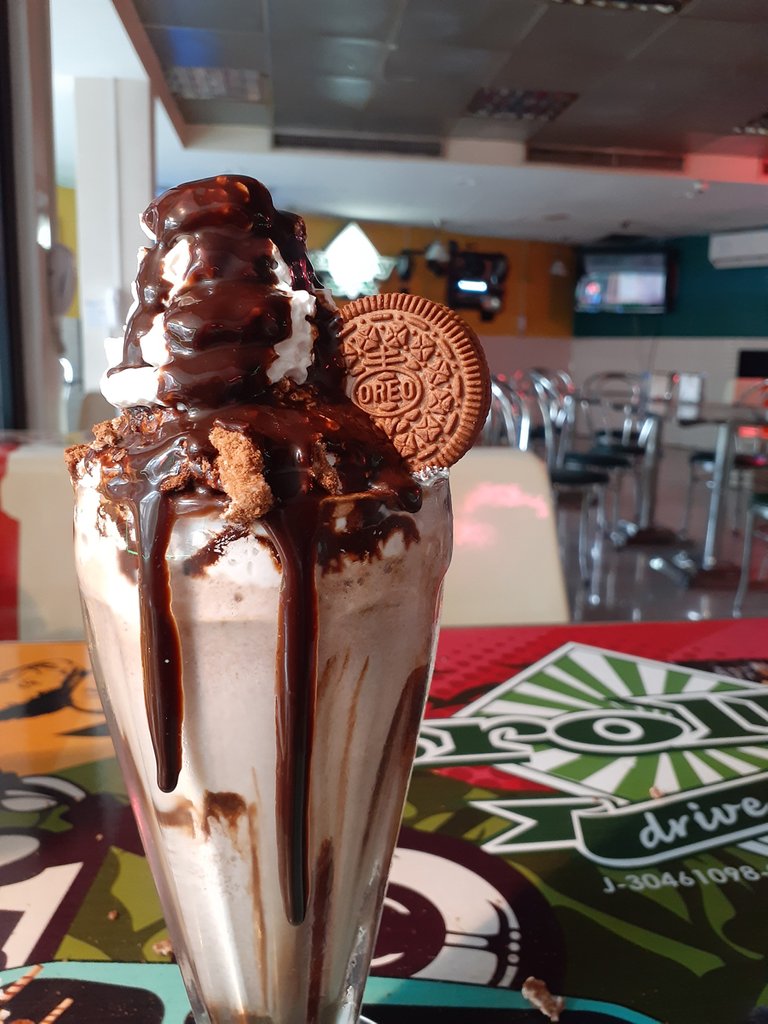 Como anécdota curiosa les dejo esta foto para que vean lo que se formó en la pintura 😁
As a curious anecdote I leave you this photo so that you can see what was formed in the painting 😁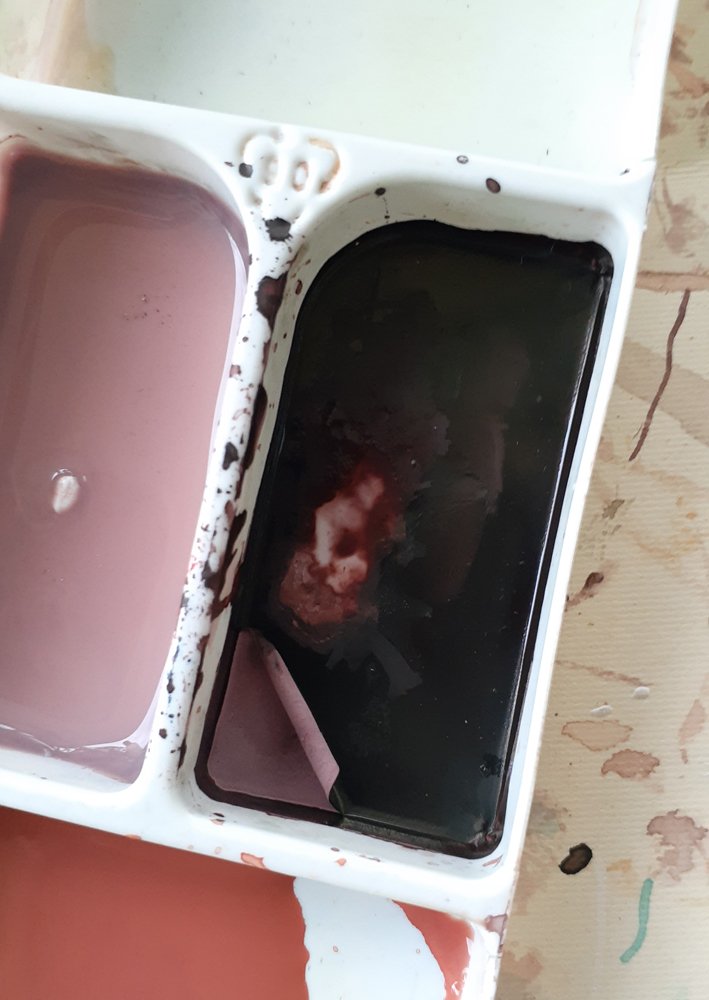 Artes anteriores - Previous arts
Translated with www.DeepL.com/Translator (free version)
---
---