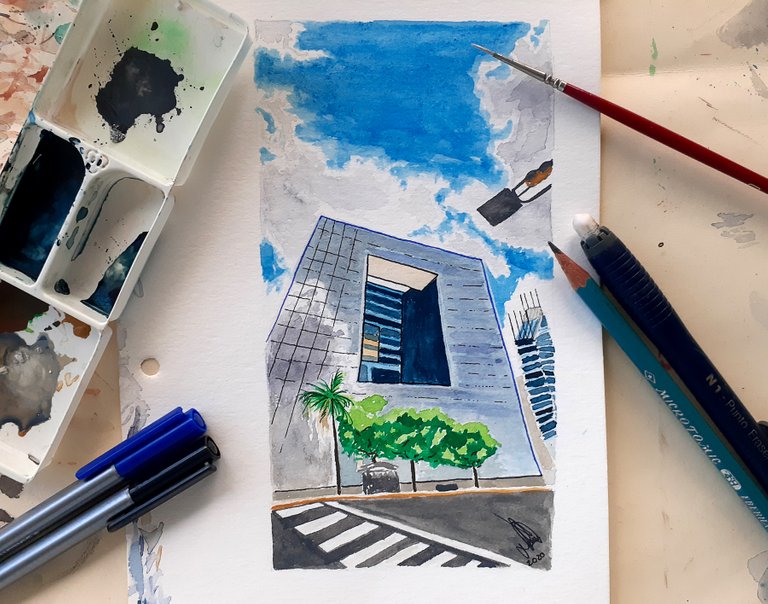 Para no dejar olvidada la acuarela, realicé esta con la particularidad que es mi primera en este estilo. Primera vez que pinto en acuarela un dibujo arquitectónico.
Viendo imágenes de acuarelas en Pinterest; siempre me aparecían de arquitectura y llegaron a enamorarme. Me recordaban a mis clases de perspectiva en el instituto, aunque los trabajos los hice a lápiz, me habría encantado usar acuarela.
Creo que las acuarelas que incluyen algún tipo de edificación es mi favorita, lastimosamente no tengo muchas fotografías de este estilo, pero estaré más pendiente para tomarlas, incluso buscar en el bahul de los recoerdos.
Esta pintura la realicé a partir de una fotografía que tomé hace un año, mientras me desplazaba en auto por Caracas. La hice desde mi teléfono Samsung A20, con el lente gran angular.
In order not to forget the watercolor, I made this one with the particularity that is my first in this style. First time I paint in watercolor an architectural drawing.
Seeing watercolor images at Pinterest; they always appeared to me as architecture and I fell in love with them. They reminded me of my perspective classes in high school, although I did the work in pencil, I would have loved to use watercolor.
I think that watercolors that include some kind of building is my favorite, unfortunately I don't have many photographs of this style, but I will be more attentive to take them, even looking at the bahul of the recoerdos.
I made this painting from a photograph I took a year ago, while driving around Caracas. I took it from my Samsung A20 phone, with the wide-angle lens.
Translated with www.DeepL.com/Translator (free version)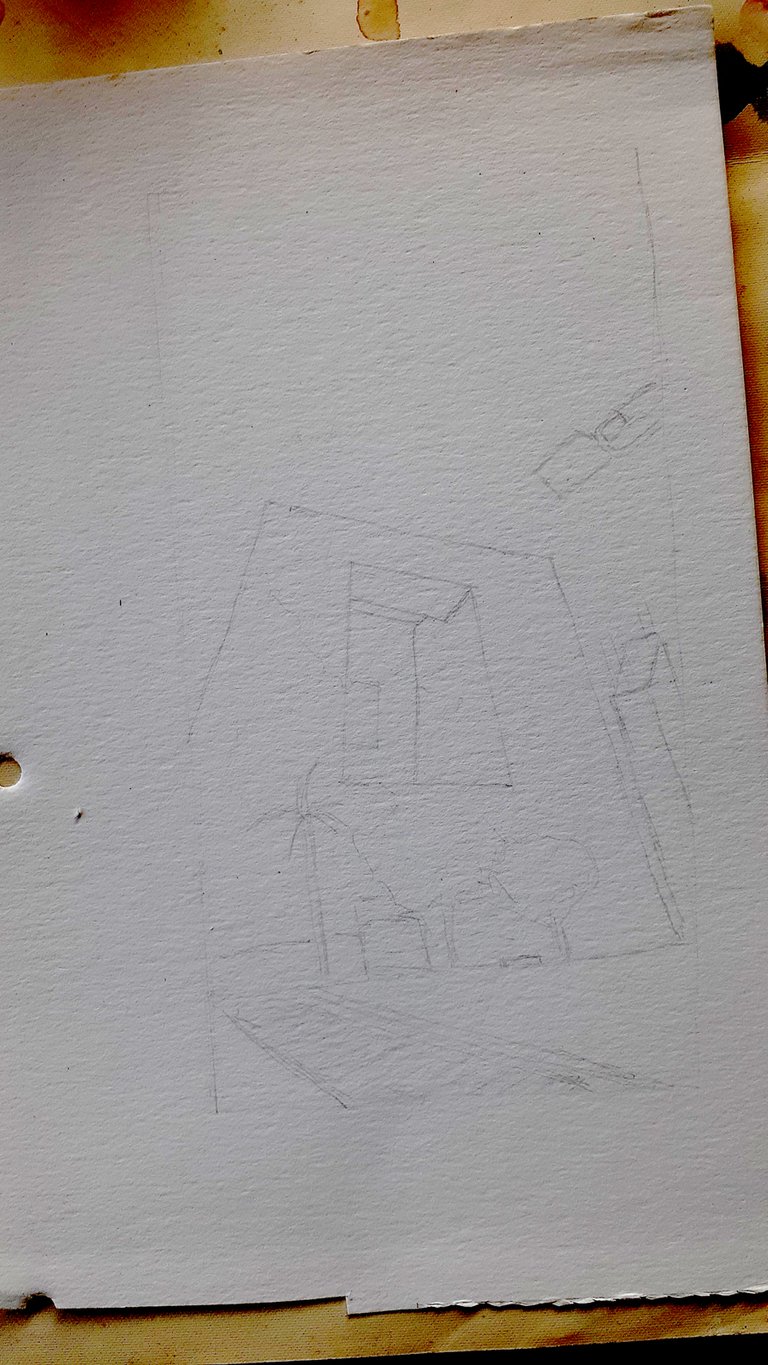 La primera e importante decisión que tomé, fue de eliminar todo el tráfico vehicular. Luego procedí a realizar el esqueleto a lápiz para que me guíe.
The first and most important decision I made was to eliminate all vehicular traffic. Then I proceeded to make the pencil skeleton to guide me.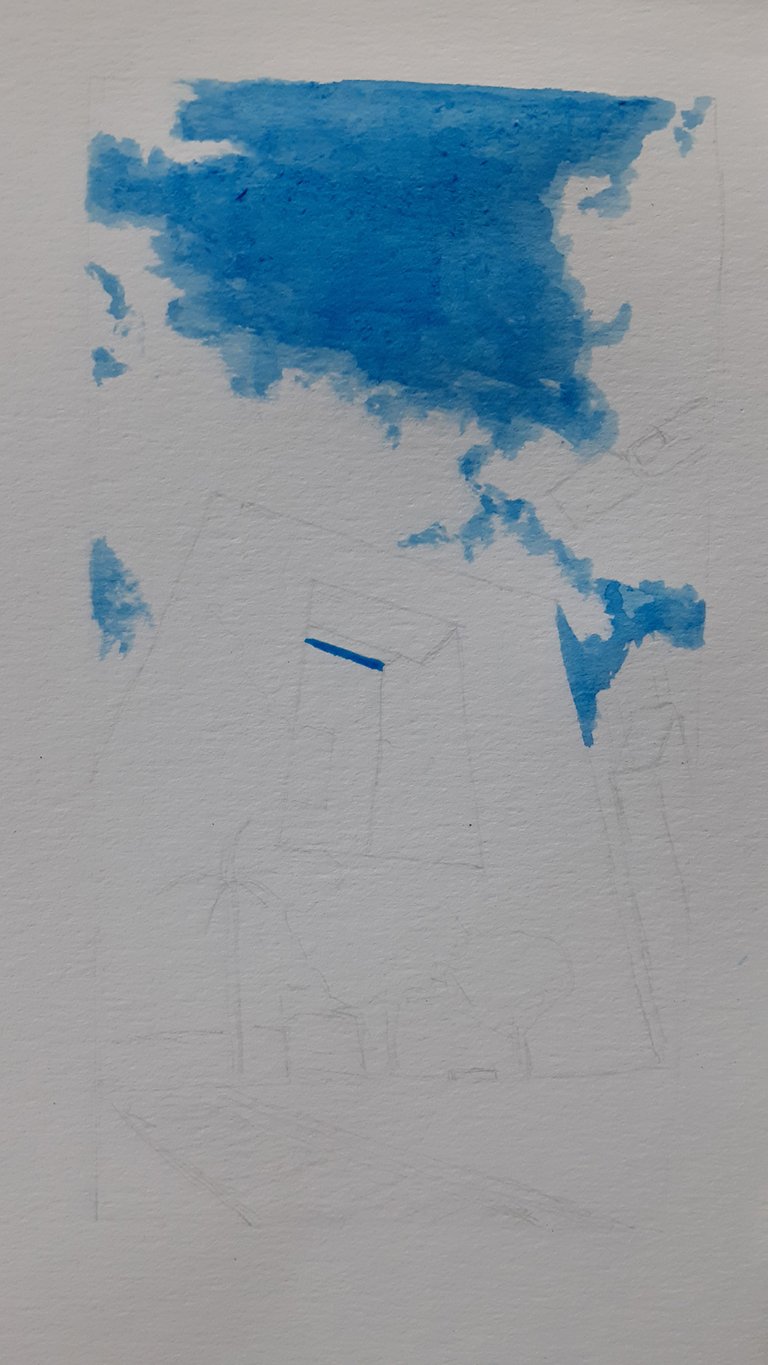 Comencé con el cielo por ser el área de fondo y con el color más predomiante. Siempre recordando en mantener el blanco del papel. Recientemente en un video vi que en la acuarela el blanco lo da el papel. Eso me sorprendió ya que yo he utilizado blanco para mezclar colores e incluso puro para reflejos de luz. Lo que si me fijé es que las acuarelas de pastilla, rara vez traen blanco, mientras que las de tubo sí lo hacen y yo siempre he pintado con las de tubo.
I started with the sky as the background area and with the most predominant color. Always remembering to keep the white of the paper. Recently in a video I saw that in watercolor the white is given by the paper. That surprised me since I have used white to mix colors and even pure white for light reflections. What I did notice is that the tablet watercolors rarely have white, while the tube watercolors do and I have always painted with the tube ones.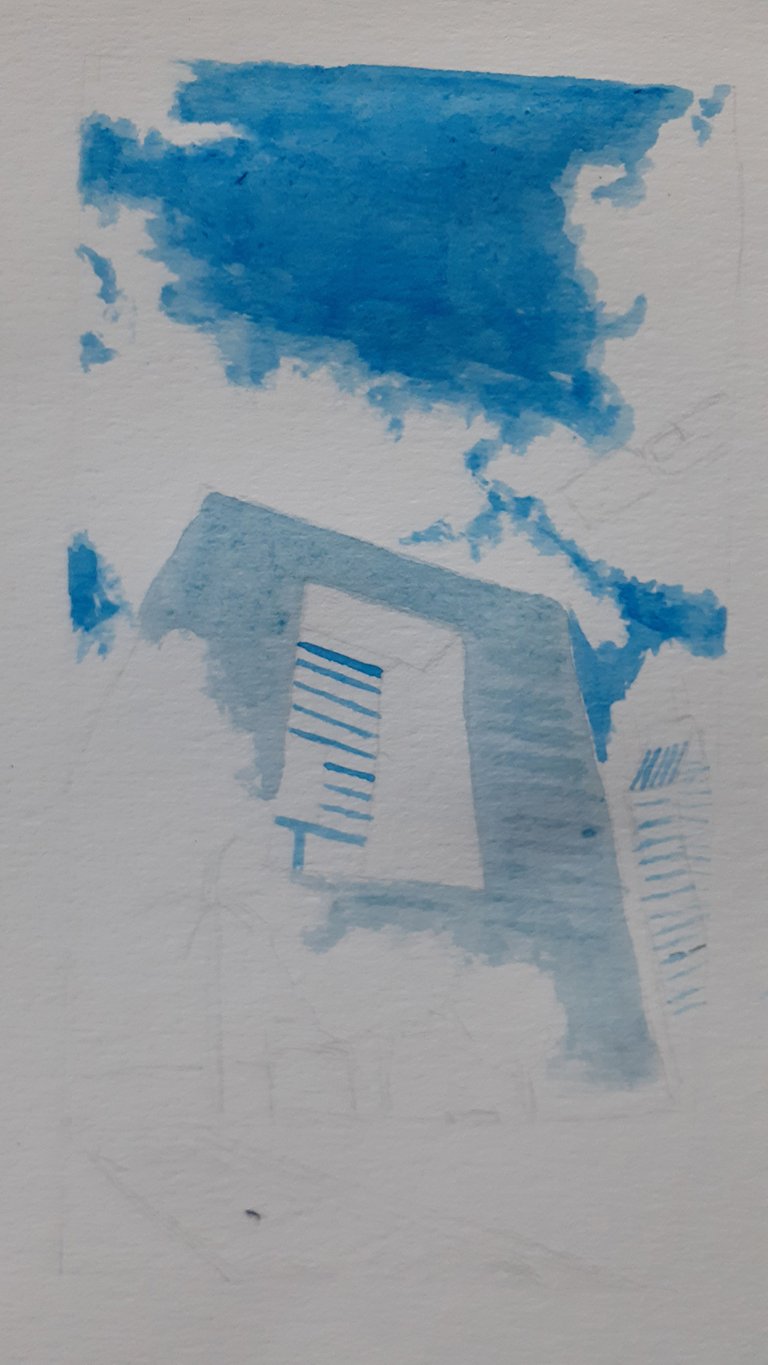 Al azul del cielo lo ensucié un poco para que diera el tono del edificio y procedí a pintar. Dividí en dos tonos, uno claro y otro oscuro. También comencé con el gris de las nubes.
I made the blue sky a bit dirty to give the tone of the building and proceeded to paint. I divided it into two tones, one light and one dark. I also started with the grey of the clouds.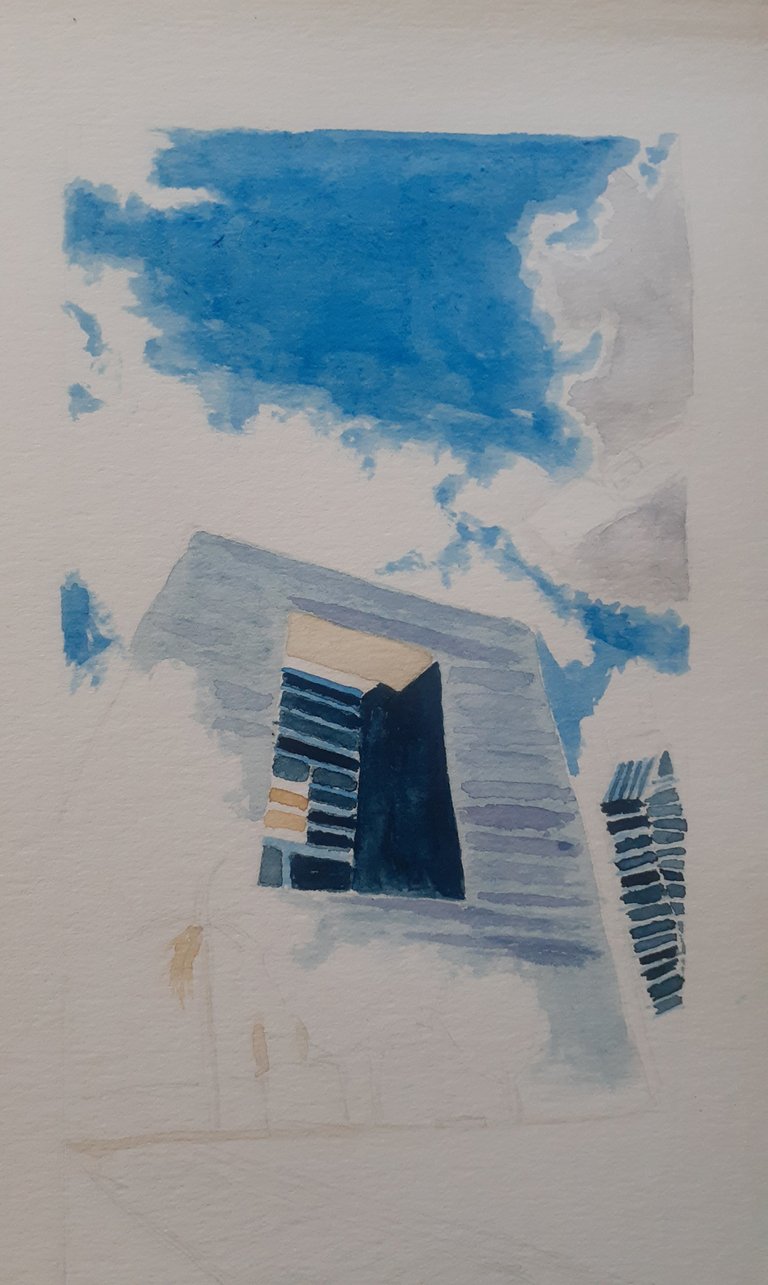 Después me afinqué más en las nubes, a darles los tonos grises para su volumen. Aquí me asusté un poco, porque de repente lo vi medio feo.
Afterwards I got more focused on the clouds, to give them the gray tones for their volume. Here I got a little scared, because suddenly I saw it half ugly.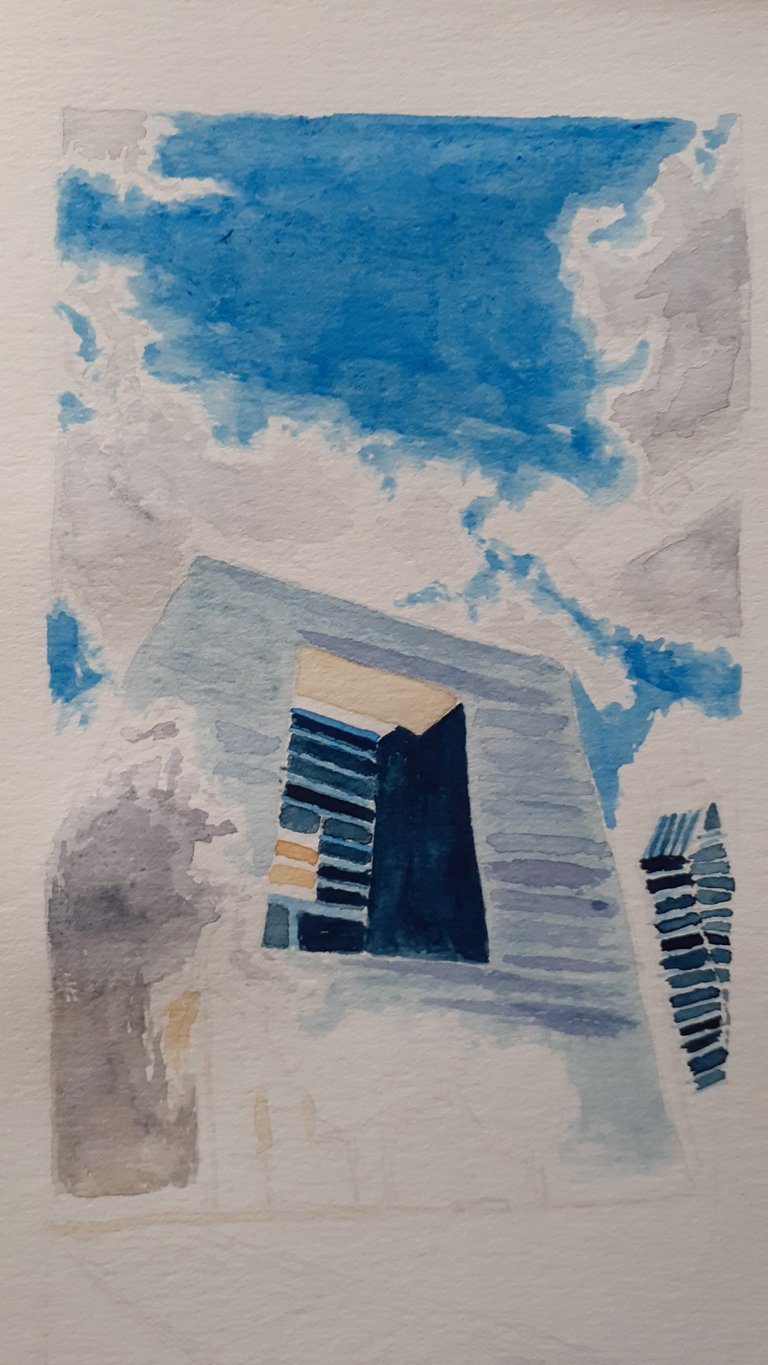 Definiendo mejor los tonos del edificio, pintando las áreas que faltaban como la calle, el dibujo mejoró y el miedo se comenzó a disipar 😁
By better defining the tones of the building, painting the missing areas such as the street, the drawing improved and the fear began to dissipate 😁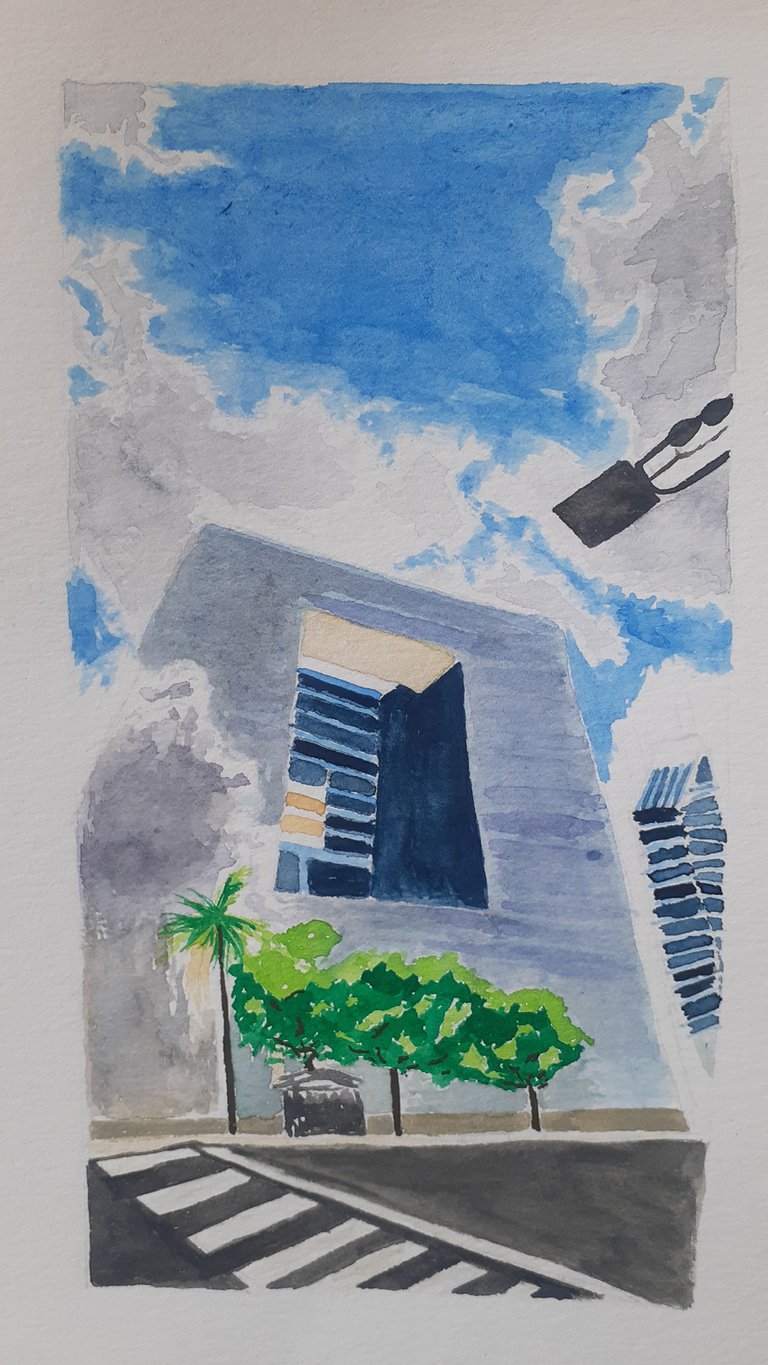 Una de las cosas que he podido observar en muchas acuarelas de arquitectura (incluso en otras) es la aplicación de bordes en tinta china. Le da un toque genial y esta era mi oportunidad perfecta para hacerlo. Realmente el resultado me encantó y de seguro lo aplicaré en nuevas acuarelas.
Lo que no estoy seguro es si en el lugar donde usé tinta china azul, quedaría mejor la negra ¿Ustedes qué dicen?
One of the things I have been able to observe in many architectural watercolors (even in others) is the application of borders in Indian ink. It gives a great touch and this was my perfect opportunity to do it. I really loved the result and I will certainly apply it in new watercolors.
What I'm not sure about is if the place where I used blue Indian ink would look better in black.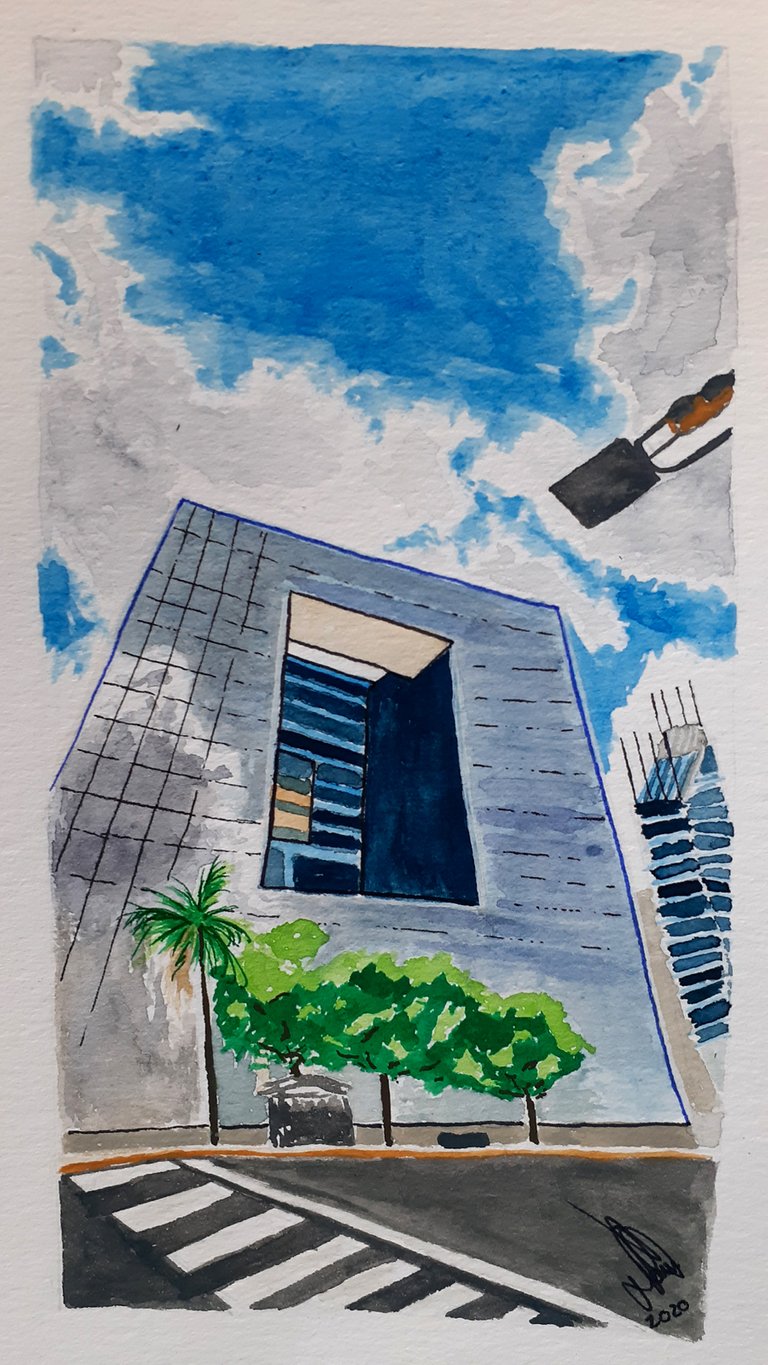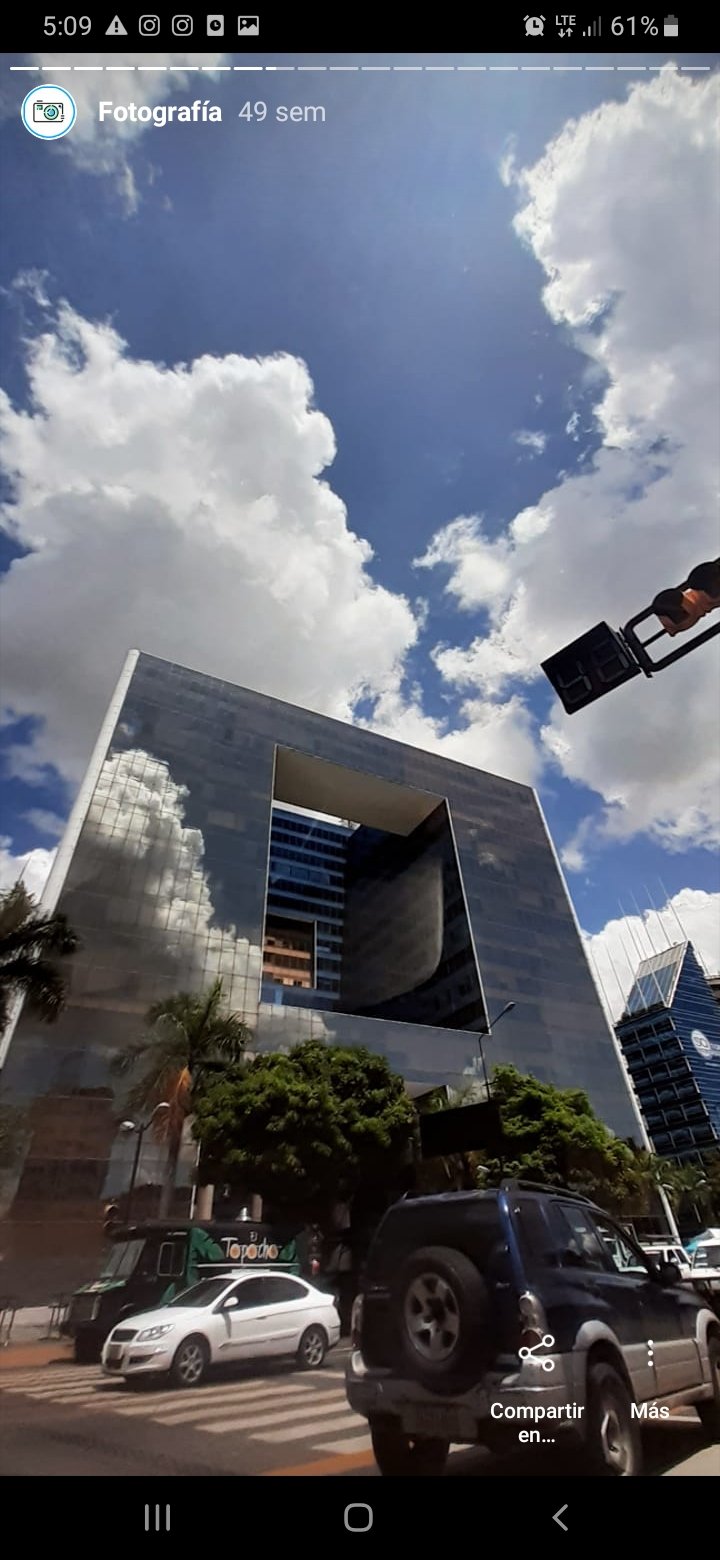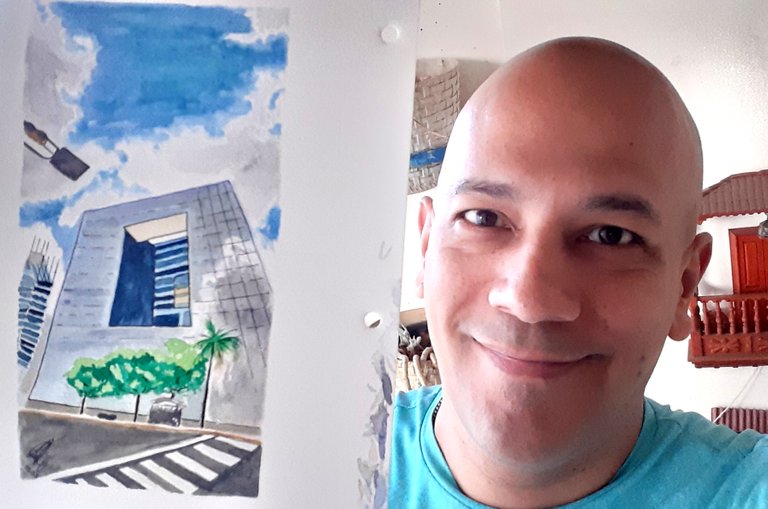 ---
Artes anteriores - Previous arts