I have always believed, and continue to believe, that imagination and fantasy are very important since they are an inseparable part of the reality of our lives.
-Ana María Matute (1926-2014)Spanish novelist.
---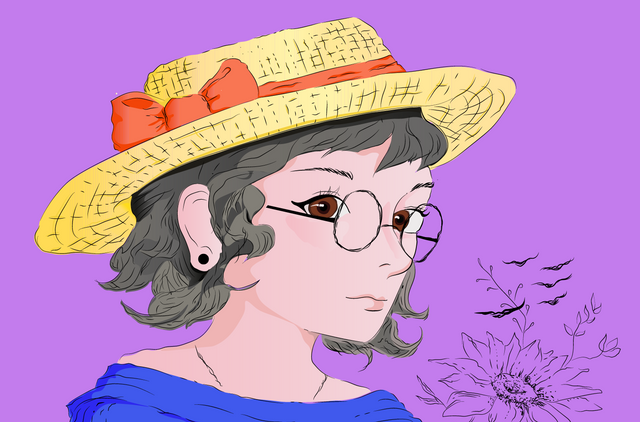 The magic of imagination ✐
A few days ago I have been practicing digital drawing and I do not know if I am doing well but this has pleased me a lot, learning new techniques and letting the imagination fly outside the comfort zones is very motivating. This time I wanted to illustrate one of my most recent drawings "the magic of the imagination". and to be able to see how it looks on a different plane and perhaps with more solid colors and that's how it went:

About drawing:
She is a beautiful intellectual girl and lover of books. Use characteristic traits of girls that I have been able to meet. which read and are more lovers of literature. with the air of an innocent and tender girl; also this drawing was mainly inspired when I read "on the banks of the stone river I sat down and cried. Book that I highly recommend for the tenderness and insecurity of the character.
About book:
After eleven years, a woman is reunited with her beloved. The last time they saw each other they were young. Today, life has taken them down very different paths: she lives in Zaragoza, prepares competitions and has learned to master her feelings. He has traveled the world, has the gift of healing, and has found a refuge in religion to escape his inner conflicts. But in the reunion, both will be united by a single desire: to fulfill their dreams.
Written by: Paulo Coelho
Now if here it is:
✨Progress...
The outline was the easiest I think of the drawing but also the latest, because this drawing I feel has too many lines and of course on paper it was easier for me to do it.
For the colors I did not want to stray too far from the original drawing. and her hat has typical colors of a very hipster and tender girl. the shading of the whole drawing took a long time to do. but I think in the end I was able to achieve an acceptable result. For the other colors of the drawing at the end I changed the idea that his coat was green and I liked more blue and well the drawing I think can speak for itself.
---
And here is the final result...
---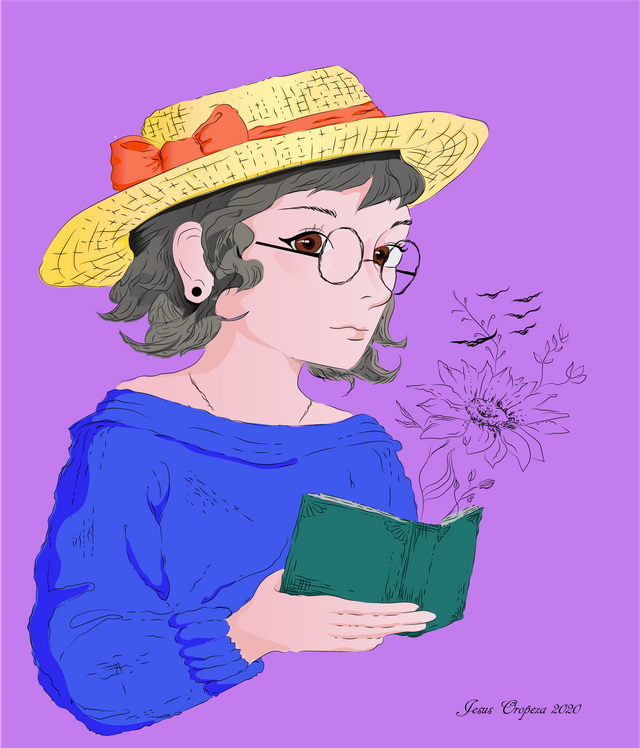 Art original by :@chopiliart
Original post link:click aqui
Made at :Adobe illustator
Before and After:
Which prefer?
I hope my article has been to your liking, leave me your opinion about the drawing and if you have any questions about drawing you can do it that I will gladly answer in the comments. Until another post. thank you for support
follow me on instagram: @jesuschop_art


Español❧

Siempre he creído, y sigo creyendo, que la imaginación y la fantasía son muy importantes puesto que forman parte indisoluble de la realidad de nuestra vida.
-Ana María Matute (1926-2014) Novelista española.
---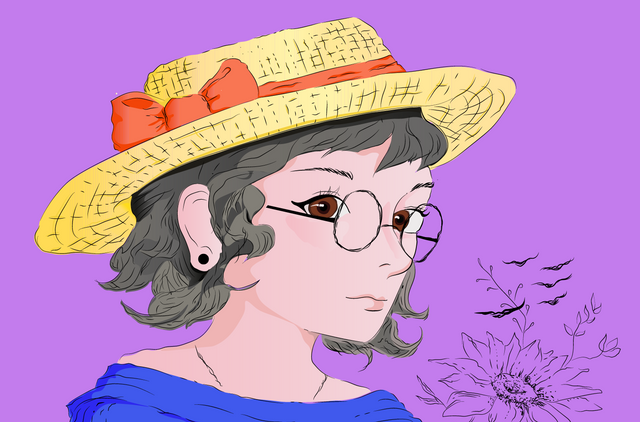 La magia de la imaginacion
Hace unos días vengo practicando dibujo digital y no se si me este yendo bien pero esto me ha agradado mucho, aprender técnicas nuevas y dejar volar la imaginación fuera de las zonas de confort es muy motivador. Esta vez quise ilustrar unos de mis dibujos mas recientes "la magia de la imaginación". y poder ver como se ve en un plano distinto y tal vez con colores mas sólidos y así me fue:

Acerca del dibujo:
Es una hermosa chica intelectual y amante de los libros. Utilice rasgos característicos de chicas que he podido conocer. las cuales leen y son mas amantes de la literatura . con aires de chica inocente y tierna ; ademas este dibujo principalmente fue inspirado cuando leí " a orillas del río piedra me senté y lloré. Libro que recomiendo mucho por la ternura e inseguridad del personaje.
Acerca del libro:
Tras once años, una mujer se reencuentra con su amado. La última vez que se vieron eran todavía adolescentes. Hoy, la vida los ha llevado por caminos muy distintos: ella vive en Zaragoza, prepara oposiciones y ha aprendido a dominar sus sentimientos. Él ha viajado por todo el mun­do, posee el don de la curación y ha encontrado en la re­ligión un refugio para huir de sus conflictos interiores. Pero en el reencuentro, a ambos los unirá un único deseo: el de cumplir sus sueños.
Escrito por: Paulo Coelho
link here
Ahora si aqui esta:
✨Proceso...
El delineado fue creo lo mas fácil del dibujo pero también lo mas tardío, pues este dibujo siento que tiene demasiadas lineas y claro en el papel se me hizo mas fácil hacerlo.
Para los colores no me quise alejar mucho del dibujo original. y su sombrero tiene colores típicos de una chica muy hipster y tierna. el sombreado de todo el dibujo me tardo mucho hacerlo. pero creo que al final pude lograr un resultado aceptable. Para los demás colores del dibujo al final cambie la idea que su abrigo fuera verde y me gusto mas un azul y bueno el dibujo creo que puede hablar por si solo.
---
Y acá esta el resultado final...
---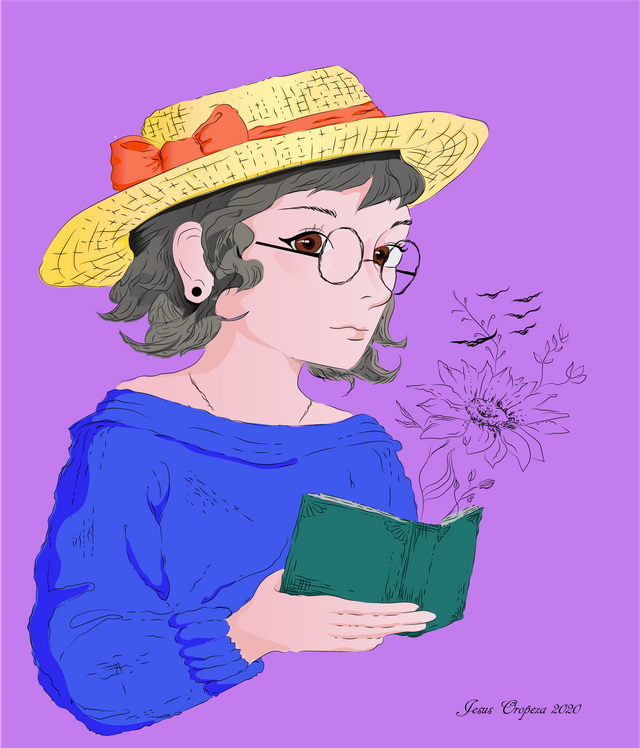 Dibujo original de :@chopiliart
Publicacion del dibujo original:click aqui
Hecho en :Adobe illustator
Antes y despues:
¿Cual prefieres?
Espero mi artículo haya sido de tu agrado, déjame tu opinión acerca del dibujo y si tienes alguna duda sobre dibujo puedes hacerla que con gusto responderé en los comentarios. Hasta otro post.Gracias por apoyarme
Sigueme en instagram: @jesuschop_art