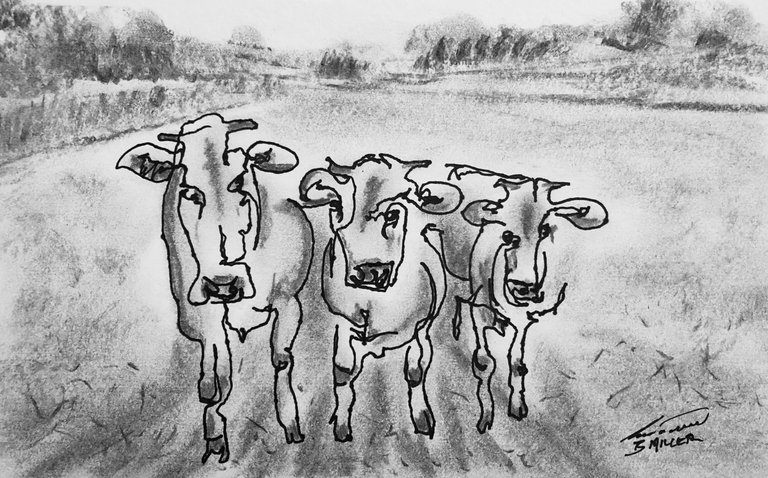 While I was Sitting In Front Of The TV ..
The other night, I decided to take a few minutes and finish up this blind contour drawing of 'Three Ladies'. So we can consider this post a part two of the original post [SEE BELOW - I will add the original post]. I decided to use charcoal to add the shading/tonal values to the piece. When I add the shading, to these types of drawings, I tend to do it in a very loose and light manner. I don't want to loose too much of the grotesque nature of the original drawing below a bunch of dark shading, and that is why I chose to go light. I also like to add hints of detail.. just enough to trick the mind into thinking there's more there than there actually is.
I Am Pleased With The Way It Came Out ..
Again, before I shaded it, I was pondering whether I should or not. It looked cool on it's own. But after much debate in my mind, I decided to go with my gut and shade away! I am glad I did. It may not be much.. just a simple and small drawing, but it makes a little statement non the less. What I love about this piece is its quirkiness and the humor in it. I slightly laugh when I look at it. Yes, you 'herd' me right.. I was laughing at my own work! This drawing will make a nice addition to my Blind Contour Collection.
Here is a look at it finished on my pad with the original Pixabay photo attached.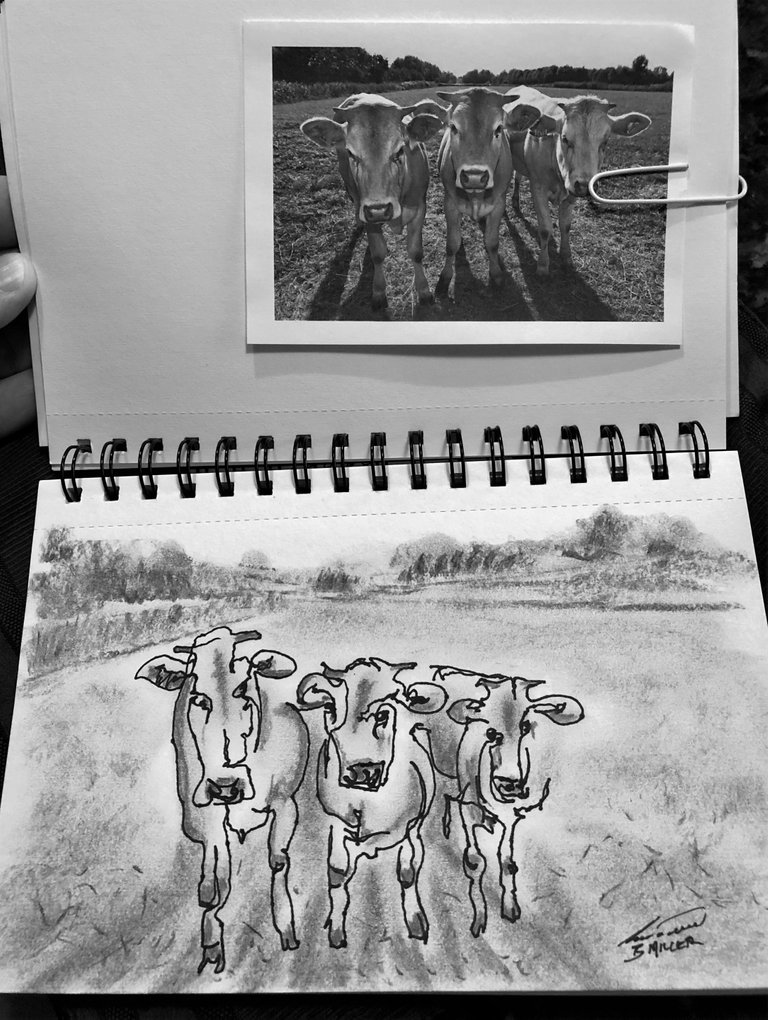 This is the best thing I have as far as a progression photo goes. I didn't take any of the shading and couldn't take any of the blind contour part.. I am still looking into maybe filming it and uploading it to YouTube or someplace like that. We'll see and I'll let you know if I do.

Okay ..
I think that's enough cows for now. Tune in and don't miss my next one! Let me know if you have any good ideas as far as subject matter goes.
Moo moo until next time!!


Original Post From May 6th, 2020...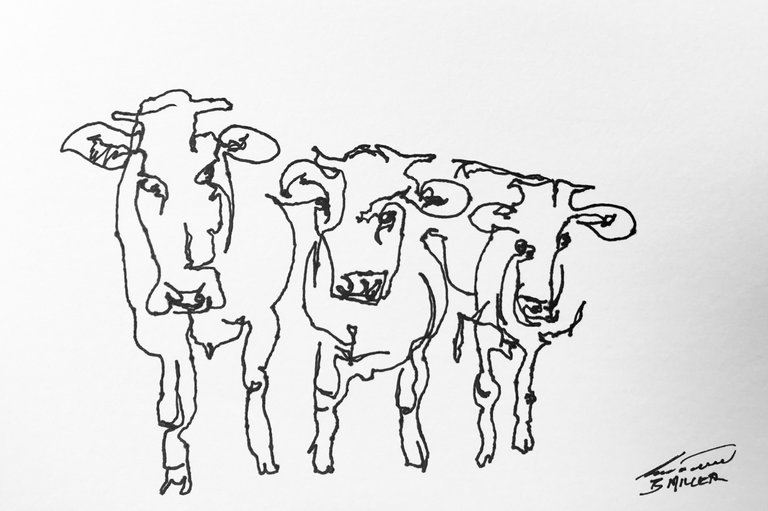 What We Have Here Is ..
A blind contour drawing inspired by two things, hump day and a good friend @veryspider. She told me to get off my butt and create something ASAP! Well, okay.. not in those very words. She was much more polite about telling me to keep the creative juices active. I thought to myself, as lunch neared, that this is what I would do. I would create one of my lunch hour (more like 15 minutes) blind contour drawings and satisfy the creative drought. Also, because my thinking is not always logical to most of the human race, I was thinking about "Hump Day" aka Wednesday. I thought about camels and that for some reason triggered a thought about cows. I always liked those cow drawings I see at big box stores. Good plan! Draw a cow or three for today's drawing!!
First Step Was Find A Reference Photo ..
Since I don't live on a cow farm, nor are there any near me on my lunch hour and at the spare of the moment, I went to the internet. I logged onto Pixabay and searched cows. I browsed the results until I found the perfect photo.. It made me smile and chuckle a little, so I knew it was the right one for my quick drawing. The photo is of three cows sort of staring at the person taking the photo. I thought to myself, "look at these three ladies". Now, I DO NOT know if these are female cows.. I am no cow expert.. haha.. But I think they are. Since I chose to call the piece "Three Ladies", I am going with it!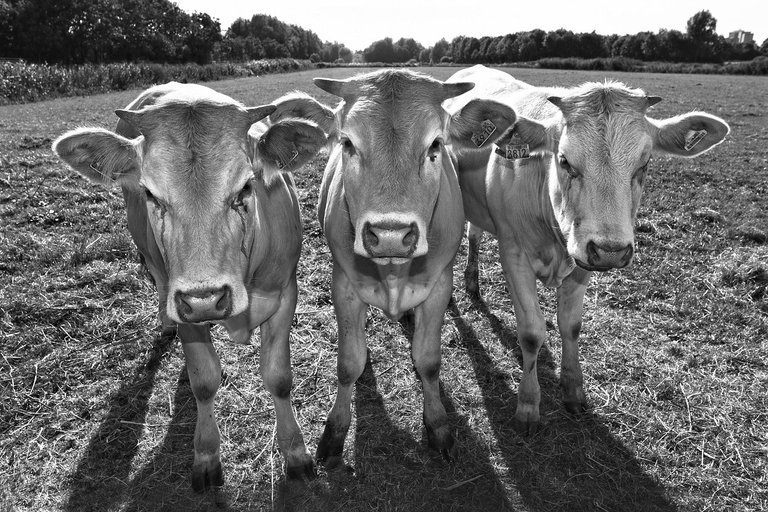 I Clipped The Photo To My Pad ..
And readied myself with a fine point Sharpie and a steady hand.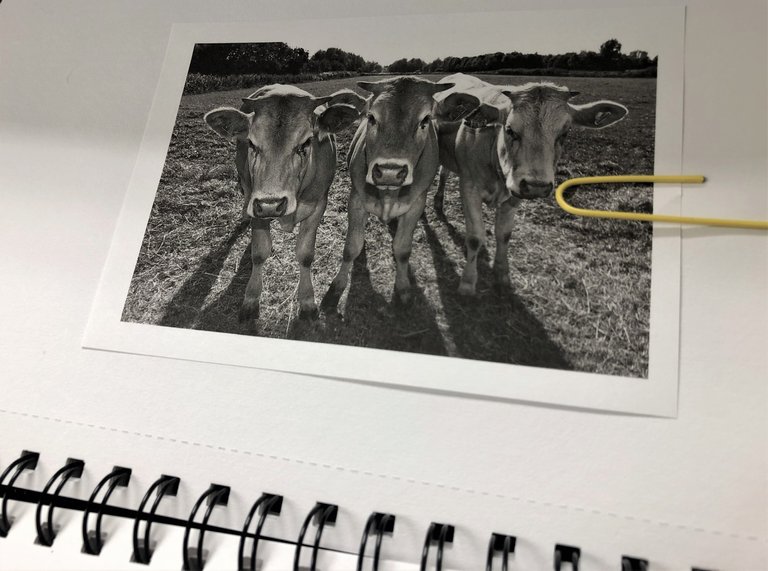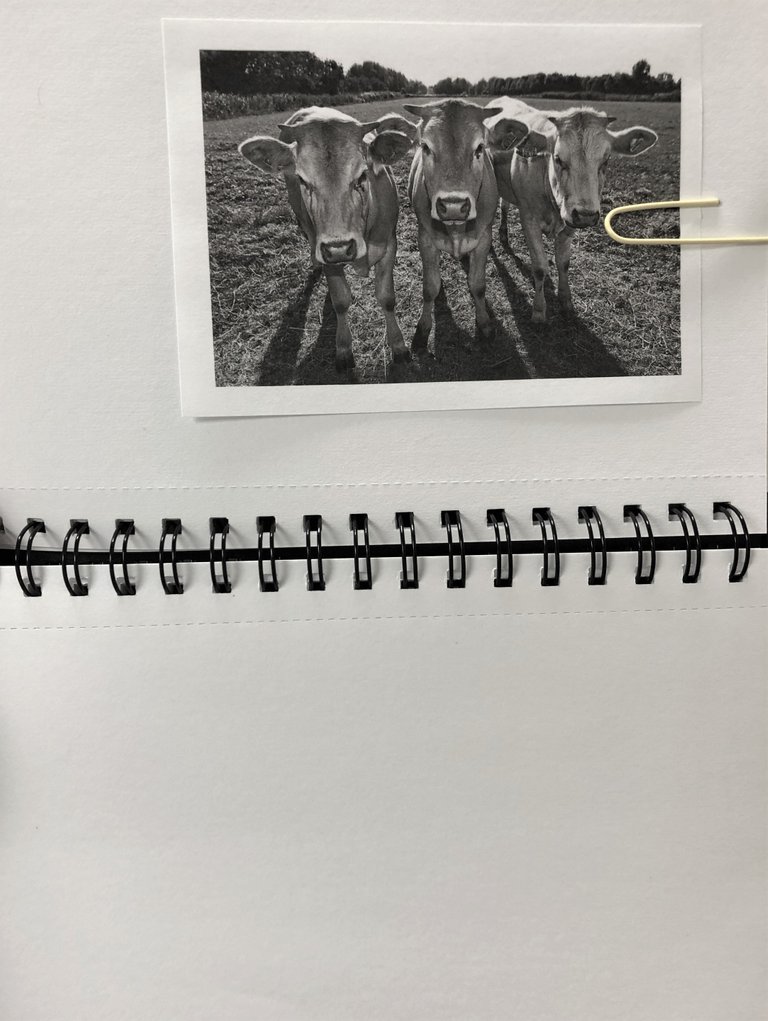 For approximately the next 7 minutes, I keep the pen in my hand, glued to the paper (one continuous line) and my eyes never once wandered from the subject photo (blind drawing). This is why the drawing is a bit grotesque and funky looking, but also why they call it blind contour drawing. It's like Christmas morning every time I complete one of these. I can't wait for the joy and excitement I'll get from the results.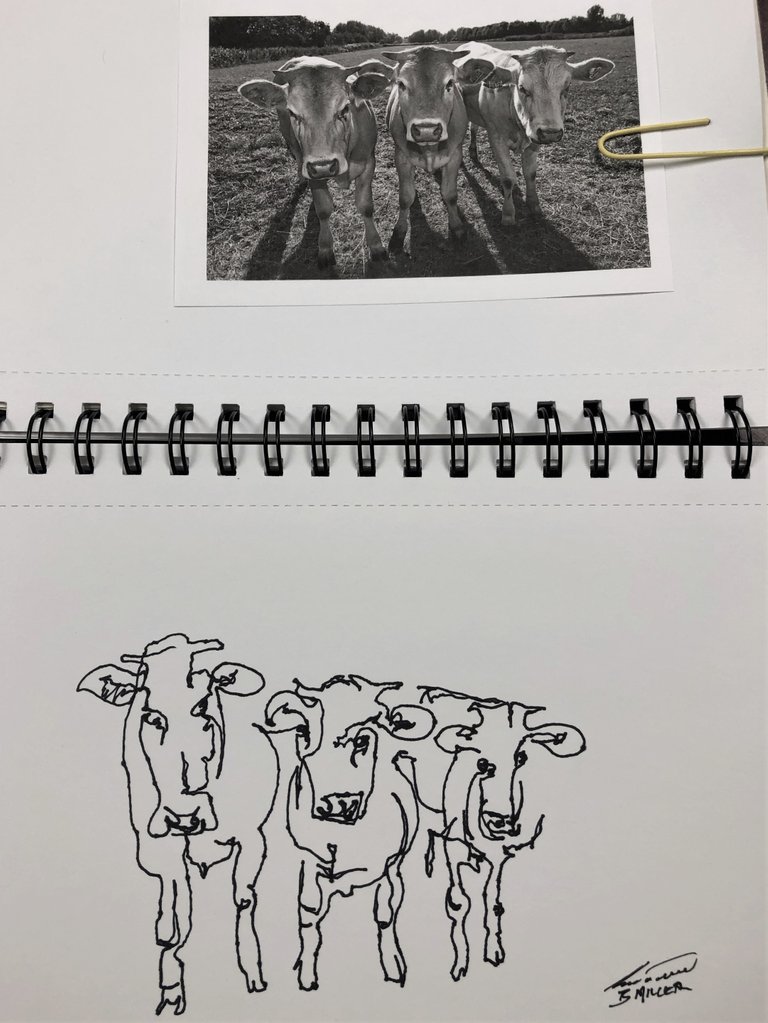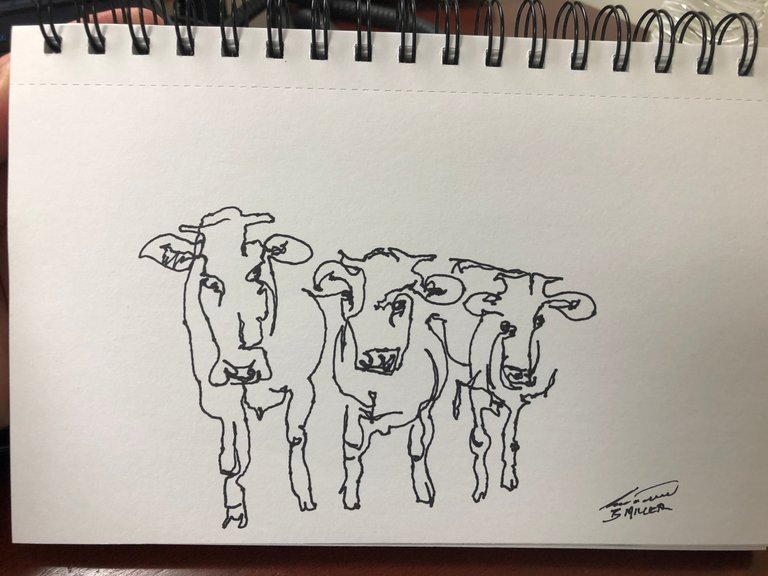 I then cropped it and edited the coloring a bit to remove the warm color. It is meant to be black and white, so a little adjusting was needed. Cameras always seem to adjust the color balance to a warmer affect. A few clicks of the mouse and It looks as good as it can get for now.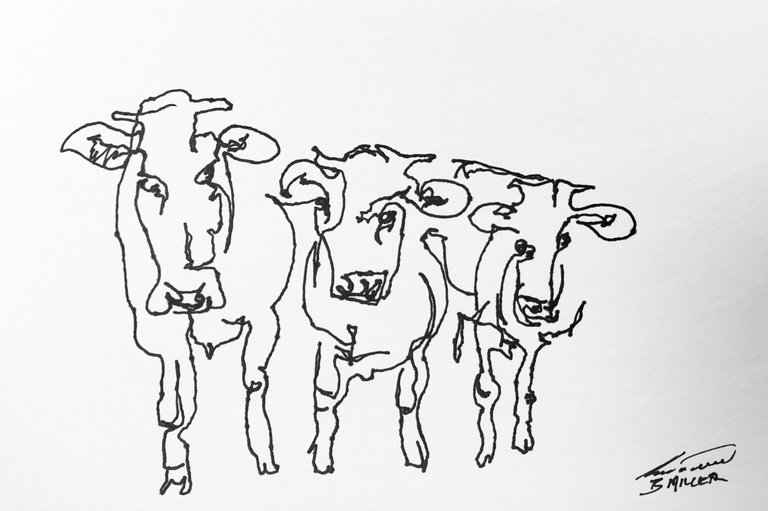 Here's a side by side photo with the original inspiration photo. Overall the piece didn't come out like I expected it would, but I am pleased non the less. I can't wait to find a little time after dinner to add some shading to it. I am definitely going to shade this one up a little with a dark graphite or charcoal. After I do that, I will share the finished results with you.


Below Are Some Of My Most Recent Blind Contours ..
It's been a while since my last drawing of this type, but here are a few of the drawings that I have blogged about in the past. Possibly worth a look.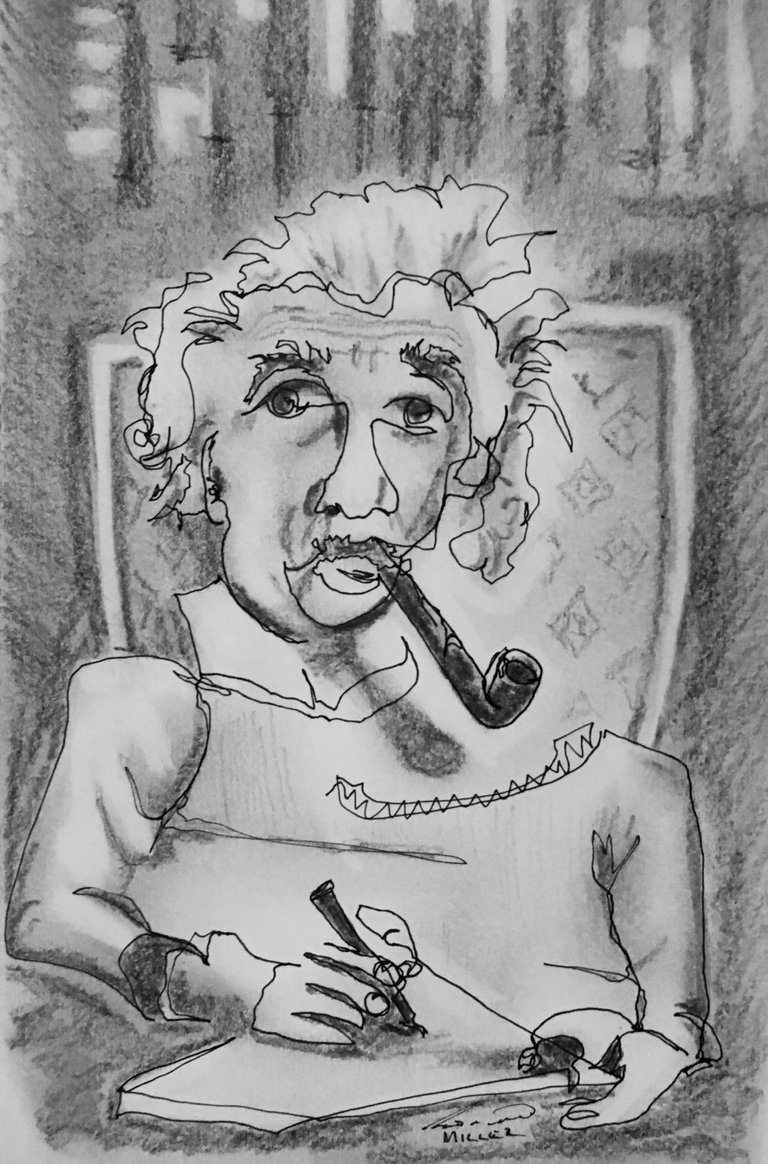 'Einstein'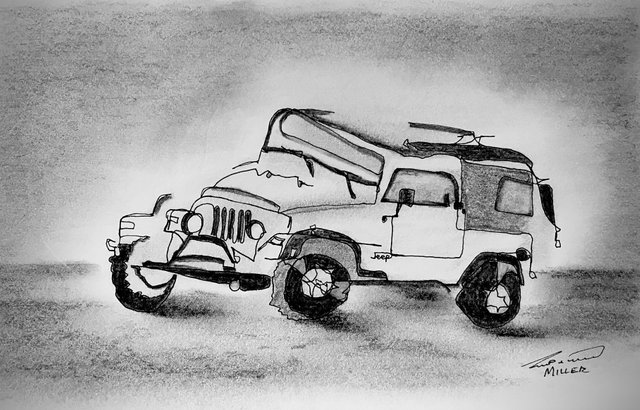 'Mangled Wrangler'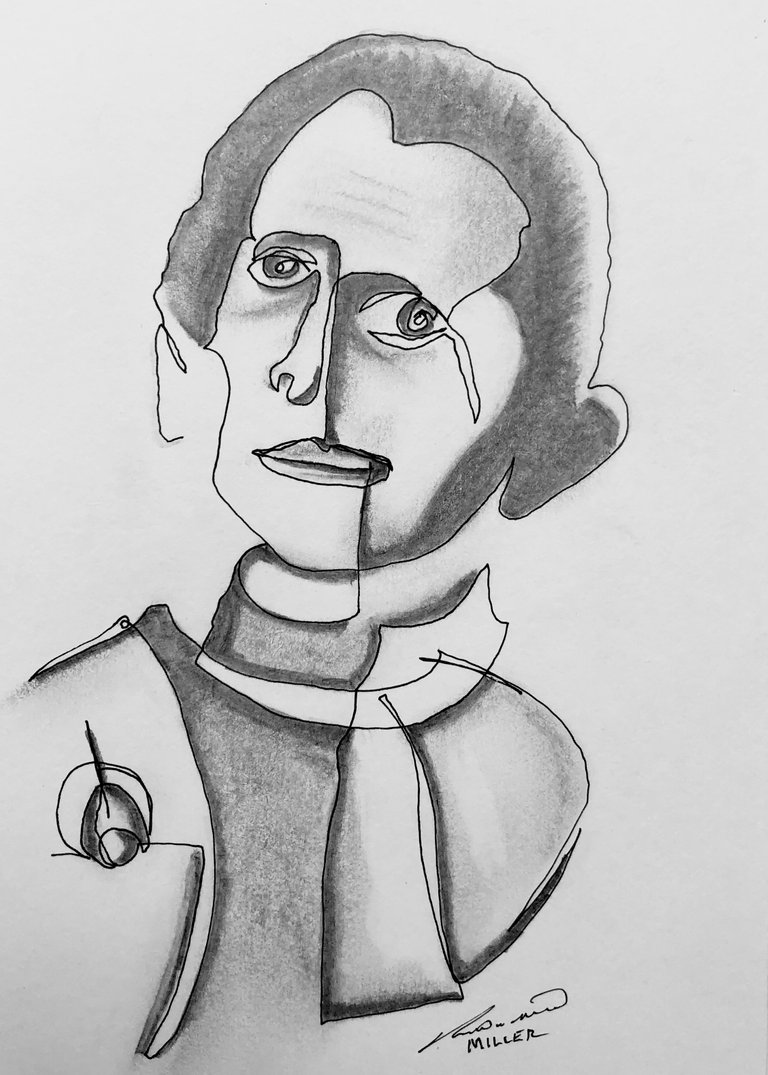 'Odo'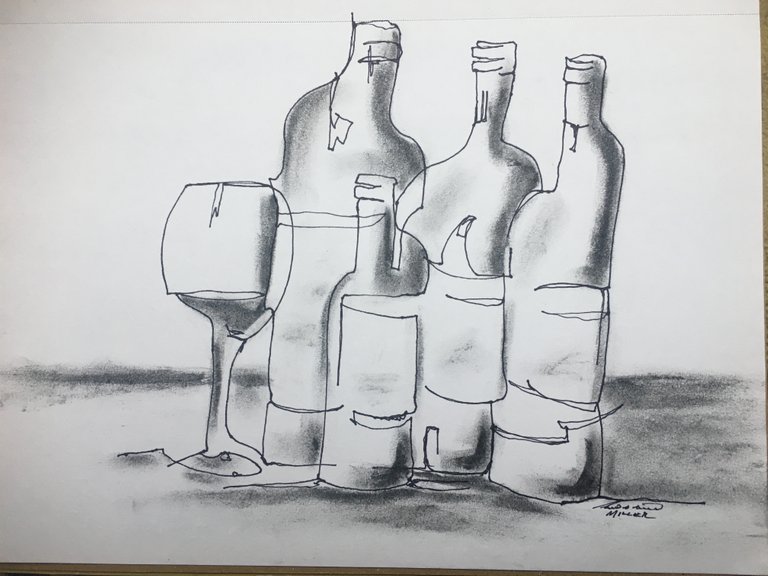 'Expression of Cabernet'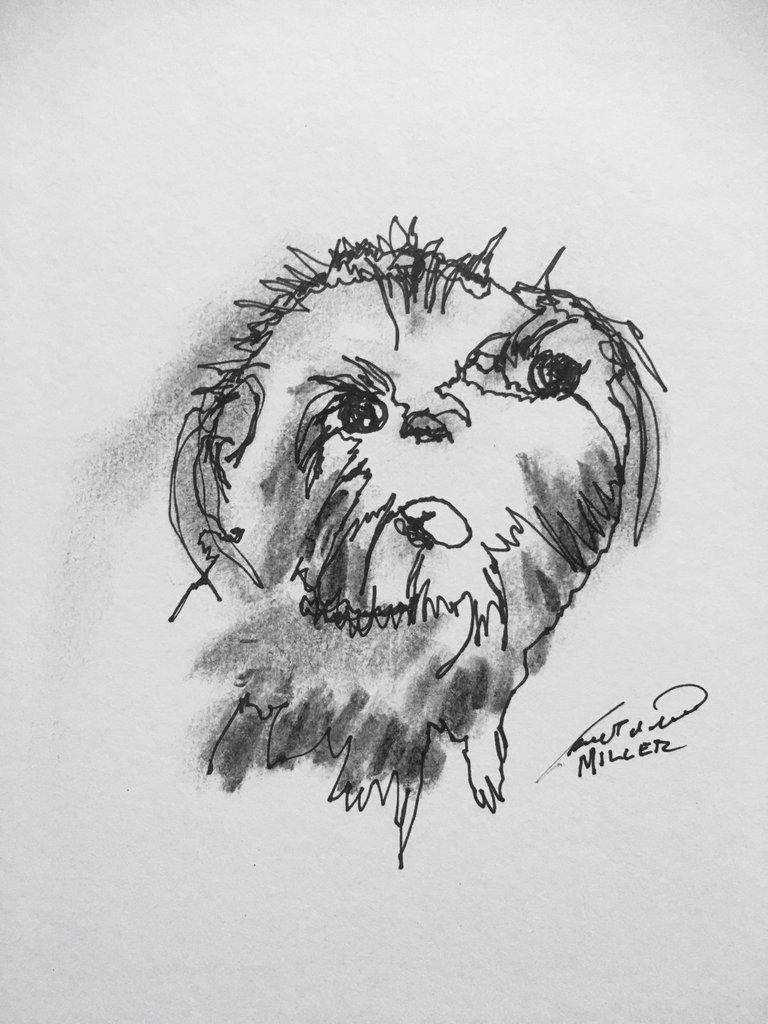 'Nadi'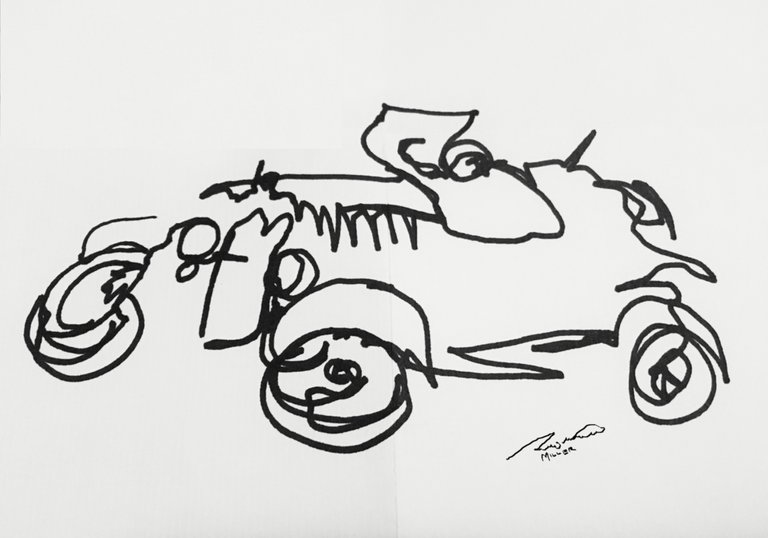 'Blind Folded Rolls'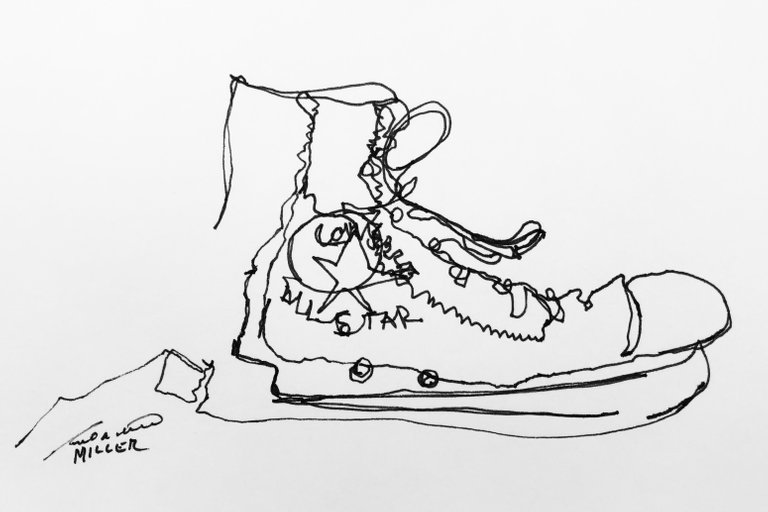 'Chuck'



'Six Bottles Of Beer'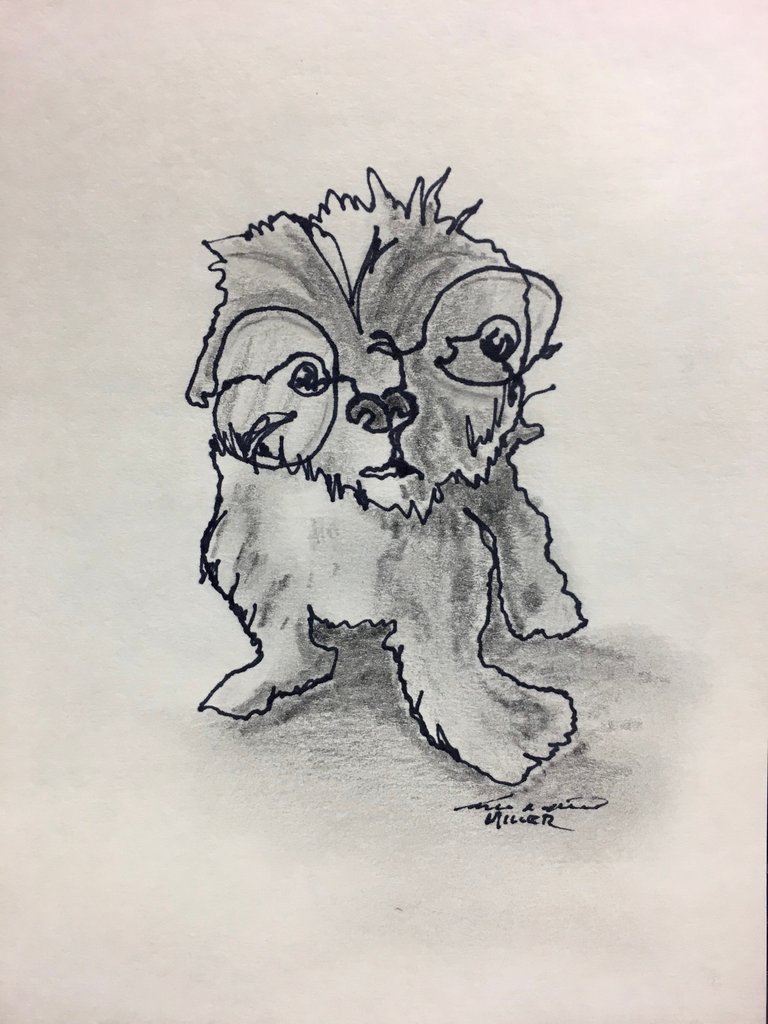 'Pepperdoodle'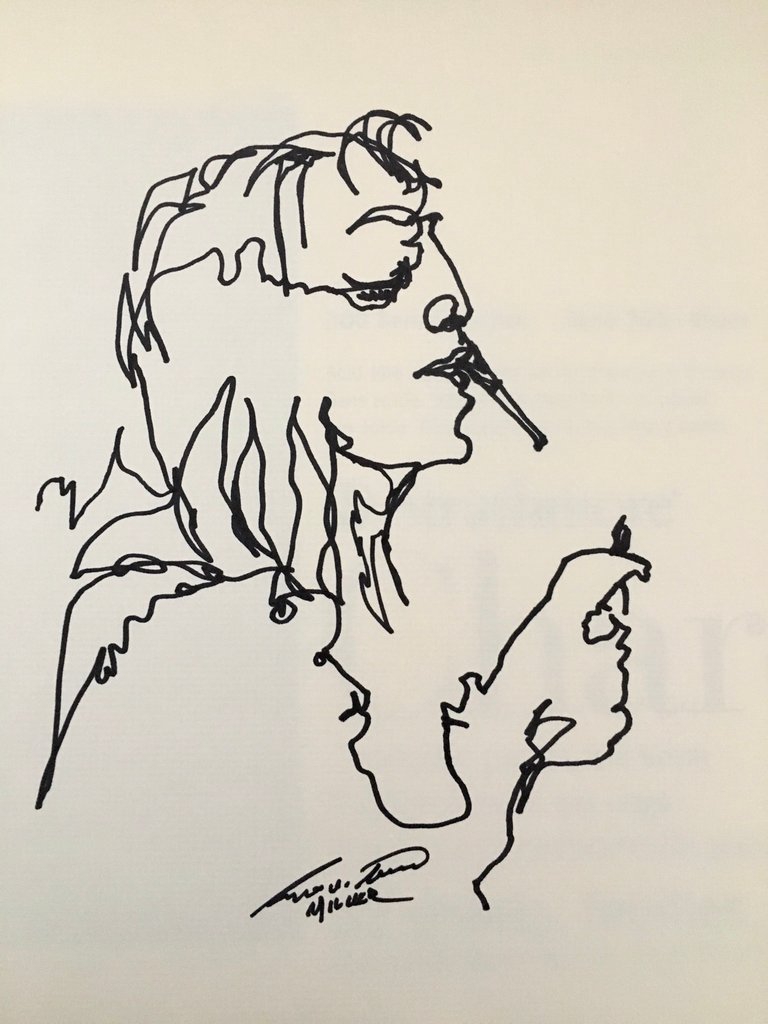 'Smoking Lady'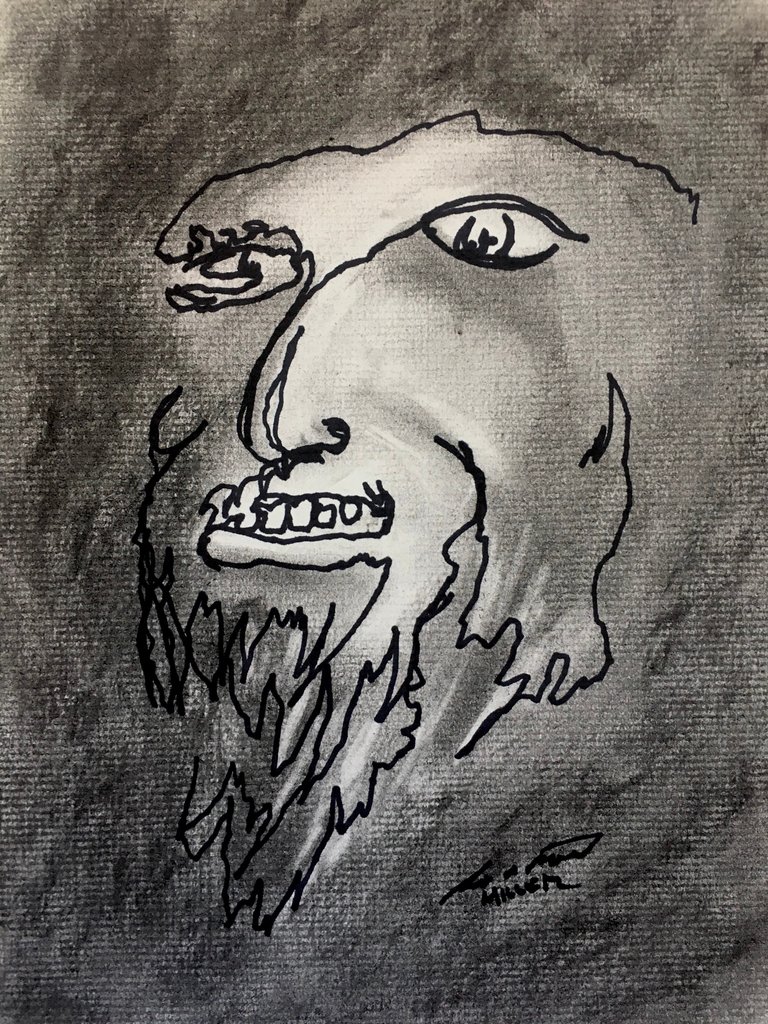 'The Man In The Shadows'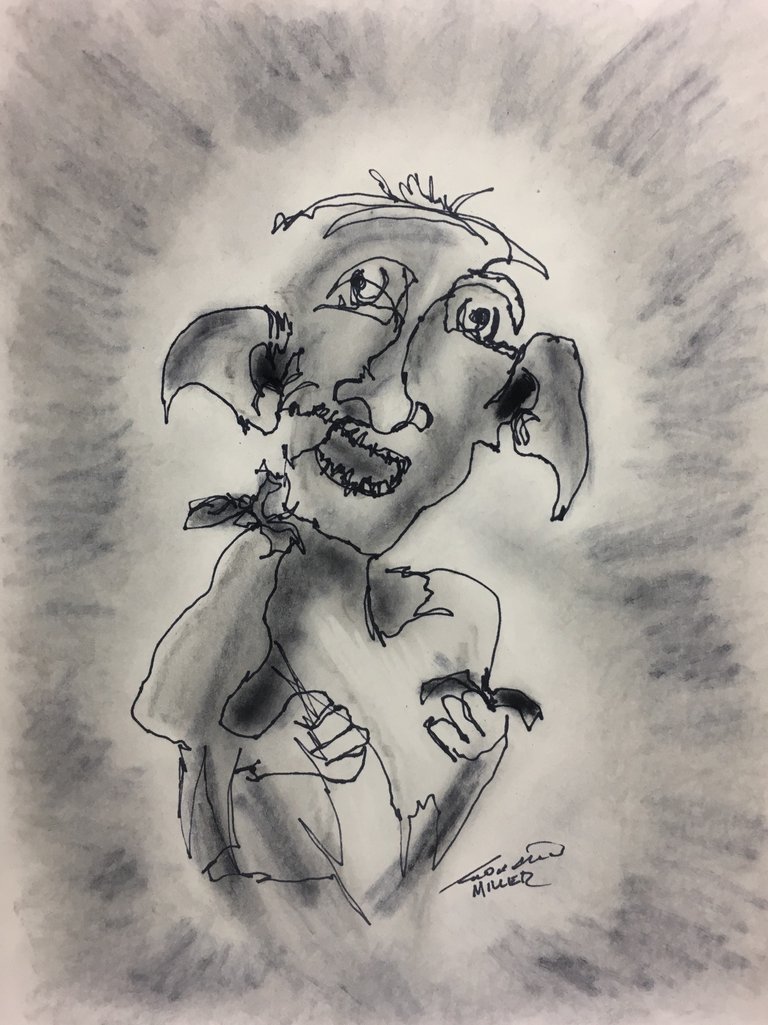 'Dobby The House Elf'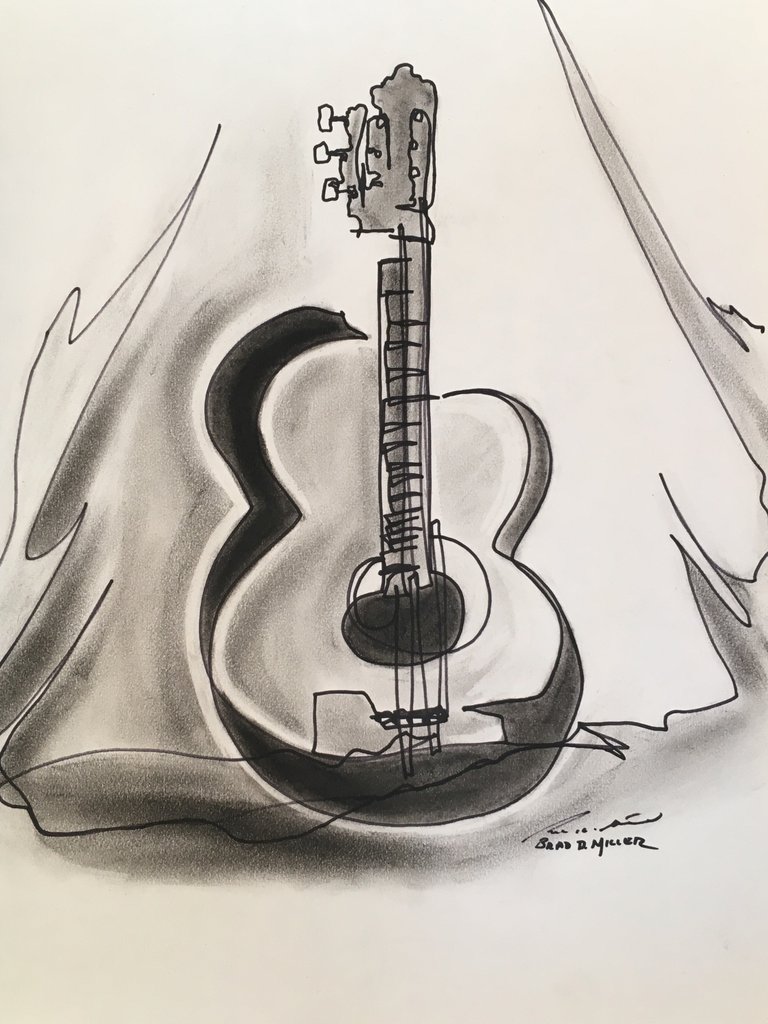 'My Blue Guitar'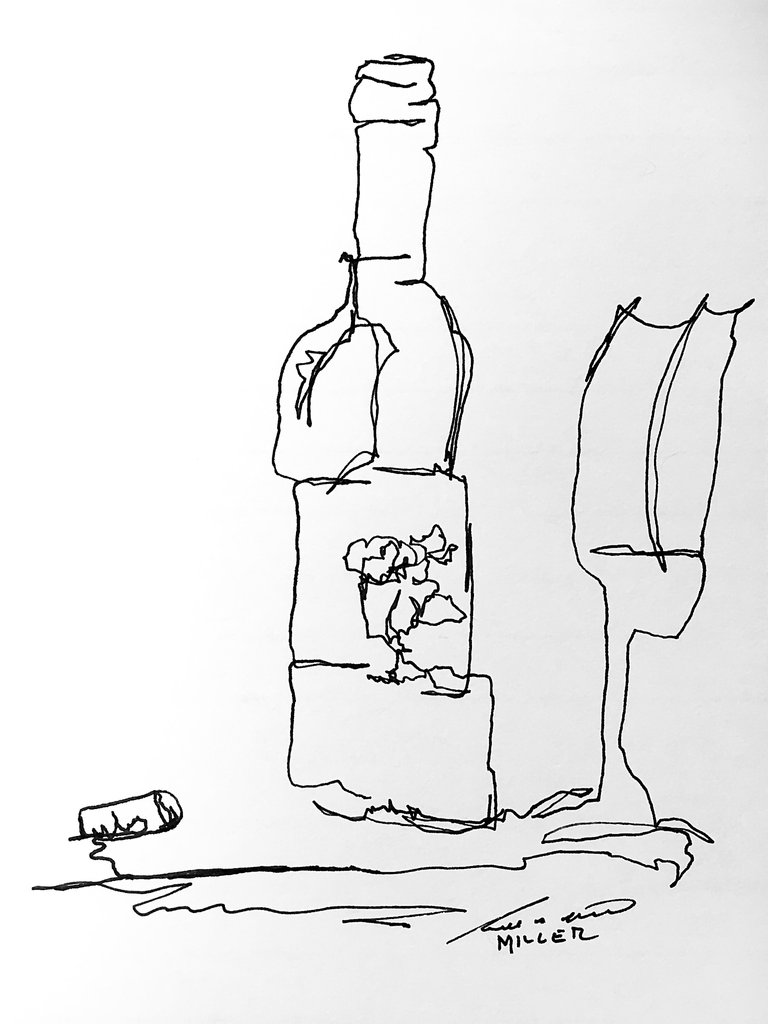 'Blind Wine'


Have A Great Day or Night my fellow Hivesters!!


Thank you for swinging by my blog and checking out the post. Have a great day!


All words, pictures and art pieces are the sole property of B D Miller Gallery, unless otherwise noted and credited, and are not to be reproduced or copied without the prior written consent of B D Miller Gallery.

About Me ~ The Artist
My art work incorporates a wide variety of subject matter, including landscape, seascape, cityscape, and still life images. My works are the product of a continuing process of exploration through which I seek to portray personal and visionary interpretations of my surroundings. My paintings are impressions of places and events from everyday life, an interpretation of my imagination, and personal responses to what I see and feel on a daily basis. More recently I have invested generous amounts of time into my landscape painting. I am surrounded by natural and man made beauty, which inherently presents itself in the tri-state area, and almost demands that I paint it.
Not everything is art. Art is not everything, but it comes close. Art is everywhere and all the time. Art makes you experience the beauty of the world, the people in it, and the places we call home. Art itself is so influential that it can tell stories, show feelings, and express passion or fury. Art exists in addition to language; expression of sensations and thoughts, revealing a way of thinking too subtle and delicate for words.
For me art requires love, honesty and perseverance. In return, it reveals some personal, non-analyzable, and creative untamed passion. For the public, art with its magnificent beauty, improves mood and health and builds better human beings and communities. It engages the intellect, softens the heart, strengthens the soul and frees the spirit.

If Your Interested In Purchasing Any Of My Work:
They can be found for sale in
OR
My Etsy Store
If you don't see the piece in either shop, It may still be drying. Let me know and I can upload it as soon as possible to be available. Or you can always make me an offer (in SBD or STEEM) in the comments section of this post. If we agree on a price, I will then ship the painting to you. (shipping costs will be determined by your location).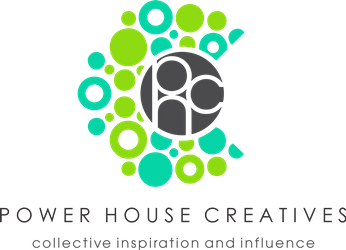 I Proudly Support: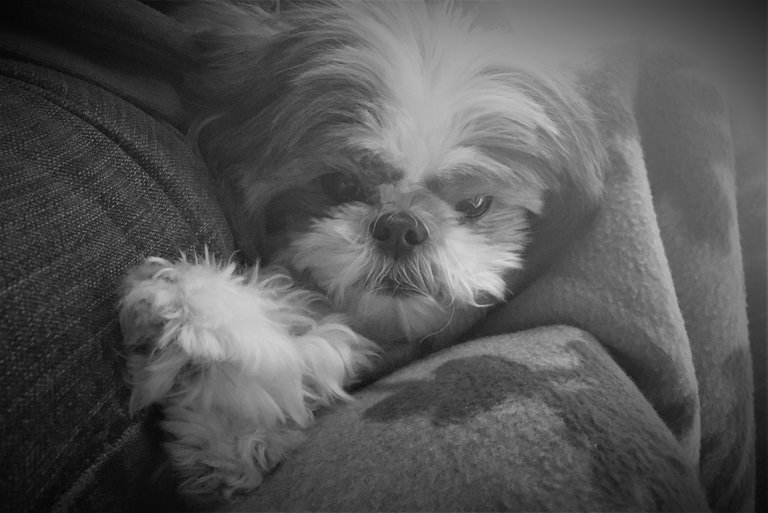 "Dogs have a way of finding the people who need them, and filling an emptiness we didn't ever know we had." — Thom Jones