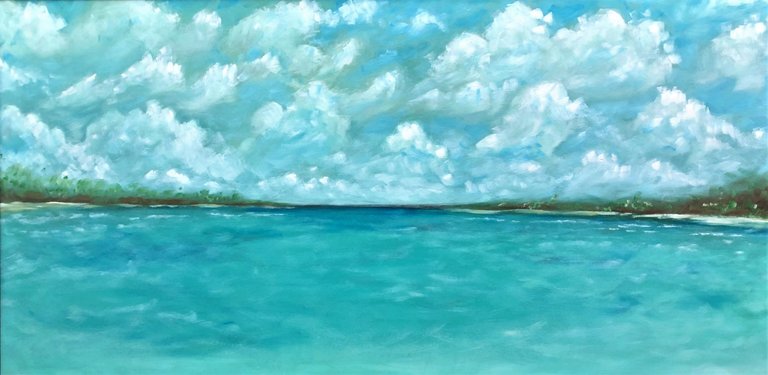 The Tick-Tock Of The Clock ..
On the wall fills the dry, slow air in the room. My mind strays off my work and begins to focus on the time and tempo it keeps. I see it on the wall across from my desk, staring at me like a soldier guarding a tomb.. Tick-tock tick-tock, it's face glued to mine. I am the only one to blame for slowing time down to a tick tick tick. When I wasn't so focused on your insistent tock tock tock, I accomplished something and your hands moved more swiftly along. Your hands seemed to be chasing one another around within the circled space that confines them. I am now bored with your ticking. Just stay where you are and continue doing what you do best. You are my enemy at 7, 8, 9 and my best friend at 4, 5, 6.
I Turn My Attention To ..
The painting that rests on the wall behind my chair. A day dream begins, one of many that will most surely invade my somber office space today. A daydream of puffy white clouds and crystal blue waters. The imaginary lapping of salty waves float in and out of my eager ears. The air is thick and humidity tickles my nose. My body begins to melt into this stiff, black, upright office chair, drifting away from where I am. For the moment or two of mental bliss, I was transported far away to my tropical escape, and the timing, as always, is perfect. I needed the mental health break this daydream is giving me, at this exact moment, and was frustrated with the chill in the air anyhow.
As I Am Drawn Out Of My Dream ..
With the ring of phones and clicking of keyboards, I am becoming focused again. The stiffness of my back and the ache in my head reminds me that it's time to get back to work. My daydream, now another element of my past, will soon be left behind and forgotten. Before I return to the reality that patiently awaits, I turn to the wall behind me and breathe in one last vision of the 24" by 48" blue escape. Now that dream time is over my mind becomes more focused on the obvious and along with that becomes a bit more critical of the details. I hung this painting a good while ago, in my office behind my desk, in hopes it would provide me a little of what it gave me today.. A mental breather.
Caribbean Shores' ..
It was a rather large painting, a size that I wasn't used to working with, and I am sure a challenge for me at the time of creation. It also was one of the first few paintings that had this particular tropical, ocean theme. The colors were specifically chosen to reflect a caribbean vibe, hoping to deliver when finished. Every time I look at it, I realize that it is not perfect. Nothing in my office is really all that perfect, but there are a lot of straight lines and angles littering the floor, walls, ceiling and everywhere in between. So, when I stare at this painting, I notice the imperfection in the horizon rather quickly. I feel like the painting tilts to the right a little because I was off on the horizon line. I often think about taking the painting back home and correcting this, but never do. I occasionally check the floor under the art to make sure there is no water spilling out of the ocean, through the frame and onto the carpet. So far we are good.. Hehe. I guess when it comes down to it, I am happy with the art I created and the place it's found here in my office. The imperfections that accompany the painting, make it real.. Unique in some ways. As a creator of art, are we not entitled to the flaws of creation? The 'Fingerprints' of our creations give them small, inconsequential traits that in a collective, make the piece somewhat eccentric.
I Surrounded The Work ..
In a simple, handmade, hand painted, brown wood frame; A plain piece of pine wood trim, cut to size and glued together. As a particularly truthful statement goes, "Keep it simple stupid", was in fact, the perfect advice. I kept it simple because the work didn't command a multi layered gold leaf frame. I wanted the person viewing the art to look right past the frame, to the good stuff. What's the good stuff you may ask? Well today it happens to be what daydreams are made of.. Well for me at least. A 'Caribbean Shores' daydream. Tick-Tock, tick tock, tick.. tock.. tick…. (insert here, the sound of waves, the smell of salt air, and the warmth that hangs in the Caribbean air)
Where the painting is sitting on the wall, the lighting is terrible. I never really took notice of this until today when I took a photo of it. I went to edit the photo and saw that half of the picture was darker than the other. I did NOT paint it this way.. I don't think I am that bad of a painter to pull that off! So I took the painting down and moved it to the floor where the lighting is more indirect and filtered. Looks much better there, but I can't leave it in that position.. I'll put it back on the wall where it was.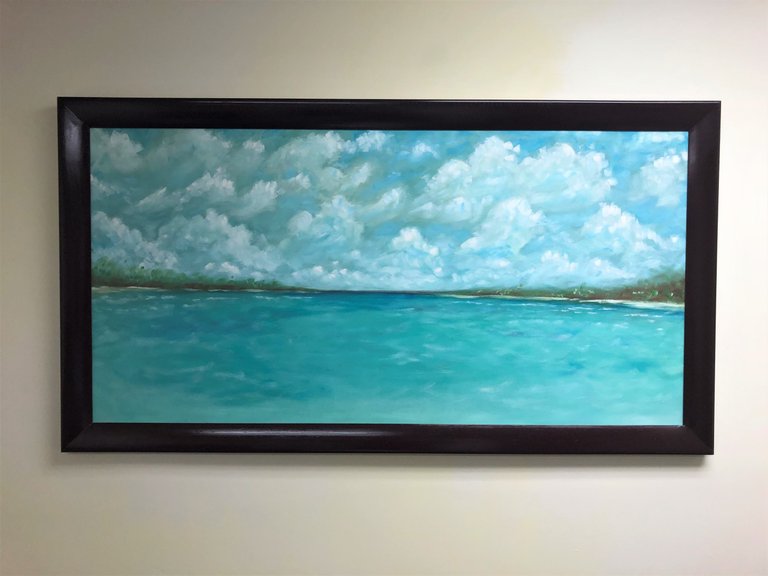 Here we are on the floor. I also just noticed that I never signed this piece!!! What the heck. I may not have it all together.. haha.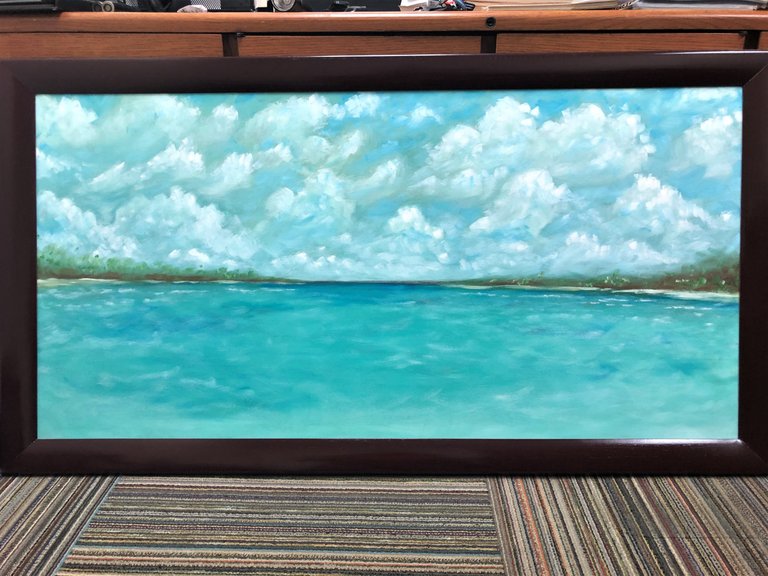 Below are a few close ups of the details. What I like about this painting, excluding the colors and theme, are the thick brush strokes. The thickly applied white highlights help the imagination fill in the gaps. They create hints or ideas of detail like cloud edges and wave breaks.. my mind can fill in the blanks creating an overall appealing landscape image.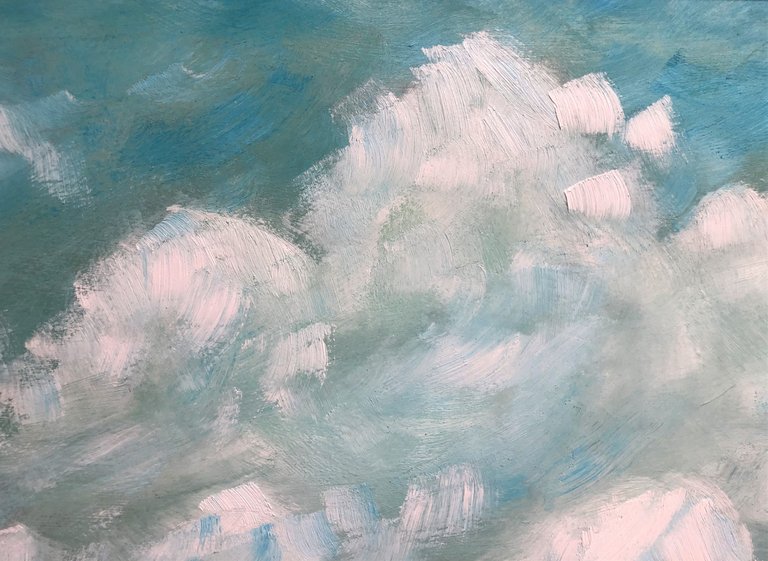 For the land, what little there is in this painting, I used shades of green, brown, and flesh tones. In keeping with the style of painting (loose and impressionistic), I didn't go crazy with the details. I quickly and loosely applied the paint in a messy fashion. I think overall that I was able to create a feeling of trees, land and beach.
I like the sky and hate the sky. Weird I know. I really like the texture of the clouds, but don't like the way they are all the same chunky size. I suppose that I can take it easy on myself, because I have seen cloud formations like this before in the Caribbean. I guess they are not too bad after all. Together in a mass they look much more appealing.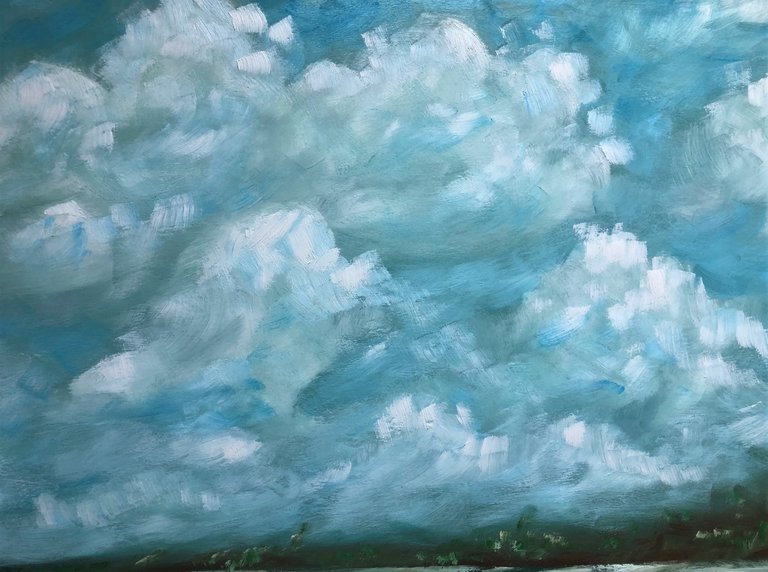 Unlike the clouds, I took a more minimal approach with the water. The color was the most important element I was trying to get correct. Some shading from the above cloud cover, with hints at a light white-tan sand just under it's surface. Looking back, I could have painted more shadow like effect into the water. This can be seen best on the left hand side of the painting.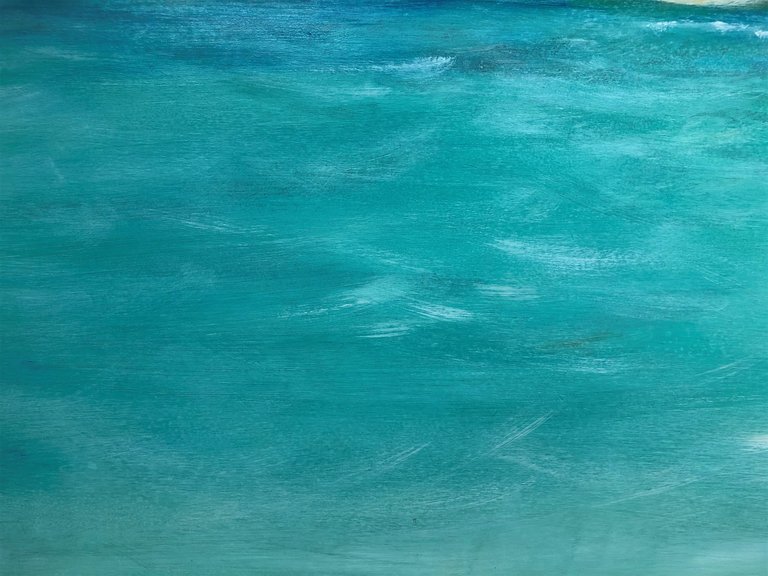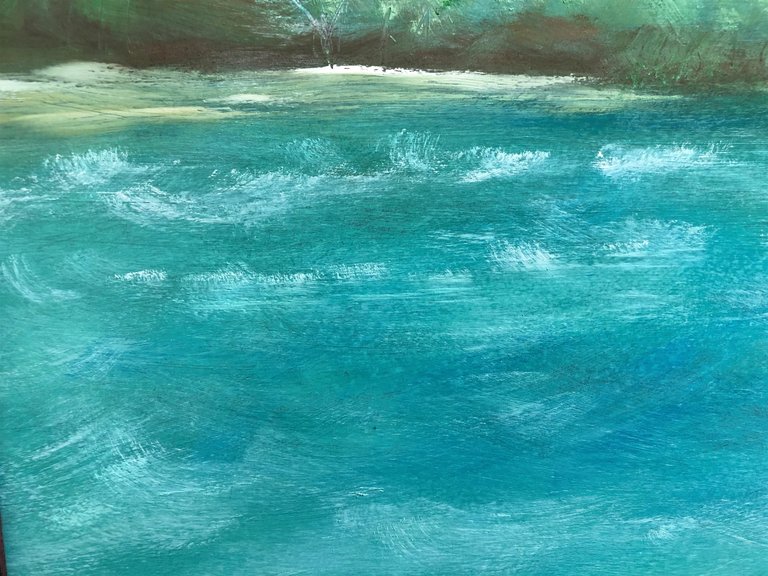 One Last Time .. 'Caribbean Shores' ...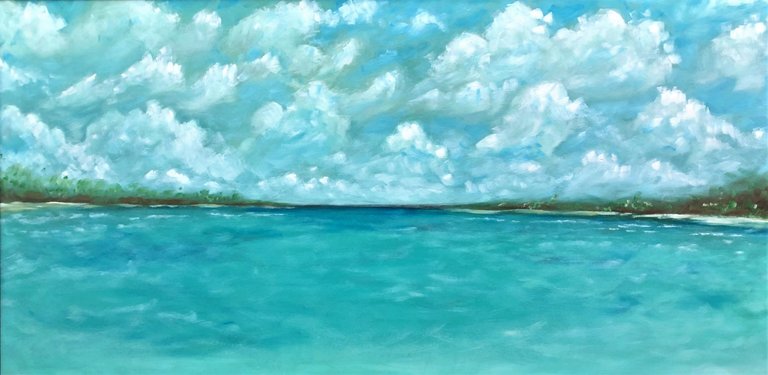 Thank you for swinging by my blog and checking out the post. Have a great day!


All words, pictures and art pieces are the sole property of B D Miller Gallery, unless otherwise noted and credited, and are not to be reproduced or copied without the prior written consent of B D Miller Gallery.

About Me ~ The Artist
My art work incorporates a wide variety of subject matter, including landscape, seascape, cityscape, and still life images. My works are the product of a continuing process of exploration through which I seek to portray personal and visionary interpretations of my surroundings. My paintings are impressions of places and events from everyday life, an interpretation of my imagination, and personal responses to what I see and feel on a daily basis. More recently I have invested generous amounts of time into my landscape painting. I am surrounded by natural and man made beauty, which inherently presents itself in the tri-state area, and almost demands that I paint it.
Not everything is art. Art is not everything, but it comes close. Art is everywhere and all the time. Art makes you experience the beauty of the world, the people in it, and the places we call home. Art itself is so influential that it can tell stories, show feelings, and express passion or fury. Art exists in addition to language; expression of sensations and thoughts, revealing a way of thinking too subtle and delicate for words.
For me art requires love, honesty and perseverance. In return, it reveals some personal, non-analyzable, and creative untamed passion. For the public, art with its magnificent beauty, improves mood and health and builds better human beings and communities. It engages the intellect, softens the heart, strengthens the soul and frees the spirit.

If Your Interested In Purchasing Any Of My Work:
They can be found for sale on
Or
If you don't see the piece in either shop, It may still be drying. Let me know and I can upload it as soon as possible to be available. Or you can always make me an offer (in HBD, Hive or any other crypto) in the comments section of this post. If we agree on a price, I will then ship the painting to you. (shipping costs will be determined by your location).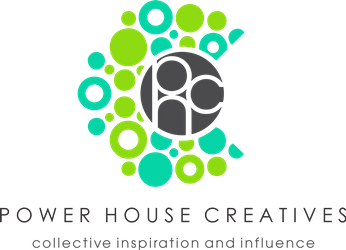 I Proudly Support: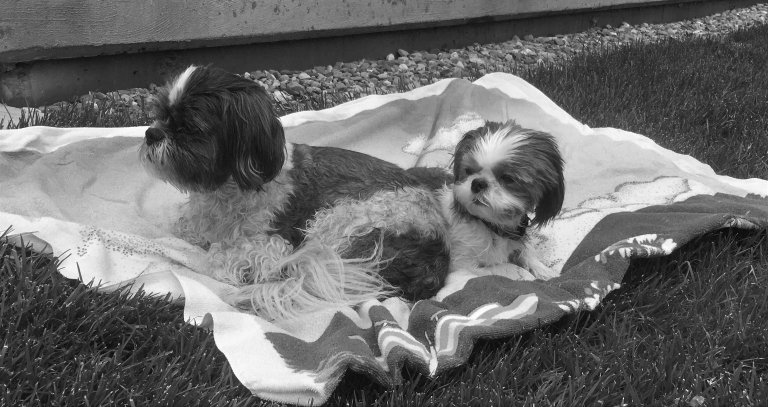 "love one another, but make not a bond of love:
let it rather be a moving sea between the shores of your souls.
fill each other's cup but drink not from one cup.
give one another of your bread but eat not from the same loaf
sing and dance together and be joyous, but let each one of you be alone,
even as the strings of a lute are alone though they quiver with the same music."
― Kahlil Gibran, The Prophet