Hope you all had a nice Christmas day with those closest to you. It is a strange year with all the Covid restrictions so I probably won't get to see many people which in some ways suits me as I need some rest.
On this second day of Cribs of Christmas, I show our second sculpture in La Pineda, Catalonia from the year 2001. We had more people to work on the sculpture this time but I think it was a bit too many cooks spoiling the broth. Have a nice St. Stevens day or Boxing day or whatever else you call it day.
2001 a nativity odyssey begins - sand sculpture
originally posted Nov 21, 2018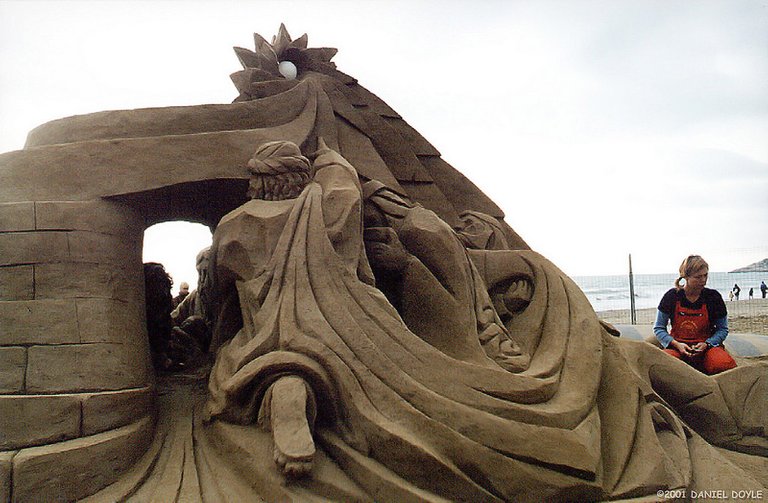 Over the years I have helped create many sand nativity scenes around this time of year. I am actually going to La Pineda, Catalonia next week to make another one. I didn't post this one yet to my blog as I thought it was too seasonal and was waiting till around Christmas time to post them all but for me everyday is Christmas day so here we go.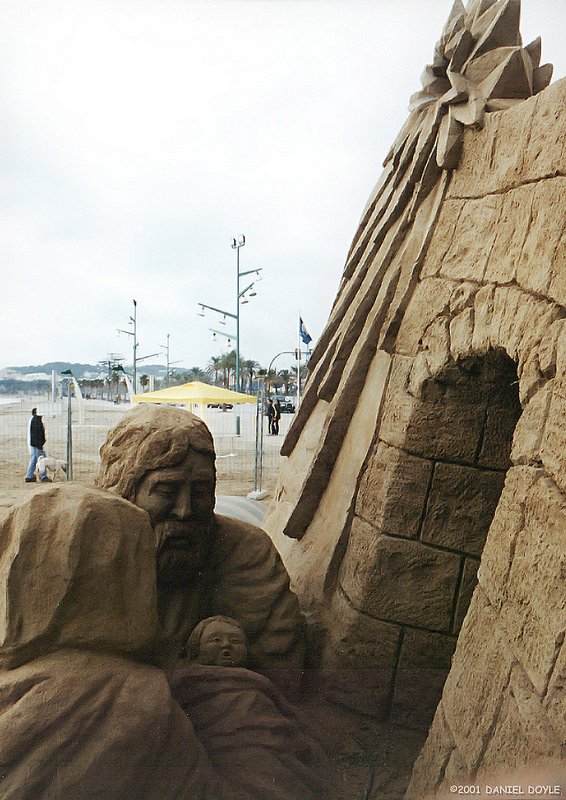 In some ways it was a traditional crib we made in 2001 in La Pienda but it was already showing the signs that we were bored of the format and to make it interesting for ourselves we wanted to start deconstructing what a nativity was and what it meant to us.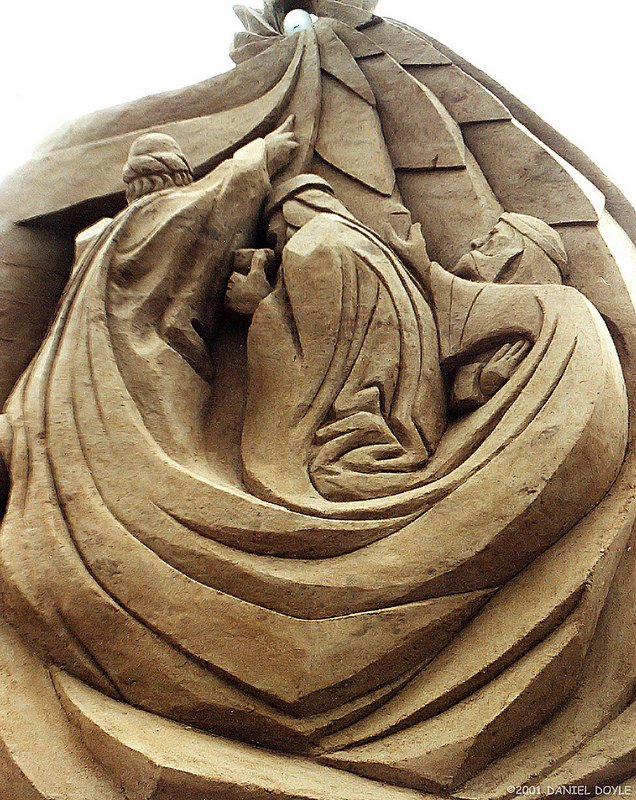 Not another sand nativity
Around the Mediterranean coast there are many sand nativities all in the traditional style but this year we started sowing the seeds of what we would do each year up to today. As long as we had some recognisable figures the design could be thrown open to artist interpretation. Fergus Mulvany and Kirsten Anderson from Denmark made this style copy of Catalonian sculptor Josep Maria Subirachs to represent the three kings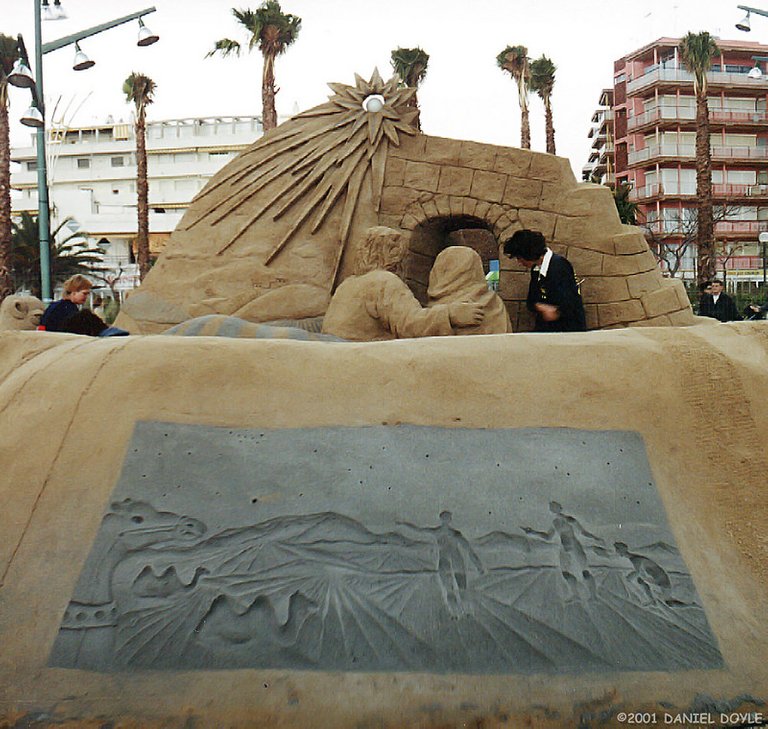 I worked on the star and the surrounding landscape while others made the central figures. The star had a light in it as did the rest of the sculpture so that it could be seen at night.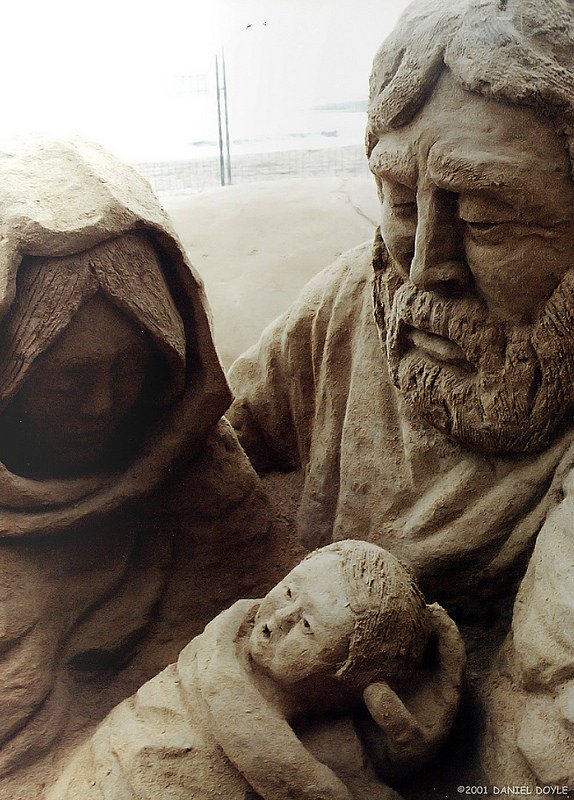 Peter Busch, Denmark and Nuria Vallverdu, Catalonia made the Mary, joseph and jesus characters which were only really viewable through the hole in the front of the sculpture.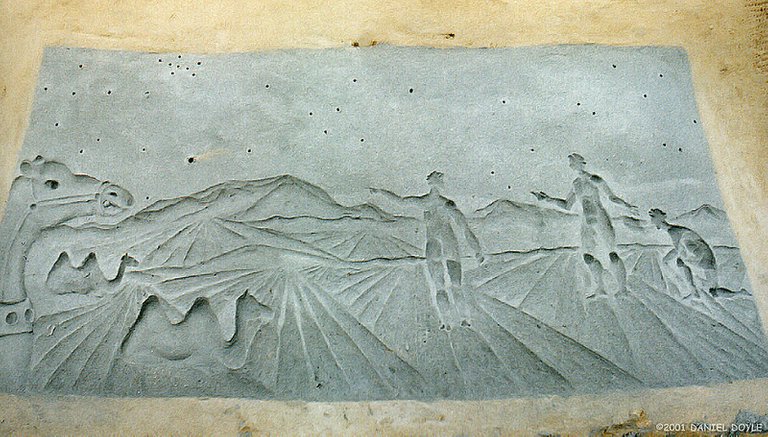 @stijgerart made this nice negative carving of some naked lads following the star, which I think was the nicest element.

Overall i didn't really like the sculpture as I think it was too much of a montage of everyone doing very different things with not much of a connection between anything. As I said I look on this as a seed of what was to come so stay tuned if you want to know how crazy our ideas got.
And Happy Christmas in case I forget to say it closer to the time.