This is my second Showcase Sunday post showing the sculptures I worked on in Duncannon, Ireland. I still have more years to document but this will bring us up to date on the ones which I have posted to Hive.
Each year we have around three days to fill this tent with sculpture so the work is always a bit of a rushed job. They are always made from the loose sand found on the beach. We don't compact as this would be time better spent carving and also this sand does not get much stronger if you do compact.
I have been doing this project since 1999 and have only missed a couple of years due to other work commitments but it is always fun to make a sculpture in your own country and see what we can come up with against all the odds of working in Duncannon.
You can click the images to be brought to the full post about the sculpture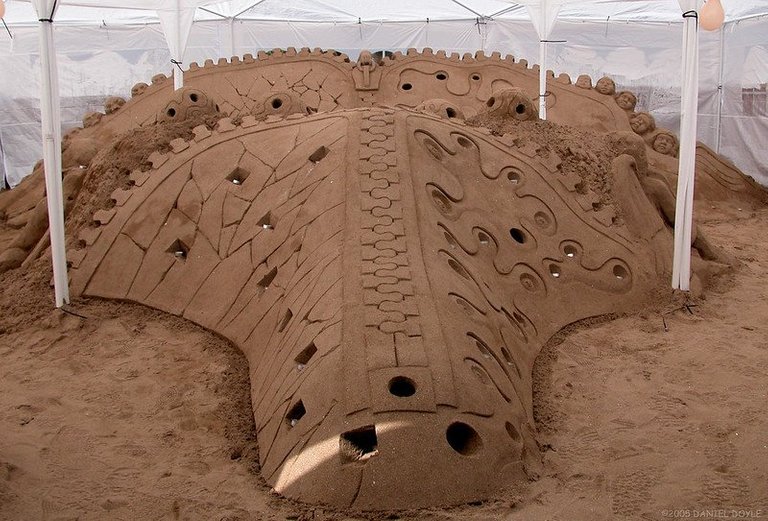 Heaven and Hell
For 2005 we gave ourselves the theme of Heaven and Hell. The tent was visually split in two and the composition of the sculpture mirrored. Each side showing elements of the good and bad with both God and the Devil sitting in their Chaise Lounge. I liked the big zipper holding both sides together showing that although opposite both afterworlds are sides of the same coin.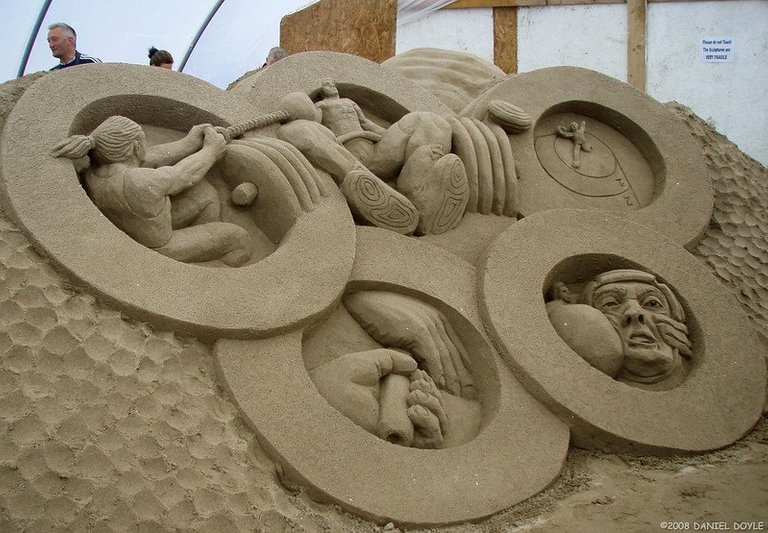 Olympic rings
I had skipped a few years but was back for the 2008 festival where we celebrated the Beijing Olympics. It was a simple affair during which I played around with trying to find the most interesting perspectives to really put you in the action.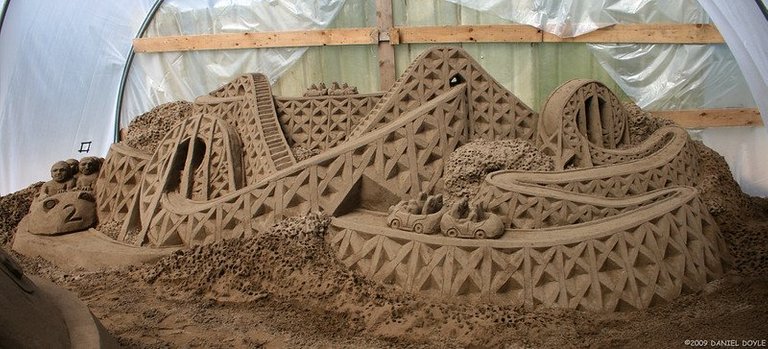 Roller-coaster
Yes indeed, life is a roller-coaster and that is what I made for the 2010 festival. It was all to fit in with the fairground theme. As usual, I bit off more than I could comfortably chew. In the end, I think I got away with it.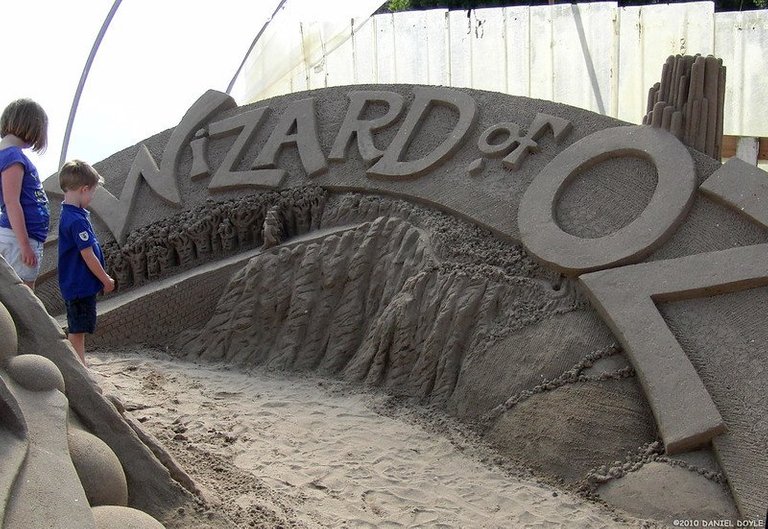 The Wizard of Oz
A sculpture of the film of a book, Very simple composition but I thought it was good that I really spelt out the theme.

Strongbow and Aoife
I'll stick in this preview post of a sculpture I did last year. I had made a little Picture blog each day while I made it and thought that it would be nice to show how it all worked out before I get around to documenting it fully. Hopefully, you can see that the quality of my work has improved in the last few years and it is also nice to show that I am still working away in sand every chance I can get. Of course, as I'm sure you can understand this year the festival didn't happen. Hopefully, 2021 will see it return more vibrant than ever.
So that is the story so far from Duncannon.
Have a great Sunday
@ammonite