Iglu Dorf Music - snow sculpture

I had one last project to do in 2013, finishing up on Christmas eve. It had been a busy year and even though I had gone straight from Kuwait to Catalonia I was still on the road and had a to climb the Swiss Alps.
Play it again Sam
I was back for my second year to help decorate an igloo hotel in Davos with my good friend Martijn Smits from the Netherlands. The previous year when he asked me to join I had found it so hard, working at such a high altitude in very extreme conditions was frustrating fun and to top it all off I had severe Sciatica pains. This year I was physically well but mentally tired. Saying that, I was excited to be back there to create with snow and see what we could do in the 12 days I had left in me.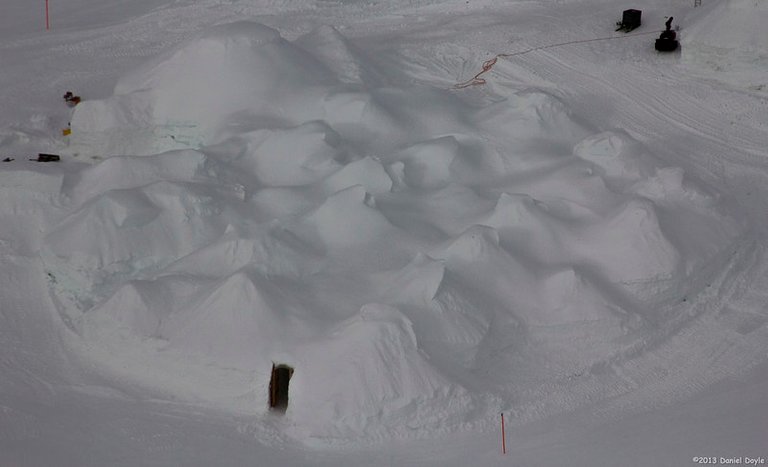 The Hotel doesn't look much from the outside. I mentioned in my previous posts that they use balloons which they cover with snow to create the igloos and then the seasonal snow finishes the outside to blend it into the landscape. Leaving just a door into the subterranean world. As a process to create such a building it is beautiful in its simplicity. I have very little to do with the structure, They have a team of hardworking Swiss guys for that. Martijn and I are there to carve decorative work in each room and try to give the building an overall atmosphere.
All work and no sleep makes Daniel a tired boy
My digs for this year had changed. Whereas last year I had a bedroom next to Martijn's this year the only other lodging available was at the far side of the ski lift complex right next to the engine room. It was comfortable enough but when the giant motors came on to the whole place vibrated and it sounded like a rocket taking off. Luckily it was only in operation during the day but there were some nights that they had to do maintenance and I was in hell. This job is hard enough without lack of sleep.
There was nothing I could do and no other beds at the inn to rest my head. I just had to grin and bear it.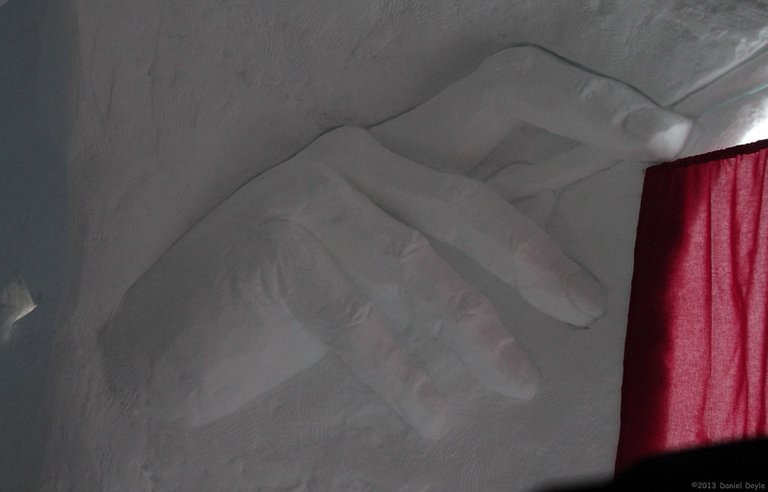 Music to my eyes
This year the theme was music and we were free to do whatever we wanted in the rooms. I enjoy music of all types and so it was an interesting theme but trying to represent one artform in another never really makes sense to me. Would I paint a dance, would a write a portrait? No. The only way I can really deal with it is to try and express the visuals.
Each room would have a certain genre of music and then we were free to interpret it in whatever way we liked.
Hooks
In this post I want to give you just a taste of the rooms. Like the opening few notes of the songs. I am working on another post using @Dlux.io to show you them more immersively. Trying to capture a sculpture with a camera is very difficult especially when you are working so big like in the igloos that are also 360 degrees around you.
Track 1 Orchestra
In the orchestral room, I carved a large collection of instruments on one side above the bed while on the other side of the igloo a large hand with a baton conducting. I regretted starting the instruments as the snow on that side was very rough and not suitable for the details but It is carved and forget up the mountain there is so much to do you never have time for rehearsal or a retake. I liked how the hand worked out.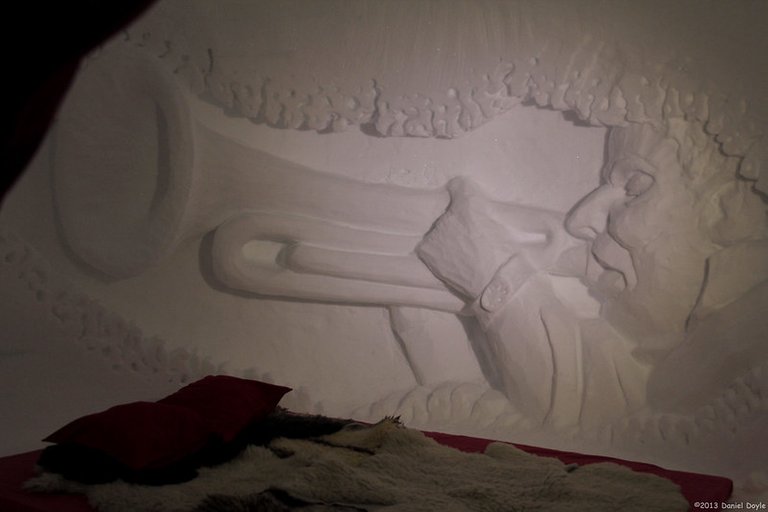 All that jazz
For the Jazz room, I kept it quite simple with a guy playing the trumpet. I will reiterate. Time is always against me on this project and having only one day per room means you need to keep it simple and just go at it with a chainsaw.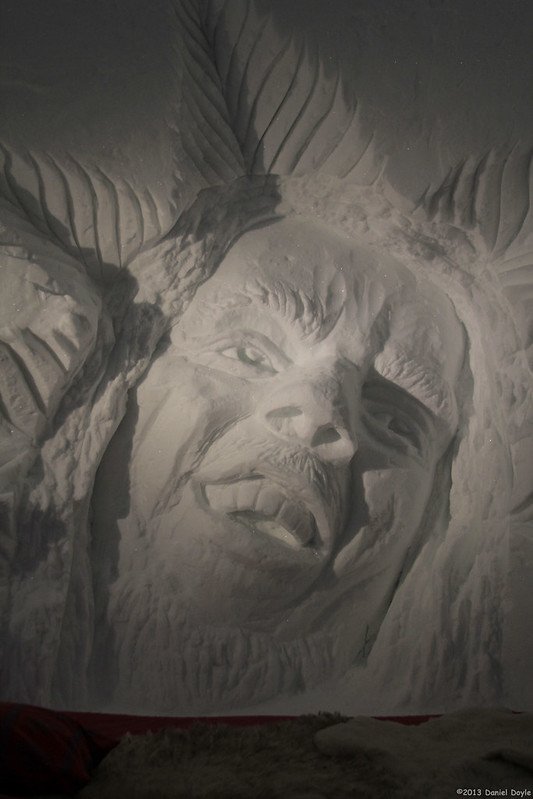 White Reggae
For Reggae I carved Bob Marley inside a big ganja leaf. I carved him quite rough hoping the tool cuts would add detail to the composition. I think if I had some samples of weed up on the mountain I could have gone a bit wilder on this room.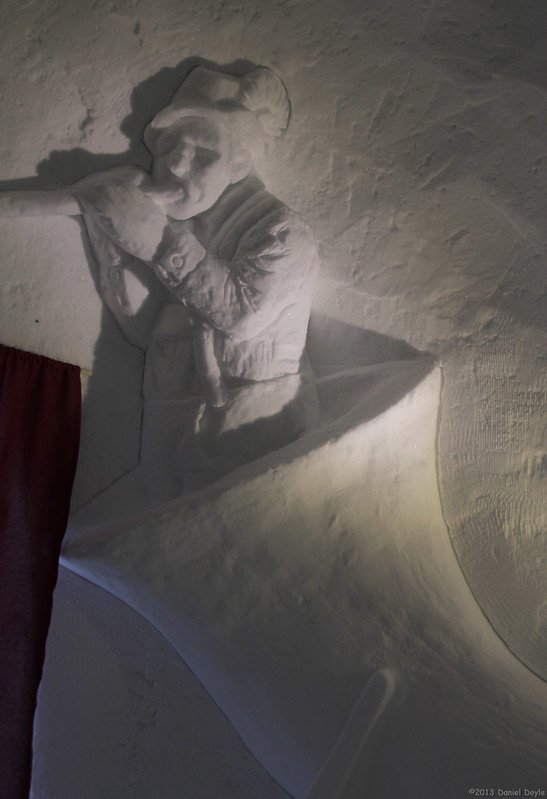 Swiss Cheese
In one room, I made a Swiss horn player. These instruments can be crazy long so I stretched it all the way around the room and had the player popping out the other end. It was a fun piece that really suited the canvas.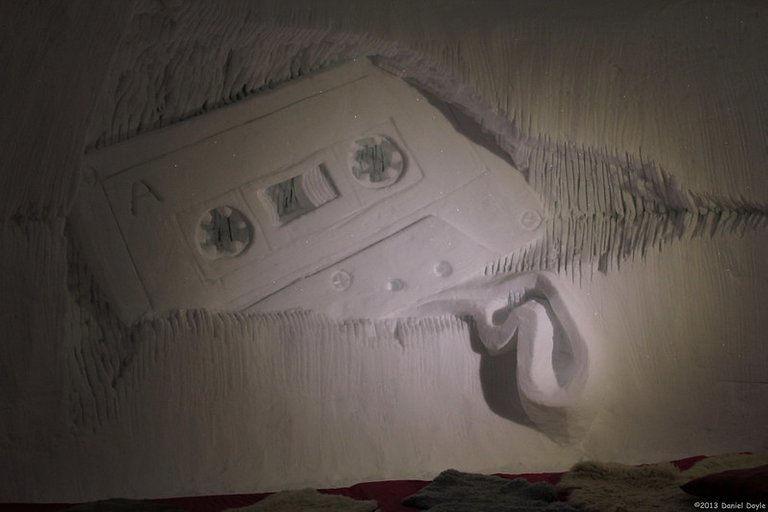 Mix tape
I wanted to do one room with what for me really democratised music. The cassette tape. I am sure many like me would spend hour mashing up music to make the perfect mix for a teenage crush. It was like we all could be musicians... well, DJs. These things sounded awful but are so full of nostalgia for my generation. As a window for the tape, I made a beat line running around the room. It was like a waveform of the music and it was something we used all over the hotel as a way to connect things.
In the mixtape room, I also carved a big pencil standing by the door. It would have been interesting to hear who got the connection. As for me growing up, they went pretty much hand in hand.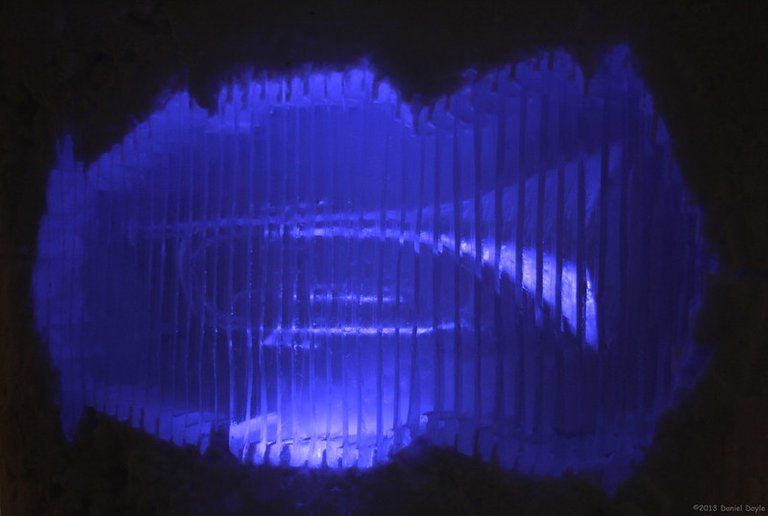 As I mentioned we used the beat/ waveform motif all over the place as a way to join things together. In the restaurants, I made these negatively carved instruments in ice. They were quite a simple way of decorating the space there.
You can see from the first image in my post we made the bar a jazz bar with different elements all around the walls. I thought the piano would be a nice photo opportunity and you know what? I was right. It was also a nice spot the chill after a hard days work with our bottle of whiskey.
---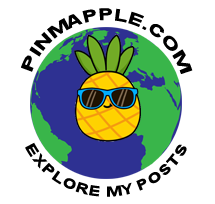 ---
Ps
Thanks for reading. I use PeakD to document my work as an ephemeral Sculptor of sand, snow and ice, amongst other things. This will hopefully give it a new life on the Hive Blockchain. Below you will find some of my recent posts.
[![](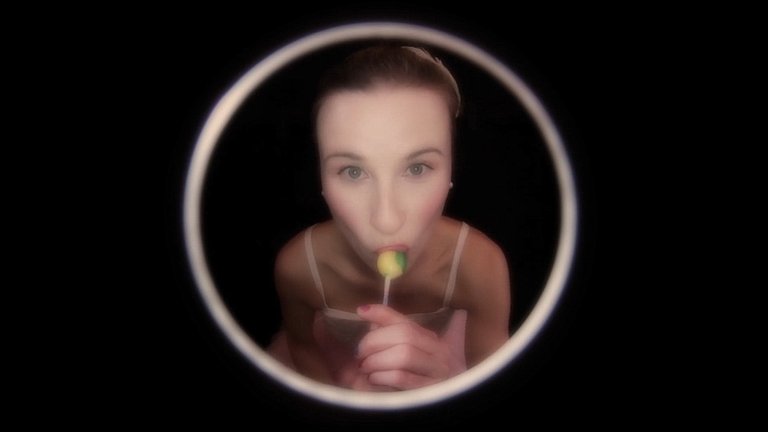 Velocity - short film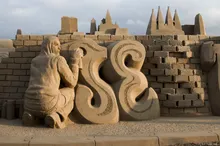 Graffiti Nativity - Sand sculpture

The crystal cave - sand sculpture
I hope you'll join me again soon
@ammonite
If you would like to support me
Bitcoin: bc1qp4lfg0ttz66nesgff8fd5unglg9y0l2jy53j36
Ethereum: 0x6abaE039b9BDFB67495A0588cb90F9EAF5f7556c
Eos: ammonitearts
---
---