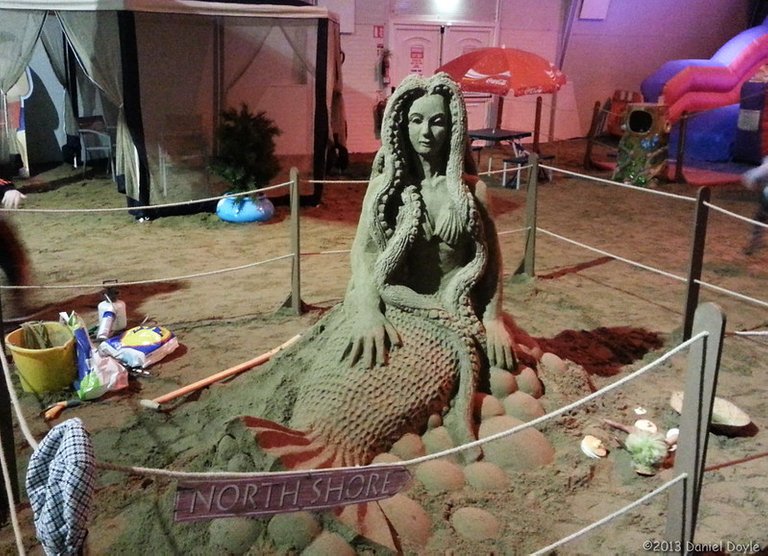 Preamble
Every time I upload a sculpture like this I feel I must apologies to my readers for its quality. These would be the things that most artists edit out of their portfolios, looking on them as a sketch or piece that would bring down their overall image in the eyes of the viewer if they were to display them but for me, I started this project here on the blockchain to document all my work and come hell or high water that is what I am going to do. I knew there would be moments like this and I just hope you will understand that even your most favourite artist/ musician, writer has done things they are not proud of. Unless you dig you may never find them but for me I need to put them all out there on display and hope that I will be judged on the overall body of what I do and not the individual elements.
Like a jigsaw puzzle piece with a solid blue colour it is only when you have finished the whole puzzle that it becomes important and to think, you may have disagreed it because of its blandness. This is the way I like to see my blog, as an overall piece of work like a story told in many parts. In one way it may seem like I am crazy but for me, it shows my commitment to the cause of both my blog and of Hive. I hope and feel that this long-form content may one day become a thing of value to others even if it is only my descendants.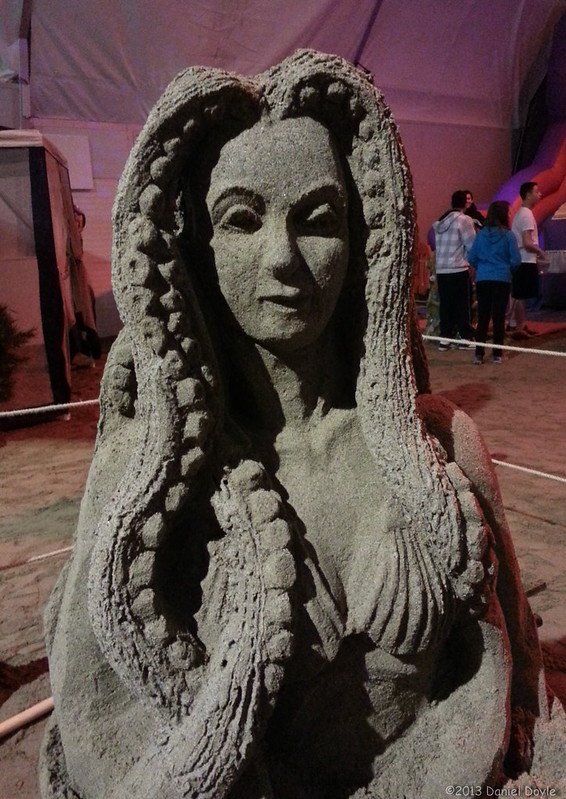 Life's a beach
I was asked to come and make a small sculpture for a little beach party in Funtasia Bettystown, Ireland. They were planning to fill a tent with some sand on the ground and then have some different attractions for children to play with. I was to make a seaside themed sculpture. I was not very inspired by the whole thing but it was a paid gig.
For me, it was a good opportunity to meet the owner of Funtasia as I thought I could interest him in making a larger project down the line. Funtasia is like a small fairground with swimming pools, bowling alleys, Casino and computer game arcades. It is actually quite impressive what this family-run business has become, now branching out to other locations.
Bearlymaid
I only had a few hours to make this and it was quite intense. The sand was not the nicest, the lighting terrible and the children milling around very distracting. I know excuses, excuses but these are the conditions I had to work in and I am not too disappointed by what I came out with.
Worst of all was the samba band that set up shop just beside me. I feckin' hate samba bands. Listen guys, just because you can hit a drum at the start of a beat and blow and annoying whistle does not make you a bloody musician. I had to get earplugs to protect my ears and sanity but by the end of the day, I could not wait to get out of there.
A good day was apparently had by all except me but I was happy to make the contact and sow some seeds of ideas into the owners head. Sometime later he would call me again and ask me to do another project which was also an adventure and now I'm glad that at least with this post I will have something to refer back to.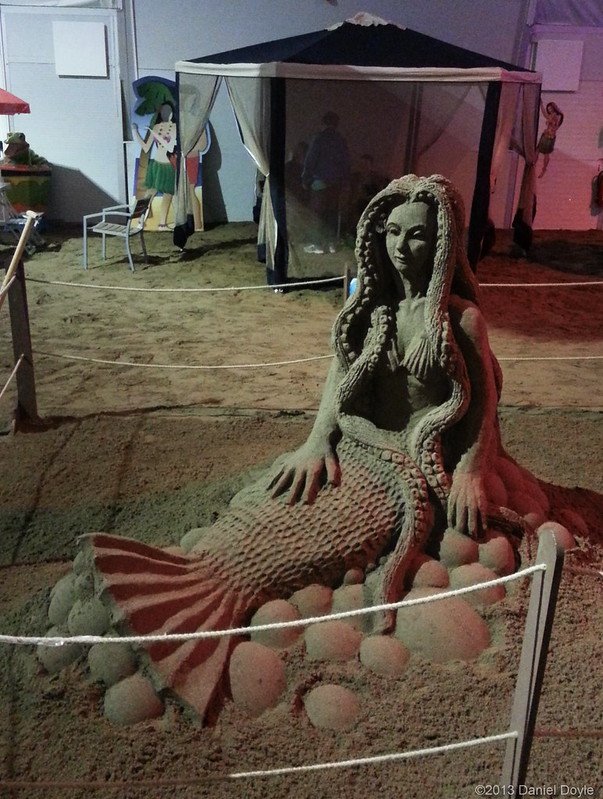 ---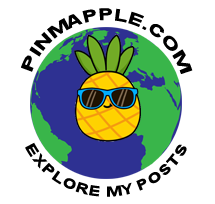 ---
Ps
Thanks for reading. I use PeakD to document my work as an ephemeral Sculptor of sand, snow and ice, amongst other things. This will hopefully give it a new life on the Hive Blockchain. Below you will find some of my recent posts.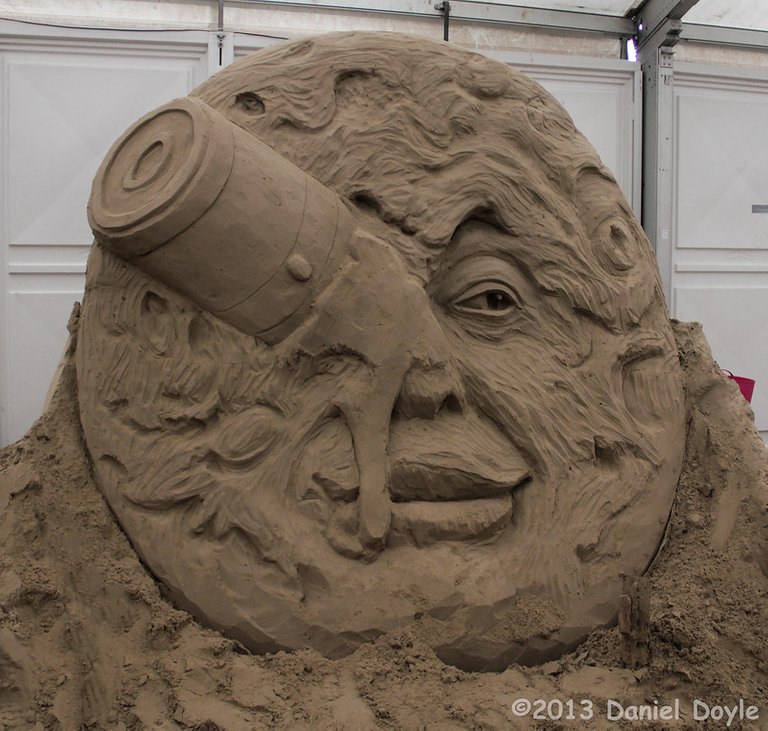 Le Voyage Dans La Lune - sand sculpture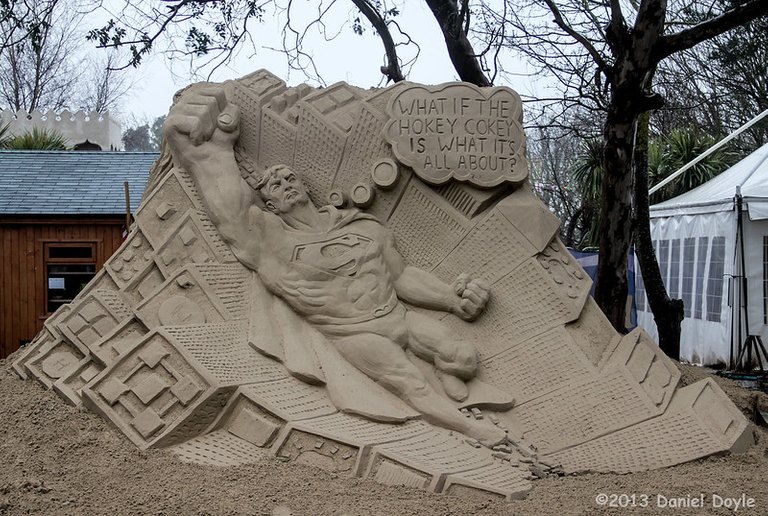 The Hokey Cokey - sand sculpture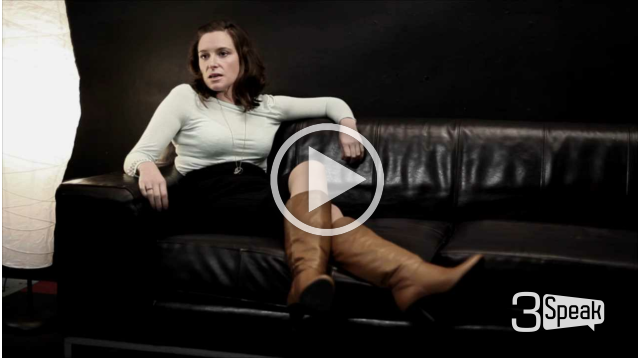 Network in 60 seconds - short film
I hope you'll join me again soon
@ammonite
If you would like to support me
Bitcoin: bc1qp4lfg0ttz66nesgff8fd5unglg9y0l2jy53j36
Ethereum: 0x6abaE039b9BDFB67495A0588cb90F9EAF5f7556c
Eos: ammonitearts