Dragon - sand sculpture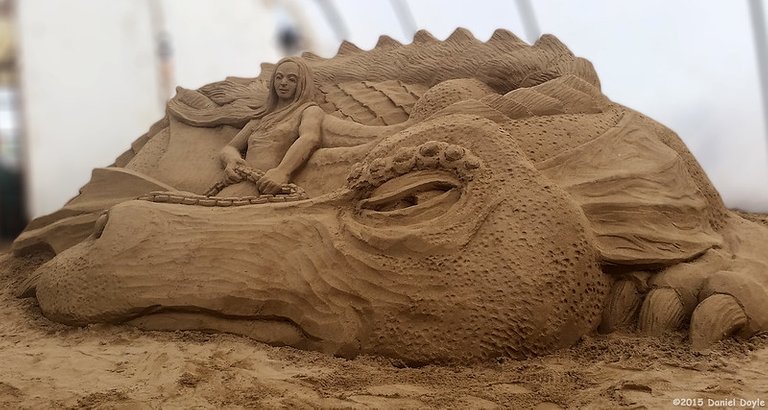 I find it interesting that Dragons appear in so many cultures around the world, from China to Mesopotamia from the Nordic Countries to India, all have their own version of this mythical beast. Like all legends, there may have been some truth to the beginning of their story. Maybe these great fire-breathers did exist at one time and became extinct or maybe the ancients found the fossils of dinosaurs and used their overactive imagination to embellish them with magical powers.
As an evolutionary trait, I can't really see the use of being able to breathe fire. A good weapon to fight an enemy, maybe but, not very useful during lovemaking. Heavy breathing could have made their partner very hot and bothered. Then again, if memory serves me correctly, in fantasy stories they were egg layers and maybe it was to keep them warm. Scales are also not very aerodynamic and their wing to body ratio leads me to think they were flightless.
Drag on!
Where am I going with this, ah yes! I am just trying to write a few words to make you think about anything else and not the sculpture which in my opinion was nothing to write home about. But still, Like all my sculptures, it needs to be documented here on Hive.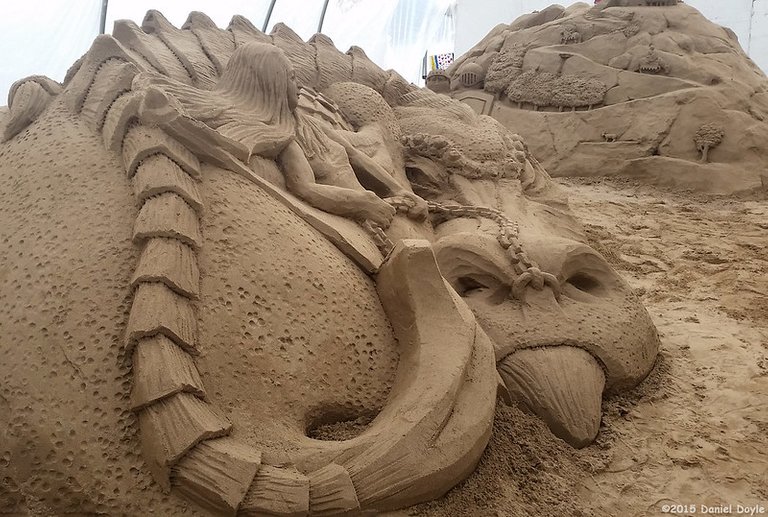 It was made over a three day period at the Dunncannon sand sculpture festival 2015. This little fishing village in the south of Ireland has invited us down over many years to make a sculpture. Unfortunately, time has never been in big supply when it has come to make the sculptures because the budget is quite low. This year they could only afford to have Niall Magee and myself down. They piled up banks of sand and I decided to do the larger 360 pile while Niall made a castle and some knights in the other one at the end of the tent.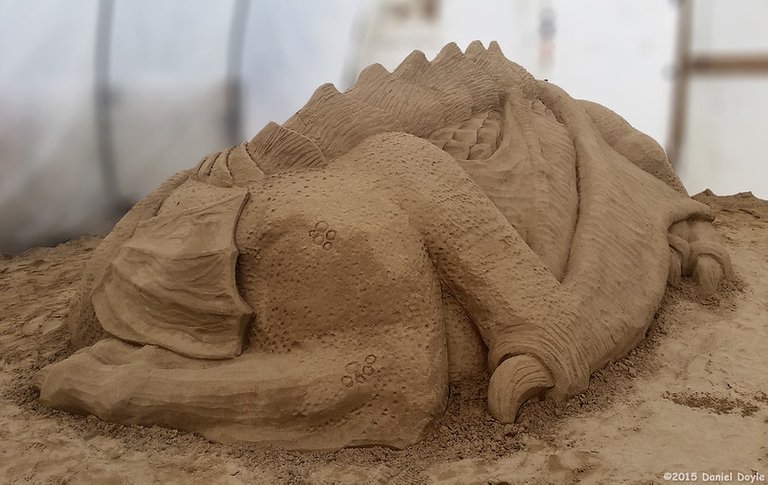 When I say 360, I mean that this pile of sand could be viewed from all angles by the audience. I figured it looked a bit like a sleeping dragon and that would fit in quite nicely with the theme they had given us of 'knights and castles'.
I'll be the first to admit it wasn't brilliant but I think it got the job done in the time I was given.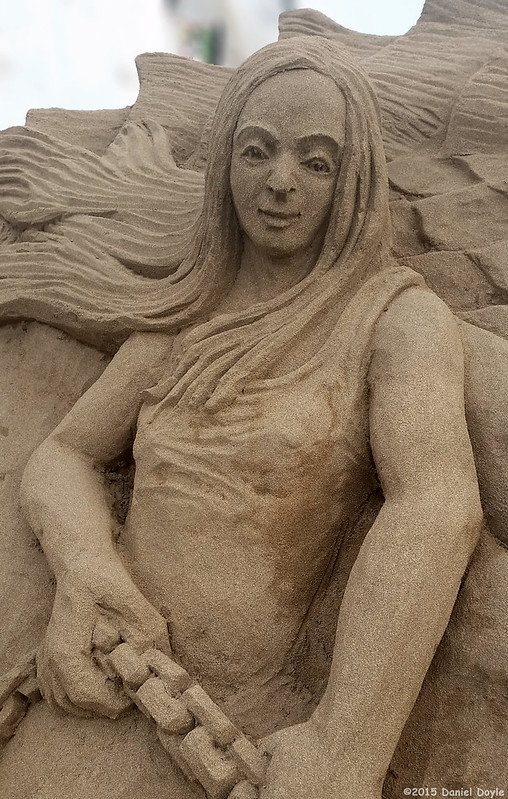 In the composition I also made this girl type character pulling his chain. She looked an awful lot more graceful in my head. At the end of the long days, they were happy and so I was happy.
Working in soft, uncompacted beach sand like this is always a challenge and you have one chance to get things as close to okay as you can. There is no possibility or time to redo. It is really like sketching a drawing in 3 dimensions.
---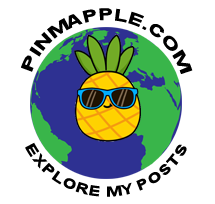 ---
Ps
Thanks for reading. I use PeakD to document my work as an ephemeral Sculptor of sand, snow and ice, amongst other things. This will hopefully give it a new life on the Hive Blockchain. Below you will find some of my recent posts.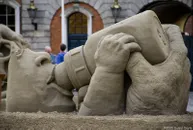 4:16 am - sand sculpture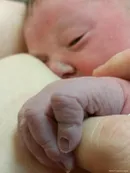 Daddy's boy - Family and a little sand sculpture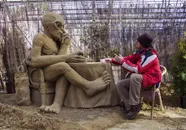 A drink with an Alien - sand sculpture
I hope you'll join me again soon
@ammonite
If you would like to support me
Bitcoin: bc1qp4lfg0ttz66nesgff8fd5unglg9y0l2jy53j36
Ethereum: 0x6abaE039b9BDFB67495A0588cb90F9EAF5f7556c
Eos: ammonitearts
I am also starting to create NFTs of my sculptures and welcome you to my gallery where you can own a bit of ephemeral sculpture history
---
---