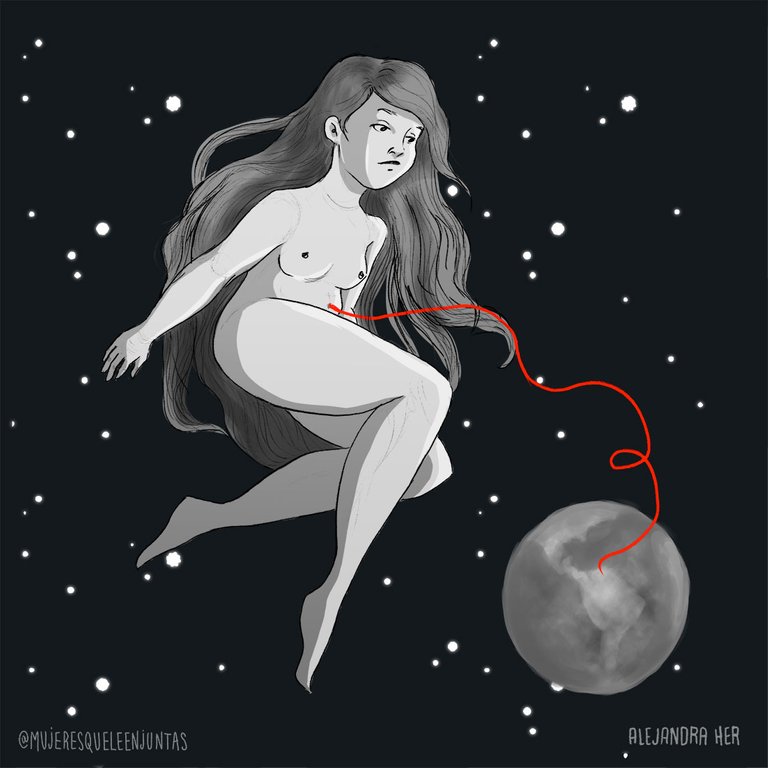 The image that I want to share with you today is a collaborative gift that I made for Women Who Read Together.
La imagen que hoy les quiero compartir es un regalo de colaboración que hice para Mujeres que Leen Juntas.
What is Women Who Read Together? | ¿Qué es Mujeres que Leen Juntas?
Women who read together is a project that was born two years ago in Venezuela and now has more than 700 members in more than 20 countries around the world.
Mujeres que leen juntas es un proyecto que nació hace dos años en Venezuela y que ahora suma más de 700 miembros en más de 20 países de todo el mundo.
It is a virtual meeting group dedicated to the collective reading of books that promote sisterhood, financial independence and emotional independence of women. Regarding this, Jackeline Montes tells us:
Se trata de un grupo de encuentro virtual dedicado a la lectura colectiva de libros que promueven la sororidad, la independencia financiera y la independencia emocional de las mujeres. Respecto a esto, Jackeline Montes nos dice:
"This is what the network offers, it offers readings linked to those principles that allow us to incorporate new knowledge that allows us to develop, that allows us to open our eyes, question our beliefs linked to any of these autonomies and of course the idea is to question beliefs, transform patterns, build new forms of relationships between women (...) are readings that have to do with a topic of personal, individual work, we are not a therapy group, we do not substitute professional support, we are a group of women organized around some common principles and an objective, and that we use reading as a vehicle, as a point of encounter and recognition, "Montes clarifies. Source
"Es lo que ofrece la red, ofrece lecturas vinculadas a esos principios que permiten incorporar un conocimiento nuevo que nos permita desarrollar, que nos permita abrir los ojos, cuestionar nuestras creencias vinculadas a cualquiera de esas autonomías y por supuesto la idea es cuestionar creencias, transformar patrones, construir nuevas formas de relacionamiento entre mujeres (…) son lecturas que tienen que ver con un tema de trabajo personal, individual, no somos un grupo de terapia, no sustituimos el acompañamiento profesional, somos un grupo de mujeres organizadas en torno a unos principios comunes y un objetivo, y que usamos la lectura como vehículo, como punto de encuentro y de reconocimiento", aclara Montes. Fuente
The illustration | La ilustración
A few days ago, Women Reading Together asked its users to describe their emotional experience in the pandemic in one word. I spoke to them of uncertainty. This is how this collaborative illustration was born, as we are talking about feeling floating in space, connected to the earth, but without any kind of certainty about the immediate future.
Hace algunos días, Mujeres que leen juntas pedía a sus usuarias que describieran su experiencia emocional en la pandemia en una palabra. Yo les hablaba de incertidumbre. Así nació esta ilustración de colaboración, pues hablamos de sentirse flotando en el espacio, conectadas a la tierra, pero sin ningún tipo de certeza sobre el futuro inmediato.
I invite you to visit the IG of Women who read together, where you can learn more about this beautiful project. If you are a Spanish-speaking woman, you can apply to join the collective reading dynamic.
Les invito a visitas el IG de Mujeres que leen juntas, donde podrán conocer más de este hermoso proyecto. Si eres mujer de habla hispana, puedes solicitar tu ingreso a la dinámica de lectura colectiva.
---
---
If you like my comics, visit my Instagram comics account and support this new phase of my personal and professional life.
---
---
I hope you enjoy. If you like it, vote for it. If you know someone who might like it, mention it. If you identify with my work, share it.
Espero que lo disfruten. Si te gusta, vótalo. Si conoces a alguien que pueda gustarle, menciónalo. Si te identificas con mi trabajo, compártelo.
Illustrations and review By ©Alejandra Her