SALUDOS A TODOS LOS AMIGOS AMANTES DEL DIBUJO, LAS ILUSTRACIONES Y EL ARTE EN GENERAL
En estos días atrás sentía la necesidad de pintar con acuarelas, es algo que tenía mucho tiempo que no lo hacía, en realidad años.
Le pedí a mi hija que me regalara una hoja de algodón para acuarelas de 160 gramos de un block que ella tiene porque quería hacer algo, quería hacer una pintura con acuarelas.
En el momento que le pedí la hoja no tenía la más mínima idea de que quería pintar, no fue hasta muchos días después un domingo cuando estaba escuchando música y me gustó la portada del video, era nada más y nada menos que Amy Winehouse, a mí en particular me gusta mucho su música, así que pensé hacer un retrato de ella y darle mi toque personal.
Les muestro algunas fotos del proceso creativo.
English version:
GREETINGS TO ALL THE FRIENDS WHO LOVE DRAWING, ILLUSTRATIONS AND ART IN GENERAL
These days ago I felt the need to paint with watercolors, it is something that I had not done for a long time, actually years.

I asked my daughter to give me a 160 gram sheet of cotton for watercolors from a block that she has because I wanted to do something, I wanted to make a painting with watercolors.

At the time I asked for the sheet I had no idea that I wanted to paint, it was not until many days later on a Sunday when I was listening to music and I liked the cover of the video, it was nothing more and nothing less than Amy Winehouse I particularly like her music a lot, so I thought I would make a portrait of her and give it my personal touch.

I show you some photos of the creative process.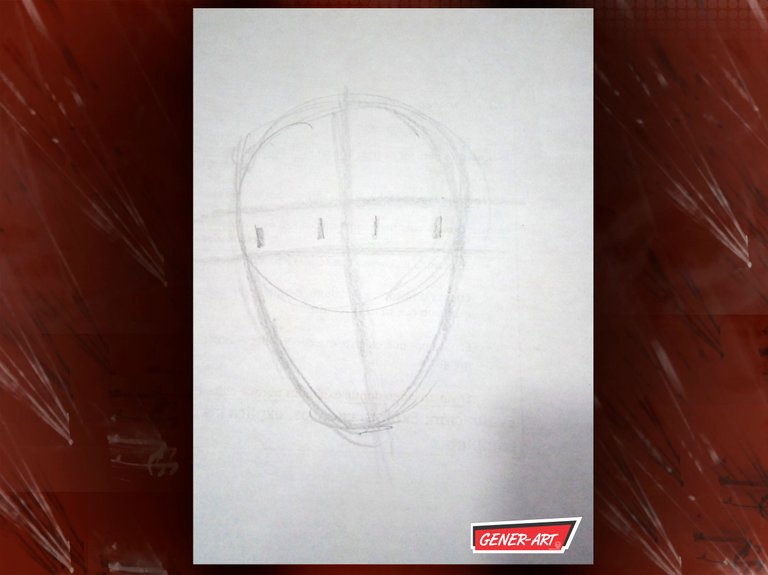 EL BOCETO:
Para hacer el retrato de Amy lo primero que hice fue hacer las líneas guías, tal como les muestro en la foto que ven a la derecha de sus pantallas.
Creo que más adelante haré una publicación tratando de explicar mejor como hacer las líneas guías para hacer retratos, sin importar que no sea un experto del tema.
Mi intención inicial de este boceto era la práctica, por eso lo hice en una hoja de papel bond de reciclaje, para después trabajar en el papel de acuarela.
THE SKETCH:
To make Amy's portrait, the first thing I did was make the guidelines, as I show you in the photo you see on the right of your screens.

I think that later I will make a post trying to explain better how to make the guidelines for making portraits, regardless of whether I am not an expert on the subject.

My initial intention of this sketch was practice, so I did it on a sheet of recycled bond paper, to later work on the watercolor paper.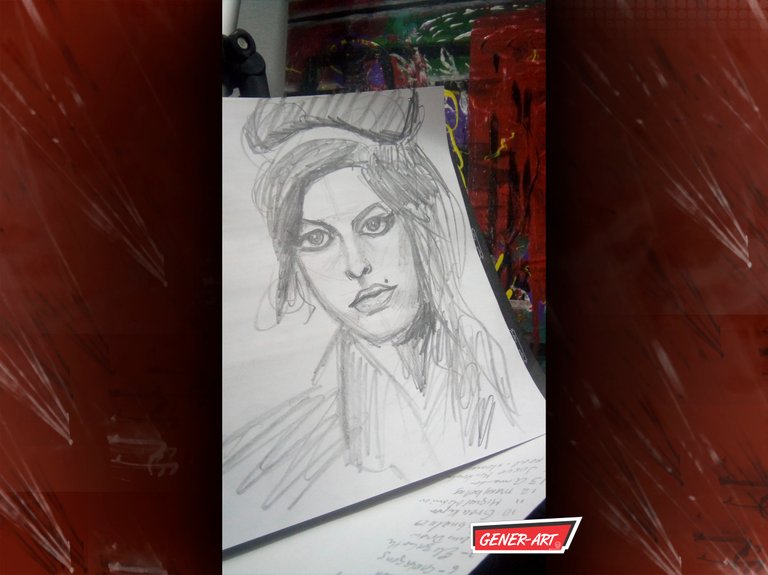 Una vez que terminé el boceto creo que dejó de ser boceto, me gustó mucho como quedó y ahora creo que es un resultado final, no sé como explicarlo, pero esos tonos en blanco y negro me gustaron mucho.
Terminado esto aún tenía pendiente mi misión inicial que era usar el papel para acuarelas, pero no quería arriesgarme a volver a hacer el dibujo de Amy en el papel para acuarelas, así que acudí a la técnica de calcar mi propio dibujo y comenzar la aventura de pintar con acuarela.
Once I finished the sketch I think it stopped being a sketch, I really liked how it turned out and now I think it's a final result, I don't know how to explain it, but I really liked those black and white tones.

Once this was finished, I still had my initial mission pending, which was to use the watercolor paper, but I did not want to risk doing the drawing of Amy on the watercolor paper again, so I went to the technique of tracing my own drawing and starting the adventure of paint with watercolor.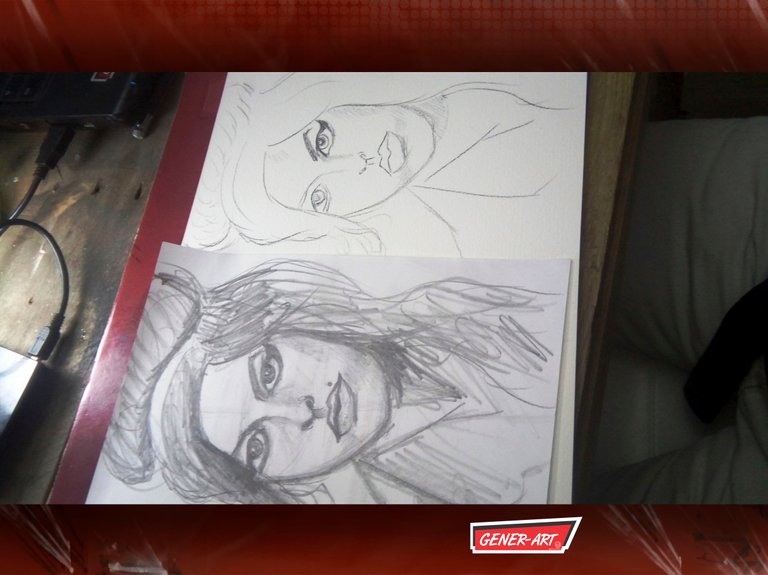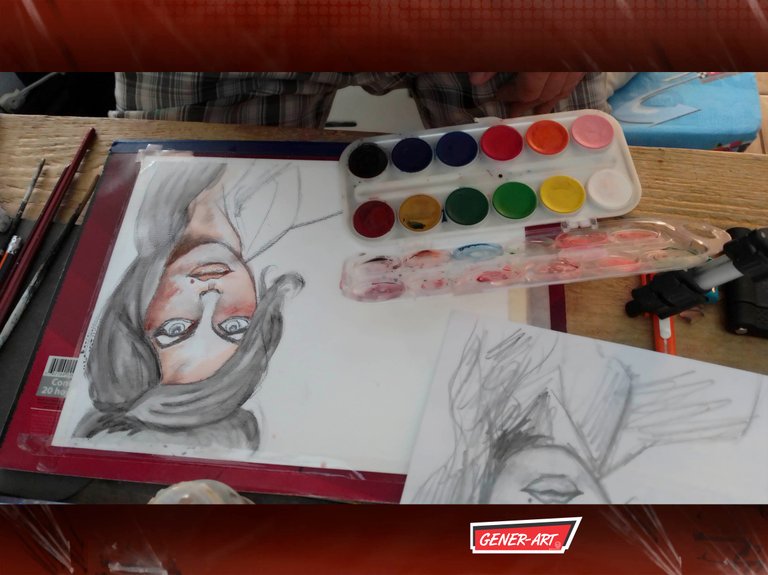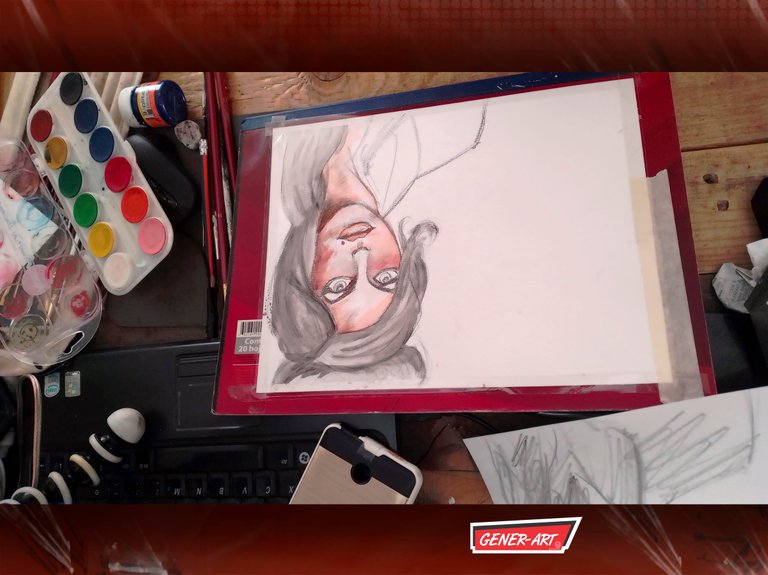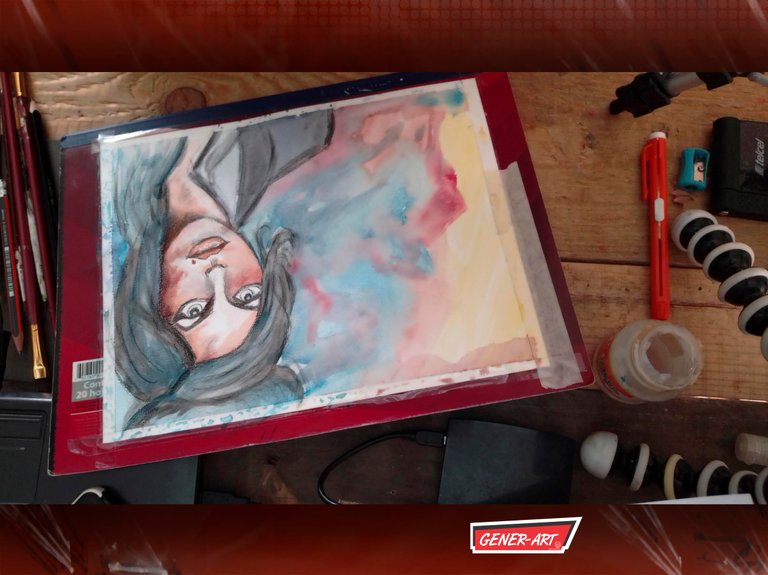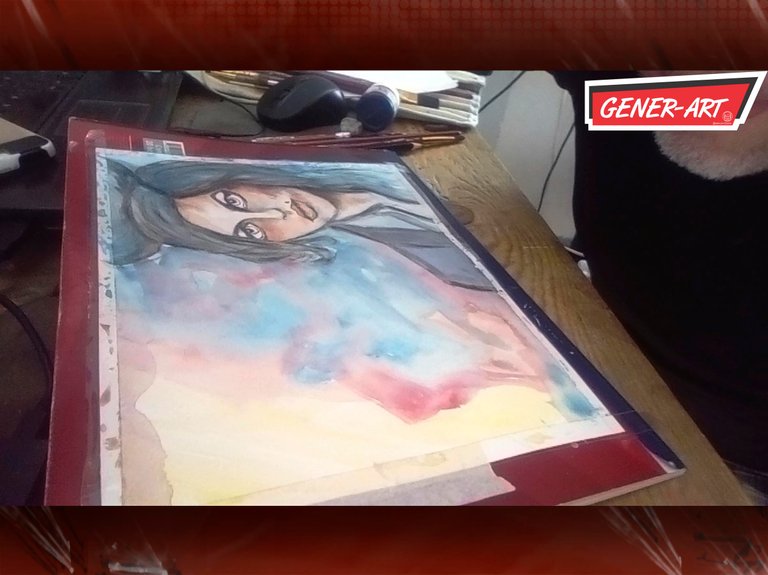 Me atreví a aventurarme a hacer este retrato sabiendo que no soy experto haciendo retratos, también quiero dejar claro que en ningún momento fue mi intensión hacer algo realista, solo quise hacer a Amy Winehouse bajo mi propio concepto imaginativo e interpretativo.
I dared to venture to do this portrait knowing that I am not an expert doing portraits, I also want to make it clear that at no time was it my intention to do something realistic, I only wanted to do Amy Winehouse under my own imaginative and interpretive concept.
RESULTADO FINAL / Final Result
Después de un rato trabajando en el retrato aplicando diferentes colores y materiales llegamos al resultado final.
After a while working on the portrait applying different colors and materials, we reached the final result.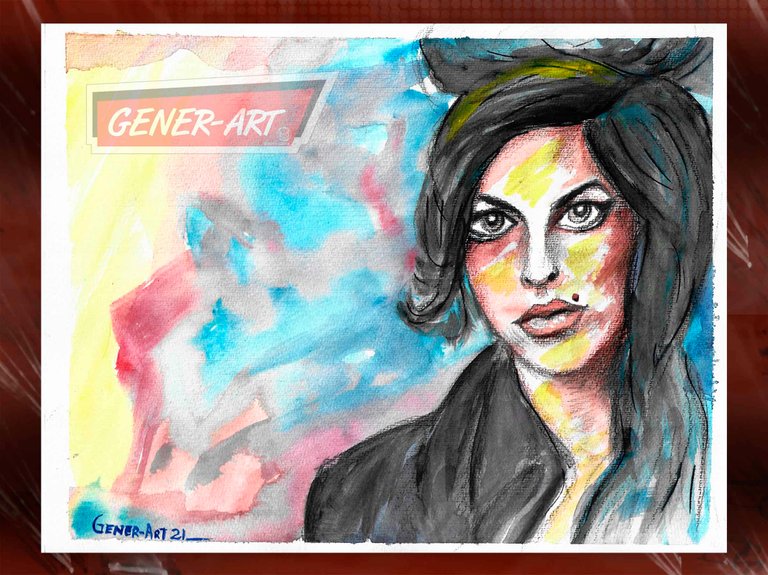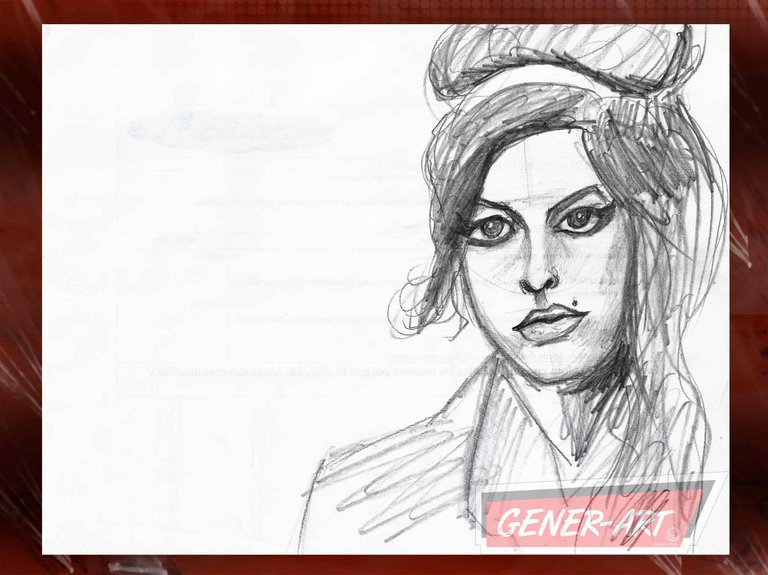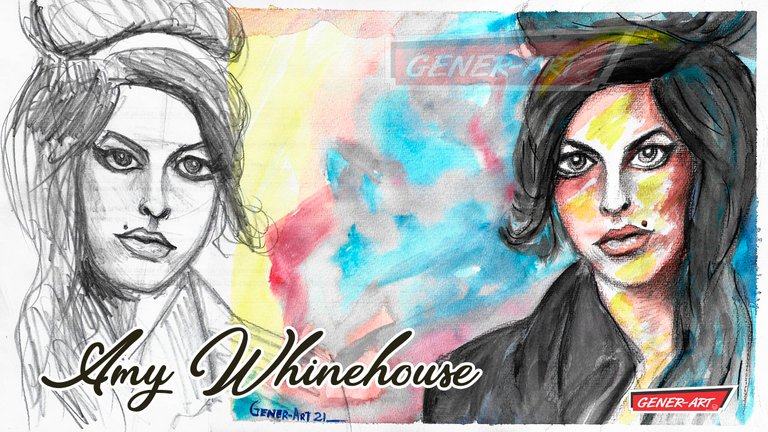 Ficha Técnica:
Nombre de la Obra: Amy Winehouse - Retrato de colores
Autor: GENER-ART
Técnica: Mixta sobre papel para acuarelas de 160 gramos
Medidas: 28 x 21.5 centímetros
Año: 2021
Al principio dije que utilizaría acuarelas, pero al final terminé utilizando también colores de madera, pintura acrílica a base de agua y marcadores de colores.
Data sheet:

Work Name: Amy Winehouse - Portrait of colors
Author: GENER-ART
Technique: Mixed on paper for watercolors of 160 grams
Measurements: 28 x 21.5 centimeters
Year: 2021

At first I said that I would use watercolors, but in the end I ended up also using wood colors, acrylic water-based paint, and colored markers.

*** Pronto disponible en NFT ***
*** Soon available on NFT ***
---
Gracias amigos por apreciar y apoyar el trabajo que realizo, es un placer y un honor presentar a todos ustedes mi arte, dejen sus comentarios haciéndome saber que les ha parecido este retrato de la cantante Amy Winehouse.
Les dejo mis redes sociales para que me apoyen en todas ellas:
INSTAGRAM: gener.art
INSTAGRAM: gener.art.dibujos
FACEBOOK: GENER-ART
YOUTUBE: GENER-ART
PATREON: GENER-ART
Thank you friends for appreciating and supporting the work I do, it is a pleasure and an honor to present my art to all of you, leave your comments letting me know what you think of this portrait of the singer Amy Winehouse.

I leave my social networks to support me in all of them:

INSTAGRAM: gener.art
INSTAGRAM: gener.art.dibujos
FACEBOOK: GENER-ART
YOUTUBE: GENER-ART
PATREON: GENER-ART
---
📢 NOTICIA ESPECIAL:
En estos días atrás cumplió años una persona que es muy especial por toda la energía que irradia, es muy activa en la plataforma y en las redes sociales y creo que se ha ganado que le regale una edición especial de este retrato (creo que le debe gustar jajaja 😂), así que sin más preámbulos se lo voy a obsequiar a la señorita @malomi cuando vaya a su fiesta virtual de cumpleaños.
Así que cuando veas esta publicación señorita @malomi déjame saber cual versión te gustaría tener como obsequio para ti, así que muchas felicitaciones por tu cumpleaños.
Siguiendo las reglas de la dinámica voy a invitar a las siguientes personas a participar y hacerle un regalo a @malomi, ellas son: @miguelmederico, @luisdraw y @equipodelta.
📢 SPECIAL NEWS:
These days ago a person who is very special for all the energy that she radiates had a birthday, is very active on the platform and on social networks and I think she has won me give her a special edition of this portrait (I think to She must like it hahaha 😂), so without further ado I'm going to give it to Miss @malomi when she goes to her virtual birthday party.

So when you see this post, miss @malomi let me know which version you would like to have as a gift for you, so many congratulations on your birthday.

Following the rules of dynamics, I am going to invite the following people to participate and give @malomi a gift, they are: @miguelmederico, @luisdraw and @equipodelta.


---

NOS VEMOS EN LA PRÓXIMA PUBLICACIÓN
SEE YOU IN THE NEXT POST

Cortesía de @equipodelta

NOTA: todos los dibujos y pinturas hechos por mí tienen Derecho de Propiedad Intelectual, además tienen una historia ligada únicamente a mi persona y mi entorno, ya sean conocidos, familiares o amigos. Gracias por no plagiar.