wednesday walk at St.Petersburg - week 12 (10 fotos)

This is a post to go with #WednesdayWalk challenge by @tattoodjay
All pictures taken by me. Some fresh captures from this week walks at central streets of St.Petersburg.
---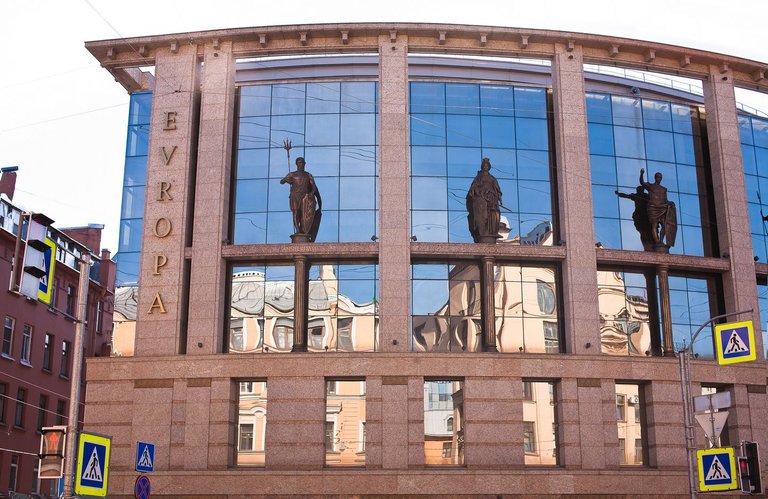 A cool looking business-center at Petrogradkii district.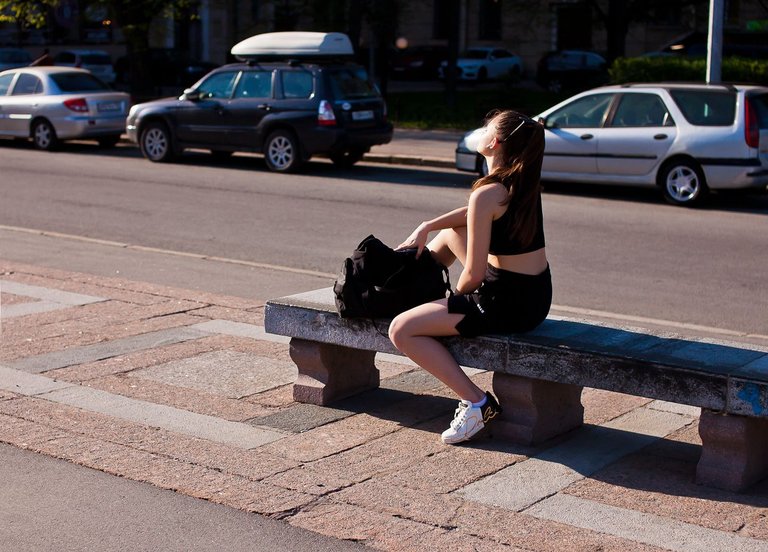 Early sun-baths in the spring. All the townspeople have missed the sun very, very, very much during the wintertime.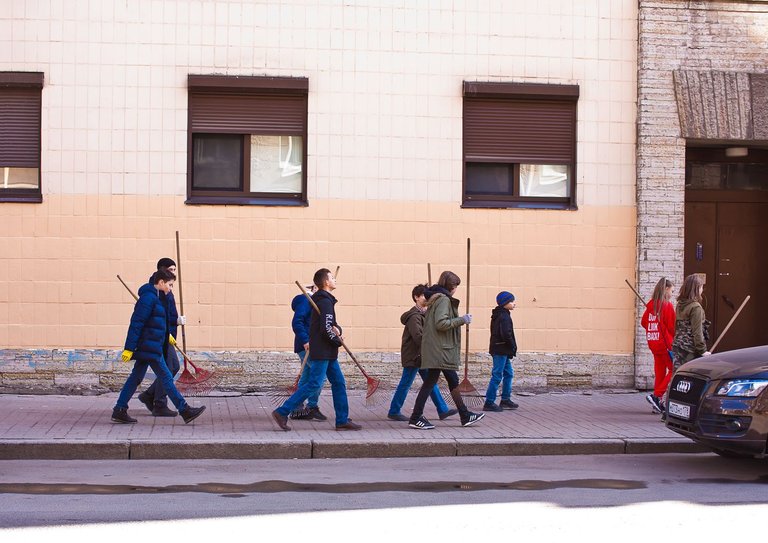 Students equipped with gear go for a little labour of love, to clean the local yards from the winter shit.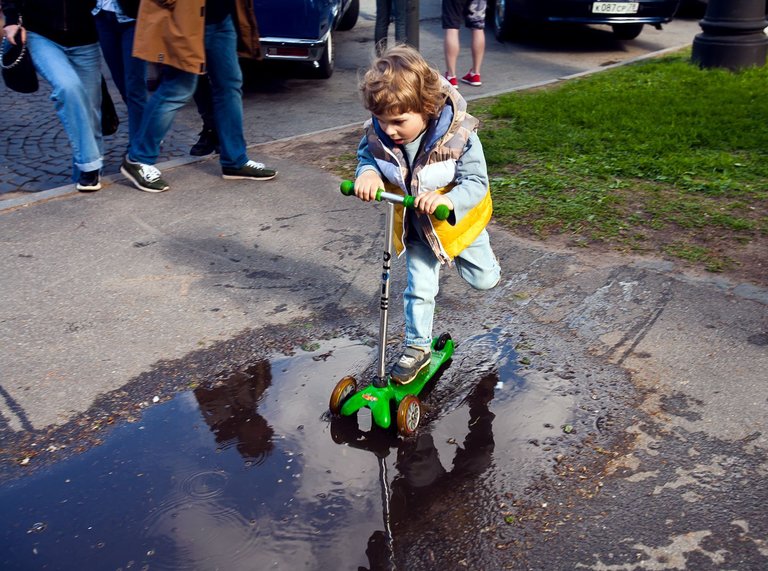 This child was so passionate about the water pool. He crossed it at least 8 times (while I was shooting him). Such an obsession is ttally understandable - crossing the pond and avoiding the water drops is so much fun! Dont you remember that?..
I took 17 photos, so more of this little set will show up in my future posts! ;)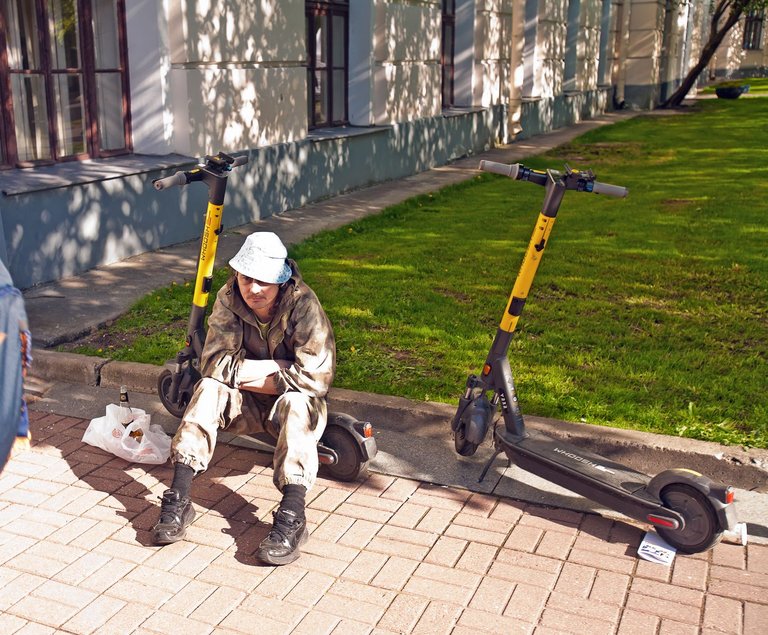 This one is of not big quality, I am not happy with it at all - got
a manual exposure totally wrong on it (saved what I could doing the raw post-processing in PH), but still a cool capture, as my friend @borjan says, technical quality is not the everything. Look into the eyes of this stranger, try to decypher the weird half-smile impression on his face. A splendid streetphoto capture and addition to the 'St.Petersburg habitants gallery of types', imo.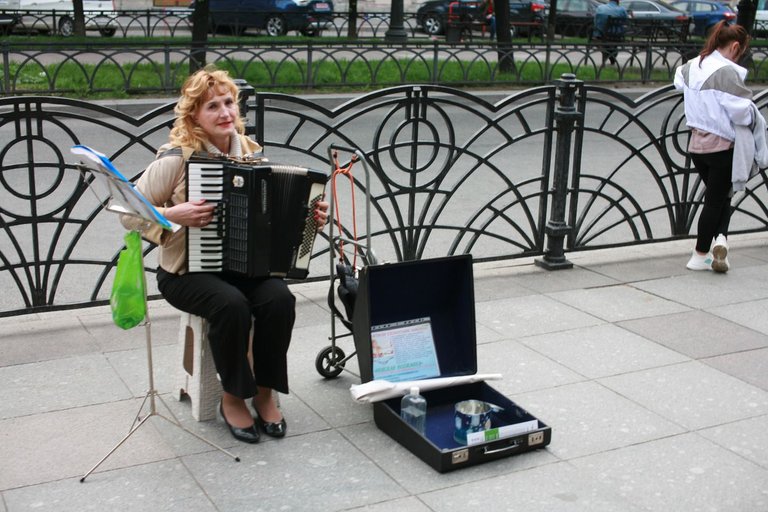 A street musician with accordeon. The eye-contact definitely have happened here, when I blindly took a fast capture and passed on (and I dont see a solid approvement in her eyes... 'oh those paparazzy cameramen, they are everywhere!' - her eyes say to me).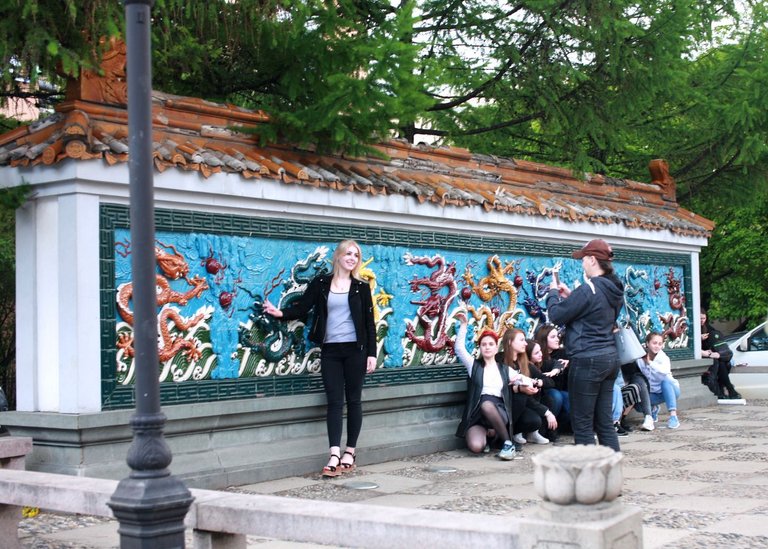 A massive photosession. I took part, too!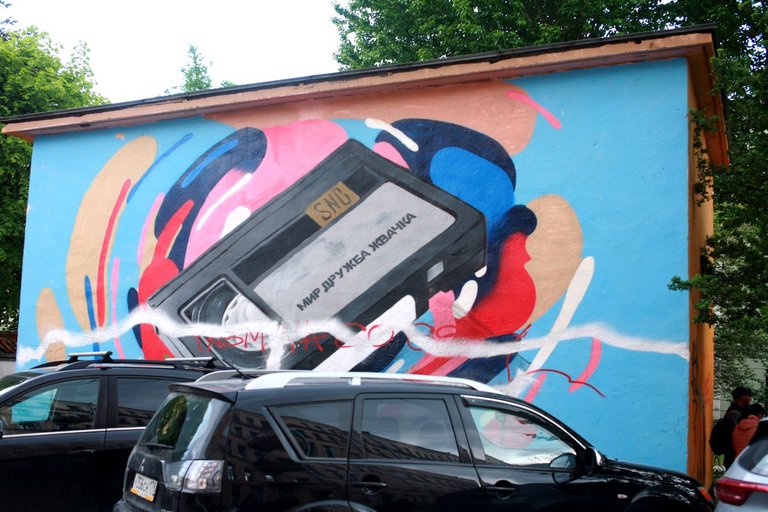 Here I stumbled upon an intresting graffiti piece. What is so intresting with it, one may ask? But tell me first what do you see here? In my opinion it is a VHS cassette... but it is totally wrong one! I lol at this drawing -- I had a strong suspicion that it is author (might be some teenager of a modern generation) even might never seen one VHS cassette, thats why he tried to draw it from the memory... and came up with such a strange result. Funny thing, isnt it?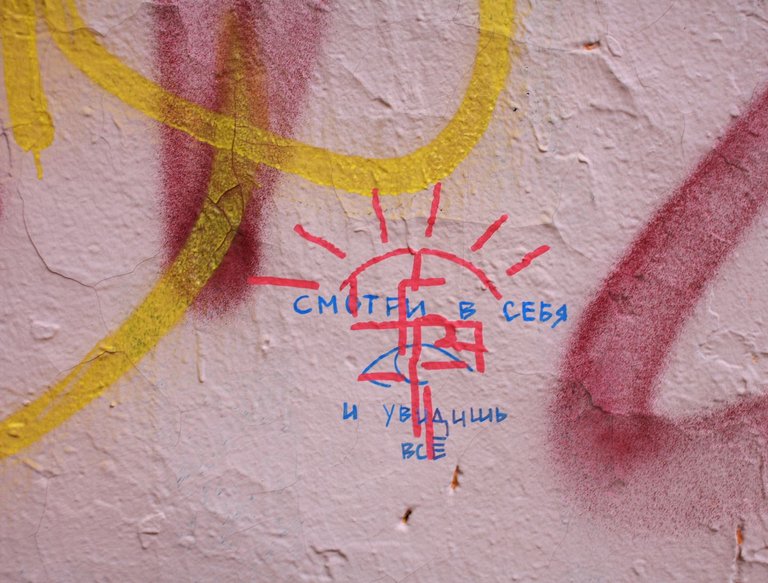 More cool graffity finds. This inscription says in Russian: 'Look into yourself, and you will see everything [you need]'. And someone (probably another person) have interacted with this message, and added a non-verbal answer: the sign of Tibetan swastika plus the rising sun. Very cool find, I guess. Let me alert you on this, @tatdt, I know you appreciate stuff like this.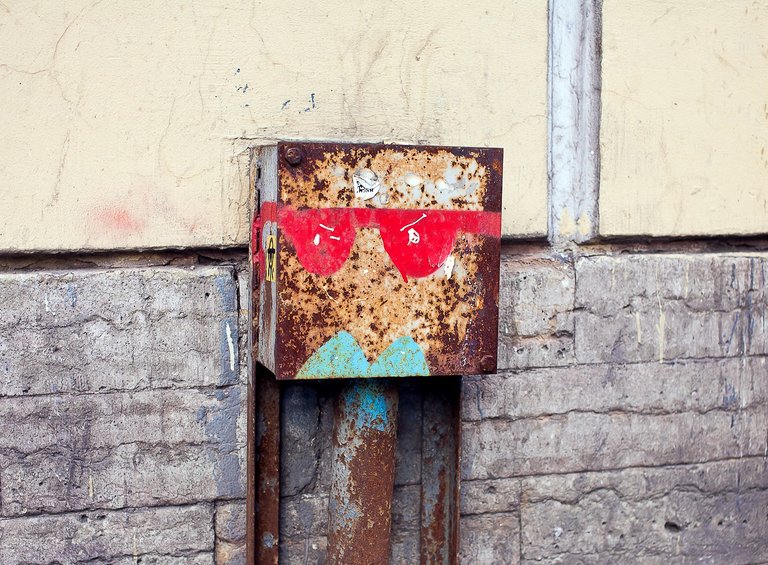 This one from my ongoing series 'I see faces'. Somebody have seen a face here before me, as well.
My posts at the Pinmapple world map
---
Thanks for walking with mee, see you next time!
Надеюсь, вам было приятно прогуляться со мной по улицам Петербурга!
[//]:# (!pinmapple 59.958327 lat 30.300803 long wednesday walk at SPb d3scr)
all images taken with Canon 5D + Sigma 50mm 1.4
location: St.Petersburg, Russia
world map: pinmapple (wednesday walk at SPb)
tags: wednesdaywalk streetphoto ru photography
---
---