A Quiet Afternoon Walk with the Serene View of Laguna de Bay 🍃

"A walk in nature walks the soul back home."

~ Mary Davis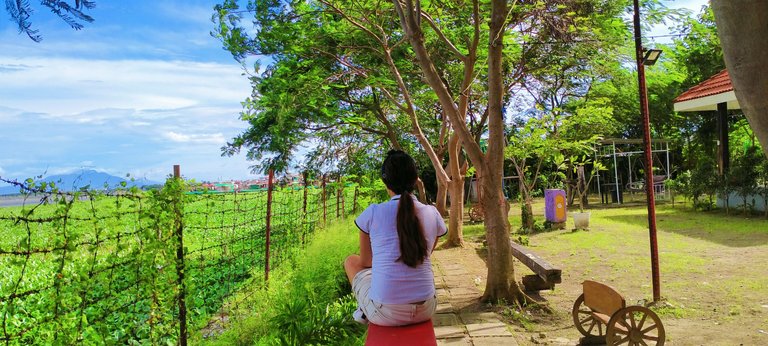 Hello Hivers!
It's Wednesday again and another great day to share with everyone how a short walk could cut loose our ties with the never-ending drama and chaos with the mundane we had to deal with every single day in the city.
Probably, most of us, in between scrolling up and down the mouse while checking emails and viber with work-related messages, are also wandering our thoughts to somewhere serene like me. And when we talk about somewhere relaxing and peaceful, the perfect place we always had in mind that could pacify our burnt-out mind is somewhere at the heart of nature.
But today, I'll take you on a virtual walk in a relaxing place at the bosom of mother nature but there was no need to go travel somewhere outside the city. Yes, we could chill and relax while having a peek at nature's mesmerizing scenery and have a grasp of its calming ambiance right at the heart of the city.
It was a walk with my sister-in-law when we attended my cousin's wedding. The reception took place in a swimming pool resort, just somewhere south of Metro Manila. We had fun celebrating the newlywed's special day together with the other visitors who were mostly my relatives. When the party was almost over, my sister-in-law suddenly invited me to have a walk outside the reception. She wanted to explore the place to breathe some fresh air and so did I.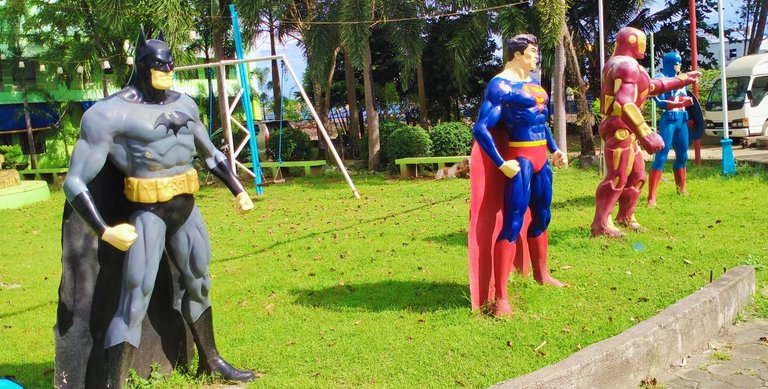 Outside, we were greeted by these superheroes who were standing under the scorching heat of the sun. Maybe it helps that they have superpowers that's why we did not hear them complain, Lol!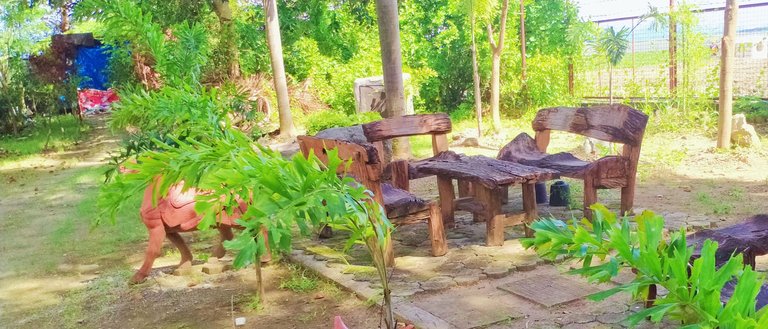 As we proceeded with our walk, we pass by these wooden tables and chairs placed under the shelter of the trees, perfect for random strollers to sit back and relax.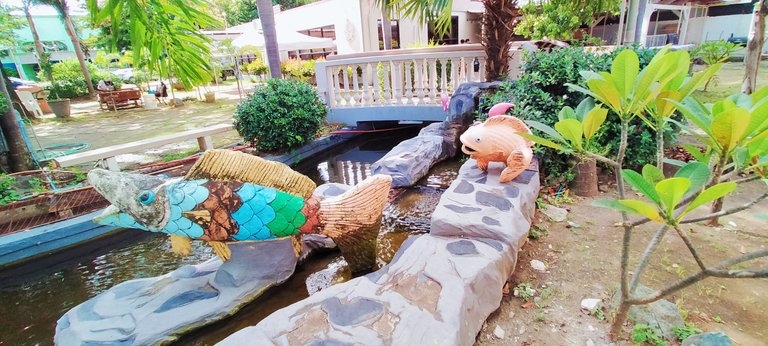 We also passed by these statues of fish that added aesthetic to the place.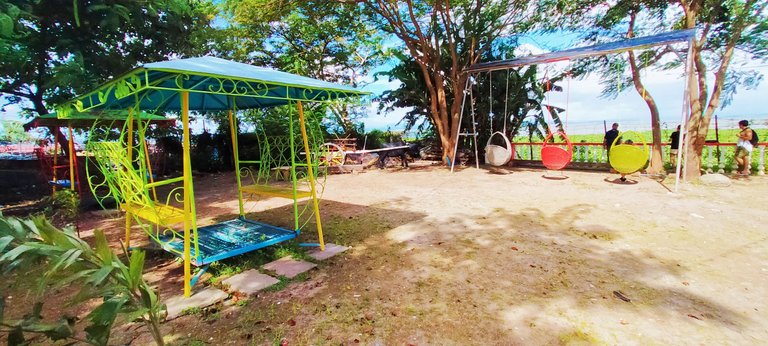 And there was also this metal swing, another perfect spot to sit back and relax when someone gets tired from walking and would prefer to have a rest for while.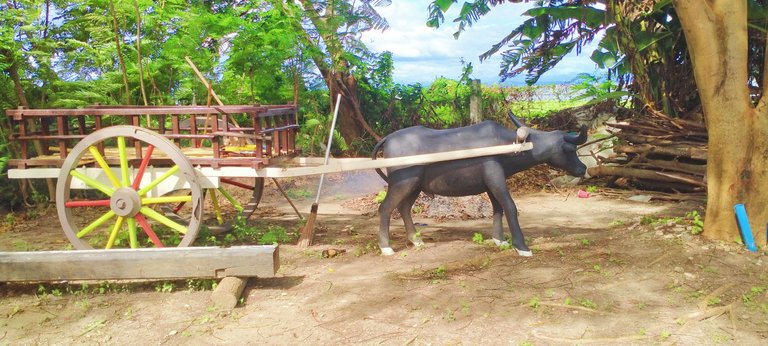 And we also saw this statue of a carabao pulling a wooden cart.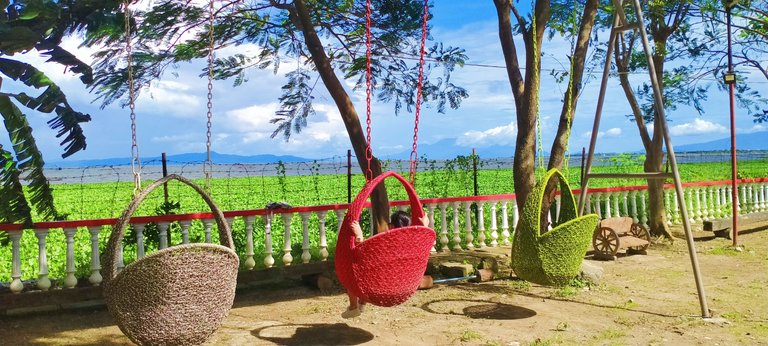 And then we came upon this calming scenery.
I was speechless for a moment. I was not aware that the reception was located at the lakeside. The beautiful view of
Laguna De Bay
(the largest lake in the Philippines) welcomed us with its serene and peaceful sight. Its breeze was gently swaying the leaves of the trees and to my ear, they seem to be playing soft music that echoed through my soul. It was very relaxing and somehow I was kinda rejuvenated. There were more colorful swing chairs facing the lake which was the most perfect spot to sit while taking a breathtaking gaze at the stunning
Laguna De Bay.
It was my first up-close encounter with this lake and it's undeniably beautiful.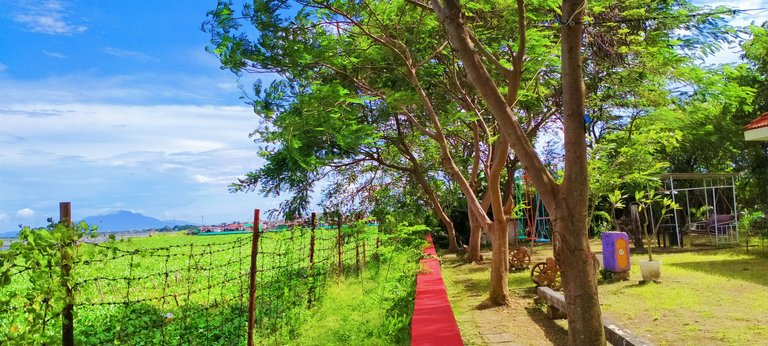 I took a long pause, closed my eyes for a while, and breathe for a moment. I was smiling while savoring nature in my senses. I thought to myself, this is what I needed. To recharge for another hard day of work.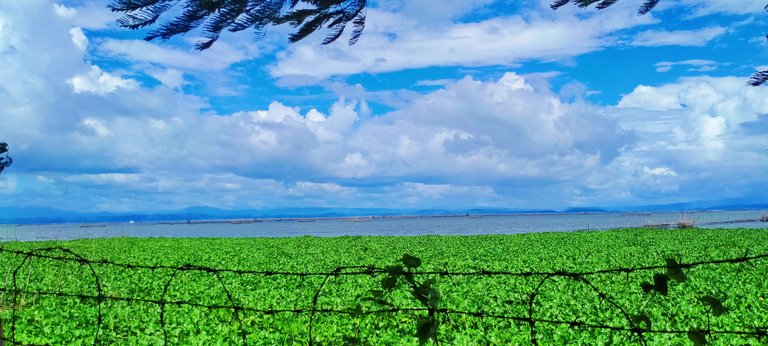 As I opened my eyes, I wander my sight to the water hyacinths in front of me and then threw my gaze to the blue mountains on the other side. I wonder if it's Rizal or Laguna provinces that are visible from here, but either of the two may it be, one thing is sure, the view I was staring during that moment was like finding tranquility and solace unexpectedly.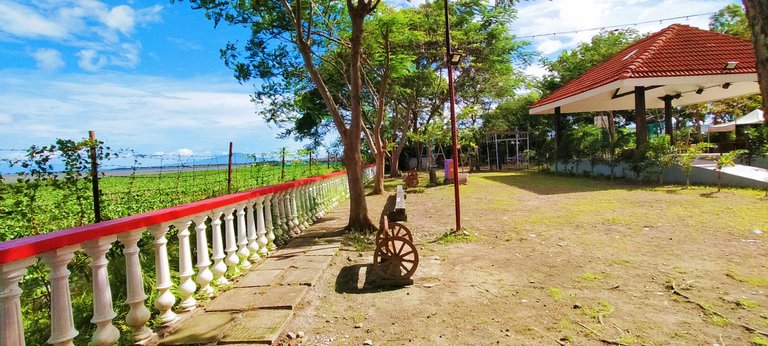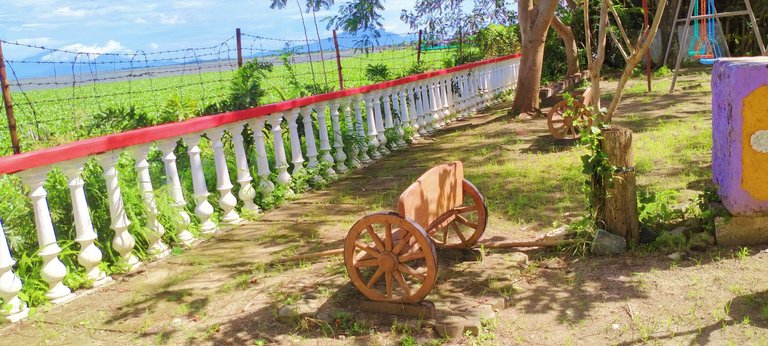 There were also wooden chairs, for people who prefer to sit on chairs rather than on swings. During that time, my sister-in-law and I were lucky enough that there were no other people around so we enjoyed the place and the moment.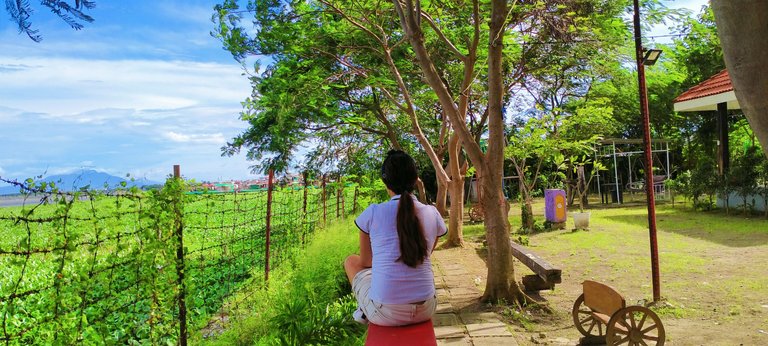 And since I wanted to get closer to nature, I preferred to sit here where I can have a clearer view of the lake.
It was indeed a quiet afternoon walk wherein the tranquility of Laguna de Bay's soothing breeze has something to do with me getting energized in going back to my office table and dealing with as many tasks as I can.
Thank you @tattoo-djay for this beautiful #WednesdayWalk community. Have a great Wednesday everyone!
---
---