WednesdayWalk | At The Gallery House of Suprobo, Indonesia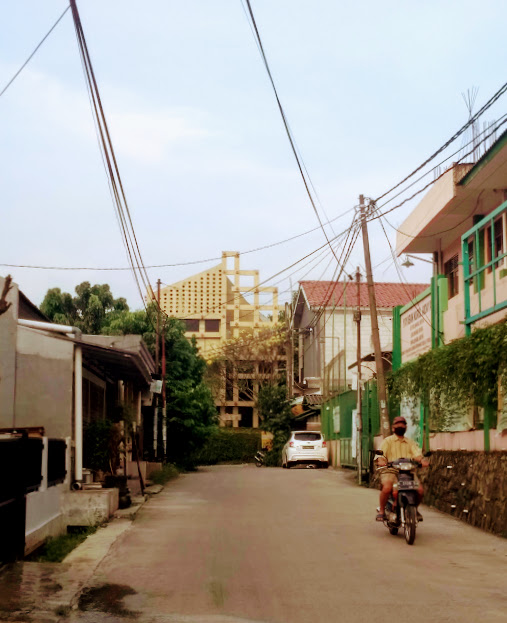 Still on motorcycle, our destination is the nice building ahead
"In the midst of our daily lives, we must find the juice to nourish our creative souls."


-Sark-
---
The emergency lockdown finally announced by the government from July 3rd to July 20th in all provinces in Java and Bali Island. I live in South Tangerang, Banten, the closest to 2 areas with many Covid-19 infected people, Jakarta and Depok, West Java. The story and photos in this post were taking 2 weeks ago (June, 22nd). I was busy arranging my decks on Splinterlands and forgot to create any posts last week. So let's have a walk to a place belongs to an Indonesian Painter, Suprobo Mangundihardjo in Sawangan, Depok. This place is a house also a Gallery and people can rent this place for their garden wedding party or else.

This Place is hidden among the crowded housing complex, here the address North Reni Jaya I Number 7, Depok, West Java, only 3000 steps from my house at Pamulang Estate, East Pamulang, South Tangerang. But since we went there around 4 pm, My hubby took me there with Motorcycle.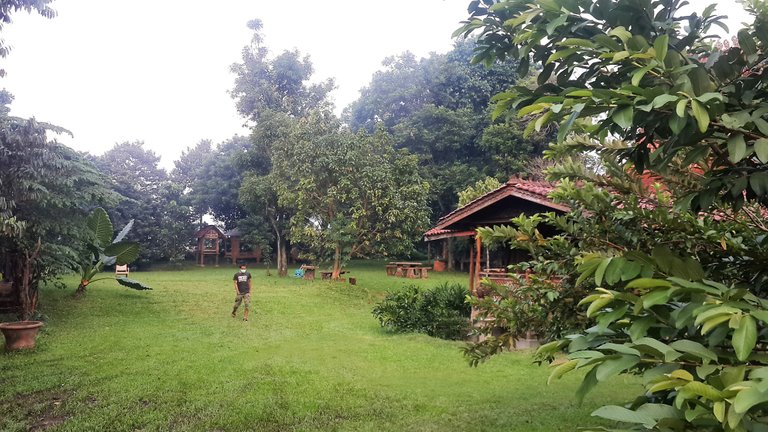 I took this picture from the Art Gallerry which look on the first picture, there are 9 buildings on 5000 meterr square small hill
---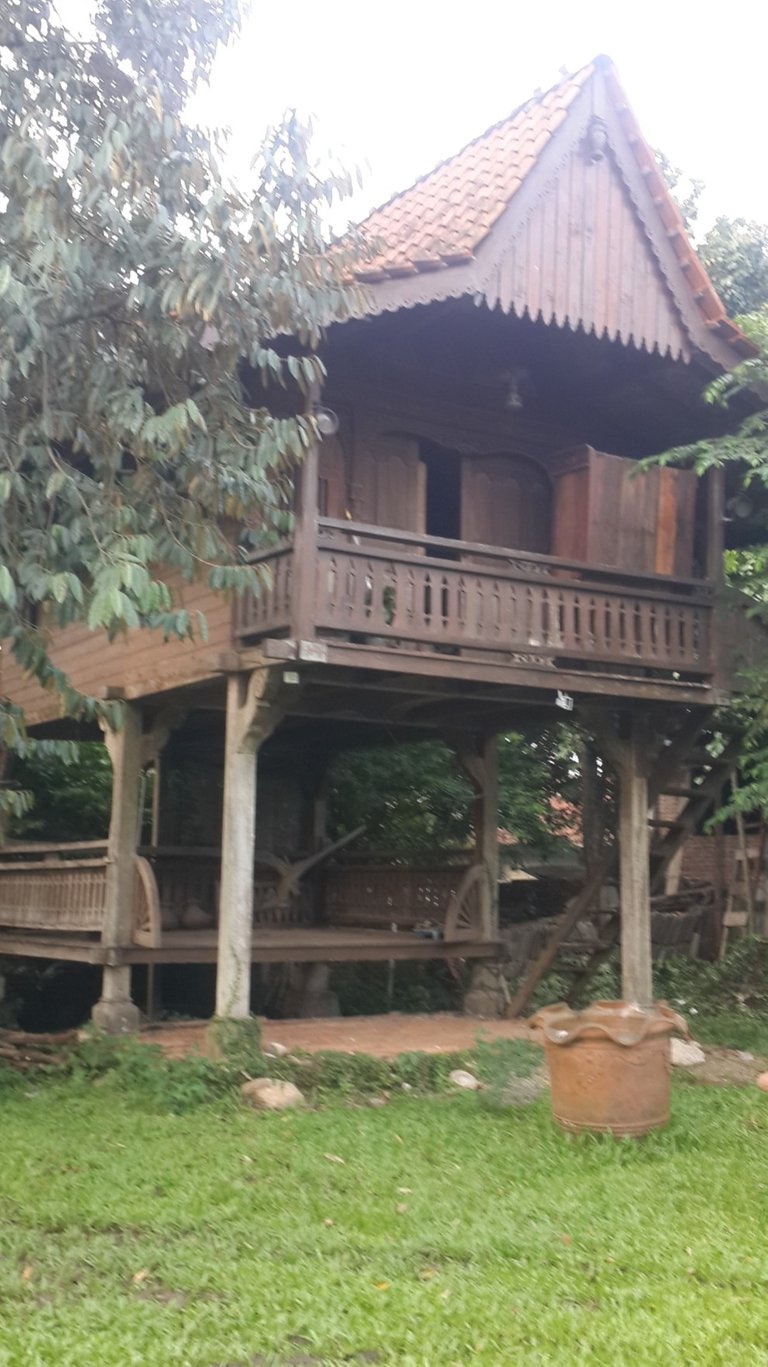 Sorry about the quality of the pictures😁, my phone is dying anyway. I read an article in 2011 that this is the first building he built on this land in 1992. I haven't had a chance to talk to the owner himself. When we got there, he's accepting a guest and having a serious talk at the next building of this house.

My hubby introduces us to Mas Suprobo briefly, he knows the painter's brother and have been there 10 or 20 years ago. We're free to explore this place alone. I walked to the third building on the left where 4 old motorcycles parked on the porch. Entering through the wide open door. I dunno what this building for.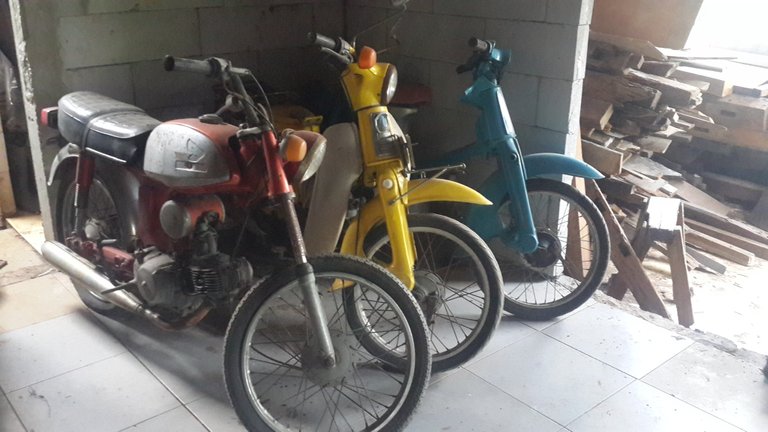 Another 3 old motorcycles at the back- right corner. All those classic motorbike were made by Honda in 70s. There few big wooden table and chairs in the middle of the building.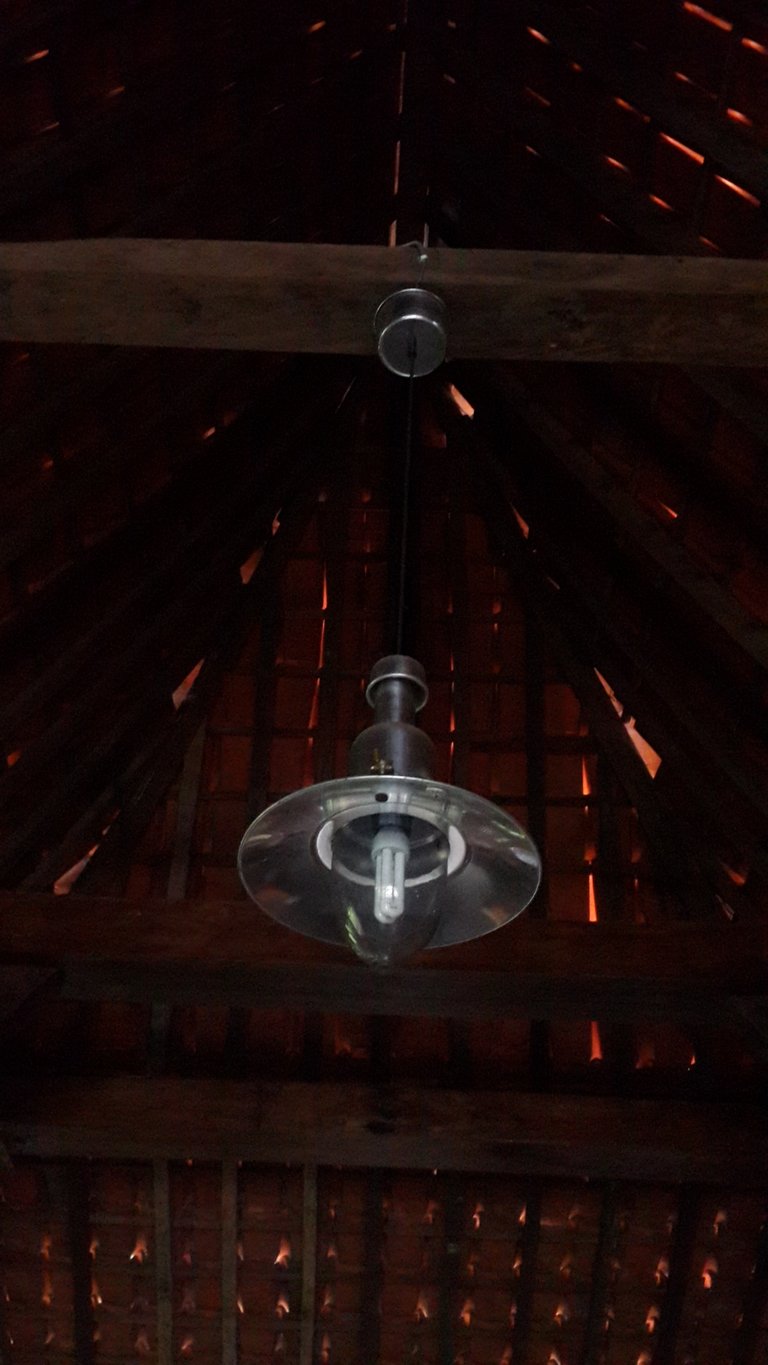 The hanging lamp attracts me. I thought it was an old lamp, but it's not and I like the structure of the roof. It was said that Mas Suprobo got some part of this building from its original place in East Java. He wants to build a place where he feels freedom like when he still lives in his hometown, Pati, East Java.

Let's get out of the house and see other things. There are 3 little huts which usually use to display some foods in a party. I found interesting earthenwares like plates, bowls, griller, etc.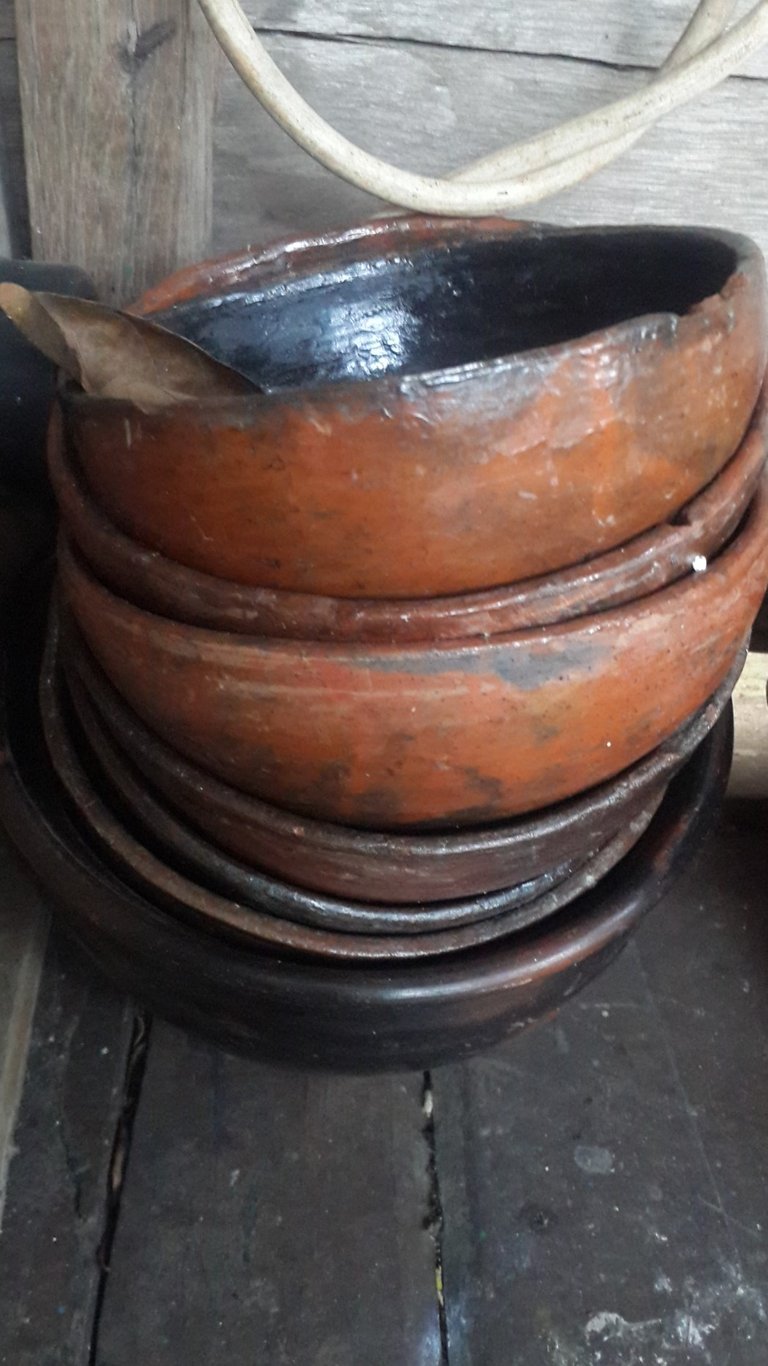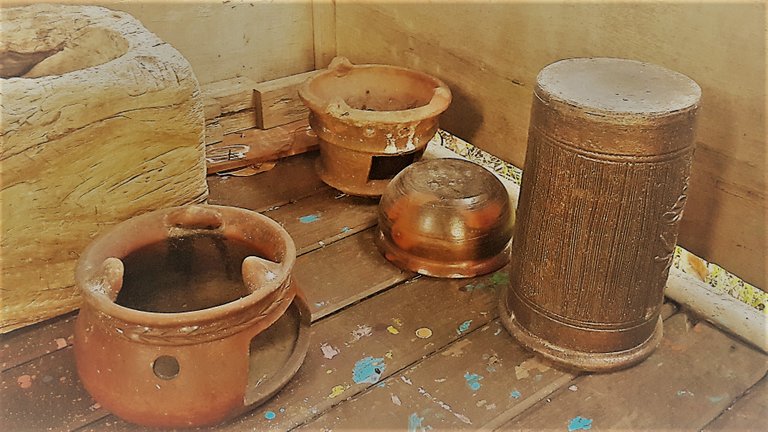 )
I love earthenwares! seems like they held a party before and all these things were use for the occasion. The place are quite spacious for a garden party for sure. Let's continue our walk to an open garage where 3 cars parked there, 2 of the cars are Volskwagon and I dunno whether it's only a property purpose now. Mas Suprobo made his house as Antique's gallery too.
---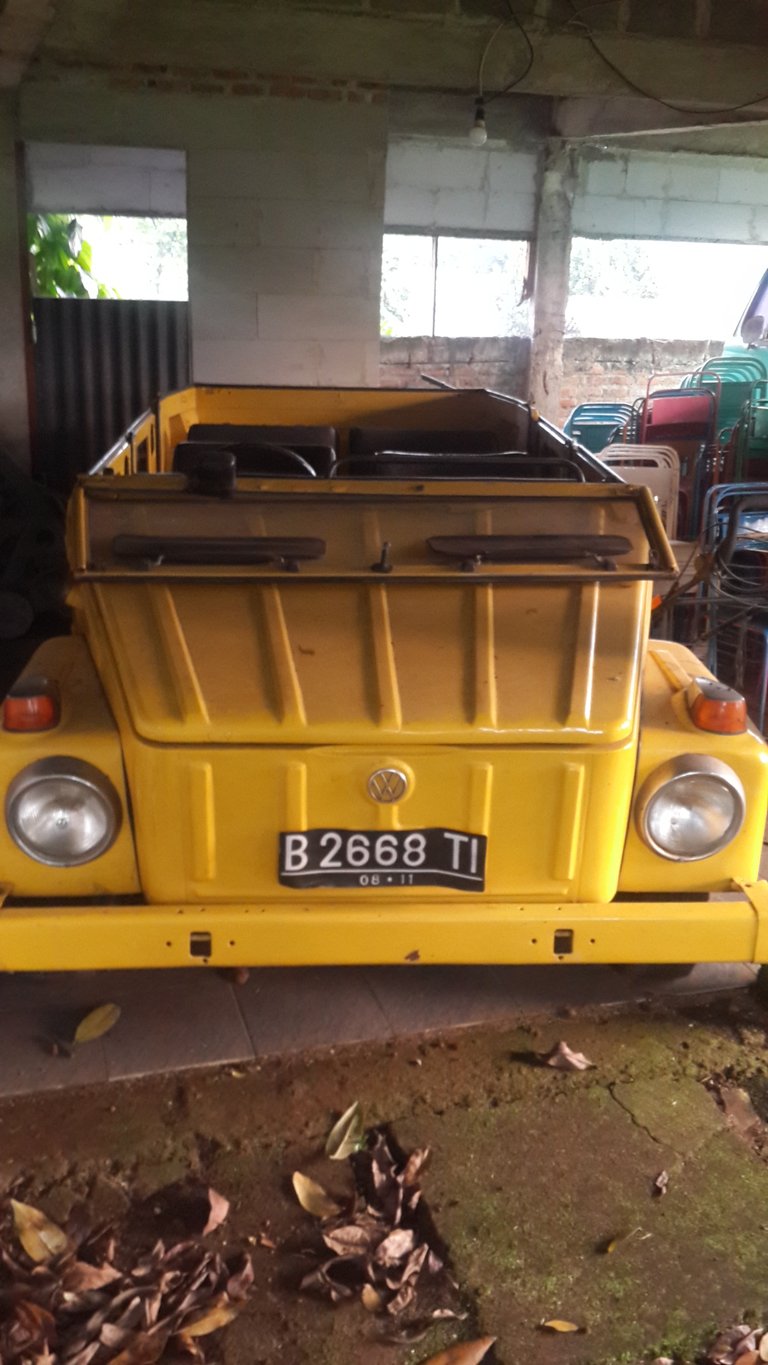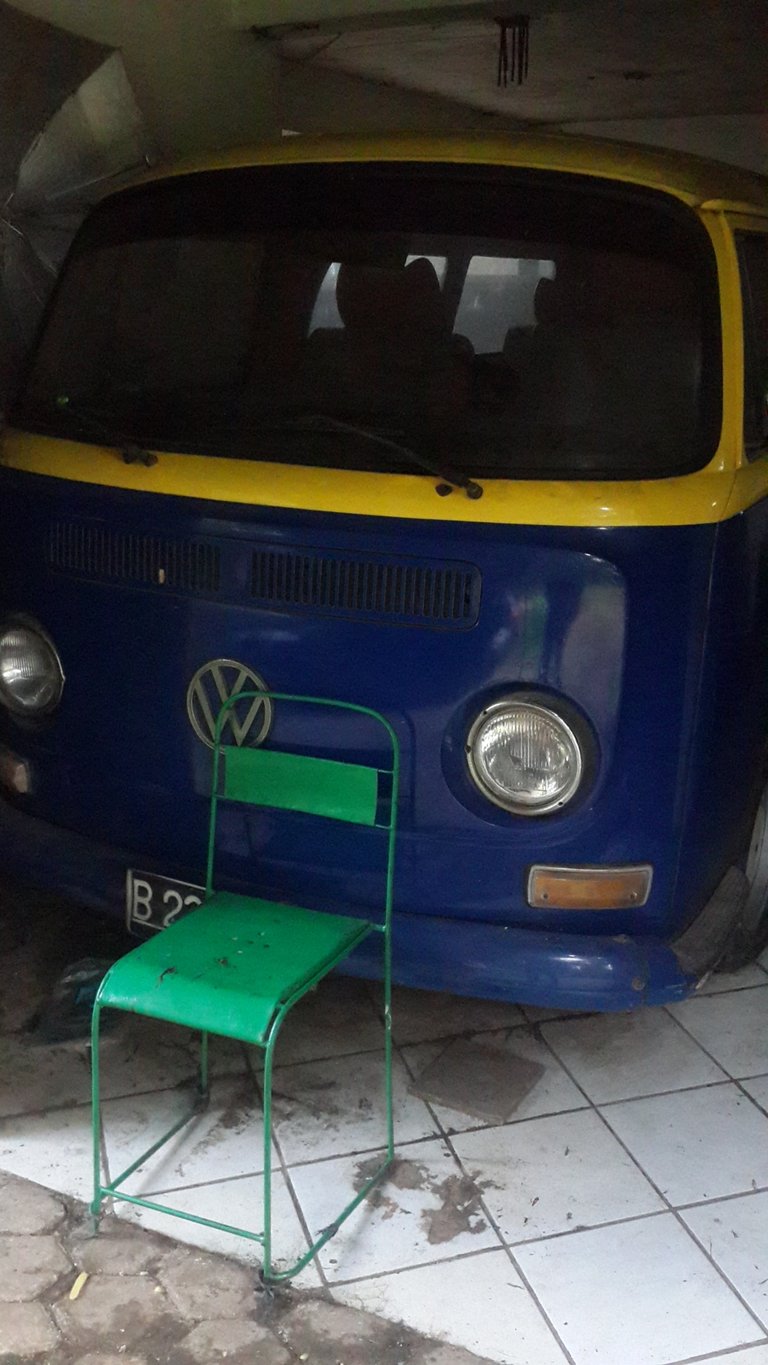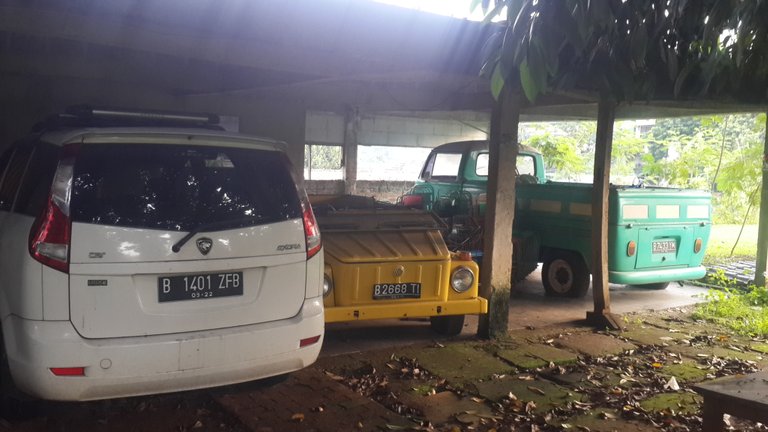 disclaimer: I wrote a post and use the latest photo on this article
---
There is a well in front of the garage!



another small hut usually use for art performance that can be move here and there, with another earthenware.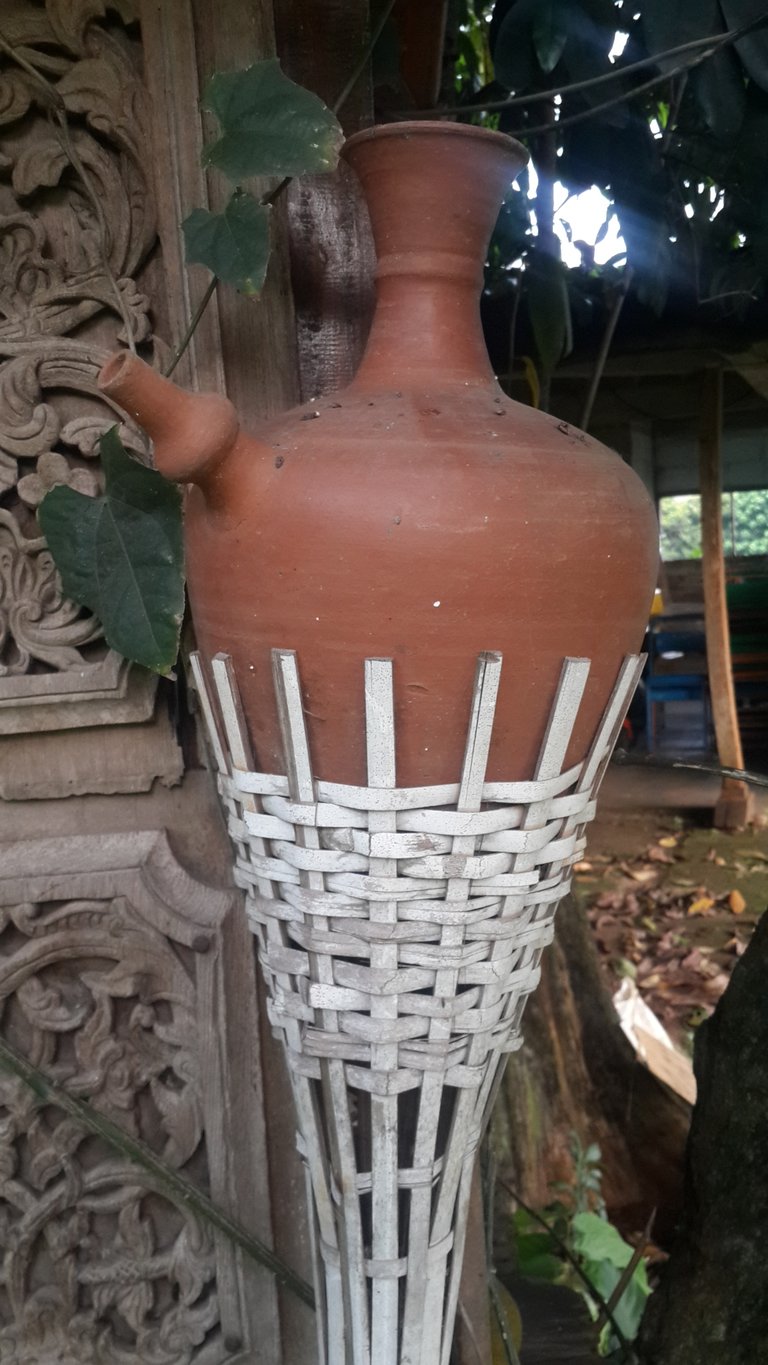 This kinda water jug earthenware usually used to drink water directly withour glass or cup or mug, but here it seems to be just decorative property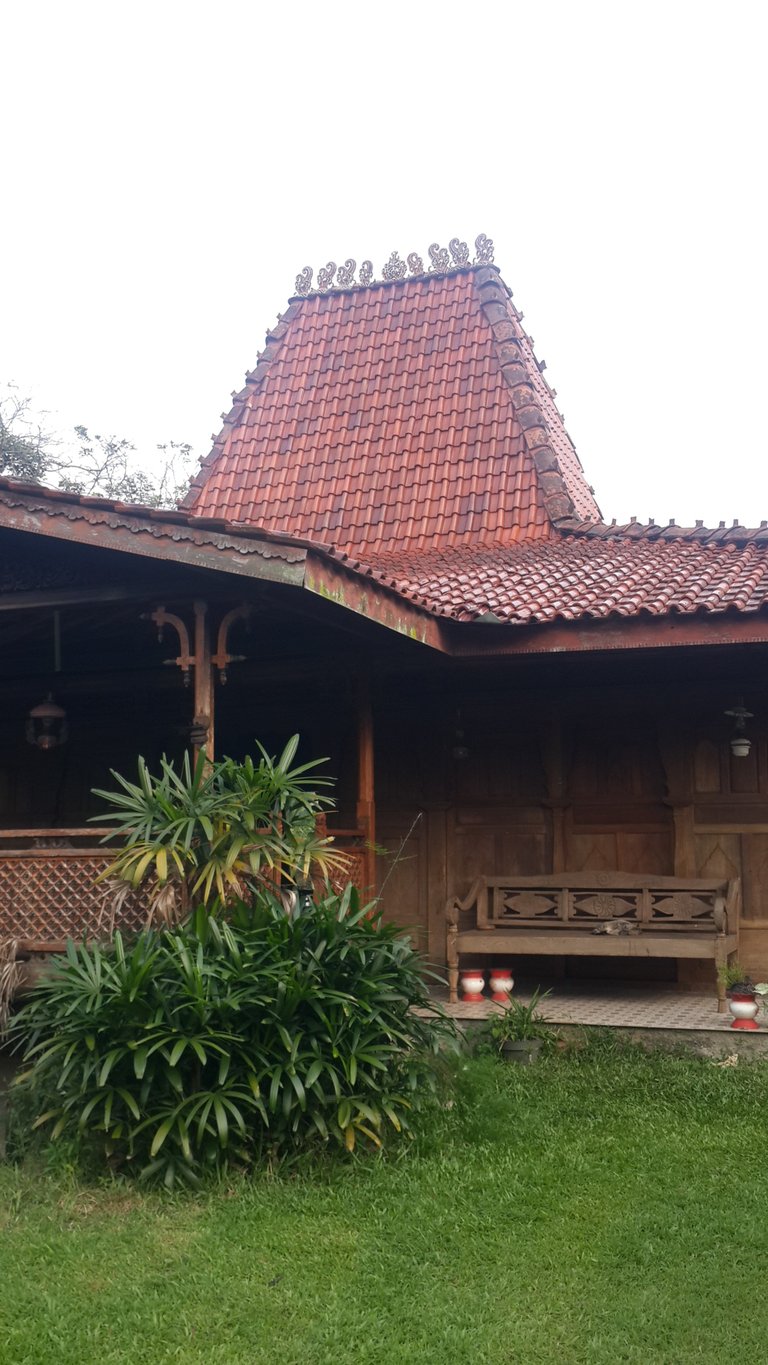 This is joglo or traditional Javanese House. The door is wide open, but I don't want to see what's inside because I want to see the Art Gallery where he puts all his paintings.
---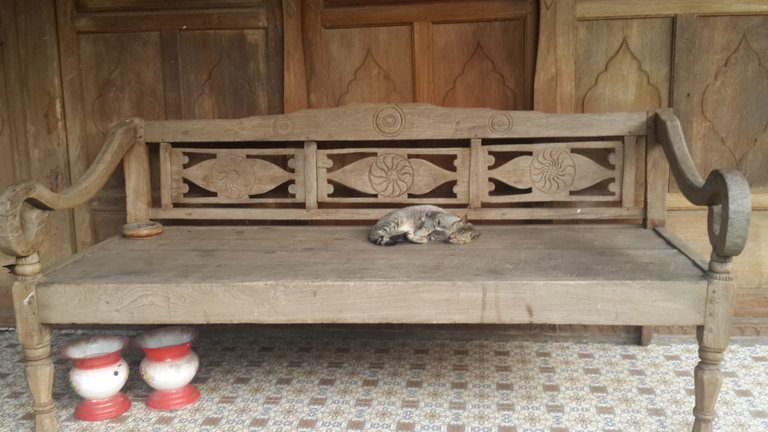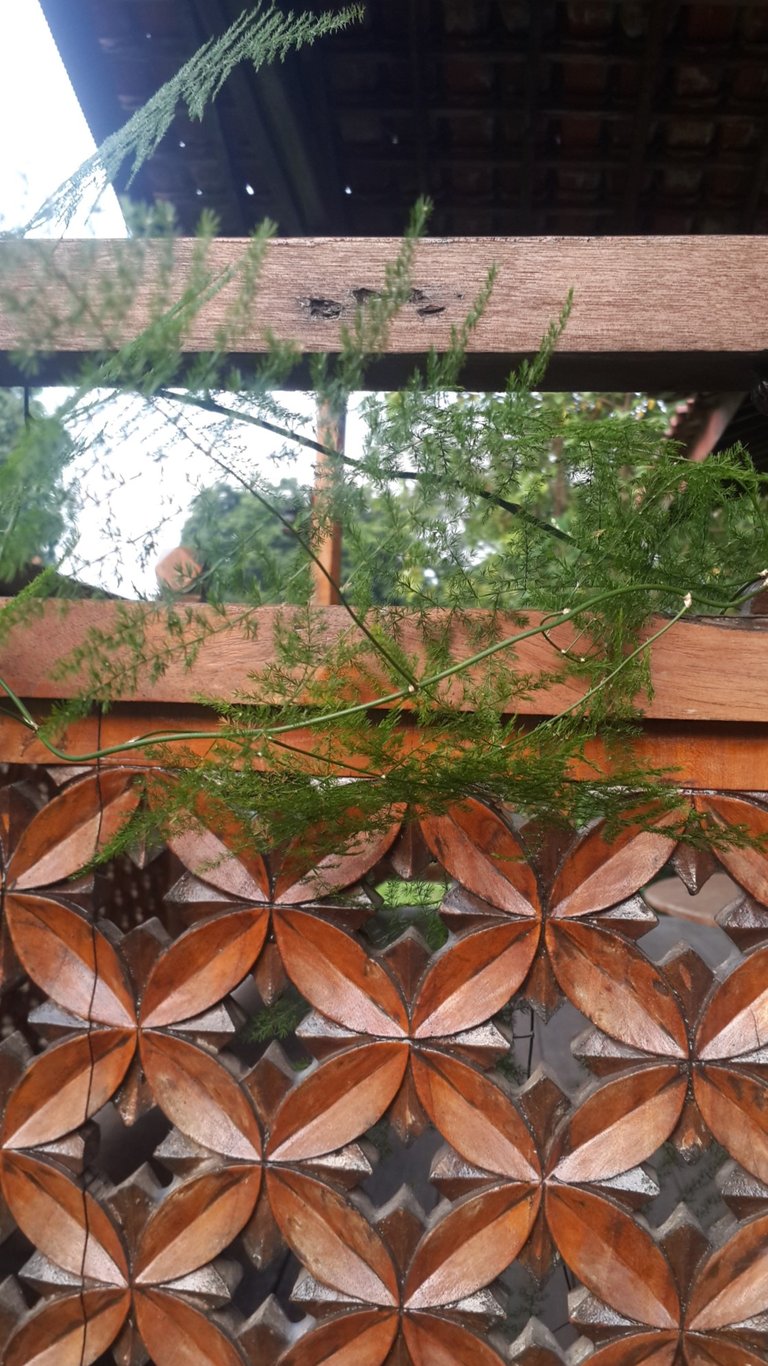 A cat is sleeping on the big wooden bench called "Amben" in Javanese language. The picture at the right is the ornamental wall of the front porch. Even though the building are made from wood but they already use tiles on the floor. At the back of this house, there's an open kitchen. No wall and everyone can access the place from outside to make a cup of coffee or perhaps cooking instant noodles😄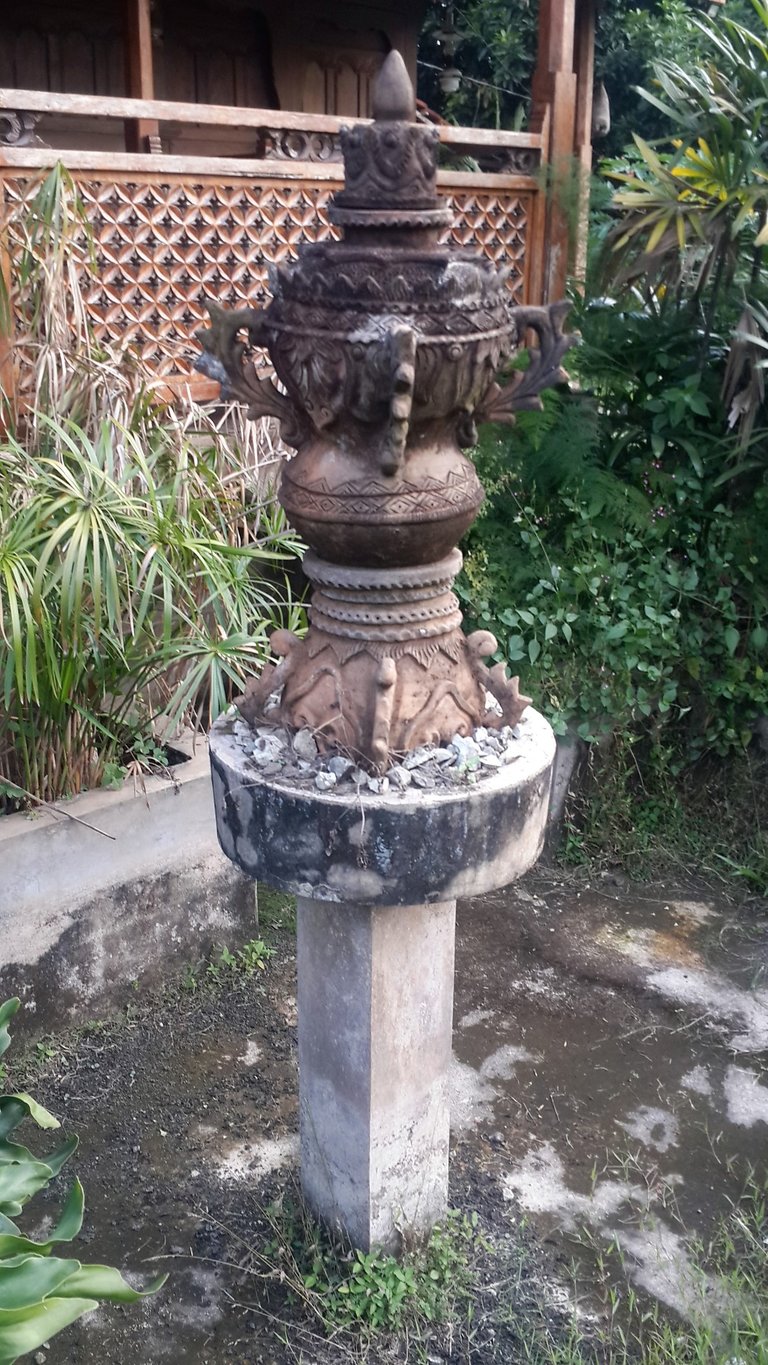 I have no idea what this decorative stand for, it's in the little garden in front of the house. Maybe in the past, its functioning as water fountain? because i saw a little pond around it. Strange that we found no birds around. The Javanese well known for their hobby of keeping birds as their pet. Maybe Mas Suprobo is too busy painting and has no time to take care of any pets, but cat.
I stand near the wooden bench and look at to my left, there's a modern bulding. Perhaps this is the only modern building in this area.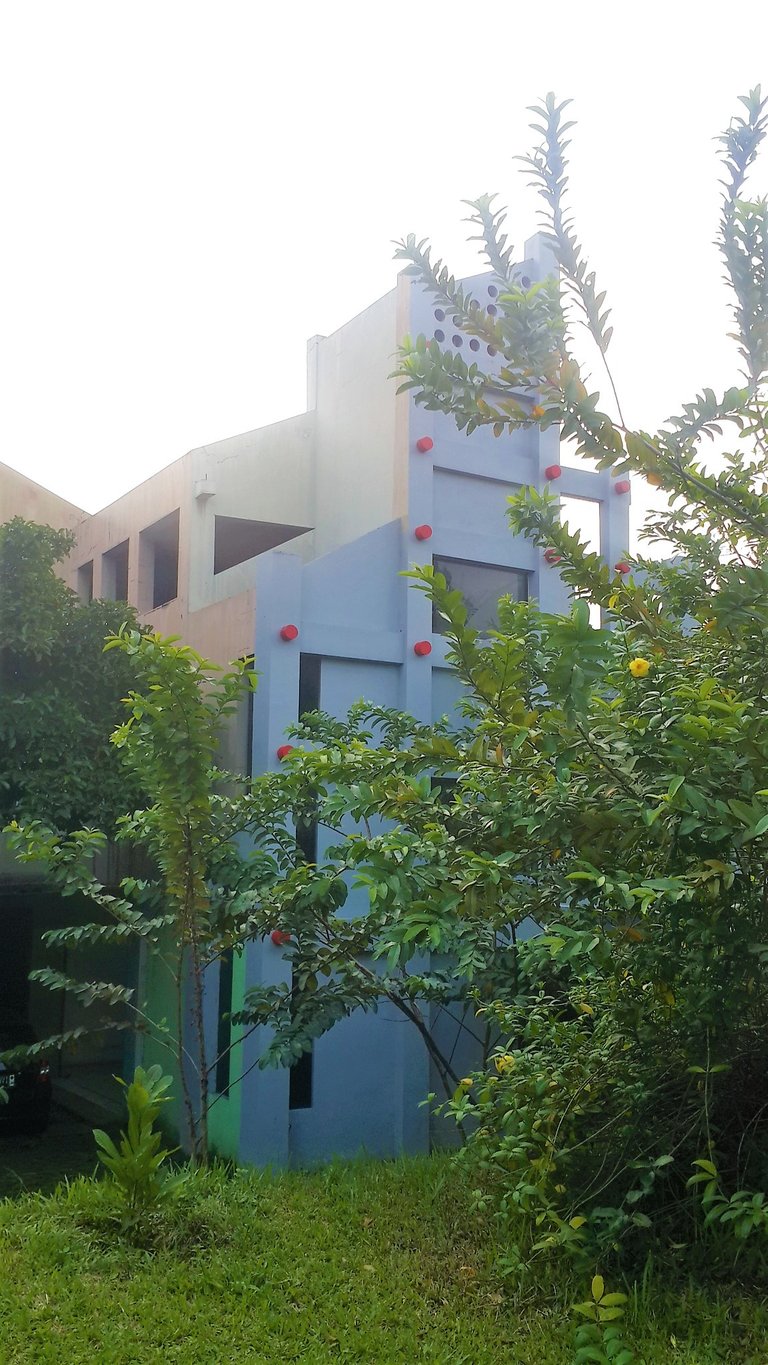 It is the building we saw from the street before. Suprobo design the building himself. Other painters can use this gallery for exhibition too. But during the pandemic, there must be no activites in there. But we can still enjoy some paintings too.

If we walk in through the main gate, we will actually met this building first, because it's the first building that looks different from others. There's a small verandah where we can sit and maybe having a chit chat when we first arrived. 2 storey building, the lower part is for the parking lot, oh no.. I think it is for car's collection. Maybe I will explore what's inside next time.

Yeah.. I'm thinking about re-visiting this place. Hei.. let's have a look inside the gallery, the second floor. The door is wide open too. We're the only visitors again!
---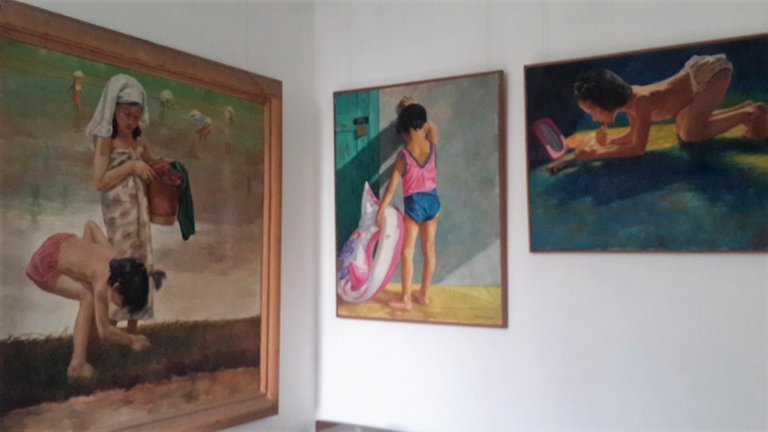 At one corner of the gallery, the paintings here dominated by children and women's as object.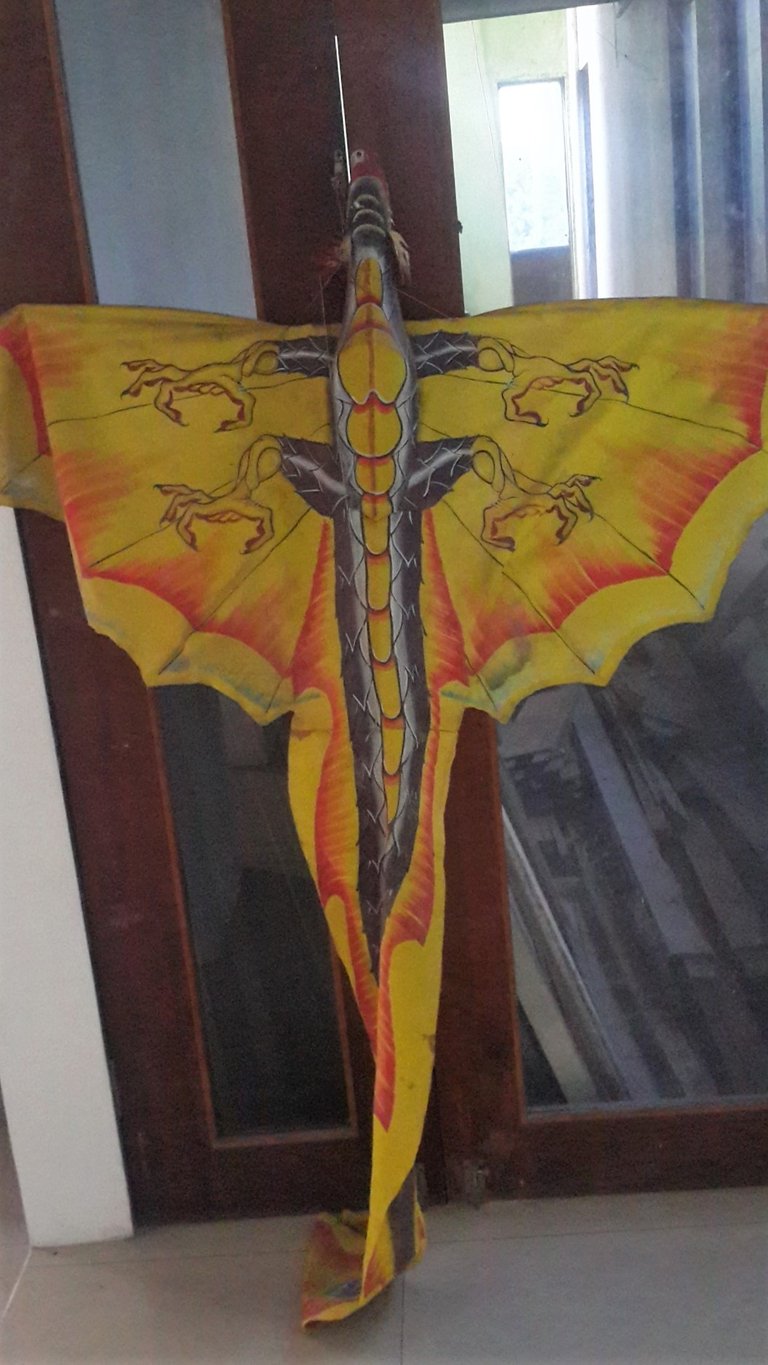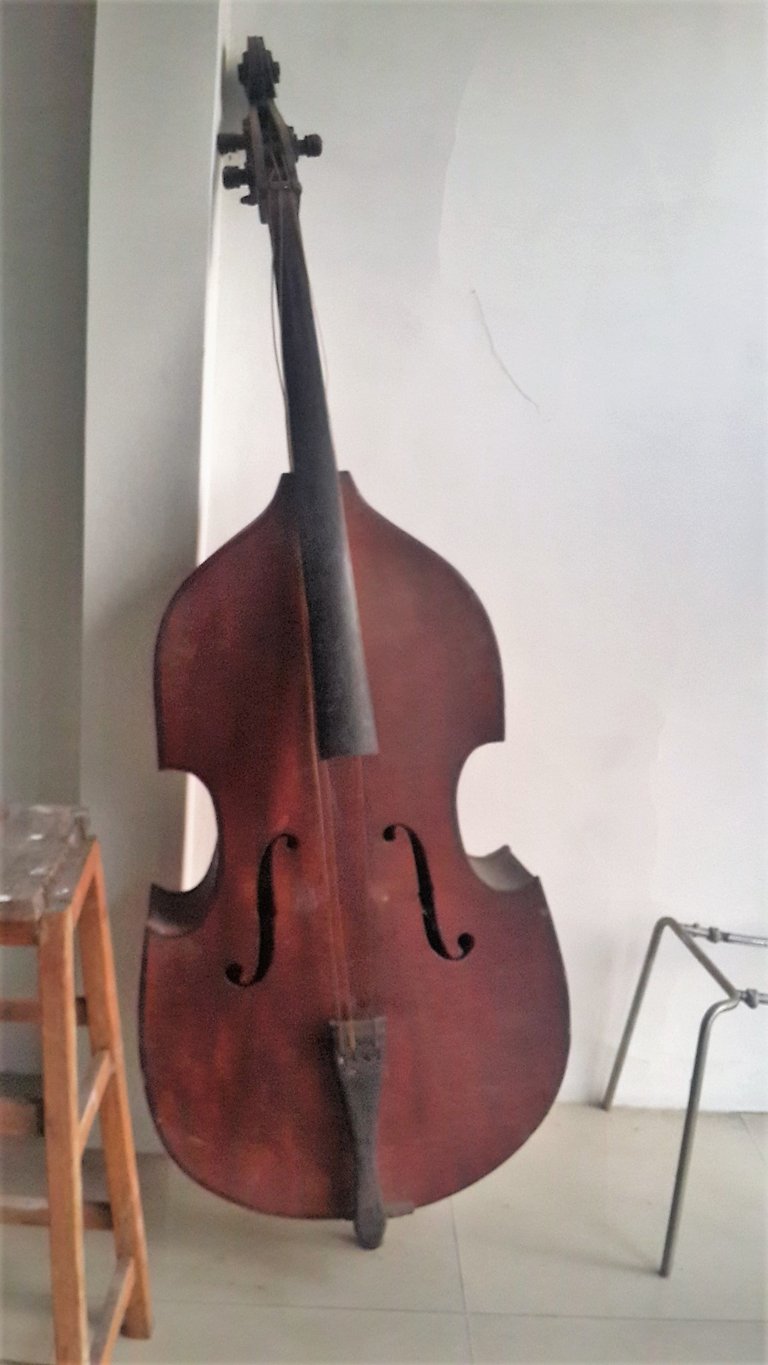 )
Another things I saw at the Gallery, Kite and Contrabass (no strings though😁 so I don't try to pose with it!!).
---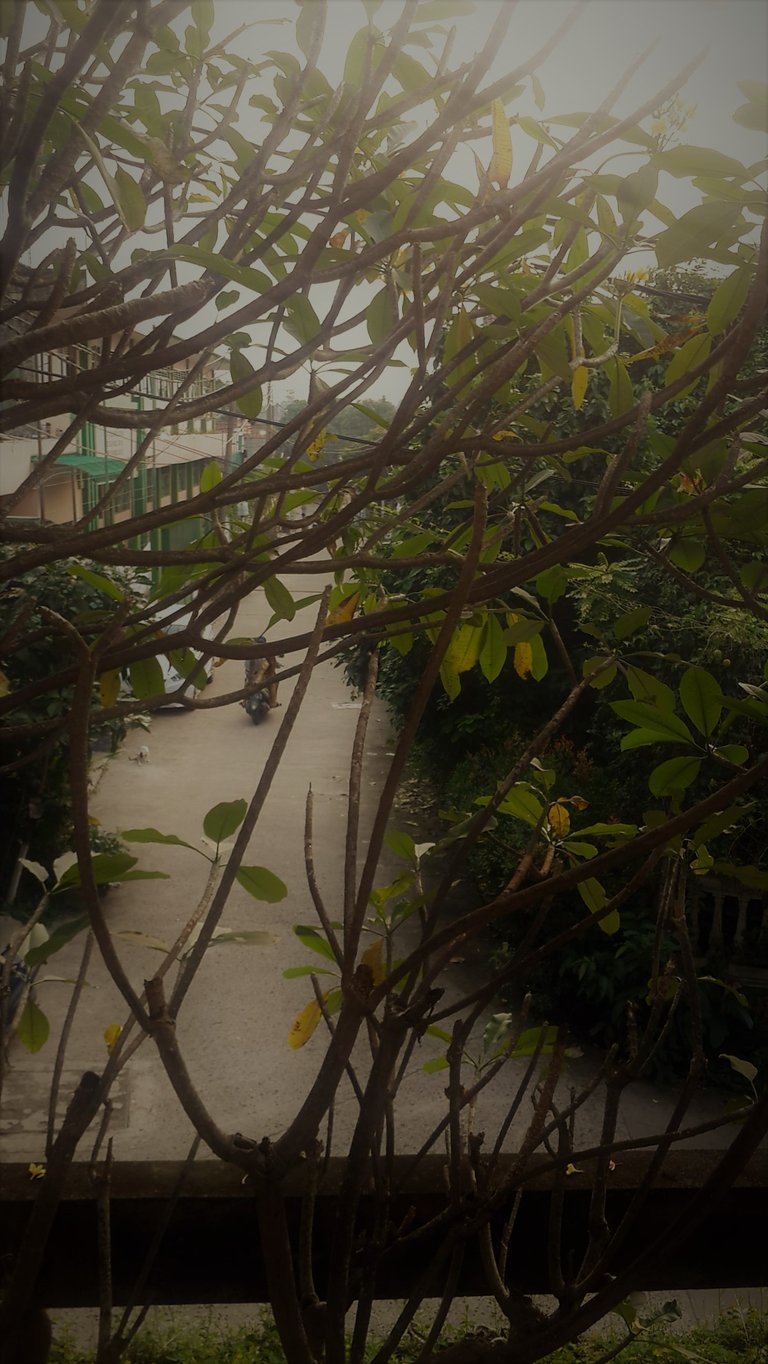 The view from the upper porch to the street where I came from. The Frangipani's tree really high here.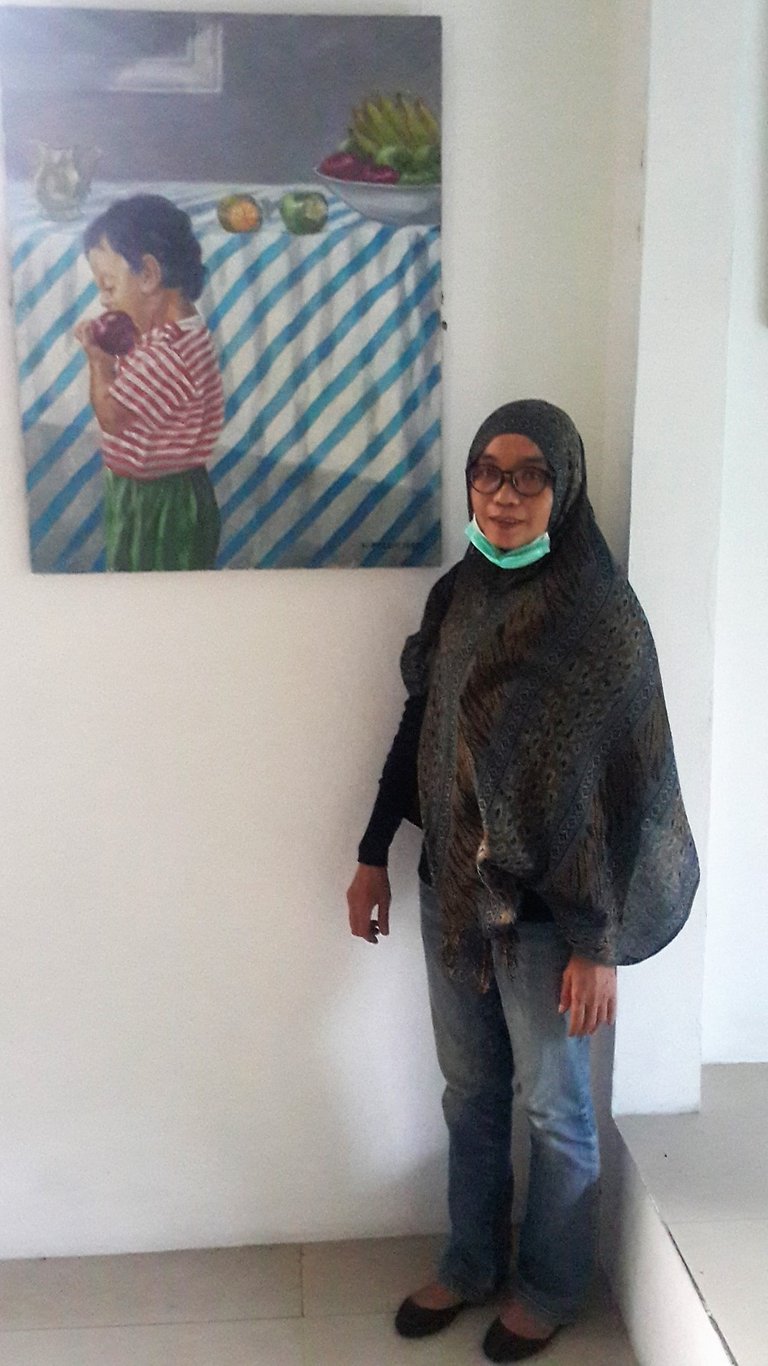 Let's have a picture as proof that we're not there in dream😅. We came nearly evening, so it's not so polite to stay there more than an hour, right? Even though the owner didin't mind it, but I don't want to disturb him longer by wandering around to have a thousand steps this afternoon.
---
Here are my favorite's paintings... I can't afford to have any of his painting😅 I know the price from google, it's IDR 20-125 millions each ($1,380 - $.8,625) So, it's enough that i can enjoy it right now as the only visitor.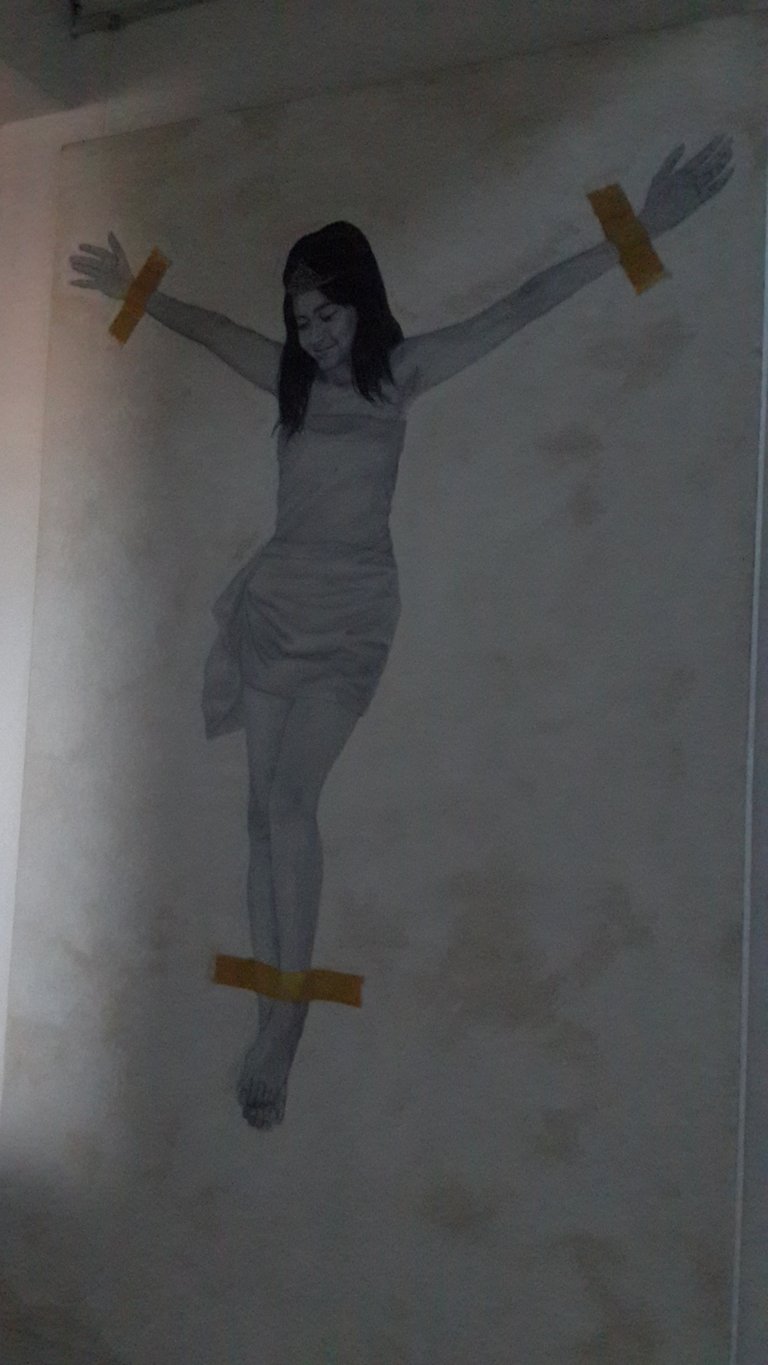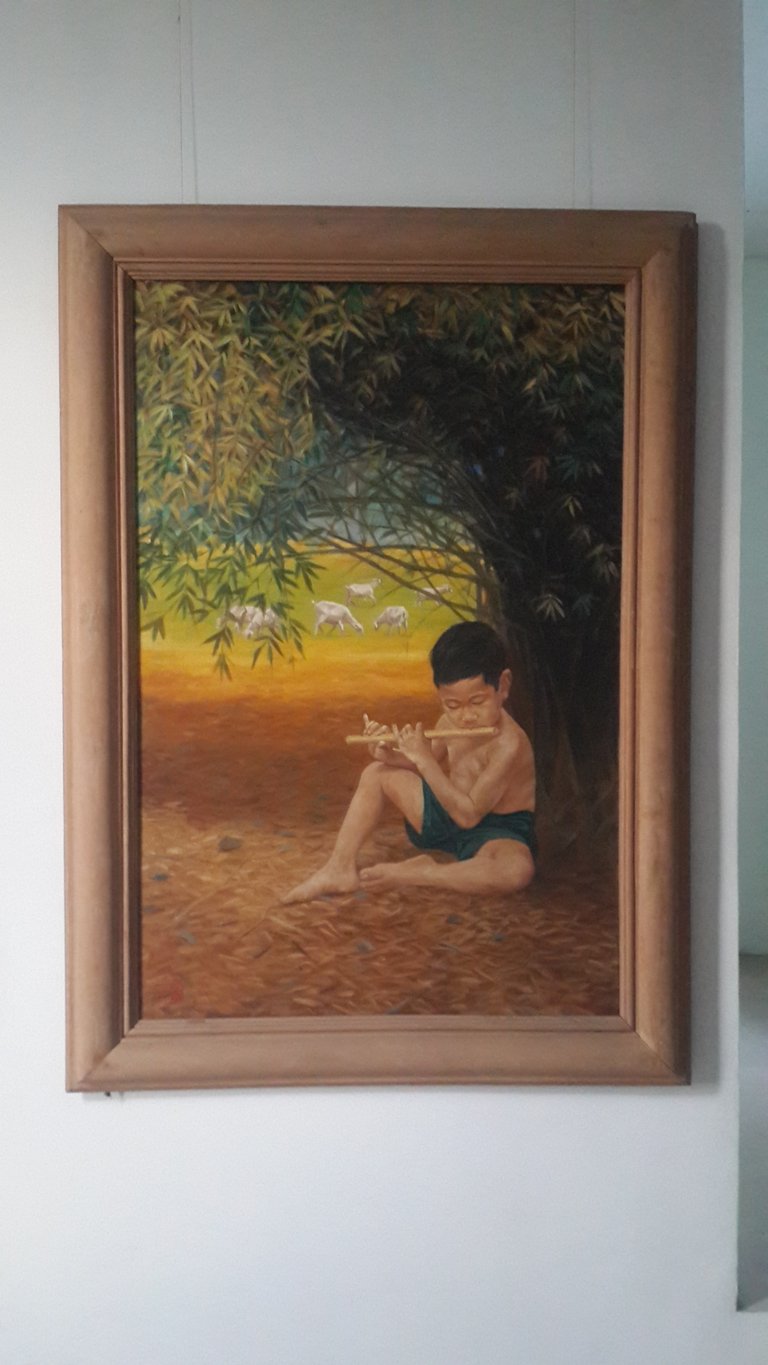 I don't know why, I like the girl in the painting, I wish I know the tittle or the story behind it. She's smiling so pretty despite of her situation being hanging on the wall. The Sheppard boy playing his flute under the bamboo tree looks so peaceful and I thought I heard his melody.
I don't have enough yet, but Hubby is uerging me to go back home before the evening prayers call from the closest mosque starts. Let's go home and wait up, another earthenware pic, please!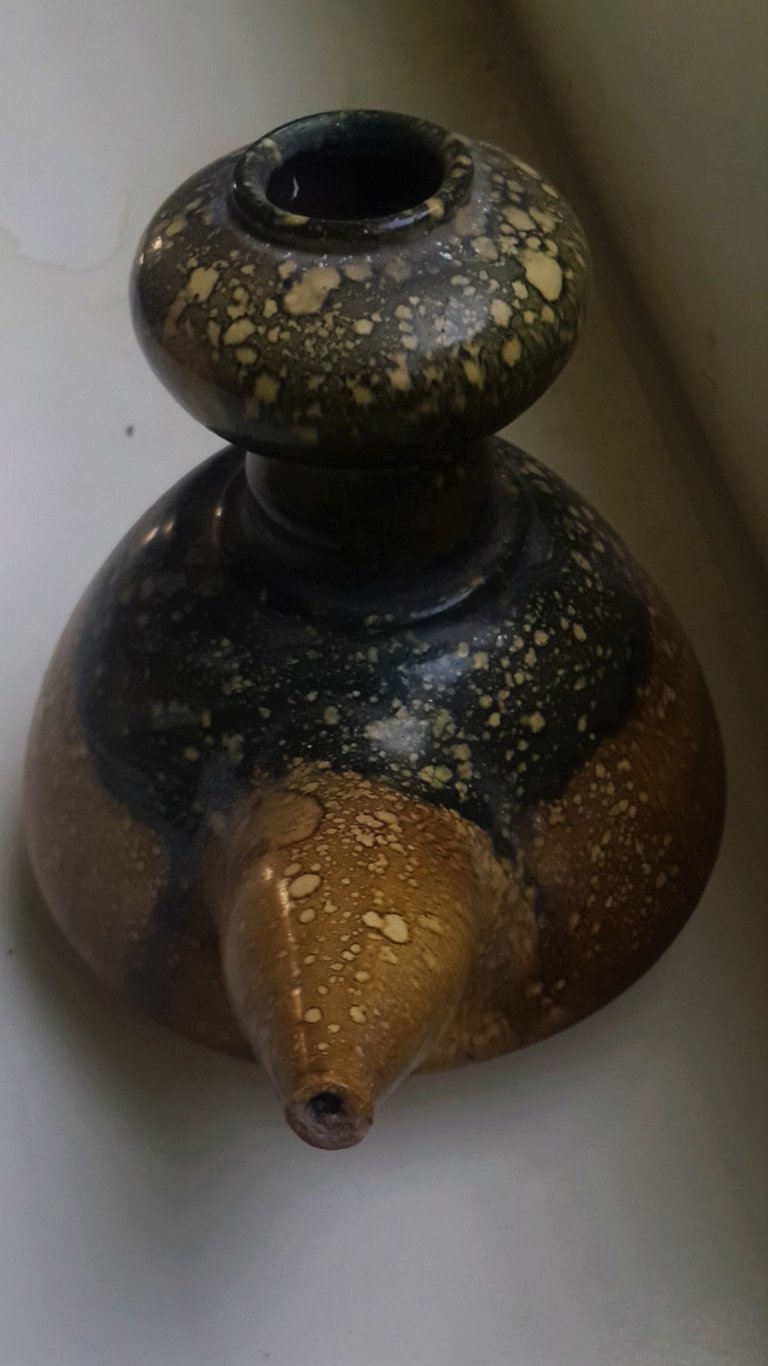 I wait at the foot of the stairs while my hubby says goodbye and thanks Mas Suprobo for letting us having a nice afternoon walk for my🚶‍♀️ #wednesdaywalk 🚶‍♂️post.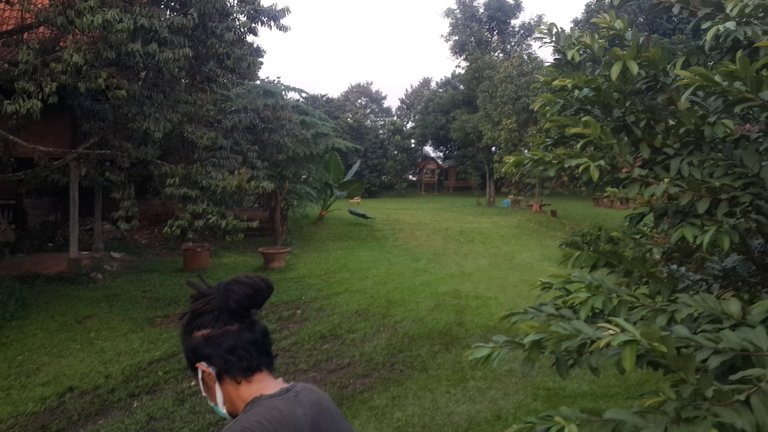 One last snap! and See you around. Thanks to @tattoodjay for this awesome activity on hive💚
---
---