Nigeria has one of the largest Hive communities and this keeps growing daily. @bhoa and I have been blockchain marketers since the days of steem. We had a community called @steem9ja with which we organized meetups around Port Harcourt.
The whole "saga" caused things to die down but it is time to revive that again with hive. That is why we would gladly like to announce a Hive meetup coming up in 3 days in Port Harcourt, Nigeria. Port Harcourt is the capital of Rivers State in Nigeria. It is the capital to one of the most culturally diverse states in the nation and home to many talented Hivers.
The main aim of this meetup is to get to educate ourselves on Hive, the blockchain and dApps and as well get to meetup and interact with other hivers who we have only met on the blockchain.
Like @bhoa said,
I have been hearing all types of questions from new users and so I decided to organize this meet up as regards all these questions and also to inspire the new ones that are losing the vibe to continue. I know how difficult it was at first to start this journey. So I am here to encourage every newbie to continue.
... and that is the sole purpose of this meetup. There are new Nigerian Hivers joining the blockchain daily who need guidance and a form of mentoring.
A lot of non-hivers have been invited as well and this will be a great chance to get them introduced to the blockchain and get them aboard hive.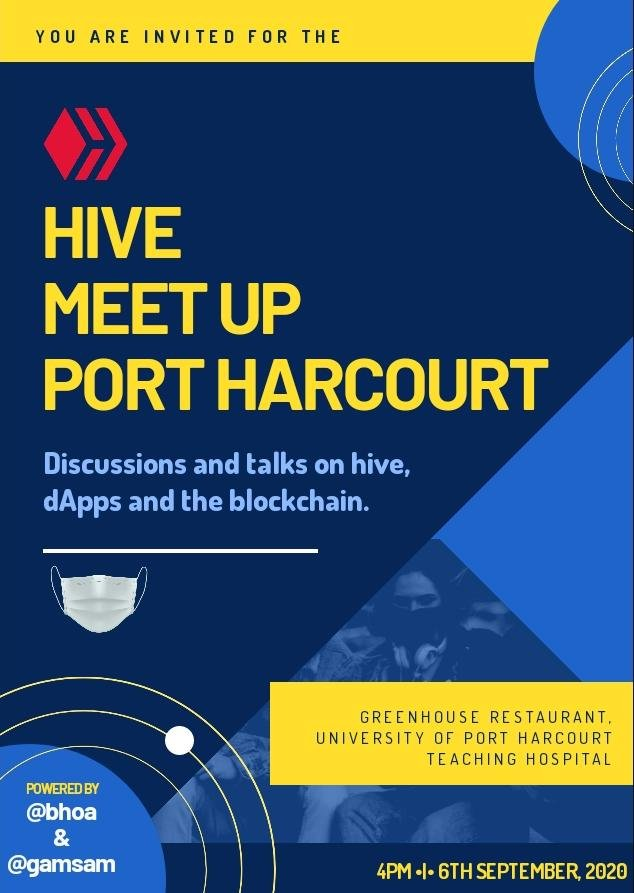 ---
The meetup will hold on:
6th September, 2020
by:
4pm
at:
Greenhouse Restaurant, by the University of Port Harcourt Back Gate, Choba, Rivers State. Nigeria.
---
Agenda
The agenda of the meetup is to:
Introduce hivers present and get to know new hivers around our geographical location who have just joined the chain.
To understand blockchain and cryptocurrency by @gamsam
To understand what is hive is exactly, to be anchored by @bhoa
Learning to use hive and its dApps (games, blog, vlog - 3speak, dtube, actifit, etc) by @gamsam
To learn the importance of engagement on hive, to be anchored by @bhoa
Learn wallet features and their meanings by @gamsam
Learn how to convert hive to fiat, anchored by @bhoa
And finally but importantly, learn about communities on hive. Everyone present would tell us about communities they belong to on Hive and what the community represents.
If you have any suggestions as regards the agenda and things that can be done to make it better please feel free to drop your suggestion in the comment section below.
If you are within Port Harcourt, Nigeria, please do well to join us and hang out with us.
---