Coffee and Breakfast in the Netherlands

It's been so long since I've posted I don't even know where to begin.
It's actually only been about six days, but it feels longer because the last two posts were written three days before they were published and then scheduled to be released at a later date...shhh don't tell anyone.
I've been away for a week and have been struggling to get back into the swing of things. I figured a coffee post would be a good way to break the ice and ease myself back into the Hive before my next hiatus.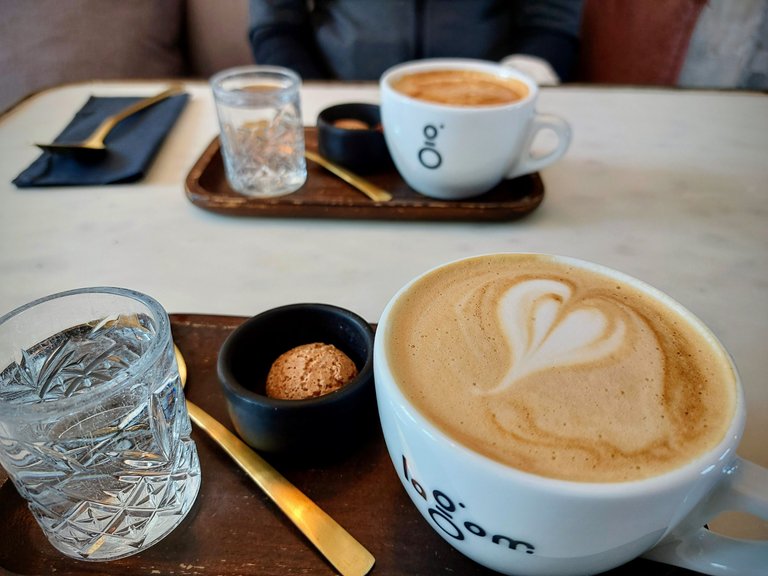 I started taking photos of some of our breakfasts and morning coffee adventures during our trip to the Netherlands. The breakfasts were simple but delicious and the coffees were just so pretty and well done that I couldn't help but snap a few photos. The first ones were taken in the city of Zaandam where we had lunch before touring the city. I got a cappuccino (above) and my wife got a flat white (below).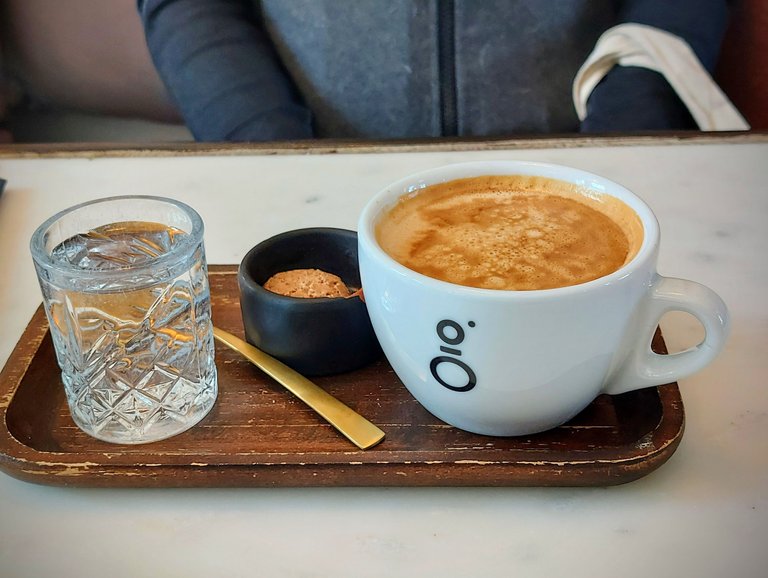 Cappuccino's are served a little differently in each country but its the subtleties that make all the difference. A lot of cappuccino's are made with frothed milk with expresso poured over it, with a dusting of chocolate powder over top of that. Not to sound too pretentious here but that style often isn't very good in my opinion. Sometimes they are served as an espresso with a large dollop of whipped cream and chocolate powder on top, which makes them very dessert like. That can be okay at the end of the evening after but is generally less satisfying in the morning or around noon.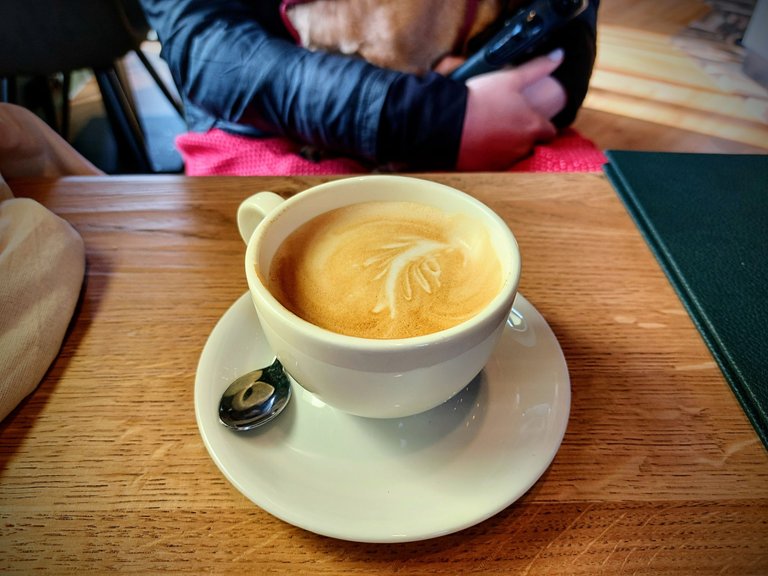 The Cappuccino's in the Netherlands were excellent in my opinion. They were served with microfoam along with the frothed milk and skipped the chocolate powder and whipped cream altogether. The microfoam creates a creamy and smooth texture to the beverage and allows the barista to create the signature rosetta heart design when they pour it. You can see what I'm referring to in the photos. To me the rosetta is the mark of a really good cappuccino. The last thing that you want to see is a thick layer of milk foam with two dark coffee circles poured through it. Those ones lack the smooth texture of a good coffee and of course also lack the presentation.
Okay, I know I sound super pretentious here but play along and embrace my snobbery.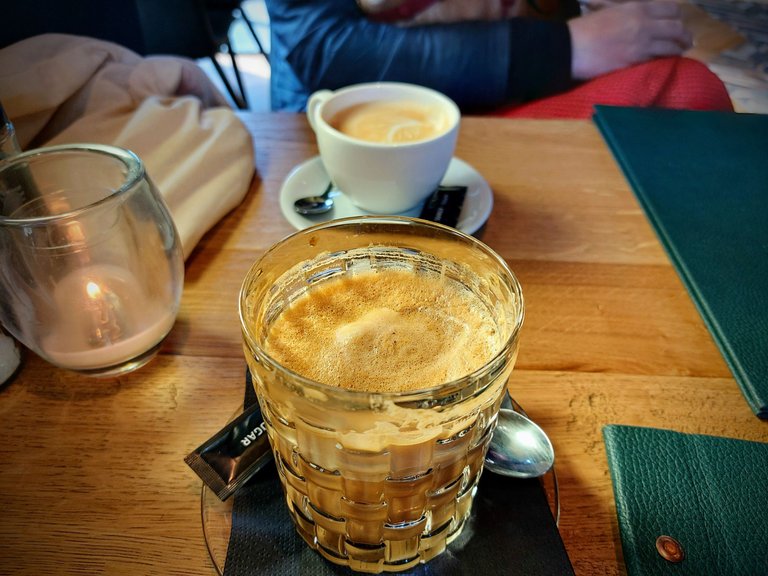 The photo above is a flat white that I got at another Cafe. Apparently a flat white is very similar to a cappuccino but is served with only microfoam (no frothed milk) and has more coffee to milk in its ratio.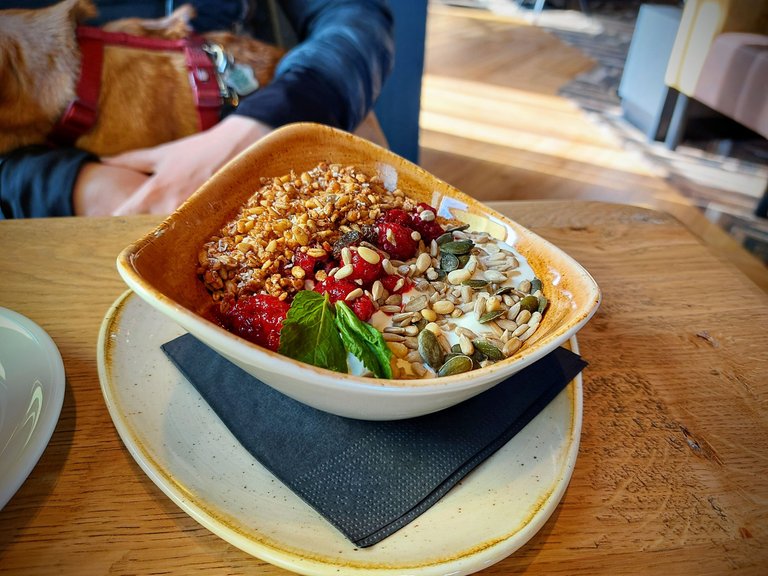 My wife really loves the breakfasts in the Netherlands. She always gets the smoothie or yogurt bowls, which seem to be fairly unique to the country. I'm sure that they serve in other places as well (we've seen them in Belgium on occasion) but they appear to be super common in the Netherlands because we typically see them all over the place.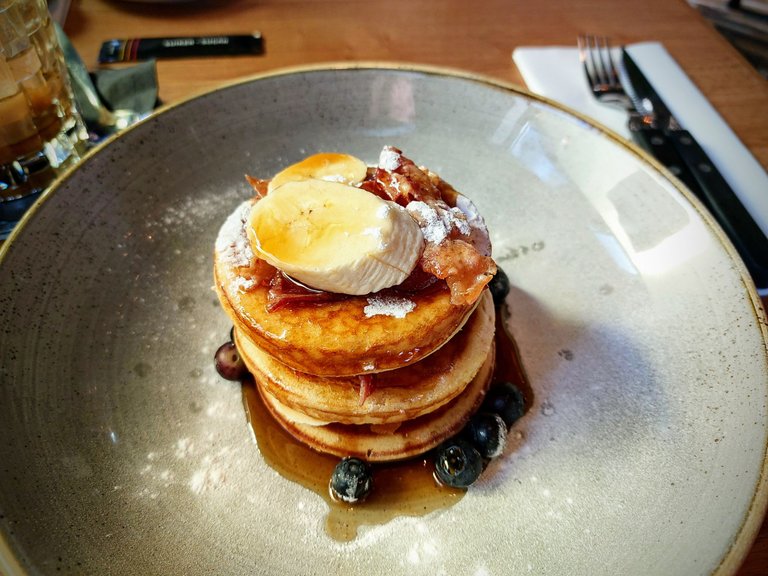 I got pancakes with banana, blueberries and bacon that day and it was quite good as well. Savory and sweet - a winning combination.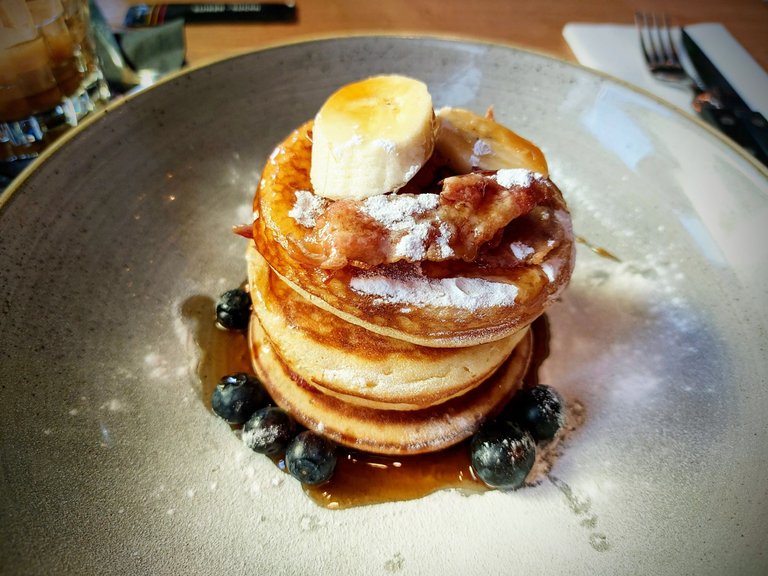 Toasties or avocado toast is another common breakfast/lunch that we often get in the country.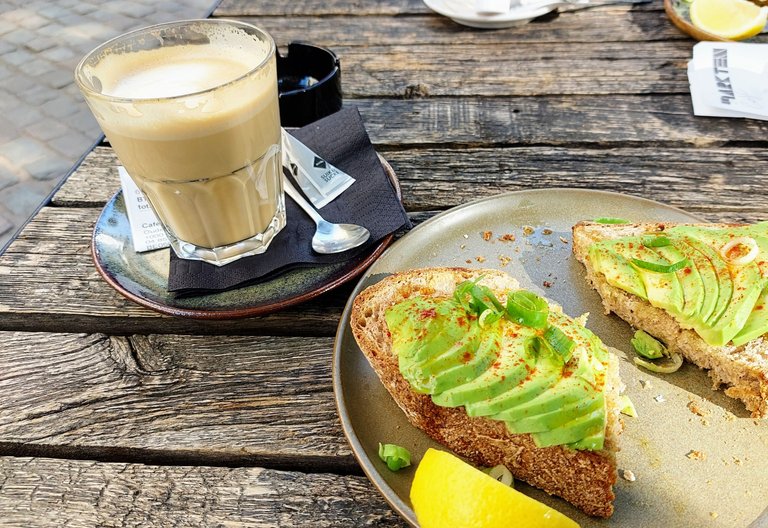 My wife gets a latte (or several per day) whenever we travel. We had these ones at a nice Cafe next to the water during our bike trip through the tulip fields.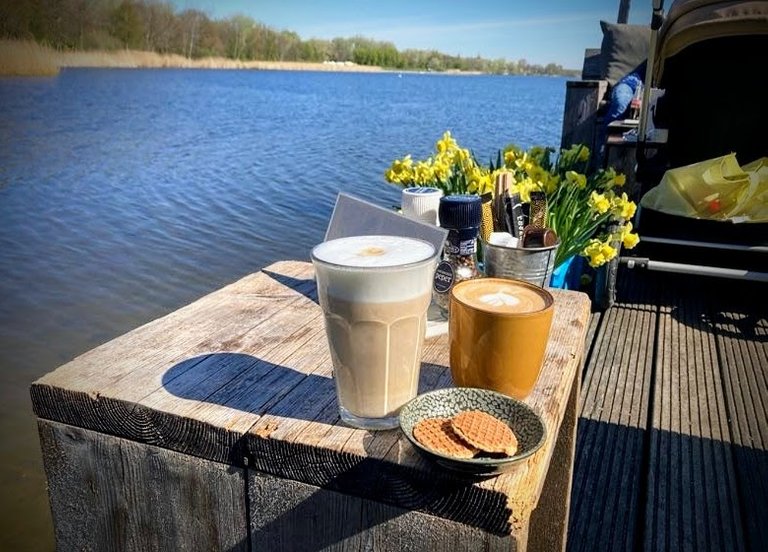 I already talked about that though so I won't bother getting into it again. I just liked how these beverages were served with two small stroop waffles.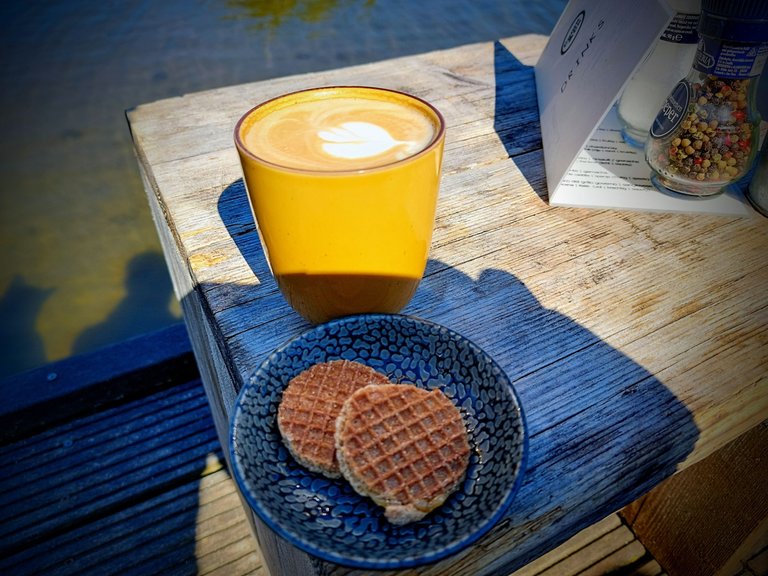 Coffee and mini stroop waffles are another winning combination.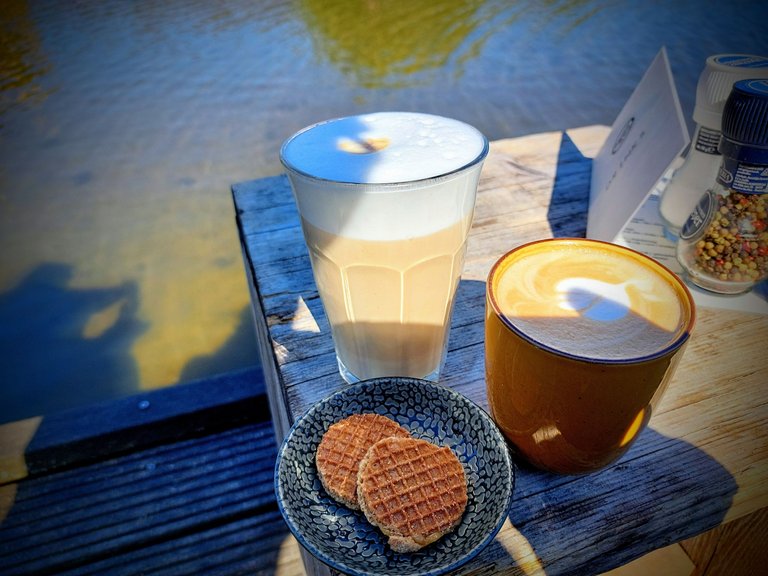 Heres me after eating breakfast in Leidan. It wasn't that long ago but I can't actually remember what I ate that day - not a good sign.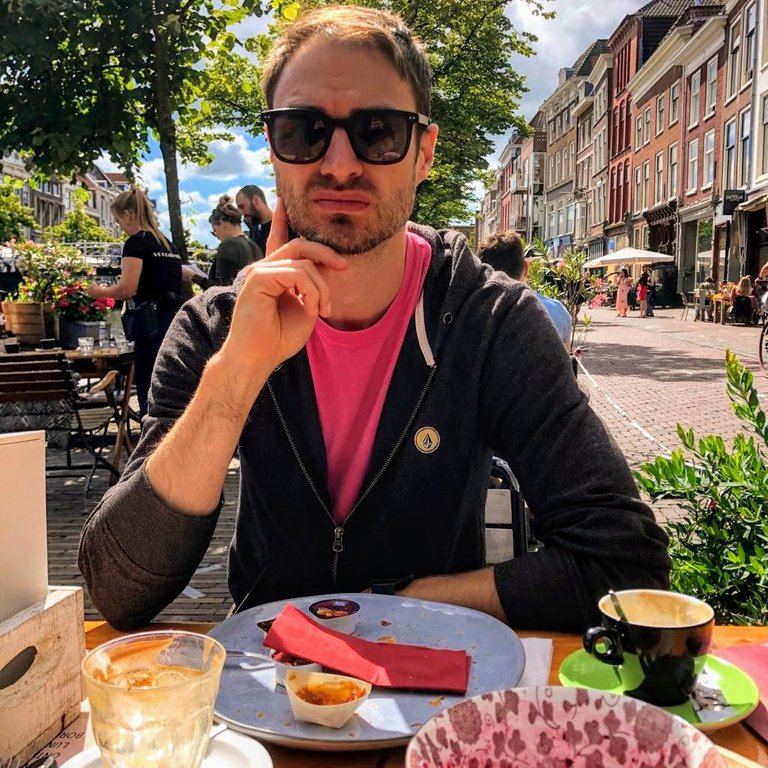 Anyway, that's all I got for today. What's your favorite type of coffee or favorite Cafe that you've been to? Feel free to let me know in the comments.
Well thats it for now. Until next time, thanks for stopping by.
---
---