Spreading POB (#02): My favorite type of POB.

This publication was also written in SPANISH and PORTUGUESE.
Twik
We've reached the end of the first edition of the Spreading POB contest, but before we start the second edition, let's know who the winners of this edition were.
There was a small conflict in the poll, because apparently not all users who voted (@antonym, @pthker2010 and @girlhunter) were able to use dPoll, so I had to manually count these votes to get to the final result. That won't happen anymore, because in the next editions, only the votes registered in dPoll will go to the official results (this way, the contest is more organized).
WINNERS: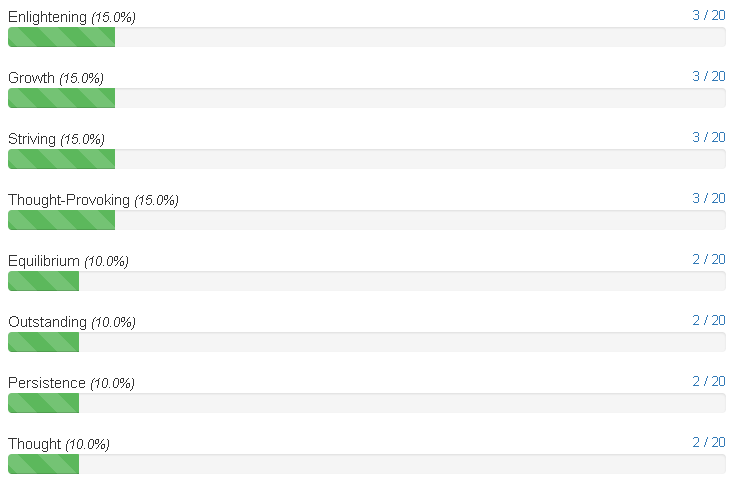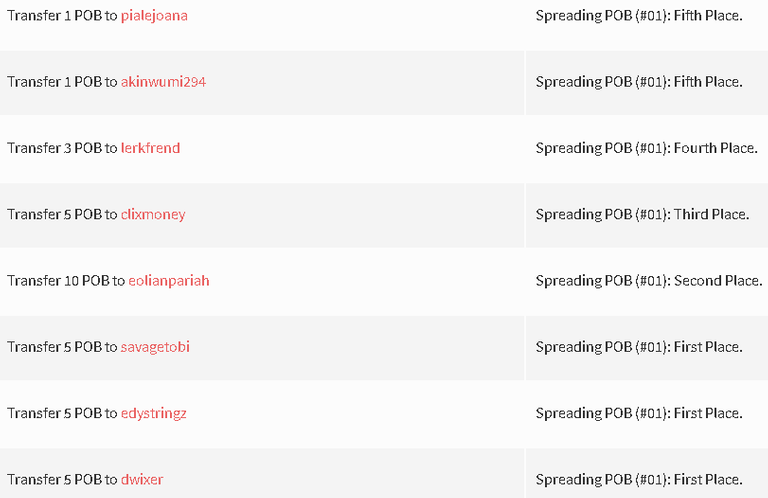 Now, let's go to the SECOND EDITION..
If you had to put at the top of the list, a single subject category that reflects the essence of the POB community... What would you choose? For example: Science, Technology, Politics, Travel, Music, Cinema? It's up to you and I think this can help anyone who has some kind of "blockage" because they don't know what to write about here in the community.
The next five winners (with the same prizes as the first edition) will be chosen by voting on dPoll. In case of a tie, the prizes will be equally distributed and repeated words will not be valid (only the first and original one).
This time, I'm gonna optimize the contest time: The deadline to participate will be 5 days + 2 days to vote and choose the winners. My idea is to try (I'll strive myself for this) to post a new edition of the contest every week and as I create new challenges (something that requires more from the participants), the prizes can increase.
---
Repartiendo POB (#02): Mi tipo favorito de POB.
Llegamos al final de la primera edición del concurso Spreading POB, pero antes de comenzar la segunda edición, sepamos quiénes fueron los ganadores de esta edición.
Hubo un pequeño conflicto en la encuesta, porque aparentemente no todos los usuarios que votaron (@antonym, @pthker2010 y @girlhunter) pudieron usar dPoll, entonces tuve que contar manualmente estos votos para llegar al resultado final. Eso ya no sucederá, porque en las próximas ediciones, solo los votos registrados en el dPoll irán a los resultados oficiales (de esta forma el concurso está más organizado).
GANADORES:
Ahora, vayamos a la SEGUNDA EDICIÓN...
Si tuvieras que poner en la parte superior de la lista una sola categoría temática que refleje la esencia de la comunidad POB... ¿Qué elegirías? Por ejemplo: ¿Ciencia, Tecnología, Política, Viajes, Musicas, Cine? Depende de usted y creo que esto puede ayudar a cualquiera que tenga algún tipo de "bloqueo" porque no sabe sobre qué escribir aquí en la comunidad.
Los próximos cinco ganadores (con los mismos premios que la primera edición) se elegirán mediante votación en dPoll. En caso de empate, los premios se repartirán equitativamente y no serán válidas las palabras repetidas (solo la primera y original).
Esta vez, optimizaré el tiempo del concurso: El tiempo para participar será de 5 días + 2 días para votar y elegir a los ganadores. Mi idea es intentar (me esforzaré por esto) publicar una nueva edición del concurso cada semana y a medida que creo nuevos desafíos (algo que requiere más de los participantes), los premios pueden aumentar.
---
Espalhando POB (#02): Meu tipo favorito de POB.
Chegamos ao final da primeira edição do concurso Spreading POB, mas antes de começarmos a segunda edição, vamos conhecer quem foram os vencedores essa edição.
Houve um pequeno conflito na enquete, porque aparentemente, nem todos os usuários que votaram (@antonym, @pthker2010 e @girlhunter) conseguiram usar o dPoll, então eu tive que contabilizar esses votos manualmente para chegar até o resultado final. Isso não vai mais acontecer, porque nas próximas edições, apenas os votos registrados no dPoll irão para os resultados oficiais (dessa maneira, o concurso fica mais organizado).
VENCEDORES:
Agora, vamos para a SEGUNDA EDIÇÃO...
Se você tivesse que colocar no topo da lista, uma única categoria de assunto que reflete a essência da comunidade POB... Qual seria a sua escolha? Por exemplo: Ciência, Tecnologia, Política, Viagens, Músicas, Cinema? A decisão é vocês e eu acho que isso pode ajudar quem tiver algum tipo de "bloqueio" porque não sabe sobre o que escrever aqui na comunidade.
Os próximos cinco vencedores (com os mesmos prêmios da primeira edição) serão escolhidos através de votação no dPoll. Em caso de empate, os prêmios serão igualmente distribuídos e palavras repetidas não serão válidas (apenas a primeira e original).
Desta vez, eu vou otimizar o tempo do concurso: O tempo para participar será de cinco dias + 2 dias para votar e escolher os vencedores. A minha ideia é tentar (eu vou me esforçar para isso) postar uma nova edição do concurso a cada semana e a medida em que eu for criando novos desafios (algo que exija mais dos participantes), os prêmios podem aumentar.
---
Posted via proofofbrain.io
---
---