A competition coming up - a new song for charity
Hi, we are quite new here but are about to launch a new song next month and are doing a social media campaign to promote the song and we decided over the next few years we wanted to link some of our songs to promoting awareness of worthwhile charities and "Stick Up" for them while also raising some money. Our first one is for Young Minds UK https://youngminds.org.uk . This is the first one we are doing and this is the outline for the project. We are about to launch it on different social media sites but this is our first post about it!
If you want to enter you can sign up at our labels website https://www.stickupmusic.com/ We are also looking for organisations or groups to get involved so let me know if you have any ideas!


Make Me Beautiful competition promotion
Concept
A competition based on people making Social media posts using SUB masks around the theme "Make Me beautiful" and promoting a positive body image. Members of the public will be invited to apply to be one of the "Hot 100" via the website. Around 100 masks will be posted out to the winners with instructions for people to post SM pictures or videos the week following the release of the song. We will then make an official music video from the footage. A number of music artists will be invited to be part of the project, submitting remixes and be part of the promotion. They will also form the judges panel to decide competition winners.
Song: Make Me Beautiful
Release date: 28th May
Competition start date: 29th May
End date: 5th June 2021
Aims
Increase brand visibility
Increased streaming and downloads
Increased merchandise revenue
Spread a positive body image message in partnership with Young Minds UK
List of artists involved
Stick Up Boys
James Black
Trip Jacker
Hillbilly House
Bufinjer
Oslakx
Scorpix
Ambrose Chappel
Karnevor
@Gribbles
List of organisations supporting
Young Minds UK - youth mental health charity
Gideon Reeling theatre company
Eltham arts - community arts organisation
Stick Up music
One Tribe Radio
MSP-Waves
Electronic Music Alliance
Social media posts and adverts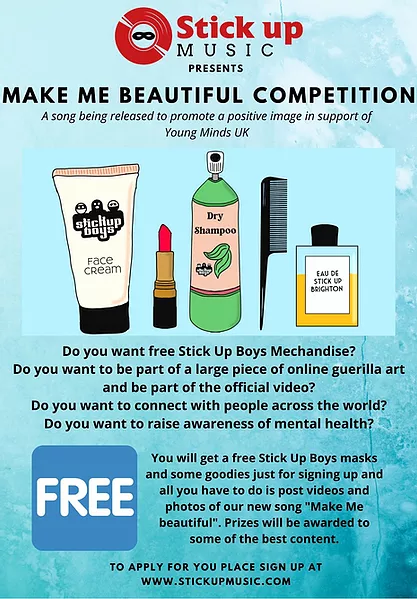 What do you get:
3 SUB masks posted to you
Membership to the exclusive SUM members area
A surprise piece of merchandise
The opportunity to take part in a piece of online guerilla art
Opportunity to feature in the official video
Promote positive mental health
To enter:
Fill in form hosted on SUB website
Agree to post:
A minimum of 5 social media posts on instagram, twitter or TikTok
Permission to use any footage or photos.
Winners categories
Best photo
Best video
Most views
Most like
Most comments
Prizes
T-shirts
Caps
Mugs
If you want to donate you can donate on our just giving page!
https://www.justgiving.com/fundraising/stickupmusic
We will be posting more about it over the next month!
Big love
the Stick Up Boys
https://linktr.ee/StickUpBoys @risingstar @stickupmusic @bellou61 @hivepizza
---
Posted via proofofbrain.io
---
---