Hey, Clean Planeteers! I'm here with a bit of a different kind of post today, and I hope that's okay. My hope is that this will work as a bit of litter prevention!
Je suis ici avec un type de message différent aujourd'hui, et j'espère que ça va. J'espère que cela fonctionnera comme un peu de prévention des déchets!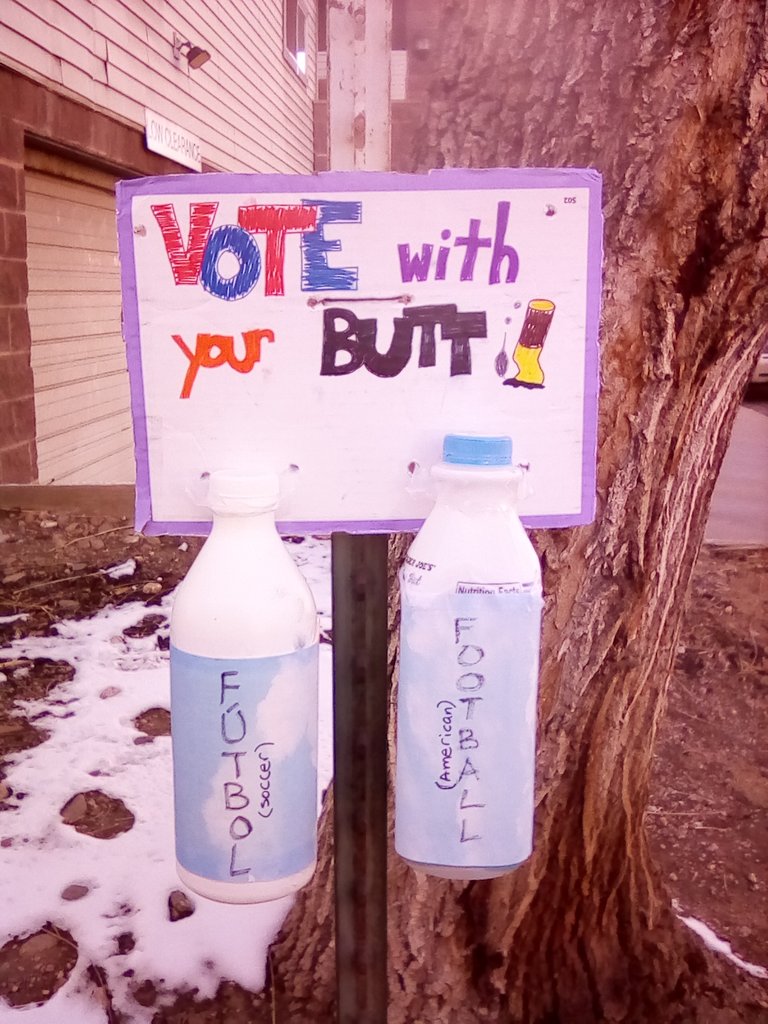 Where I most frequently do litter walks, I always find a bunch of cigarette butts. All you other clean planeteers have surely encountered the same. It's very frustrating, very toxic to the environment, and just gross!
So I saw a professionally made thing like this online, made out of wood and plexiglass or something. I looked it up and it's a few hundred dollars to order one (what!), so I made an upcycled one myself. :) It says "vote with your butt" - your cigarette butt, that is.
The idea is that you put out two containers for people to put their cigarette butts in, with two competing things on them. So for my first go I did fútbol v. football (soccer v. American football).
Là où je fais le plus souvent des promenades dans la litière, je trouve toujours un tas de mégots de cigarettes. Tous les autres planètes propres ont sûrement rencontré la même chose. C'est très frustrant, très toxique pour l'environnement et tout simplement dégoûtant!
J'ai donc vu une chose faite par des professionnels comme celle-ci en ligne, en bois et en plexiglas ou quelque chose du genre. Je l'ai recherché et c'est quelques centaines de dollars pour en commander un (quoi!), Alors j'en ai fait un upcyclé moi-même. :) Il dit "votez avec vos fesses" - votre mégot de cigarette.
L'idée est que vous installiez deux contenants pour que les gens y mettent leurs mégots de cigarettes, avec deux objets concurrents. Donc, pour mon premier essai, j'ai fait du fútbol contre le football (soccer contre le football américain).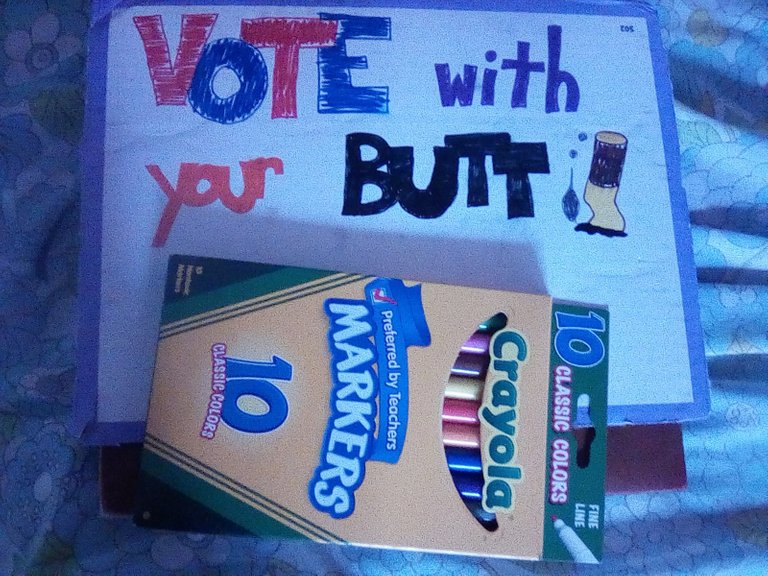 work in progress/travail en cours
The containers are two plastic kefir/filmjölk bottles (I put in a bit of water in the bottom for safety since they're plastic). The sign is made on the cardboard from a case of cat food cans. What is holding the bottles to the cardboard is a six pack ring from ginger ale cans! LOL
I broke two zip ties trying to attach it to the pole, and ended up just using string. Then I picked up a few cigarette butts off the ground and put them in fútbol, because I'm biased (I find American football hella boring, lol).
Les récipients sont deux bouteilles de kéfir / filmjölk en plastique (j'ai mis un peu d'eau dans le fond par sécurité car elles sont en plastique). L'enseigne est faite sur le carton à partir d'une caisse de boîtes de conserve pour chats. Ce qui retient les bouteilles sur le carton, c'est un anneau de six paquets de canettes de soda au gingembre! LOL
J'ai cassé deux attaches zippées en essayant de l'attacher au poteau et j'ai fini par utiliser simplement de la ficelle. Ensuite, j'ai ramassé quelques mégots de cigarettes sur le sol et les ai mis dans du fútbol, parce que je suis partial (je trouve le football américain très ennuyeux, lol).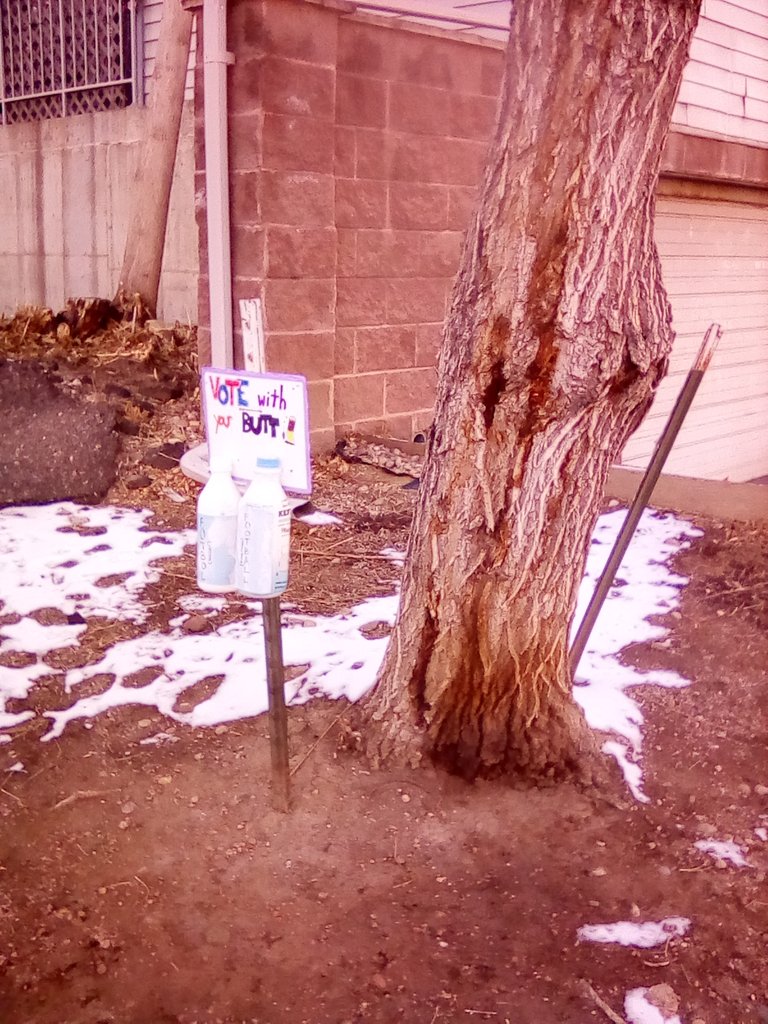 If this works, then as the containers fill I'll put out new ones with new competitions, and also note the winner of the last round. I was thinking of potential matches, and I think I will do "Marvel v. DC" for one, and "Buffs v. Rams" for another (those are the local college teams that have a HUGE rivalry locally).
Hopefully the smokers get a chuckle and play. What do you think, would you vote?
So even though I only picked up a few cigarette butts off the ground today, I hope this prevents a lot more of them in future!
Vote in the comments: fútbol or football? ;)
Si cela fonctionne, alors que les conteneurs se remplissent, j'en proposerai de nouveaux avec de nouvelles compétitions, et je noterai également le vainqueur du dernier tour. Je pensais à des matchs potentiels, et je pense que je ferai "Marvel v. DC" pour l'un, et "Buffs v. Rams" pour un autre (ce sont les équipes universitaires locales qui ont une ÉNORME rivalité localement).
Espérons que les fumeurs ricanent et jouent. Que pensez-vous, voteriez-vous?
Donc, même si je n'ai ramassé que quelques mégots de cigarettes aujourd'hui, j'espère que cela en empêchera beaucoup plus à l'avenir!
Votez dans les commentaires: fútbol ou football? ;)
(I used Google Translate for my translations, because my French isn't that good yet. Please let me know if any of it is really terrible!)
(J'ai utilisé Google Translate pour mes traductions, car mon français n'est pas encore très bon. S'il vous plaît laissez-moi savoir si tout cela est vraiment terrible!)