Hello Winter: Why do we use green and red for this time of the year? Mythology and traditions that are older than we think + All my Yule/Christmas looks + sneak peek of forthcoming seasonal special

We had our first snowfall just two weeks ago... It's almost WINTER! ❄️ The closing of the year is always a special time whether you are religious or not. I know it's a hard time for many too but I'm going to tell you there is always a reason to celebrate it, even if you are Mr. Scrooge! And the answer is LIGHT🕯️. Keep on reading, please tell me at the end which outfit you liked the most and I'll upvote all meaningful comments with proof of reading, as always, as I do love your engagement so keep it coming!
During the post I'll share past and present Yule "looks" let me know at the end which one was your favourite.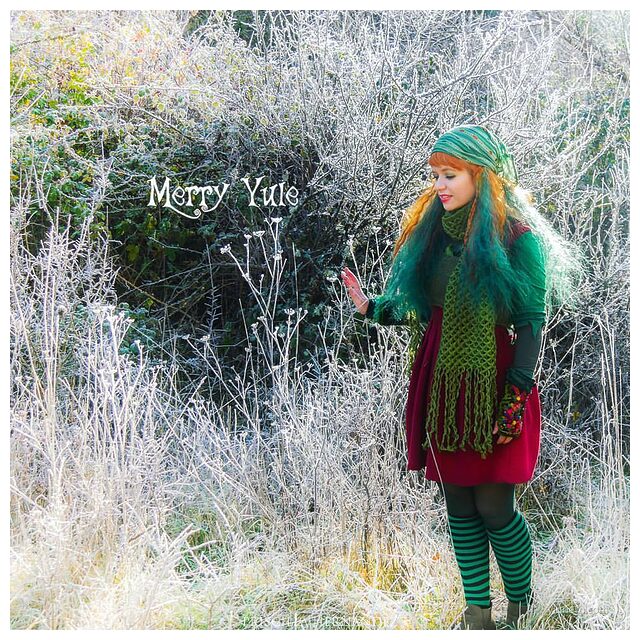 Traditions that are older than we think
Yule is another word for the Winter's solstice which has been celebrated for thousands of years and many cultures as it's the time of "turning" were light starts to return. It's usually celebrated around the 21st of December and linked to many celebrations including Christmas. I will delve in more detail in forthcoming posts but I wanted to share different Christmas looks I've done (and the one I'll be wearing this year) and explain the reason why these colours are so deeply rooted to Winter Celebrations. There will be more posts with Winter theme but this first one is to explain the use of red and green this time of the year.
I'm a December Child... the year comes to an end and I'm about to have completed another spin around the sun too (mid month). The closing of the year is for me a special time because I make balance of my resolutions, I forgive myself for all those I have failed to fulfil and I renew my vows to try my best again. Whatever you celebrate (Pagan Yule, Christmas, Hannukah...) Winter's Solstice approaches with its shortest day and longest night. But as I have stated many times before, Winter is also the time where "light" is reborn. Once cold Winter starts day will be gradually longer. This is why ancient cultures have worshipped this time with symbols of evergreen (trees, holy) and light (bornfires, candles, burning logs). This celebration would be later rebranded as "Christmas" but still keep many of its pagans origins like the tree, the Yule log, candles and so on. If you want to revisit previous articles I've written about Yule, I'll try to make a summary when the "day" approaches but this post is to show my past and present "Yule" looks.
Why do we use red and green this time of the year?
Red, green, white and gold are the typical colours usually associated with this time of the year. White represents the light and gold represents the Sun returning. Green can be found in Evergreen trees (fir, pine) and bushes (mistletoe and Holy and Ivy).
Don't you know that carol "The Holly and the Ivy"?
Enduring green has been always venerated as a symbol of "hope" and endurance through the winter. Red is linked to Holy's fruits. Of course Christmas made evergreen a metaphor of "eternal life" and red "the blood" and though I'm not religious I love the time of the year but most to trace back the origins of the folklore and mythology behind it. There is no reference about the date of the birth of Christ, but the date has been celebrated as the "RETURN OF LIGHT" or "RETURN OF HOPE" way before such religion even existed, and the way current celebrations have included the "Ways of Nature" in its symbols fascinate me as someone that loves mythology, legends and stories.
Even in Ancient Rome there was the festival of Saturnalia where boughs of evergreen, ornaments in green and red called "sigillaria". Even Ancient Egypt hung palm leaves in honour to Ra (God of Sun) around Winter's Solstice.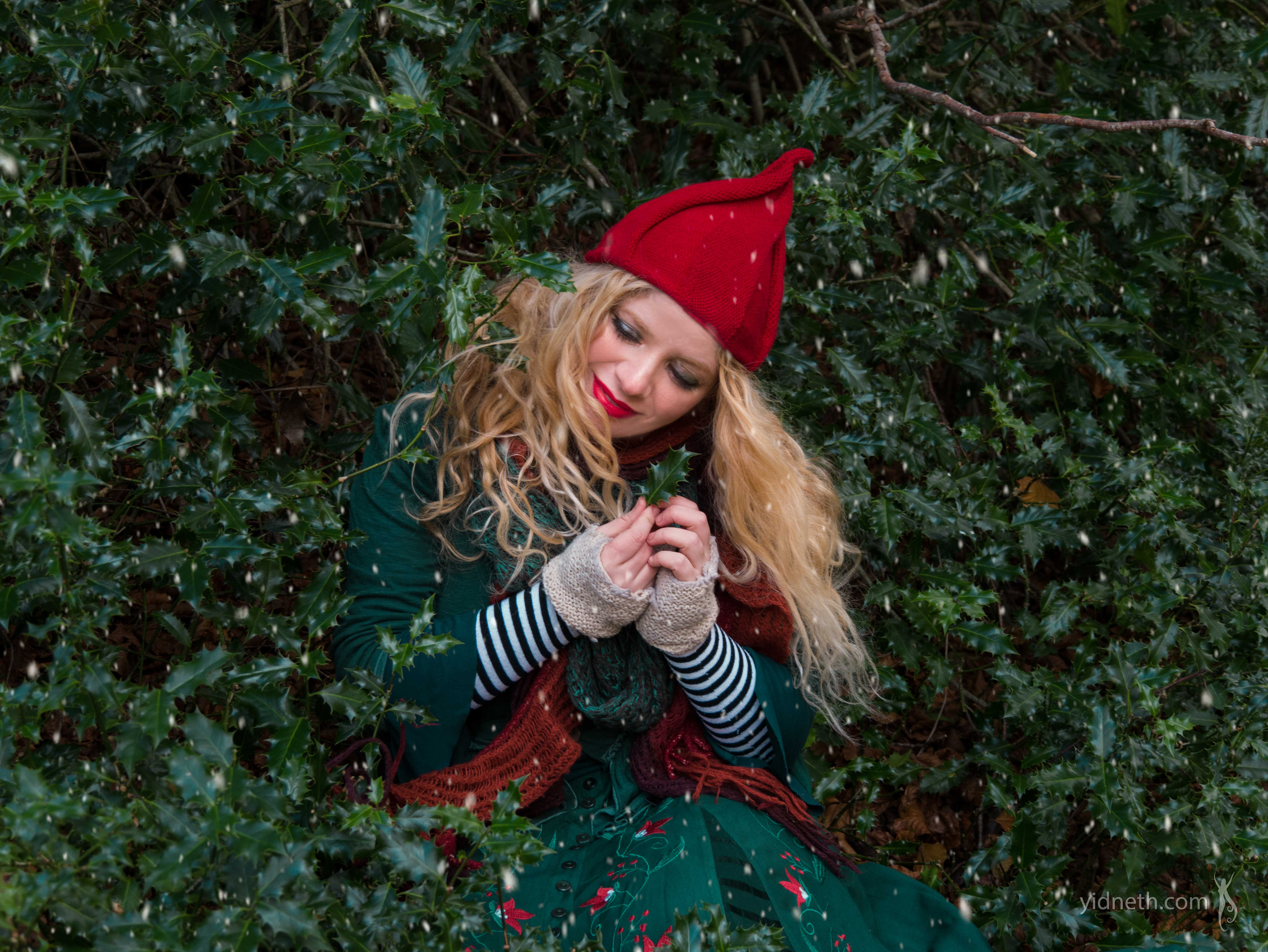 It's in Holly boughs. The spiky leaves of holly were revealed to repel evil spirits and newborn babies used to be sprinkled with "holly water" but Holly referred to the Germanic Goddess of the Underworld "Holle". Mistletoe and holly (masculine and feminine respectively) represented the Sacred Marriage at this time of year with the re-birth of the Sun/Son. This evolved in the world "Holy" as Sacred afterwards.
Trees would be also brought in side the homes of old European pagans as a token of evergreen and also to use as wood during the winter. Sometimes they were hung as chandeliers with ornaments. In Lavonia (currently Latvia and Estonia) the first official Christmas trees were at the village square and decorated with edible apples and nuts.
I hope that you are starting to be aware that our current celebrations date way back than we ever thought and whether you have faith or not we should always celebrate that LIGHT and HOPE are returning as it's been done for thousands and thousands of years.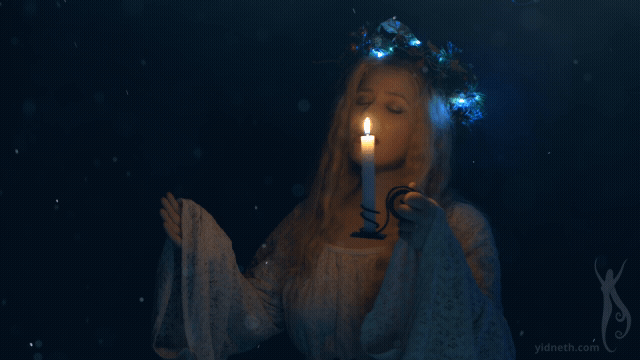 Fire, candles, burning logs, LIGHT, they're all still present in current traditions... and no matter if you're Christian, Jew, Atheist, Pagan, Agnostic.... WE ALL HAVE A REASON TO CELEBRATE THIS TIME... as long as Earth keeps on spinning because HOPE is a beautiful thing.
And a sneak peek of my 2021 Yule/Christmas special coming soon.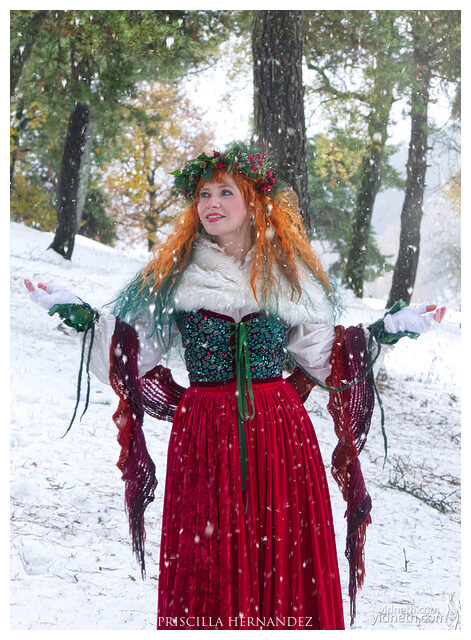 And above: My look for 2021 Yuletide Season and forthcoming Christmas Special.
And here is a sneak peek of my Yuletide look this year. Stay tuned because I've already filmed a little Xmas special. I'm going to give you some clues...
If I say it's inspired by one movie from the 80s, based of a very famous book and I'm am the "Ghost of Christmas Present" what movie could I be referring to? Make a guess.
So here is a "Behind the Scenes" to reveal what will be my Yule/Christmas look for this 2021 special that I hope to upload by my birthday midmonth :) So stay tuned to my blog to watch the video.
And spoiler reveal, there will be a hen featured in it.. yep!
If you need seasonal music, while I prepare my new special you can watch this Winter Playlist of my music on youtube (more coming soon)
While I finish my current special (sneak peek in this post), just a reminder that I have a full playlist of Christmas/Seasonal music that I've made through the years and you can watch them in this playlist. Remember two new about to be added before Christmas. :)
So here is my Christmas Music Playlist including Original Christmas Carols, covers and traditional also songs with a wintry flair. Every year I do a Winter Yule and/or Christmas Special and here is a compilation in case you want to play them all together during the holidays. Here you will find songs like "Silent Night", "In the Bleak Midwinter", "Carol of the Bells" but also originals like "something that feels like home", "Winter Night" and others.
https://www.youtube.com/playlist?list=PLfu7TASV8SHXgcvToo0ZgXrdJ5XYsdGZ1
And here one of them "The Closing of the year" with my usual "green and red" attire for reasons that you already know if you celebrate

And what are your favourite Carols or Winter Songs?
Let me know in comments as I might have time to make some candid recordings or take it into consideration for future editions of our specials
And until next... BE GOOD, I DON'T WANT TO put you on my Naughty's list... ;-)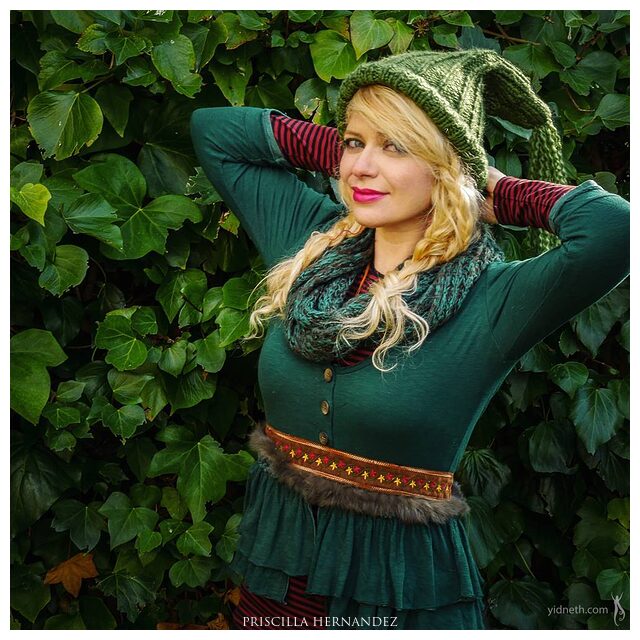 But more on the playlist and stay tuned for the new one
MERRY SEASON!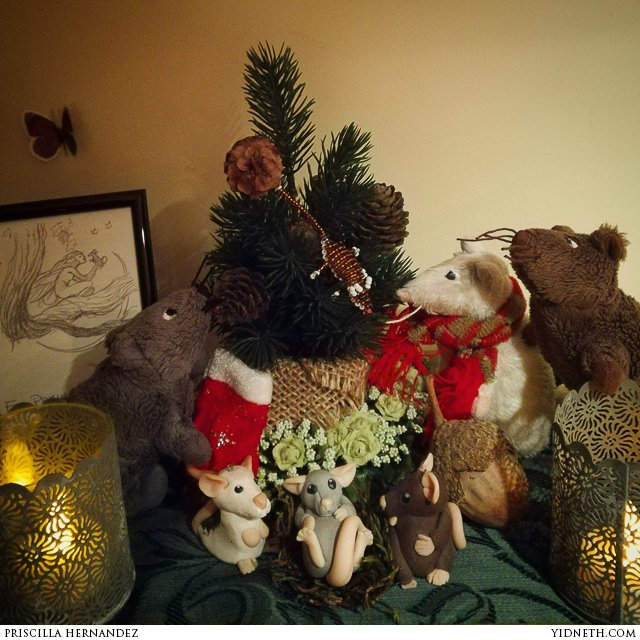 All pictures are myself and (c) to me @yidneth. No fur was used in any of the outfits. I do not support fur trade, so only use plush fabric or faux.
Support me following on my network. Sígueme en las redes
---
---