This publication was also written in SPANISH and PORTUGUESE.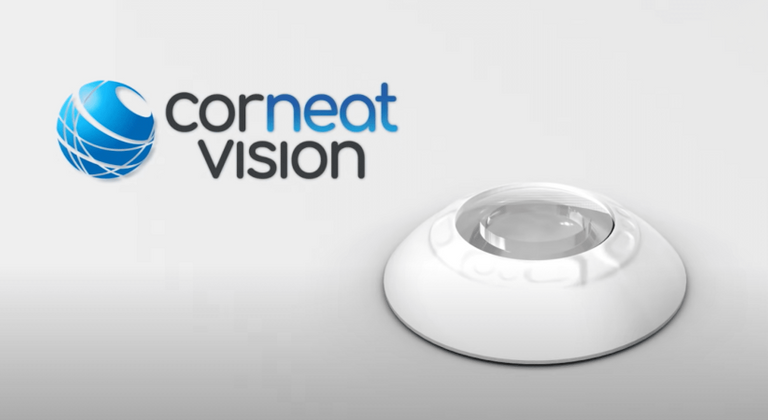 Olhar Digital
At times, when everything seems to be lost to some people, everything changes in a totally unexpected way. Help can come from anywhere, and this time, a creation that belongs to an Israeli company is responsible for bringing back, one of the senses that a man of 78 had already lost due to blindness: vision.
The patient regained the ability to see, after receiving a revolutionary implant of a synthetic cornea. This event can already be considered as a historical landmark, at the same time inspiring, within medicine because it is the first implant that was performed in an integrated way - artificially - in the individual's eye wall.
Developed and manufactured by CorNeat Vision, the product received the name KPro. After a day of implantation, the cornea returned vision to the patient, who, by the way, already recognized his family members. This speed demonstrated that the procedure was very successful, and that there is a chance of greater scalability for the performance of other processes in the future.
Speaking a little more in detail about the corneal implantation process, he has a simple "schedule", because you only need to make a few minimal cuts in your eyes, and do a few sutures. From there, according to the company, the implant tends to act to "stimulate" the proliferation of cells until there is a progressive integration of the tissue.
The following video shows the technique in detail:
One of the biggest advantages of using this type of cornea (besides giving patients back their vision) is being able to replace a cornea damaged by degenerative diseases without the need for tissues on the part of a donor. It is a very important process of autonomy (including in technological aspects, obviously) for the world.
Finally, the healing process of the procedure takes place in a few weeks and then the synthetic cornea is fully integrated into the eyeball of the transplanted patient.
---
El "milagro" de la Ciencia.
A veces, cuando todo parece perdido para algunas personas, todo cambia de una forma totalmente inesperada. La ayuda puede venir de cualquier parte, y esta vez, una creación que pertenece a una empresa israelí se encarga de traer de vuelta, uno de los sentidos que un hombre de 78 años ya había perdido por ceguera: la visión.
El paciente recuperó la capacidad de ver, después de recibir un revolucionario implante de córnea sintética. Este evento ya puede ser considerado como un hito histórico, a la par que inspirador, dentro de la medicina porque es el primer implante que se realiza de forma integrada - artificialmente - en la pared ocular del individuo.
Desarrollado y fabricado por CorNeat Vision, el producto recibió el nombre de KPro. Luego de un día de implantación, la córnea devolvió la visión al paciente, quien, por cierto, ya reconoció a sus familiares. Esta velocidad demostró que el procedimiento fue muy exitoso y que existe la posibilidad de una mayor escalabilidad para el desempeño de otros procesos en el futuro.
Hablando un poco más en detalle sobre el proceso de implantación de la córnea, él tiene un "programa" simple, porque solo necesita hacer unos pocos cortes mínimos en los ojos y hacer algunas suturas. A partir de ahí, según la empresa, el implante tiende a actuar para "estimular" la proliferación de células hasta que se produce una integración progresiva del tejido.
El siguiente video muestra la técnica en detalle:
Mira el video de arriba.
Una de las mayores ventajas de utilizar este tipo de córnea (además de devolver la visión al paciente) es poder sustituir una córnea dañada por enfermedades degenerativas sin necesidad de tejidos por parte de un donante. Es un proceso de autonomía muy importante (incluso en aspectos tecnológicos, obviamente) para el mundo.
Finalmente, el proceso de curación del procedimiento se lleva a cabo en unas pocas semanas y luego la córnea sintética se integra completamente en el globo ocular del paciente trasplantado.
---
O "milagre" da Ciência.
Em alguns momentos, quando tudo parece estar perdido para algumas pessoas, tudo muda de uma maneira totalmente inesperada. A ajuda pode vir de qualquer lugar, e desta vez, uma criação que pertence a uma companhia israelense é a responsável por trazer de volta, um dos sentidos que um senhor de 78 anos já havia perdido por causa de uma cegueira: a visão.
O paciente recobrou a habilidade de ver, após receber um implante revolucionário de uma córnea sintética. Esse acontecimento já pode ser considerado como um marco histórico, ao mesmo tempo inspirador, dentro da medicina porque trata-se do primeiro implante que foi realizado de uma maneira integrada - artificialmente - na parede ocular do indivíduo.
Desenvolvido e fabricado pela CorNeat Vision, o produto recebeu o nome de KPro. Após um dia de implantada, a córnea devolveu a visão ao paciente, que aliás, já reconheceu seus familiares. Essa rapidez demonstrou que o procedimento foi muito bem sucedido, e que há uma chance de maior escalabilidade para a realização de outros processos no futuro.
Falando um pouco mais detalhadamente sobre o processo de implantação da córnea, ele tem um "cronograma" simples, porque é preciso fazer apenas alguns cortes mínimos nos olhos, e fazer algumas poucas suturas. A partir dai, de acordo com a empresa, o implante tende a agir para "estimular" a proliferação de células até que haja a integração progressiva do tecido.
O vídeo a seguir mostra a técnica em detalhes:
Vejam o vídeo acima.
Um dos maiores trunfos da utilização desse tipo de córnea (além de devolver a visão aos pacientes) é poder substituir uma córnea danificada por doenças degenerativas sem que a necessidade de tecidos por parte de algum um doador precise acontecer. É um processo de autonomia muito importante (inclusive em aspectos tecnológicos, obviamente) para o mundo.
Por fim, o processo de cicatrização do procedimento acontece em poucas semanas e depois a córnea sintética se integra totalmente ao globo ocular do paciente transplantado.