---
Yes AGAIN!
---
It seems all I do is cook, I mean I want to do other things I have all this plans every day to do stuff around the house, to do stuff to my face (start a skin care routine cause OMG I NEED IT!) but nope, since the baby is having this crazy schedule that I cant get him out of, i spend most of my time either taking care of him in his crazy ways or trying to put him to sleep or cooking.
When I cook is when I get the more free time cause is when the baby's daddy takes care of him (or his grandma when daddy is working) so is when I get to spend some alone time in the kitchen, and I have to say if it weren't for the fact that is hell hot in there I would love it! We don't have AC (only in our bedrooms) and the temperatures have been crazy high so, to cook for me even tho I love it is not so fun when I'm sweating like crazy.
Yet I do it, even tho I really think someday I will just transform into a pool of sweat in the floor, I do it cause I want to try different stuff everyday for my baby, he is a picky eater like I said in previews post, he just like to take his breastmilk and doesn't really like other food much so I try to make him fun yummy stuff for him to enjoy and eat.
This quarantine represents a challenge not only economical cause we had that issue before the quarantine (I live in Venezuela so… yeah is hard) but also the fact that going out to buy is scary and not to mention the domestic gas supply that is not easy to get.
So, I have been doing some fun stuff like Arabic bread, chocolate chip cookies in the microwave, and Mocca Ice Cream, here are my 2 previews post for Quarantine Cooking Ideas or actually every day cooking that is cheap and easy it doesn't require much and it cooks quickly:
---
In today's post I will share with you how to make chicken sausages and Churros!
I want to apologize in advance for my bad photography skills, and as I have said it before my food tastes amazing but my presentation of it sucks big time
Chicken Sausages (& Nuggets!)
Ok so I saw this recipe on Instagram and wanted to tried it out so much but! I don't have a food processor and though I cant do this is sad, but then my cousin said she used the blender to grind the chicken meat so YAY I could finally try this out and make my kid some home made healthy sausages (with a plus that I manage to make over 20 of just one chicken breast if I would have bought packaged sausages that would have been too expensive! So I save myself a lot of money I don't have!)
Here we go
The ingredients:
1 Chicken Breast
1 Egg
2 Tbsp Cornstarch
1 Tbsp of Garlic
½ Onion Chopped
Peppers Chopped
Whatever else you want to add that adds flavor to the mix keeping in mind that it has to be at least 90% chicken and the mix can't be too liquid, I added 1 tbsp of powder chicken broth, 1 tbsp of meat seasoning, and not picture cause I added it later 1 chopped tomato.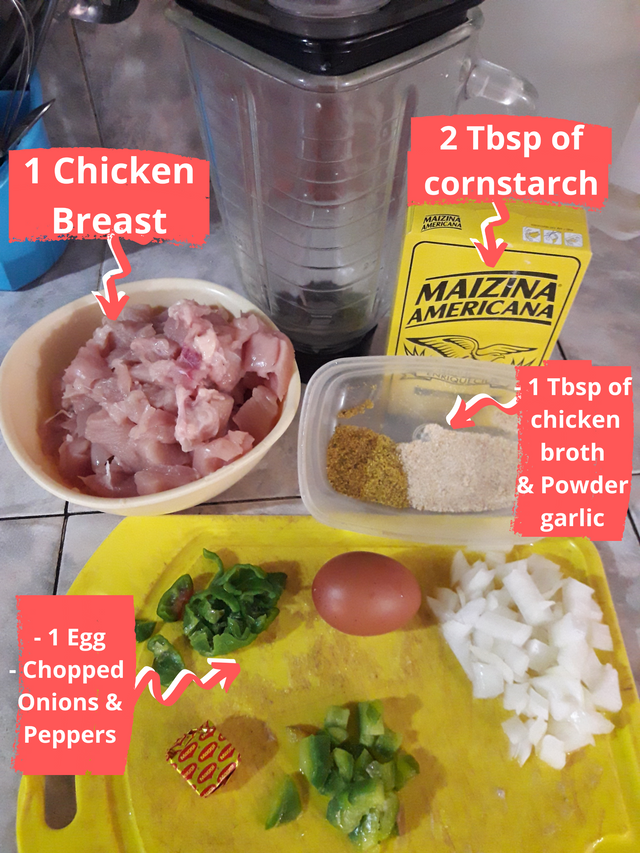 You first grind the chicken meat, I did this in the blender so just chopped up really small and added the egg with that to the blender to be able to grind it, if you have a food processor you can just add the rest of the ingredients and let it all get processed together until you see that is creamy.
If you don't have a food processor and do it like me, you will now have the chicken meat grinded (alone with the egg) you can now mix it well with the cornstarch, while you do this you can put in the blender to mix the rest of the ingredients (here is where I added the tomato cause I wanted to give it a little red look to it) once this is blended you can add it to the chicken meat, you mix all of it really well and you have your sausage/nugget mix done!
---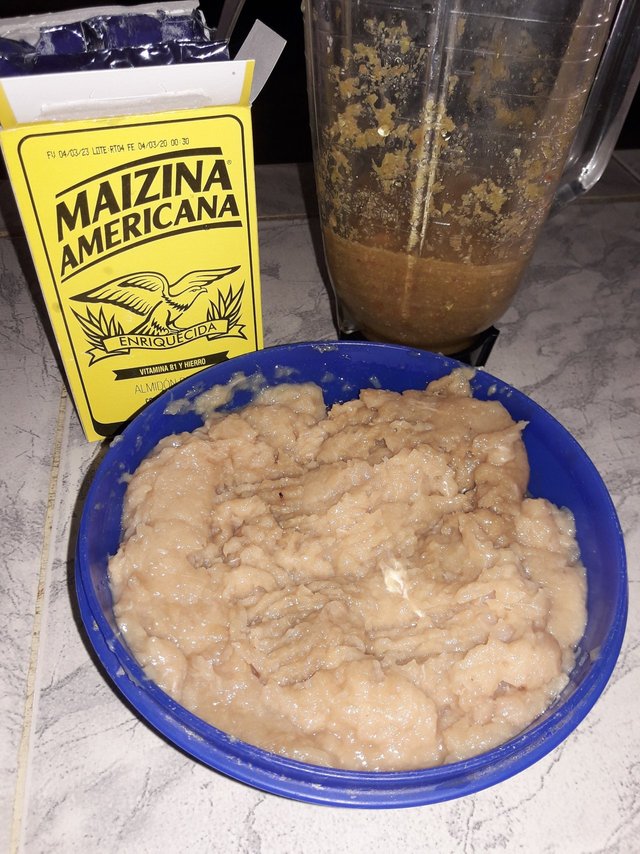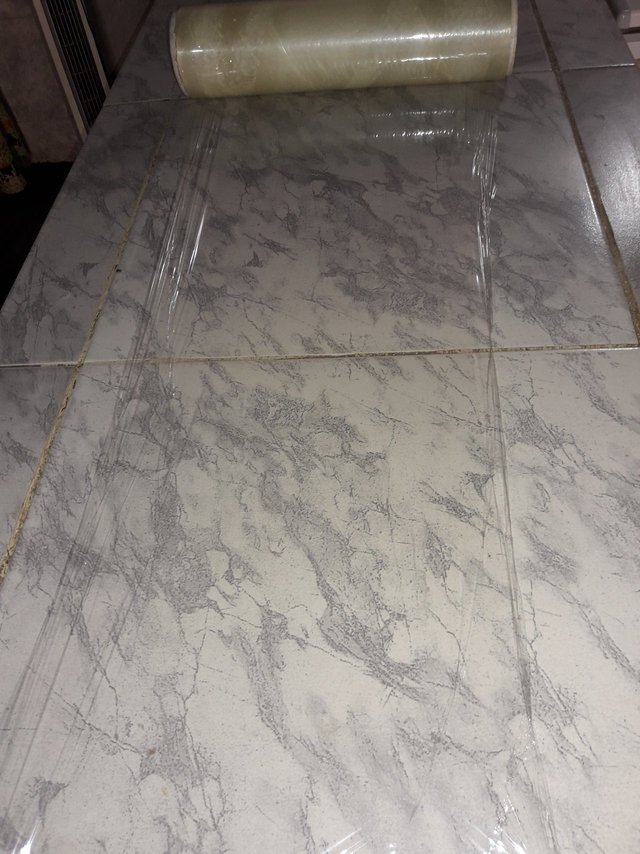 ---
Here comes the fun part making the sausages! You have to use a plastic but clean bag to fill it up with the mix, and you will need some film stretch to give shape to the sausages, roll the film stretch in a clean surface long enough to have enough space to make them, and you can now cut a hole in one of the corners of the bag that is fill with the mix, you will use it as a Piping tube (if you have one of this and want to use it do it! I don't have one so I have to improvise).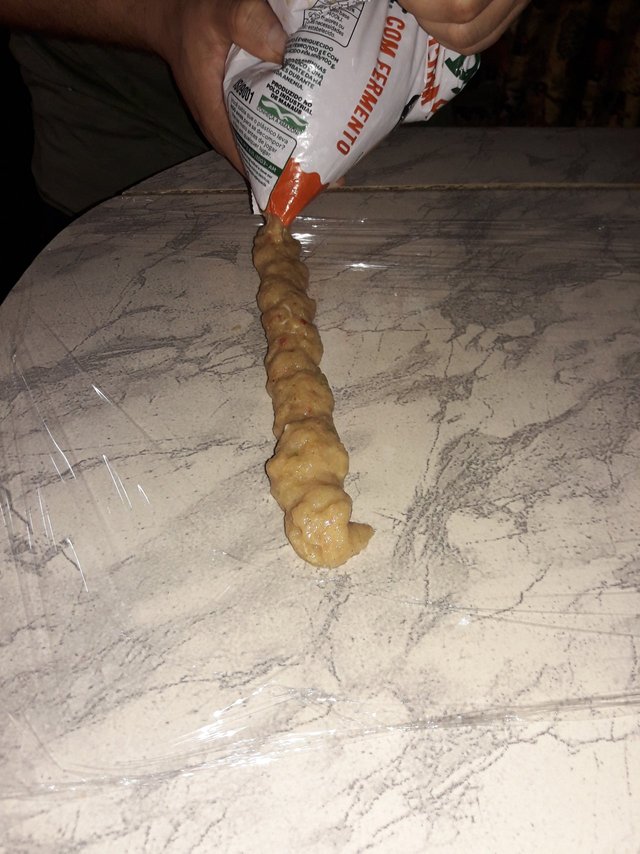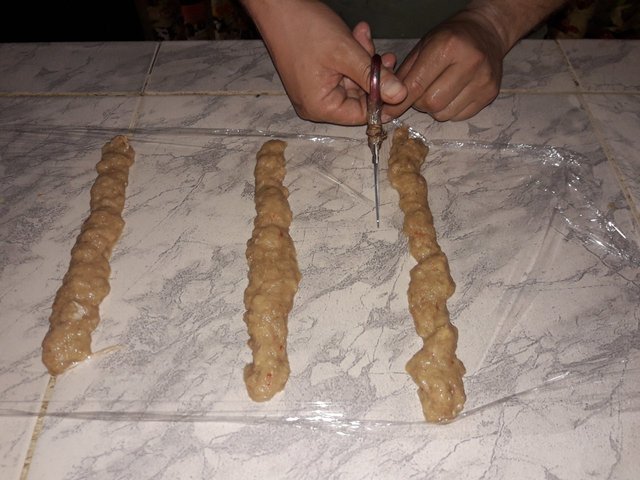 Make the shape of the sausage in the film stretch you have lay out, cut it giving enough room to roll over to give it better shape , tie the ends in a knot.
---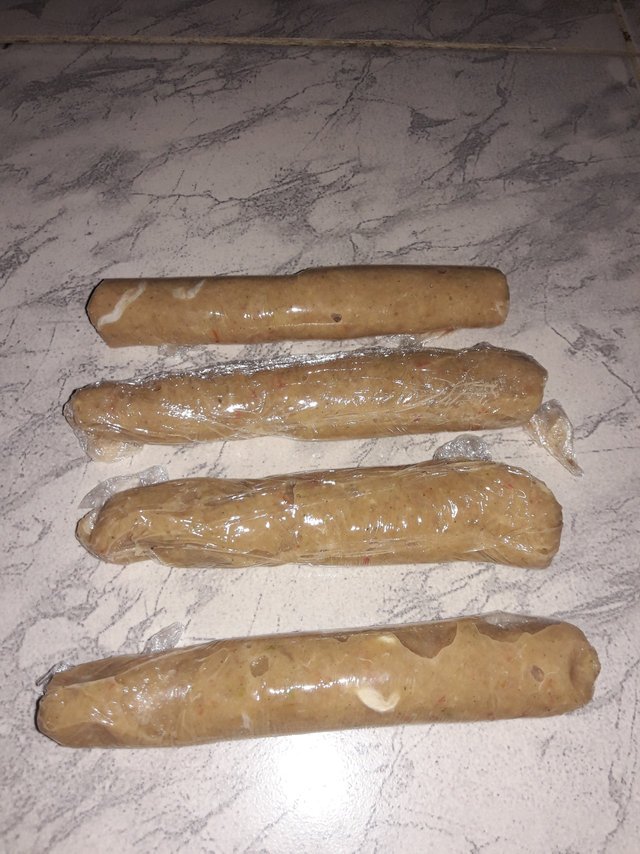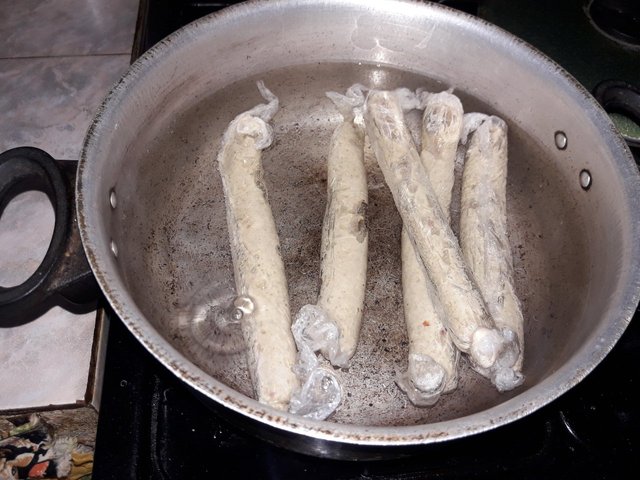 Once you have given shape to your sausages you can put a pot with water to boil, let them cook until the water boils again okus another 30 minutes to cook well.
---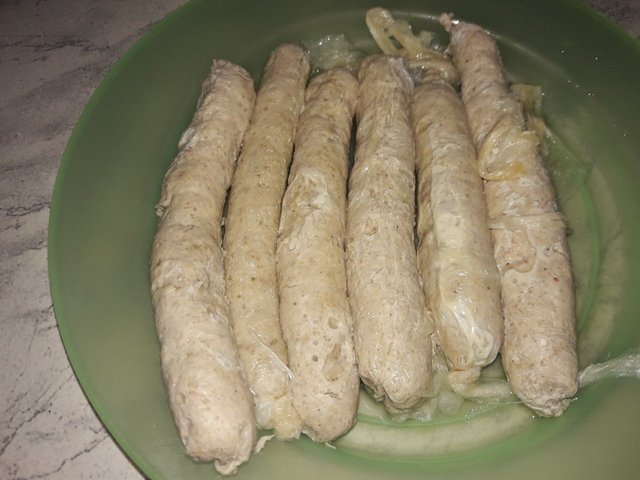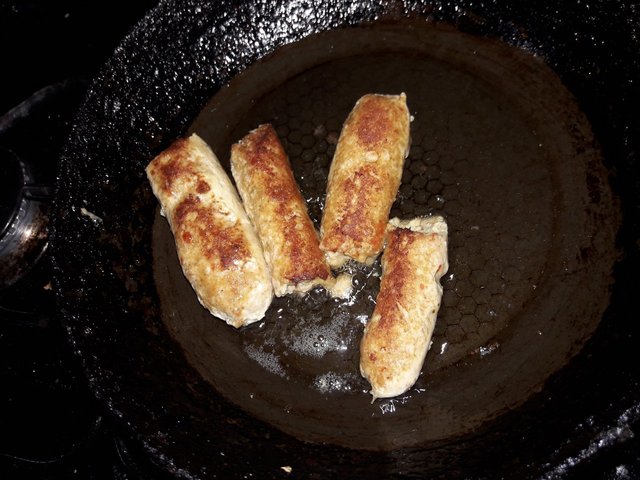 You now have your sausages done and ready to eat!!! I like to put them on a pan and let them brown with a little bit of oil because it gives them a better taste but you can do whatever you like with them now even put them on a grill!
---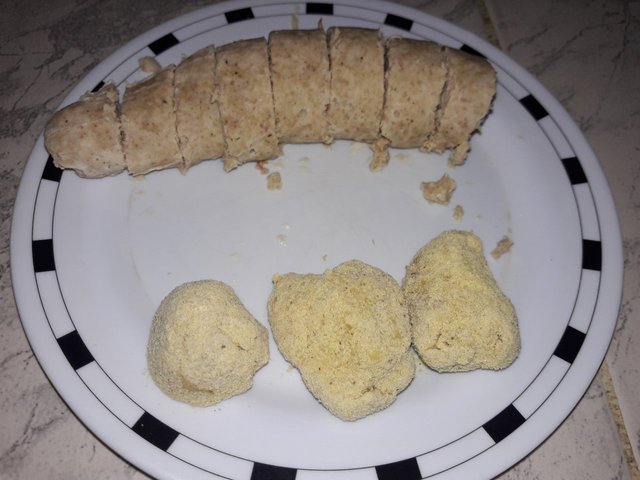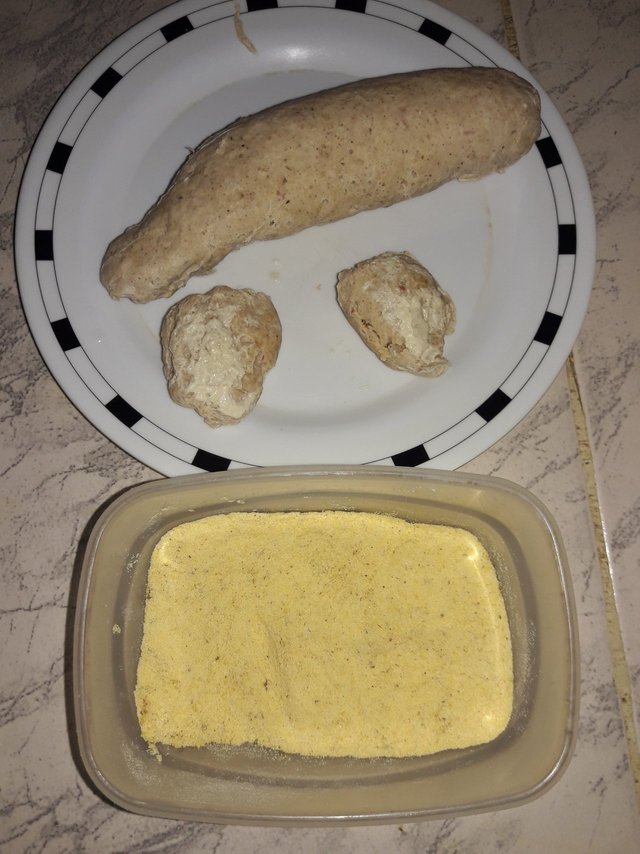 NUGGETS! I took one sausage already boiled that my bf made huge ugly and deform and cut it into smaller pieces, proceeded to breading them, in a little corn flour you can use wheat flour, I didn't see the need to dip it in a egg to be able to get the flour to stick but you can do it if you want to, once you have the pieces breaded you can fry them in enough hot oil!
---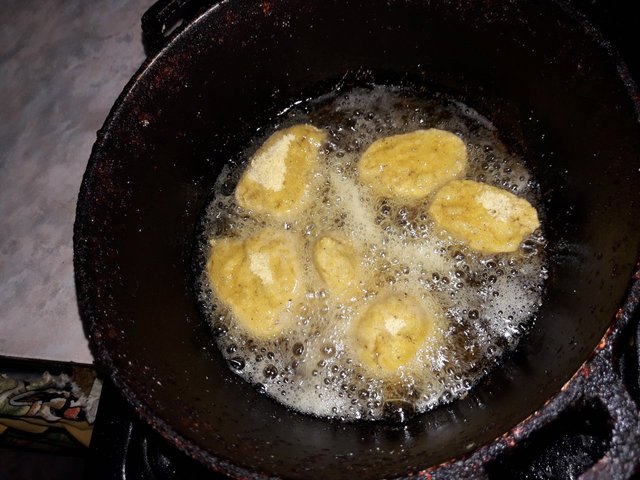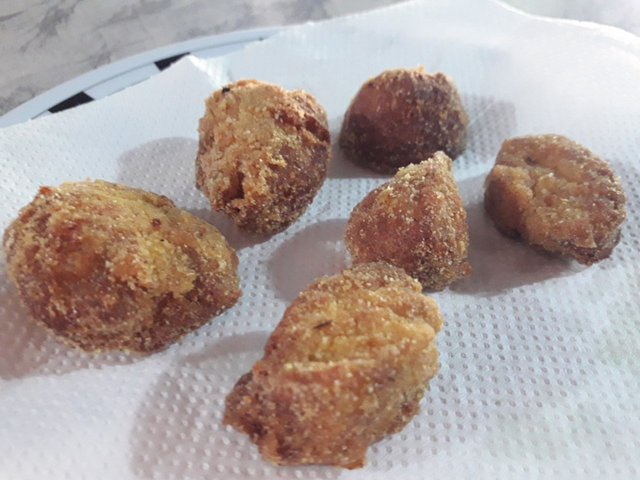 Remember that the meat is already cooked so you only need to wait until the outside looks brownish or the color you like your nuggets to get so they are crispy enough and you take them out and done you now have chicken nuggets!
---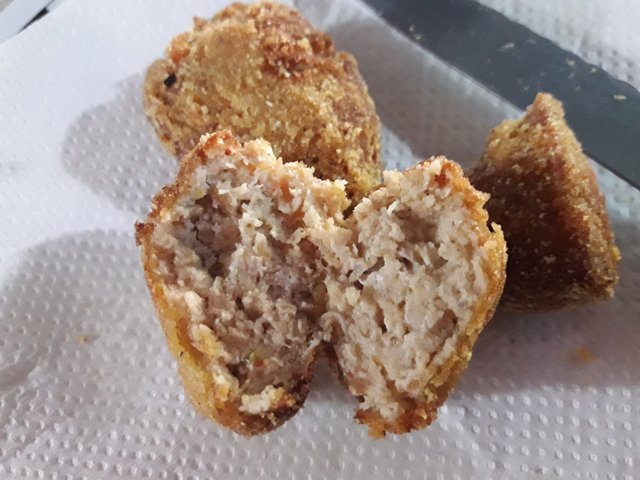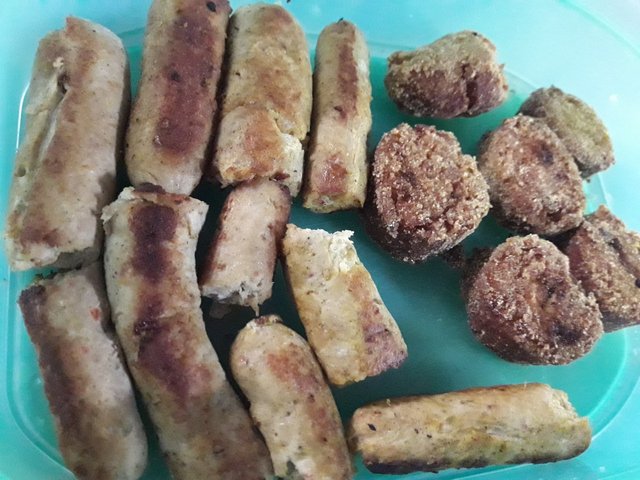 ---
Now on to the…
Churros!
For this you will need the following:
Ingredients:
1 & ½ Cup of Wheat Flour
2 Tbsp of Sugar
80 Grams of Butter
125 Ml of Milk
3 Eggs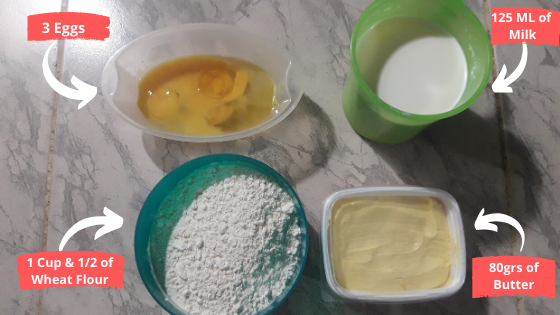 ---
Start by putting the milk and the butter to cook in a pot, once they are boiling add the flour, mix it all quickly it will start form a ball.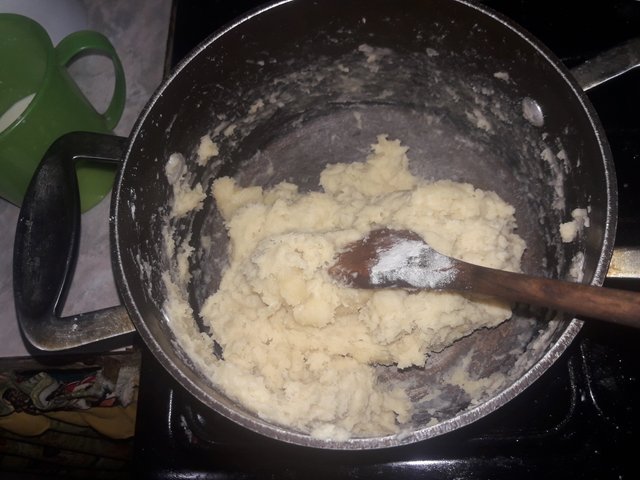 ---
You can add a little more milk if you see that the flour needs it, let it cook for 1 more minute but don't let it burn.
---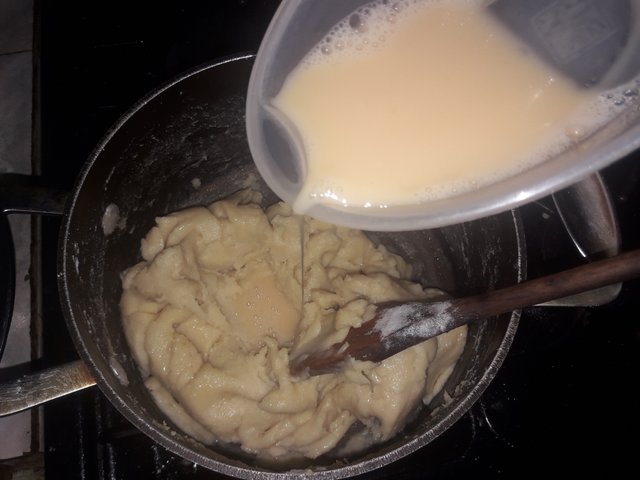 Take it of the heat and let it cool for at least 5 minutes, while waiting mix the 3 eggs together, once the 5 minutes have pass, you can start to add the mixed eggs in 3 parts always mixing well. You have your Churros dough done!
---
---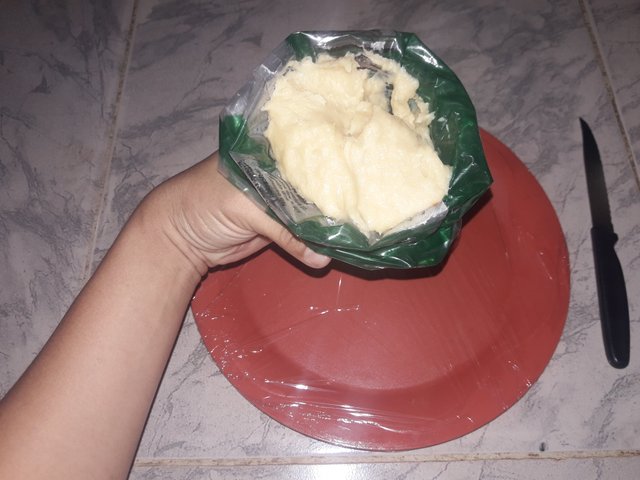 Now you have to put it in a Piping tube with an opening in form of a start (again I don't have one so we improvise), put in a pan some oil, once is hot enough you start to make the Churros in the shape you want, we made little sticks, let them get brown but be careful not to let them burn.
---
---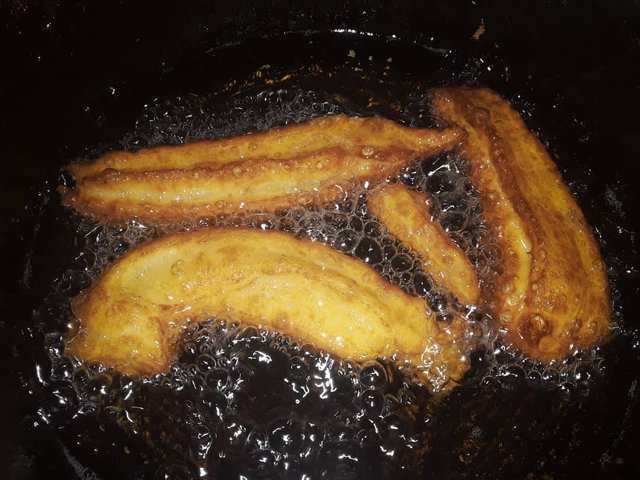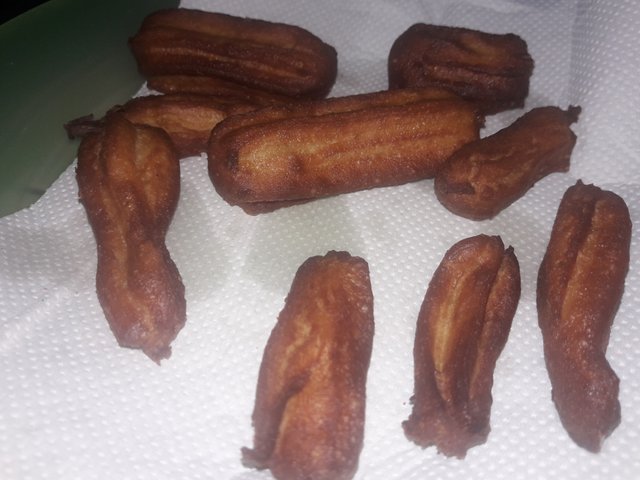 ---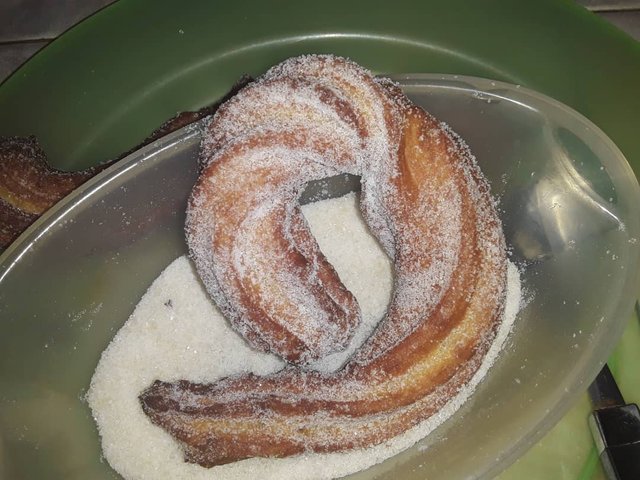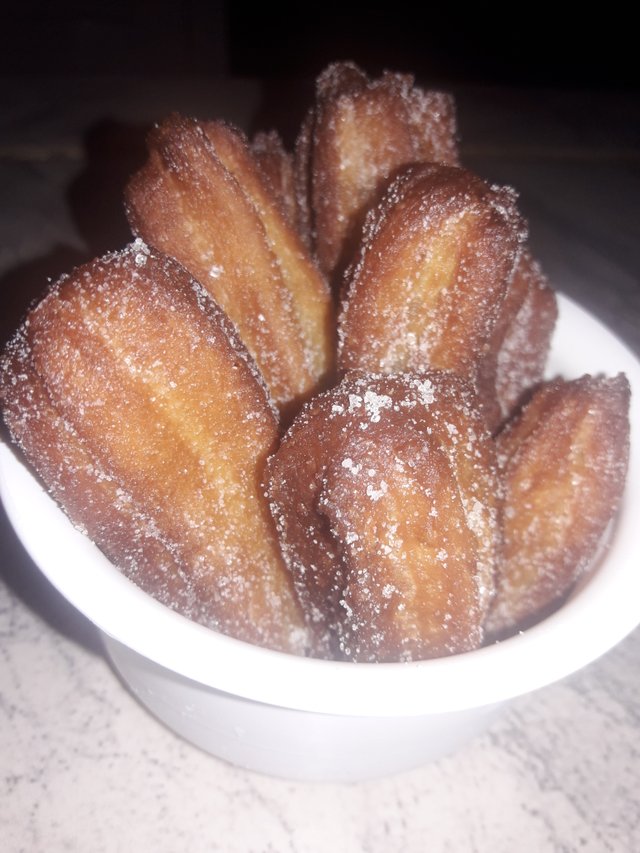 Take them out and you can bathe them in sugar or chocolate or just eat them with whatever you like.
---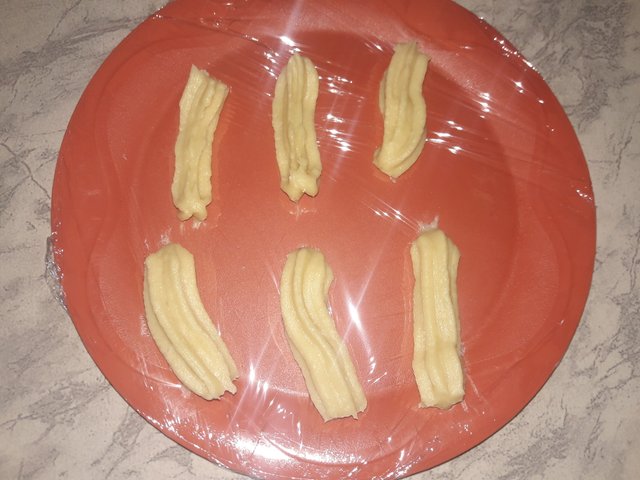 You can make them in the shape you want in a tray and put them in the freezer, once they are frozen they are easier to handle to fry later.
Or just put the dough in the fridge and use it the next day.
---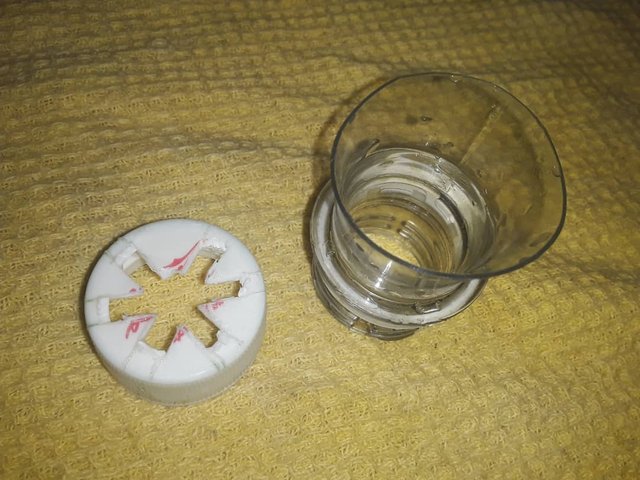 My bf made me this with a plastic bottle and a plastic bag since I don't have the real thing to use.
Don't laugh! it works to make the sausages too!!!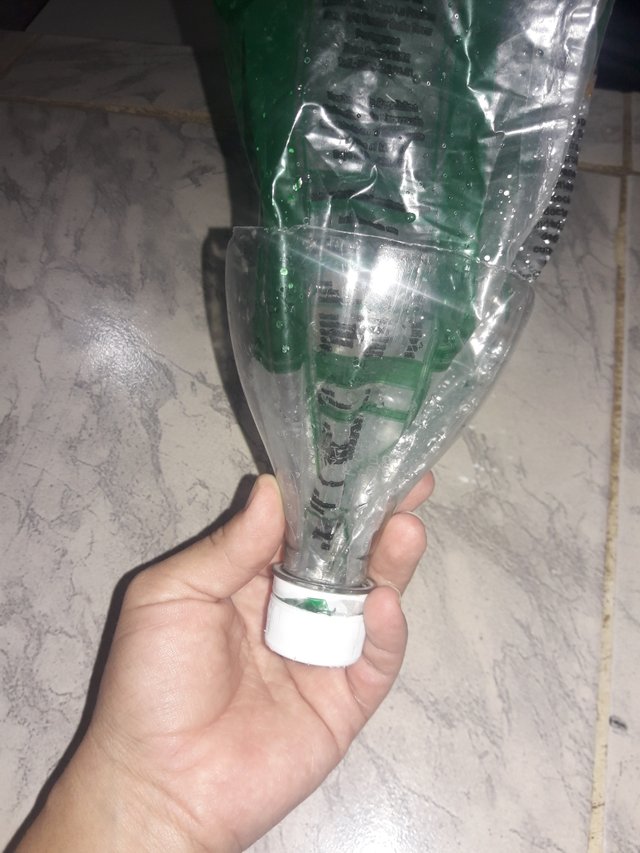 ---
Anyways I really hope these recipes help someone make their quarantine yummier at least!
If you do make any of these let me know!!!
---
As always, thank you very much for reading me and
I hope to read your comments!
---
Picture Credit: All images are of my property unless said otherwise and the emojis are made with Bitmoji.com!
---
I'm currently an active curator for @minnowsupport #palnet, #creativecoin and #foodie, and even though I focus on post in Spanish (cause duh!) if you know of any good post that deserves to be curated or any good author that I need to be on the lookout for 🔎📌 (doesn't matter the language) let me know in the comments!
Actualmente soy curadora activa para @minnowsupport #palnet, #creativecoin y #foodie, e incluso aunque me centre en publicaciones en español (¡porque obvio!) ¡Si conoces alguna publicación buena que merezca ser curada o cualquier buen autor del que deba estar pendiente 🔎📌 en cualquier idioma, házmelo saber en los comentarios!
---
Proud Member and Supporter of The Minnow Support Project, If You Are Not Yet on The Community What Are You Waiting For?? CLICK below!!!

---

---

😗 Follow me on my Other Social Media...❗️⬇️⬇️⬇️⬇️


You can find this post shared on Twitter Here please give the tweet a like and retweet!
---