Hello friends
I hope you are all fine. I am fine here too. In today's post I have shared photos of beautiful mountains. The photos I captured on the road during the trip to Ladakh. There are 2 main ways to reach Leh. One of them has a road from Manali to Leh which is about 460 kilometers apart. The other road goes from Srinagar to Leh. The distance between the two is 415 kilometers. Apart from this there is also an option. There is also a direct flight to Leh. But for me, it is not advisable to take that option. Because the beauty of nature that is seen by the road which is fun does not come from visiting by flight. So I advise everyone to make this visit by road.
The nearest airport to reach Manali is Kullu. But there are no routing flights at this airport. Which is why getting here by flight is also a little expensive. So in my opinion Chandigarh is the best option. There are also many travels from Chandigarh to Manali. As you go further from Manali, the cold increases. The body has to be slightly prepared to protect against the cold outside. For which regular drinking of water should be done to prevent dehydration. Also eat light snacks like chips or chocolate. So that your body gets enough strength. In addition, this is an elevated area so that the body can be deprived of oxygen, so it is important to keep a portable oxygen bottle with you. It is also important to have a jacket, thermal, cold-protected scarf, gloves, etc. in your clothes. The climate here is cooler and pollution free than it is in the city. The photo share function in this post is after Rohtang Pass and before Sarchu arrived. This is full of open plains and high mountains.
---
---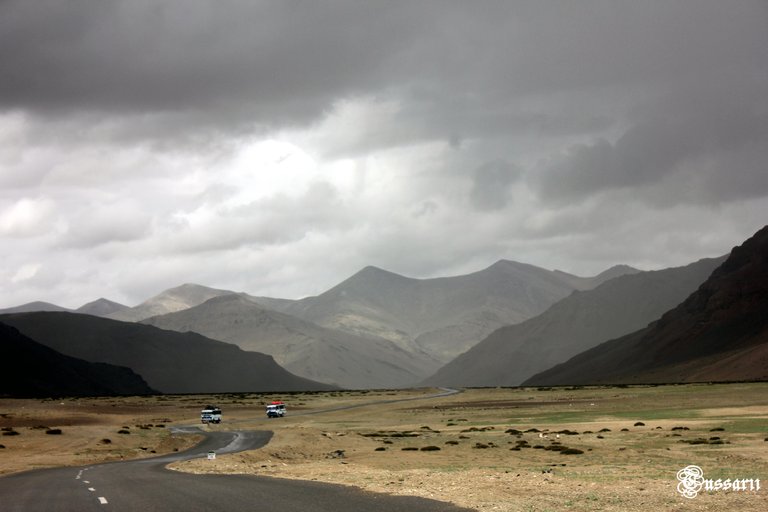 A small path passing through the open plains seems to be leading us to heaven. The range of mountains in the distance adds to the beauty of this vista. There are mountains all around in this area which are cool to see the natural beauty. This is the reason to go to Leh by road instead of flight.
---
---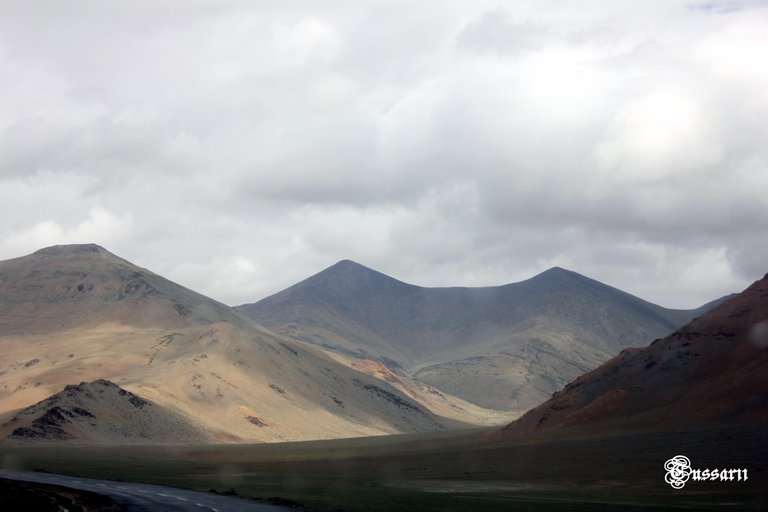 The beautiful formation of clouds can be seen in the sky. The sky has turned white because of the clouds. The beauty of this photo is enhanced by the white color of the sky and the color of the mountains. I like this photo more.
---
---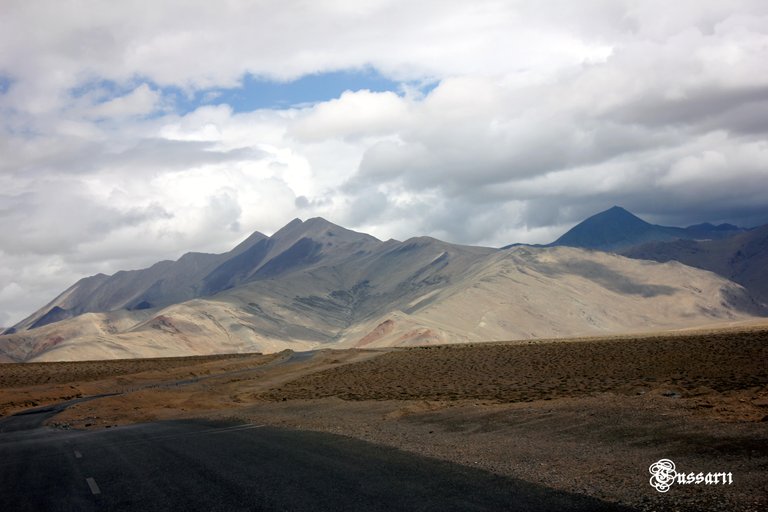 This photo shows a curved road disappearing between the mountains. There are beautiful shadows across the mountains because of the clouds. Which seems to have increased the beauty of the mountains.
---
---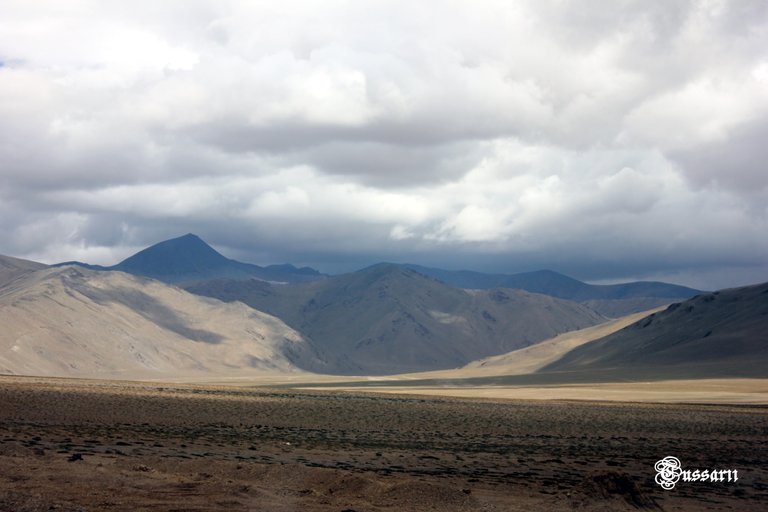 Beautiful grounds appear in these photos. Looking ahead, one can see a range of mountains. Looking further from there, beautiful clouds appear. Which makes the sky beautiful. The beautiful parts of nature can be seen together in these photos.
---
---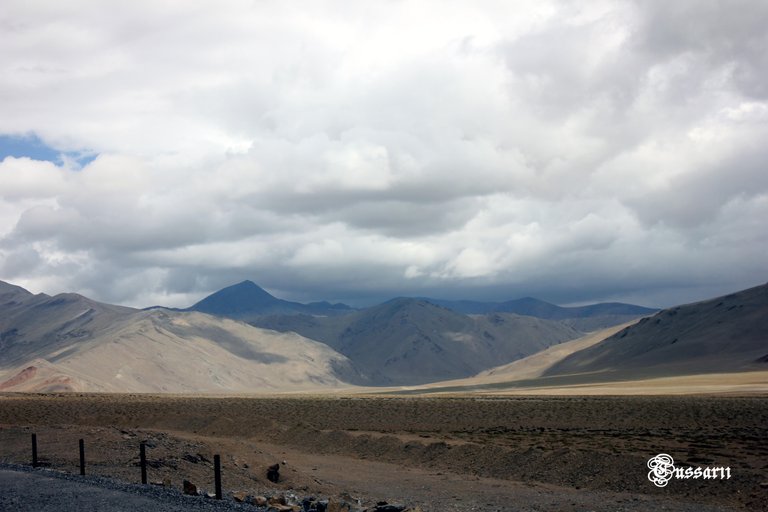 Let me share with you a few photos that fell in the road here. I hope you like these photos.
---
---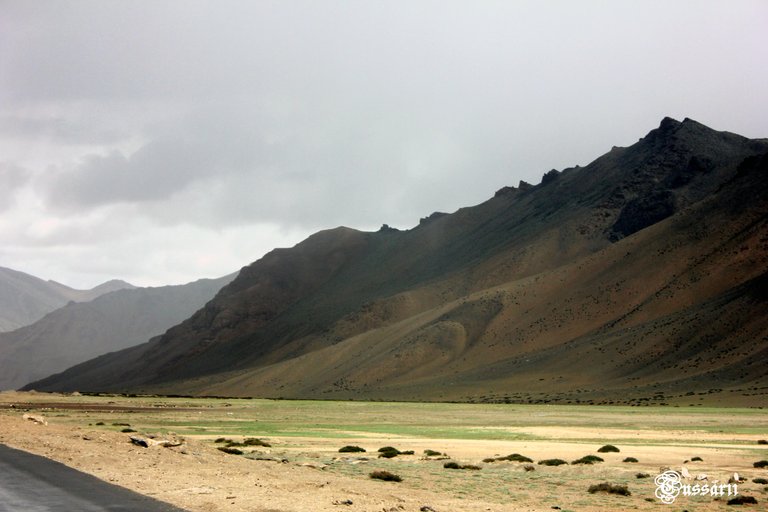 ---
---
These photographs are taken from Canon EOS 550D f/5.6 Focal length 30mm to 75mm. I will share more photographs of this trip on my next blog. I hope you enjoy this photograph.
If you like this photograph then pleases upvote and comment on it so your comment will inspire me to share more good photographs.
Thanks for visit.