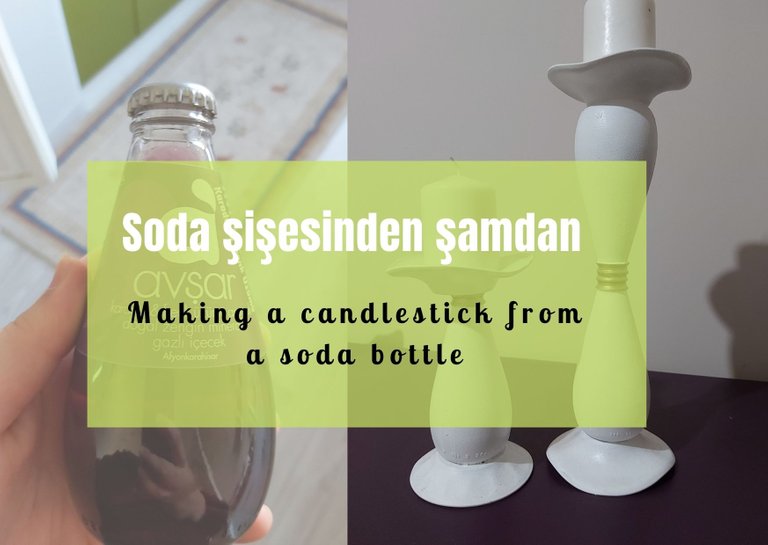 Hello.
Candles are indispensable for our home decorations. Not only as a decor, but personally, I also love using it. When I burn it, the atmosphere it creates at night makes me very calm. Would you believe me if I said that using candles gives me total peace of mind? If you still do not have it at home, you should definitely buy it and use it as soon as possible. A variety of candle holders are sold around for these beautiful candles. I have it too, but I also wanted to do it myself. I clung to projects like this to spend time, especially during these quarantine periods. As I think of it, I renew something or try to produce it. I said I would make a candlestick the other day. This idea did not come out of myself, of course. I saw similar ones on the internet and said I should.
Merhabalar.
Ev dekorasyonlarımızın olmazsa olmazı mumlardır. Sadece dekor olarak değil, şahsen ben kullanmayı da çok seviyorum. Yaktığım zaman geceleri yarattığı atmosfer beni çok sakinleştiriyor. Mum kullanmak bana tamamen huzur veriyor desem inanır mısınız? Hala evinde bulundurmayan varsa en kısa zamanda gidip mutlaka almalı ve kullanmalı. Bu güzel mumlar için etrafta çeşit çeşit mumluklar satılıyor. Benim de var ama bir de kendim yapmak istedim. Özellikle şu karantina dönemlerinde vakit geçirmek için bu şekilde projelere sarıldım. Aklıma estikçe bir şeyler yeniliyor ya da üretmeye çalışıyorum. Geçen gün de şamdan yapayım dedim. Bu fikir kendimden çıkmadı tabi ki. Benzerlerini internette gördüm ve yapmalıyım dedim.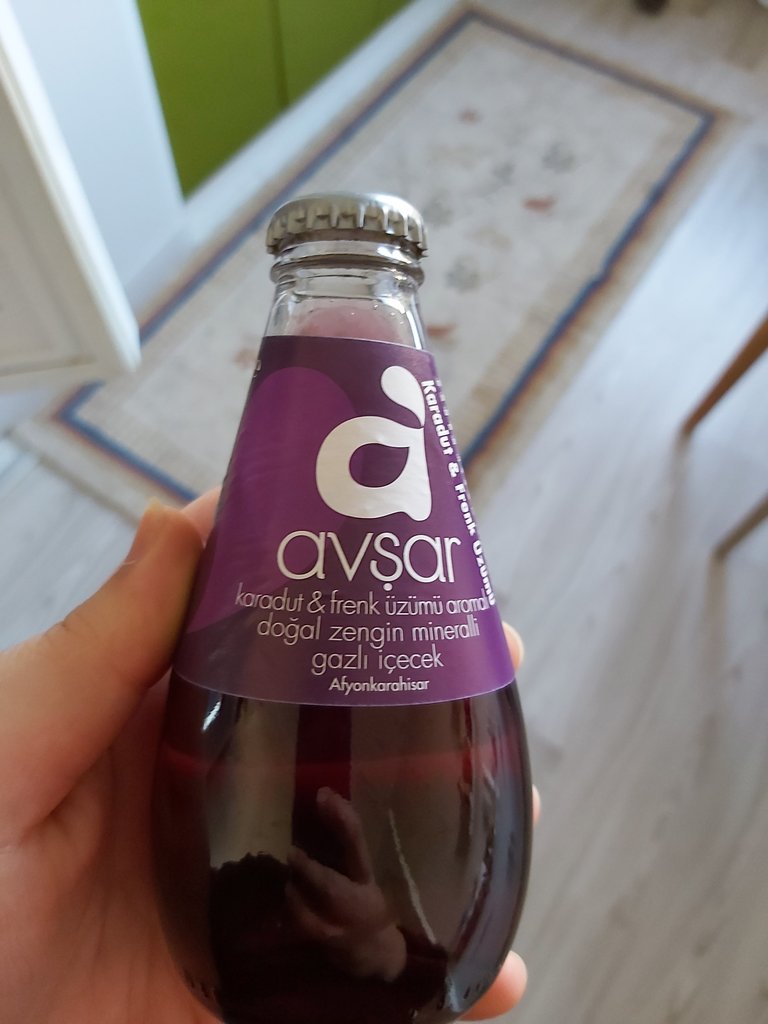 The selection of bottles is completely up to your taste, but I really liked this chubby fruit soda bottle I saw at the market. I think it will fit the candlestick I will make. I bought three soda because I was going to make one small and two big candlesticks. If you want to do it, you can also make the triple version.
Şişe seçimi tamamen sizin zevkinize kalmış bir şey ama ben Bim'de gördüğüm bu tombul meyveli soda şişesini çok beğendim. Yapacağım şamdana da uyacağını düşünüyorum. Bir küçük bir de büyük iki adet şamdan yapacağım için üç tane soda aldım. Siz yapmak isterseniz üçlü versiyonunu da yapabilirsiniz tabi.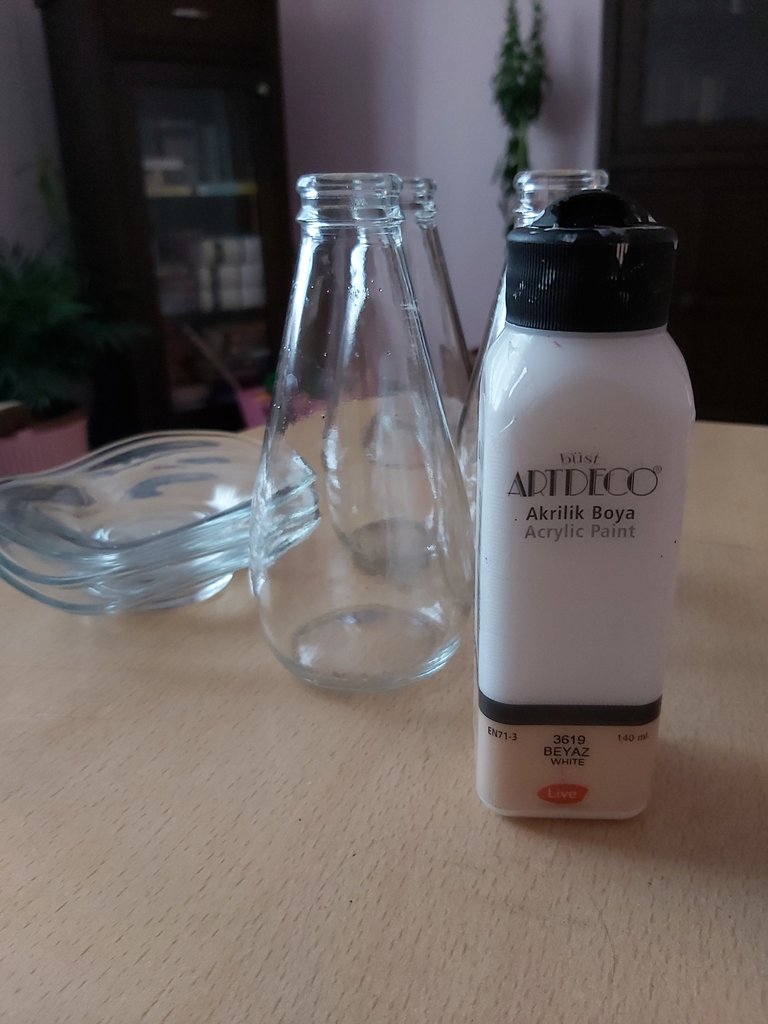 Apart from soda bottles, we need to prepare a plate on which the candles will sit. Here I have evaluated the only tea plates left in the house. I thought the curved edges would add air. If you are going to make two candlesticks like me, you need 5 tea plates. Finally, you need a sponge and acrylic paint. The color is completely your choice, I chose white. I glued the plates to the bottle with silicone. If you want more robust powerful adhesives can also choose're stuck.
Soda şişeleri haricinde mumları oturtturacağımız bir taban hazırlamamız lazım. Ben burada evde tek kalan çay tabaklarını değerlendirdim. Kenarlarının kıvrımlı olmasının ayrı hava katacağını düşündüm. Benim gibi iki parça şamdan yapacaksanız 5 adet çay tabağı gerekiyor. Son olarak sünger ve akrilik boya lazım. Renk tamamen sizin seçiminiz ben beyaz tercih ettim. Tabakları şişeye silikon ile yapıştırdım. Daha sağlam olsun isterseniz güçlü yapıştırıcılar da tercih edebilirsiniz.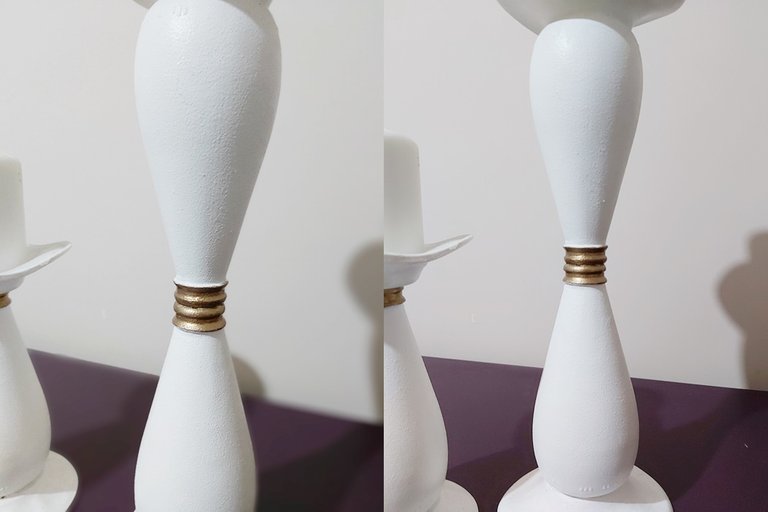 When the white was very raw, I applied metallic gold paint on the parts corresponding to the mouths of the bottle. I had gold leaf spray in my hand, I sprayed it on a plate and applied it with a brush. I applied the white paint with a pompom sponge with tampon movements. If you apply it this way, it leaves less traces. Bubbles occur when applying the tampon, but don't worry. Most of them pass as they dry out.
Beyaz çok çiğ durunca şişenin ağızlarına denk gelen kısımlara metalik gold renginde boya sürdüm. Elimde altın varak sprey vardı onu bir tabağa sıkıp fırça ile uyguladım. Beyaz boyayı da ponpon süngerler var onunla tampon hareketlerle uyguladım. Bu şekilde uygularsanız daha az iz bırakıyor. Tamponu uygularken kabarcıklar oluyor ama endişelenmeyin. Zaten çoğu kurudukça geçiyor.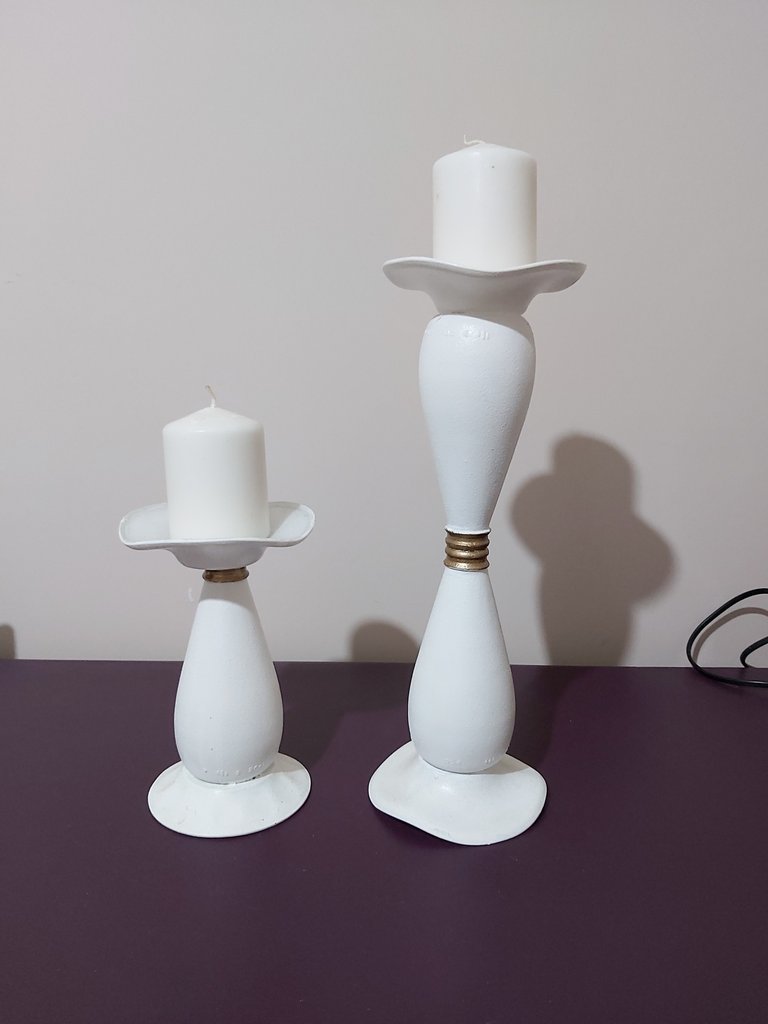 I am satisfied with the result. In this way, you can make yourself a candlestick at home. You will find entertainment for yourself during the quarantine period. Two birds with one stone :)
Ben sonuçtan memnun kaldım. Sizlerde bu şekilde evde kendinize şamdan yapabilirsiniz. Hem de karantina döneminde kendinize uğraş bulmuş olursunuz. Bir taşla iki kuş :)
Sevgiler,
Love,
TUĞBA