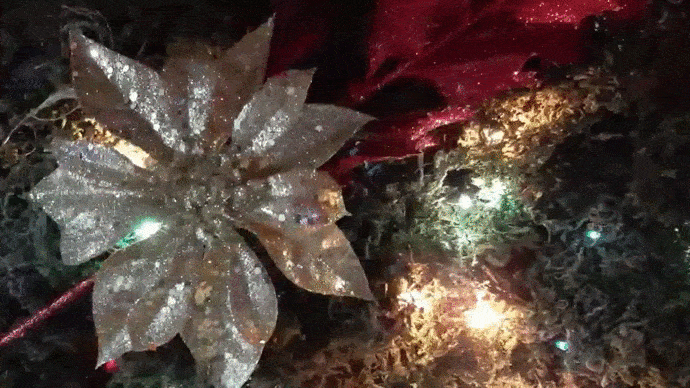 HAPPY HOLIDAYS
HELLOO, Impossible for me to let this wonderful time go by without wishing you and your families a wonderful holiday!
For me, it is the most beautiful time of the year, and if you would let me, I would celebrate it all year long, because it is a month full of magic, love, gifts, affection and a lot of happiness (I have been listening to Christmas music since September, so you can imagine how much I LOVE Christmas)

FELICES FIESTAS
HOLAAA, Imposible para mí dejar pasar esta maravillosa época sin desearles a ustedes y a sus familias unas maravillosas fiestas!
Para mí, es la época más hermosa, y si me dejaran, la celebraría todo el año, ya que es un mes lleno de magia, amor, regalos, cariño y mucha felicidad. (Yo ando escuchando música de navidad desde septiembre, así que ya se pueden imaginar lo mucho que me ENCANTA la navidad)



Although this 2020 has brought much sadness, tragedy and problems. I feel that it has been like a forced sabbatical year, because at least for me, it has forced me to self-analyze, to reflect, to discover new things and above all it has made me value much more those little things that have always been within our reach, and we did not know how important they were.
And I sincerely believe that this is what Christmas is all about. A time of much love, affection, reflections and good vibes.
A pesar de que este 2020 ha traído mucha tristeza, tragedias y problemas. Yo siento que ha sido como un año sabático forzado, porque por lo menos a mi, me ha obligado a autoanalizarme, a reflexionar, a descubrir nuevas cosas y sobre todo me ha hecho valorar mucho más esas pequeñas cosas que siempre han estado a nuestro alcance, y no sabíamos lo importantes que eran.
Y sinceramente yo creo que eso es lo que es plenamente la Navidad. Una época de mucho amor, cariño, reflexiones y buena vibra.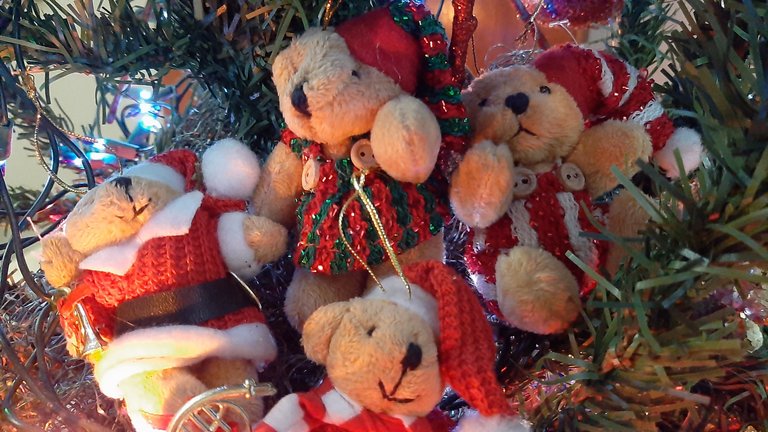 These cuddly toys are the members of my family, although they look big in the picture, they are miniatures that fit in your hand. And in my house, a few years ago, we hung them on the Christmas tree, symbolizing our family. Dorie (the little dog) is missing but we still haven't found the perfect stuffed animal for her.
Estos peluchitos son los integrantes de mi familia, aunque se vean grandes en la foto, son unas miniaturas que caben en la mano. Y en mi casa hacen unos años los colgamos en el arbolito de navidad simbolizando a nuestra familia. Falta Dorie (la perrita) pero todavía no hemos encontrado el peluchito perfecto para ella.



And well, I wish you all a Merry merry Christmas, a lot of blessings and a Happy New Year full of good vibes.
Especially to my dearest friends from Hive, who even though we have known each other for a very short time, I have managed to connect very well with all of you and I love you as if we knew each other for years! @starstrings01 @hiveqa @cwow2 @bigtom13 @ailindigo @wesphilbin @ceparl @josehany @jizzyjoe @whatamidoing @wolfofnostreet @ericvancewalton.
I send you a hug from the Dominican Republic, and yes, I know that I am your favorite Dominican. Thank you very much for joining me in this little corner of tripode, I hope you have a wonderful day, I hope to see you again soon... and remember, good vibes always.





---
--> Check out our products here <--
---

---
All the illustrations are created by me with Adobe Illustrator.
Video and photo taken with Samsung A50 and GIF made by me