¡Hola Hivers!
Feliz fin de semana, espero que lo estés disfrutando mucho. Retomando el "21 Days of photo challenge" , hoy en el día 18 como indica la imagen de @nathyortiz voy a escribir sobre lo "desconocido" junto con las fotos que se pueden asociar a esa palabra.
Hi Hivers!
Happy weekend, hope you are enjoying it a lot. Resuming the "21 Days of photo challenge" , today on day 18 as indicated by @nathyortiz's image I will write about the "unknown" along with photos that can be associated with that word.
---
Espero que te quedes y disfrutes de esta lectura, vamos a empezar.
I hope you stay and enjoy this reading, let's get started.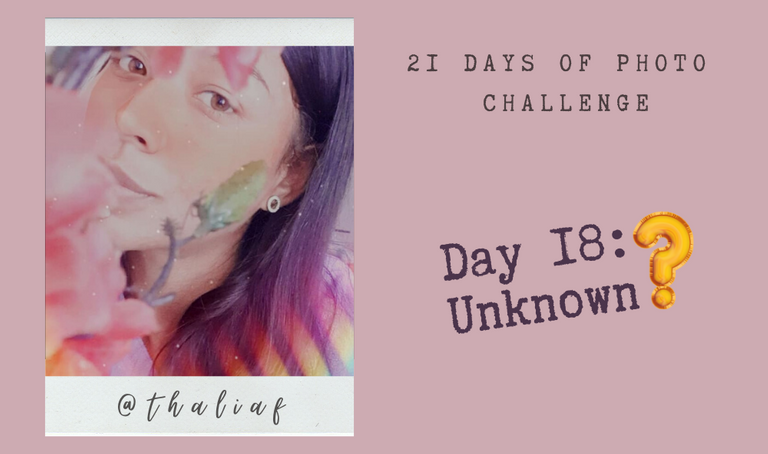 Image created by me in Canva

Desconocido:
Es todo aquello que evidentemente desconocemos, que no sabemos qué es porque nunca lo hemos visto ni experimentado.
En el caso de las personas son aquellas de las que no sabemos nada, ni de su personalidad, ni de su vida y mucho menos de sus sentimientos. A veces una persona desconocida puede ser vista a diario y la llamamos "conocida" porque la vemos a menudo pero sigue siendo desconocida por el simple hecho de que nunca ha habido un trato directo, es decir, no conocemos ningún dato.
Unknown:
It is everything that we obviously do not know, that we do not know what it is because we have never seen it or experienced it.
In the case of people are those of whom we know nothing, neither of his personality, nor of his life and much less of his feelings. Sometimes an unknown person can be seen daily and we call him "known" because we see him often but still remain unknown for the simple fact that there has never been a direct deal, ie we do not know any data.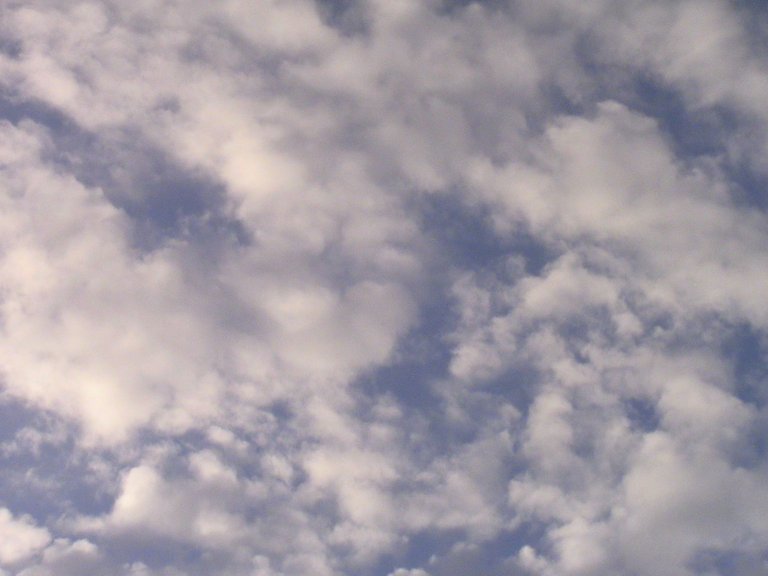 En mi crianza mis padres me enseñaron "no hablar con extraños" y desde muy pequeño mi mente asoció a un extraño como una persona con la que nunca he tratado y de la que mi familia y vecinos no saben nada.
También me enseñaron que lo desconocido puede ser peligroso por el hecho de no saber a qué nos enfrentaremos, así como la personalidad de una persona muchas veces ni siquiera terminamos de conocerla por lo que es algo que trato de tener siempre presente.
A lo largo de mi vida he "conocido" a personas rápidamente y al principio de cualquier relación todas las personas son buenas para nosotros porque solemos empezar la relación con una conversación donde surgen temas comunes, en medio de buenos momentos y así nos hacemos "cercanos", sin embargo pasa el tiempo y empezamos a toparnos con múltiples actitudes o personalidades que no conocíamos porque suelen surgir dependiendo de la situación que estemos viviendo con esa persona. A veces esto se vuelve realmente tedioso porque no sabíamos realmente a quién estábamos dejando entrar en nuestra vida o no sabíamos en qué vida nos estábamos metiendo.
In my upbringing my parents taught me "not to talk to strangers" and from a very young age my mind associated a stranger as a person I have never dealt with and of whom my family and neighbors know nothing about.
I was also taught that the unknown can be dangerous by the fact of not knowing what we will face, as well as the personality of a person many times we do not even finish knowing them so it is something I try to always keep in mind.
Throughout my life I have "met" people quickly and at the beginning of any relationship all people are good for us because we usually start the relationship with a conversation where common issues arise, in the midst of good times and thus become "close", however time passes and we begin to run into multiple attitudes or personalities that we did not know because they usually arise depending on the situation we are living with that person. Sometimes this becomes really tedious because we didn't really know who we were letting into our lives or we didn't know what life we were getting into.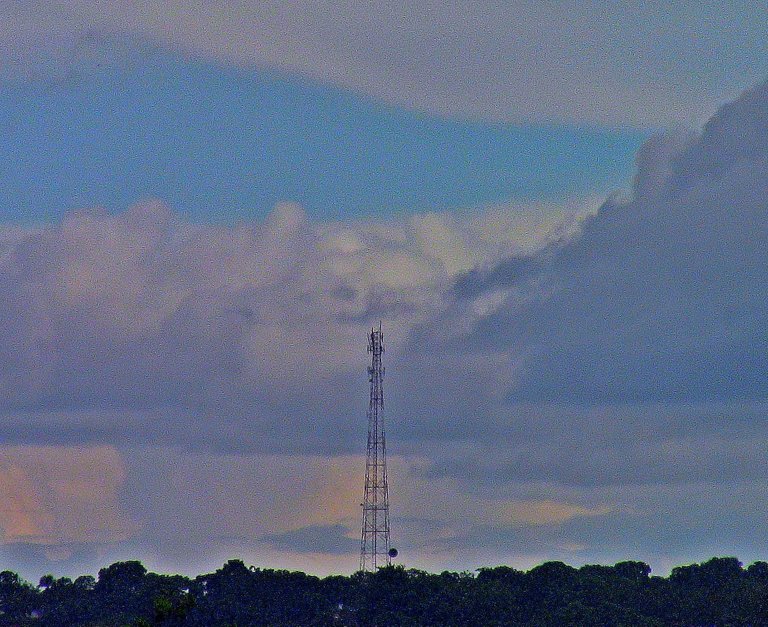 A raíz de estas experiencias con lo "desconocido" ahora tengo mucho cuidado con quién me relaciono o qué quiero experimentar en mi vida. Un buen ejemplo de la importancia de dejar que lo desconocido sea desconocido es cuando las personas que ya saben de qué se trata o qué es, nos advierten pero uno lo intenta de todos modos porque somos curiosos por naturaleza y nos dejamos llevar, entonces pasamos ese trago amargo, una mala experiencia o un error que hubiéramos querido evitar. Sin embargo, estas cosas forman parte de la vida y algunos tenemos la suerte de que estas experiencias se convierten en simples lecciones de vida y nada más.
Because of these experiences with the "unknown" I am now very careful about who I relate to or what I want to experience in my life. A good example of the importance of letting the unknown be unknown is when people who already know what it is about or what it is, warn us but one tries anyway because we are curious by nature and we let ourselves go, then we pass that bitter taste, a bad experience or a mistake that we would have liked to avoid. However, these things are part of life and some of us are lucky that these experiences become just life lessons and nothing more.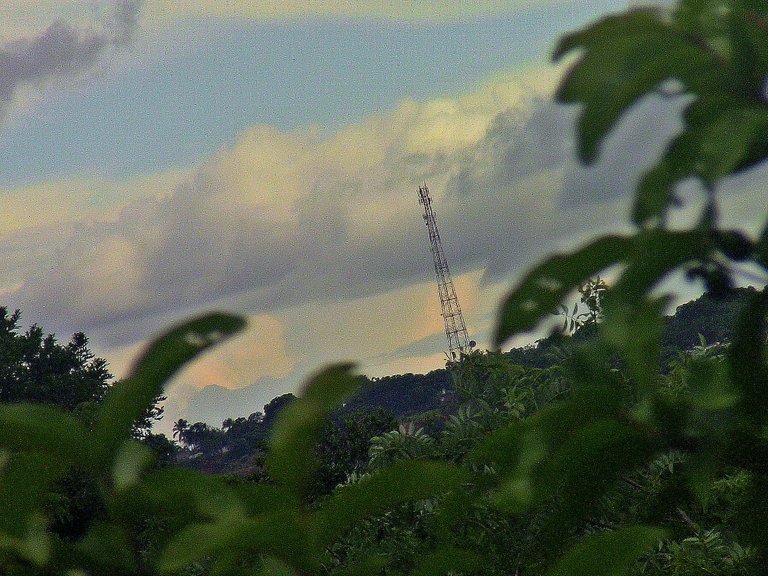 Lo desconocido es como el futuro, incierto pero inevitable y necesario. Un claro ejemplo de esto es cuando debemos enfrentarnos a situaciones, lugares, personas, trabajos y cosas que se salen de lo común, es ese momento en el que nos sentimos fuera de nuestra zona de confort pero como la vida sigue y nos mantiene en un constante crecimiento debemos experimentar "el cambio" que al principio siempre será desconocido.
Es tanta la perspectiva y el significado que puede tener esta simple palabra, que podría estar todo el día hablando y pensando en ella, pero lo que sí puedo decirles es que nos queda vivir la vida disfrutando del camino. Habrá momentos en los que tendremos miedo a lo desconocido pero será necesario, habrá momentos en los que un desconocido nos enganche fácilmente y se quede mucho tiempo en nuestras vidas, para bien o para mal, todo esto sucederá por una razón y lo importante es crecer y agradecer.
The unknown is like the future, uncertain but inevitable and necessary. A clear example of this is when we must face situations, places, people, jobs and things that are out of the ordinary, it is that moment when we feel out of our comfort zone but because life goes on and keeps us in a constant growth we must experience "the change" that at the beginning will always be unknown.
There is so much perspective and meaning that this simple word can have, that I could spend the whole day talking and thinking about it, but what I can tell you is that we are left to live life while enjoying the journey. There will be times where we will be afraid of the unknown but it will be necessary, there will be times where a stranger can easily hook us and stay long in our lives, for better or for worse, all this will happen for a reason and the important thing is to grow and be grateful.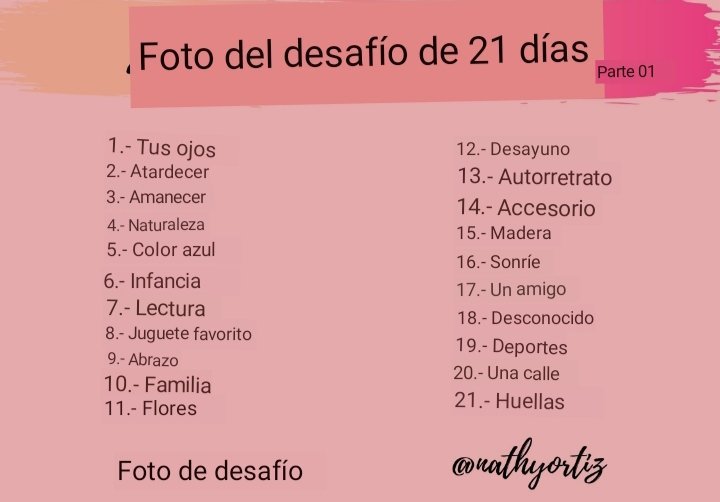 Gracias por haber llegado hasta aquí, no olviden cuidarse mucho, vean el caso del covid, muchos no sabemos como es vivir esta enfermedad, solo hemos escuchado las experiencias y realmente no me gustaría conocerla, por eso trato de seguir las pautas de higiene y seguridad. Hasta la próxima mis queridos Hivers.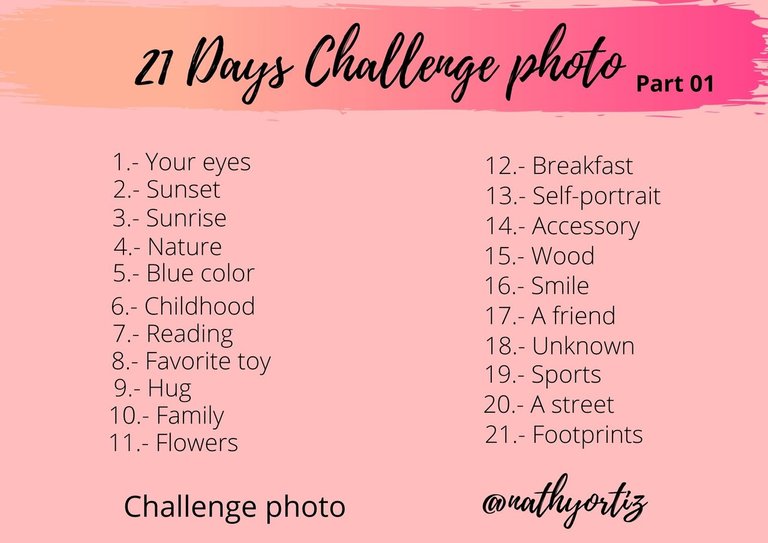 Thank you for having come this far, do not forget to take good care of yourselves, see the case of covid, many of us do not know how it is to live this disease, we have only heard about the experiences and I really would not like to know it, so I try to follow the guidelines of hygiene and safety. Until next time my dear Hivers.


Todas las fotos son de mi propiedad, tomadas por mí.
Traducción hecha en: Deepl
separador creado por mí en Canva y Pixlr.
Públicación del reto aquí

---

All photos are my property taken by me.
Translation made in: Deepl
separator created by me in Canva and Pixlr.
Publication of the challenge here


Banner created by me in Canva.