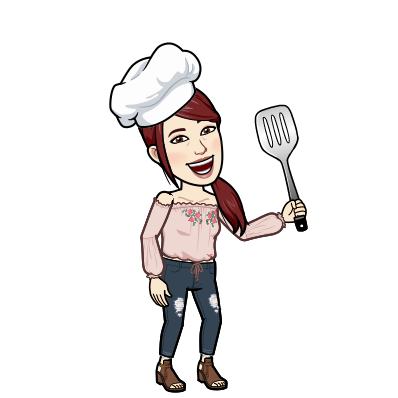 Disfruto mucho comer, quizás por eso veo en cocinar una manera de consentir a mis amores. En estos días mis hijos están con su abuela, así que hoy el almuerzo fue dedicado sólo a mi amado esposo. La preparación fue sencilla y el resultado muy rico, tal como me gusta. Les voy a contar a groso modo cómo lo hice.
I enjoy eating a lot, maybe that's why I see cooking as a way to pamper my loves. These days my children are with their grandmother, so today lunch was dedicated only to my beloved husband. The preparation was simple and the result was very tasty, just as I like it. I will tell you roughly how I did it.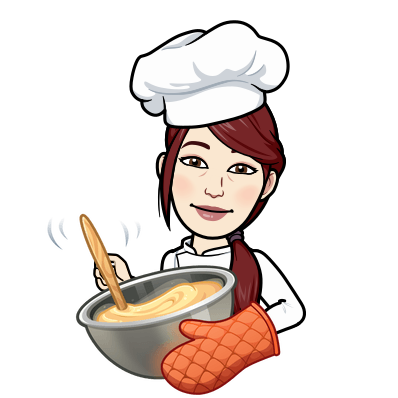 ---
Les presento mi... /I present to you my...
FILETE DE PECHUGA AL SARTÉN / CHICKEN BREAST FILLET
La verdad es que inventé ese nombre jajaja, no tengo idea de cómo se llama la forma en la que preparé el pollo. Eran 6 filetes de pechuga, las aderecé con una cucharada de mayonesa, una cucharadita de mostaza, 3 dientes pequeños de ajo, un ají dulce, un toque de orégano, el jugo de medio limón y sal al gusto. Mezclé todo y lo dejé un rato en el envase, mientras iba adelantando los contornos. Luego de media hora, coloqué los filetes en el sartén, previamente aceitado y sólo los dejé dorar.
The truth is I made up that name hahaha, I have no idea what the name of the way I prepared the chicken is. It was 6 breast fillets, I seasoned them with a spoonful of mayonnaise, a teaspoon of mustard, 3 small cloves of garlic, a sweet pepper, a touch of oregano, the juice of half a lemon and salt to taste. I mixed everything together and left it in the container for a while, while I advanced the contours. After half an hour, I placed the fillets in the pan, previously oiled, and only let them brown.
---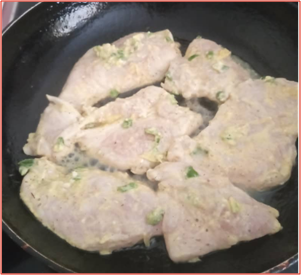 ---
PURÉ DE PAPAS / MASHED POTATOES
En primer lugar puse a sancochar 4 papas medianas, con una cucharadita de sal. Cuando estuvieron listas, les escurrí el agua, dejándoles sólo un poquito para darle la consistencia al puré, normalmente se le agrega leche en vez de agua, pero como mis hijos son alérgicos a la leche, me acostumbré a prepararlo así e igual queda bien. Luego les coloqué una cucharada de mantequilla, para entonces pisarlas con un pisa-papas, mientras se van mezclando los ingredientes. De esta manera ya estaba listo el puré.
First I boiled 4 medium potatoes, with a teaspoon of salt. When they were ready, I drained the water off them, leaving just a little bit to give the mashed potatoes their consistency; normally you add milk instead of water, but since my kids are allergic to milk, I got used to preparing it that way and it still looks good. I put a spoonful of butter on them and then stomp on them with a potato masher as the ingredients are mixed. This way the mashed potatoes were ready.
---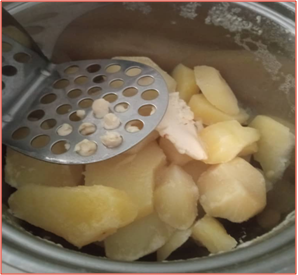 ---
ENSALADA DE REPOLLO Y ZANAHORIA / CABBAGE AND CARROT SALAD
También esta preparación fue básica, mi esposo me había rallado previamente media zanahoria y un trozo pequeño de repollo, considerando que era para dos porciones; por lo que sólo tuve que colocar el aderezo: dos cucharadas de vinagre, una cucharadita de azúcar, dos cucharadas de mayonesa y sal al gusto. Mezclé todo y ya tenía la ensalada.
Also this preparation was basic, my husband had previously grated half a carrot and a small piece of cabbage, considering that it was for two portions; so I only had to put the dressing: two spoonfuls of vinegar, one teaspoon of sugar, two spoonfuls of mayonnaise and salt to taste. I mixed everything up and had the salad
---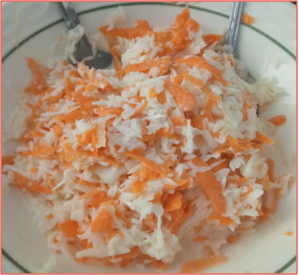 ---
También preparé tajadas, pues quería lucirme, jajaja... ¿El resultado?
I also prepared slices, because I wanted to show off, hahaha... The result?
---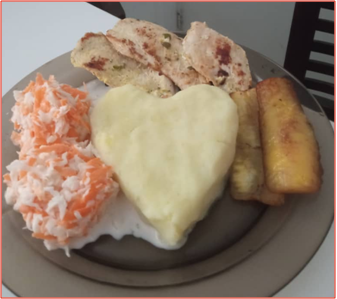 ---
La expresión de mi esposo al ver el plato y el gusto con que se lo comió me hizo saber que mi misión había sido un éxito. Siempre he pensado que el amor con el que se preparan los alimentos se puede sentir al comerlos.
My husband's expression at the sight of the dish and the taste with which he ate it let me know that my mission had been a success. I have always thought that the love with which food is prepared can be felt when eating it.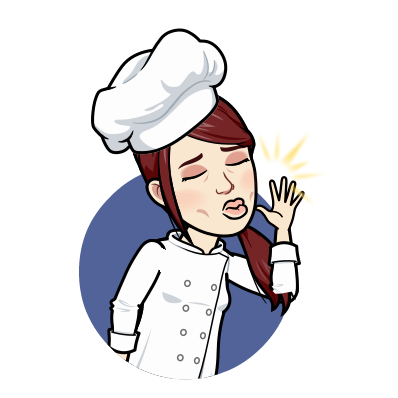 Emoticones personalizados con la aplicación Bitmoji
Fotografías propias
Separador elaborado en PowerPoint
Traducción cortesía de DeepL.com