(ESP/ENG) "Iniciativa" El mejor día de mi vida | "Initiative" The best day of my life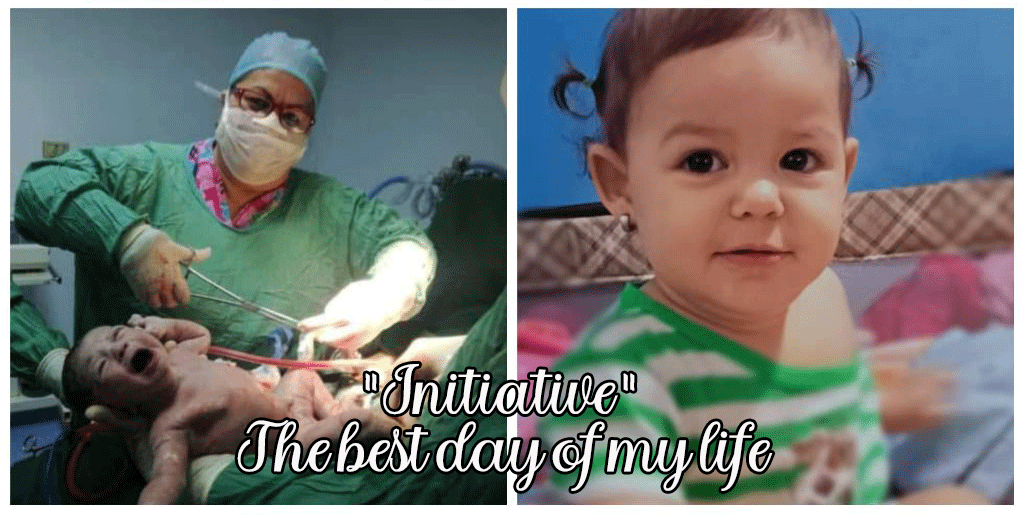 Hola mis Hiver's, me he tomado el día para disfrutar de los post que escriben mis compañeros y encontré esta bonita iniciativa promocionada por la amiga @emilycorvof, trata de describir el mejor día de tu vida, llamo mi atención porque no a cualquier persona le podrá interesar tu vida y quizás nadie te había preguntado nunca, oye cuál consideras que ha sido el mejor día de tu vida, pero por que no compartirlo para ti mismo o simplemente para recordarlo.
Hello my Hiver's, I have taken the day to enjoy the posts written by my colleagues and I found this nice initiative promoted by the friend @emilycorvof, try to describe the best day of your life, I called my attention because not everyone will be interested in your life and maybe no one had ever asked you, hey what do you consider to have been the best day of your life, but why not share it for yourself or just to remember it.

Yo considero que tenemos que ser agradecidos por cada día, porque cada día es importante, pero tengo uno en especial que no se me sale de la mente y ahora tengo una anécdota muy bonita que nunca olvidare, mi mejor día en la vida ha sido traer a mi hija al mundo, yo soy muy romántica, muy agradecida con las personas, con los detalles, siempre mi esposo y yo anhelamos tener un bebé (ser padres), mientras algunos jóvenes pensaban en viajar o ir a fiestas, el y yo pensábamos en como sería nuestra hija si era niña le colocaríamos Alissandra Sophia y si era niño Aleccio José, finalmente luego de 12 años nace la tan esperada hija, esperada no solo por sus padres también por sus abuelos y bisabuelos, teníamos una cesárea programa para el 28 de abril (cumpleaños de mi mamá), pero se adelantó y nació el 18 de abril.
I consider that we have to be thankful for every day, because every day is important, but I have one in particular that does not leave my mind and now I have a very nice anecdote that I will never forget, my best day in life has been to bring my daughter into the world, I am very romantic, very grateful to people, with the details, my husband and I always longed to have a baby (to be parents), while some young people thought about traveling or going to parties, he and I thought about how our daughter would be, if it was a girl we would name her Alissandra Sophia and if it was a boy Aleccio José, finally after 12 years the long awaited daughter was born, awaited not only by her parents but also by her grandparents and great grandparents, we had a cesarean section scheduled for April 28 (my mom's birthday), but she was born on April 18.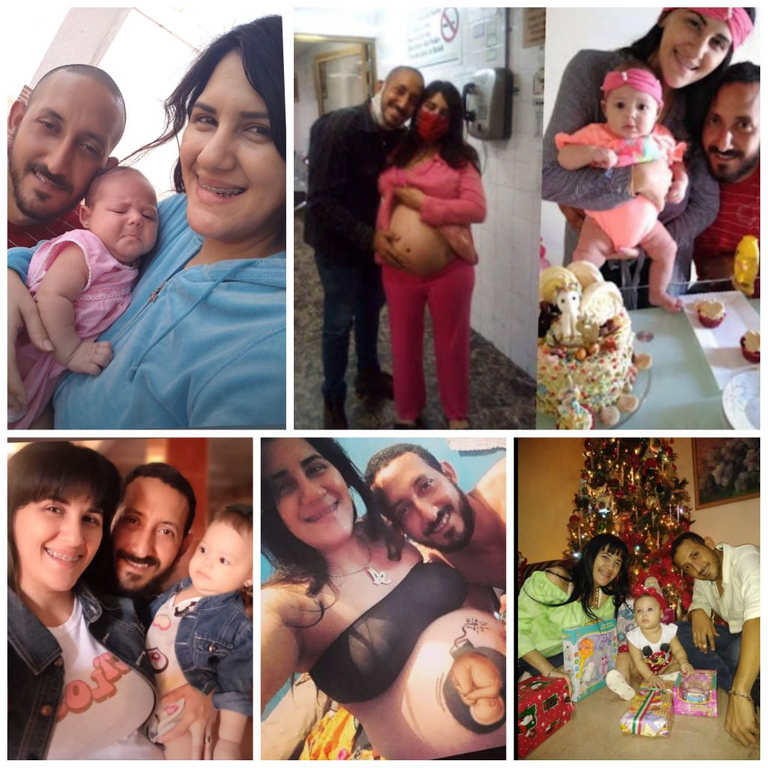 Yo siempre pensaba, que lindo es una niña bendecida, porque es fruto del amor de un amor bonito y sincero y pues así vino al mundo y llegó en el momento más difícil para el planeta, pero ella llego para hacer mi vida mucho más llevadera, este año de encierro ha sido maravilloso, no hay un día que no despierte y ella me reciba con su tierna carita, ella se ha convertido en un pilar fundamental para nuestras vidas así que recuerdo perfectamente el momento en el que entre, la doctora "Rosa" vecina y doctora de la familia me dice si tienes ganas de hacer pipí este es el momento, yo voy vestida de azul al baño con mucho frío había un espejo grande y observo mi cuerpo todo hinchado con una figura bastante moldeada y acaricio mi barriga, diciendo ya por fin en unos minutos nos conoceremos, así que entre al quirófano, preparada para la cesárea, atenta a todo lo que decía la doctora. ella me iba hablando mientras me hacía la cesárea y yo entendía a la perfección, ella me dice Alexandra que muchacha más hermosa, dios mío, dios la bendiga, sus palabras textuales fueron "bienvenida al mundo criatura hermosa", que grandes ojos y que hermosa.
I always thought, how beautiful is a blessed child, because she is the fruit of the love of a beautiful and sincere love and so she came into the world and arrived at the most difficult moment for the planet, but she arrived to make my life much more bearable, this year of confinement has been wonderful, there is not a day that I don't wake up and she welcomes me with her tender face, she has become a fundamental pillar for our lives so I remember perfectly the moment when I came in, Dr. "Rosa", our neighbor and family doctor tells me if you feel like peeing this is the moment, I go dressed in blue to the bathroom with a big mirror and I observe my body all swollen with a very molded figure and I caress my belly, saying finally in a few minutes we will meet, so I go into the operating room, prepared for the cesarean section, attentive to everything the doctor says, she was talking to me while she was doing the cesarean section. She was talking to me while she was doing the cesarean section and I understood perfectly, she told me Alexandra what a beautiful girl, my God, God bless her, her exact words were "welcome to the world beautiful creature", what big eyes and how beautiful.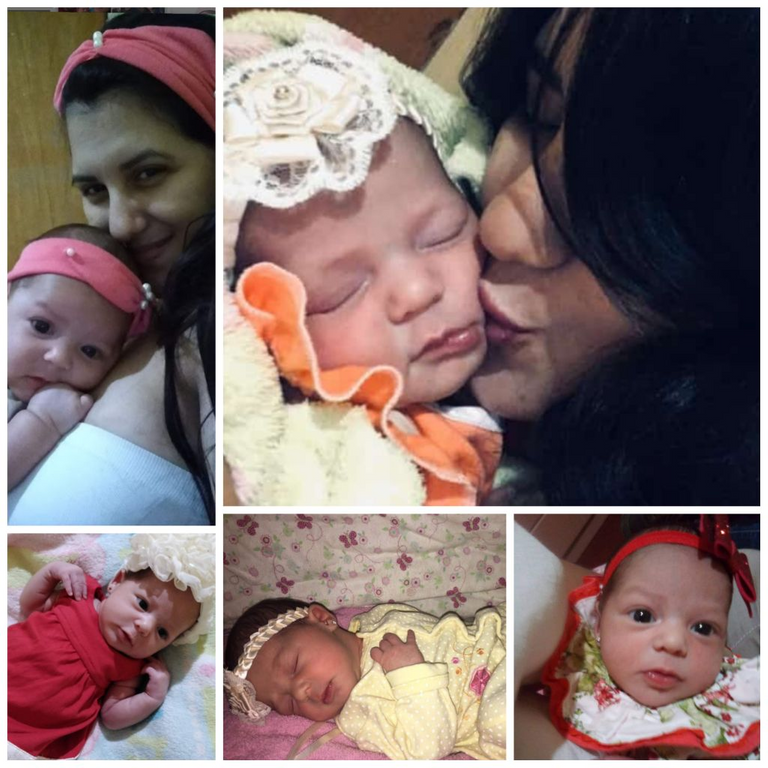 Esas palabras jamás las olvidare, yo sentí un orgullo tan enorme que me recorría por todo el cuerpo, no podía creer que una noche de pasión me dio lo más hermoso de todos mis días, cuando me la pusieron en el pecho, yo sentía que no podía creer que esa niña tan hermosa y con esos ojos tan hermosas había venido de mi vientre, recordar cuando salí de quirófano ver a mis padres, mi papá me dio un beso y me dijo lo lograste (mi papá siempre quiso conocer nietos) el tiene una enfermedad del corazón y nuestro mayor temor siempre fue que no conociera nietos, así que mi emoción ese día no podía ser más grande, le di una hija al amor de mi vida, que además sus padres son fallecidos, así que le di lo más grande, una hija por quién luchar, su compañera de vida. Ese día yo fui muy feliz y hasta el momento yo no he tenido otro día parecido, por eso digo que mi mayor alegría fue ese momento en el que logré tener una hija y no solo ser feliz, si no darle felicidad a mi familia, estoy agradecida de ese momento.
I will never forget those words, I felt such a huge pride that ran through my whole body, I could not believe that a night of passion gave me the most beautiful thing of all my days, when they put her in my chest, I felt that I could not believe that this beautiful girl with those beautiful eyes had come from my womb, remember when I came out of surgery to see my parents, My dad gave me a kiss and told me you made it (my dad always wanted to have grandchildren) he has a heart disease and our biggest fear was always that he would not have grandchildren, so my excitement that day could not have been greater, I gave a daughter to the love of my life, who also his parents are deceased, so I gave him the greatest thing, a daughter to fight for, his partner in life. That day I was very happy and so far I have not had another day like that, so I say that my greatest joy was that moment when I managed to have a daughter and not only be happy, but give happiness to my family, I am grateful for that moment.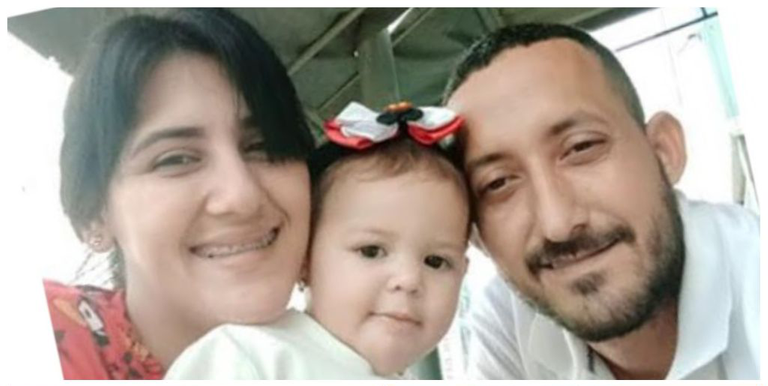 Hoy quiero darle las gracias a mi doctora Rosa quien falleció el 17 de julio a consecuencias del Covid, nosotros queríamos que ella fuese la madrina de nuestra pequeña Alissandra y lamentablemente no pudimos bautizarla, la vida nos da momentos buenos y momentos malos, todos son de provecho, así que demos el gracias cada mañana, por seguir viviendo para contar un día mas.
Today I want to thank my doctor Rosa who passed away on July 17 as a result of the Covid, we wanted her to be the godmother of our little Alissandra and unfortunately we could not baptize her, life gives us good moments and bad moments, all are beneficial, so let's give thanks every morning, for continuing to live to count one more day.

Recursos Utilizados | Resources Used
La imagen del banner y el divisor fueron realizadas y editadas con Photoshop Cs 6 | The image of the banner and the divider were made and edited with Photoshop Cs 6.

Todas las imágenes fueron tomadas por mi con mi celular Realme C3 | All images were taken by me with my Realme C3 cell phone.

Traducido con www.DeepL.com | Translated with www.DeepL.com/Translator.


---
---