Soy de las personas que cuando se trata de hacer ejercicio, me gusta al aire libre, nada de gimnasios, por eso lugares como el Cerro Casupo, en la ciudad de Valencia, estado Carabobo, son los que prefiero para sudar un poco.
I'm one of those people who when it comes to exercising, I like the outdoors, no gyms, that is why places like Cerro Casupo, in the city of Valencia, Carabobo state, are the ones I prefer to sweat a little.
Como no vivo en Valencia, me puse de acuerdo con una amiga para ir para allá un sábado desde la ciudad de Maracay, que está a una distancia de unos 50 km.
Since I don't live in Valencia, I told a friend to go there on a Saturday from the city of Maracay, which is at a distance of about 50 km.
El Parque Municipal Cerro Casupo queda en la Parroquia Urbana San José y se entra por la calle 4 Avenidas. Llegamos temprano en la mañana y ya había bastante gente, es un sitio muy concurrido los fines de semana. Por sus alrededores hay muchos vendedores de jugos, frutas y chucherías.
Cerro Casupo Municipal Park is in the San José Urban Parish and you enter through 4 Avenidas Street. We arrived early in the morning and there were already enough people, it is a very busy place on weekends. In its surroundings there are many vendors selling juices, fruits and snacks.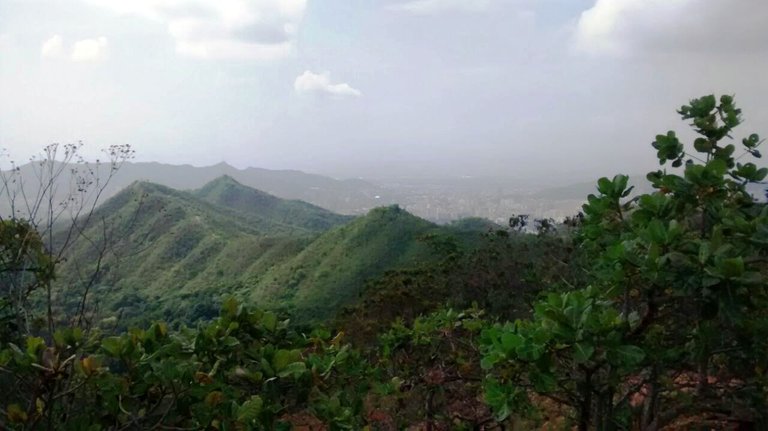 A pesar de que visitaba la ciudad de Valencia regularmente cuando mis primos vivían allá, nunca fuimos a este cerro, por lo que era un lugar que tenía pendiente conocer.
Despite the fact that I visited the city of Valencia regularly when my cousins lived there, we never went to this hill, so it was a place that I had yet to visit.
Nos costó un poco encontrar lugar para que mi amiga estacionara su carro, lo dejamos bastante lejos de la entrada al cerro. Afortunadamente hay muchos árboles allí que nos dieron sombra hasta llegar al inicio del recorrido porque hacía bastante calor.
It took us a while to find a place for my friend to park her car, we left it quite far from the entrance to the hill. Fortunately there are many trees there that gave us shade until we reached the beginning of the route because it was quite hot.
No es una ruta larga, el sendero de ida y vuelta hasta la colina Casupo de 795 metros de altura, es de casi 2 km, pero si tiene algunas subidas fuertes, sobre todo por lo irregular del terreno, con muchas rocas. Allí hay también un río.
It is not a long route, the round-trip path to the 795-meter-high Casupo hill is almost 2 km long, but it does have some steep climbs, especially due to the uneven terrain, with many rocks. There is also a river there.
Este lugar con 693 hectáreas, declarado Parque Municipal en 1998 está bien señalizado y tiene zonas de descanso en algunos puntos.
This 693-hectare site, declared a Municipal Park in 1998, is well signposted and has rest areas at some points.
Aquí en esta cordillera hay otros cerros también, como Marín, Colorado y La Paz, pero Casupo es el más visitado porque es más accesible, el de menor dificultad.
Here in this mountain range there are other hills as well, such as Marín, Colorado and La Paz, but Casupo is the most visited because it's more accessible, the one with the least difficulty.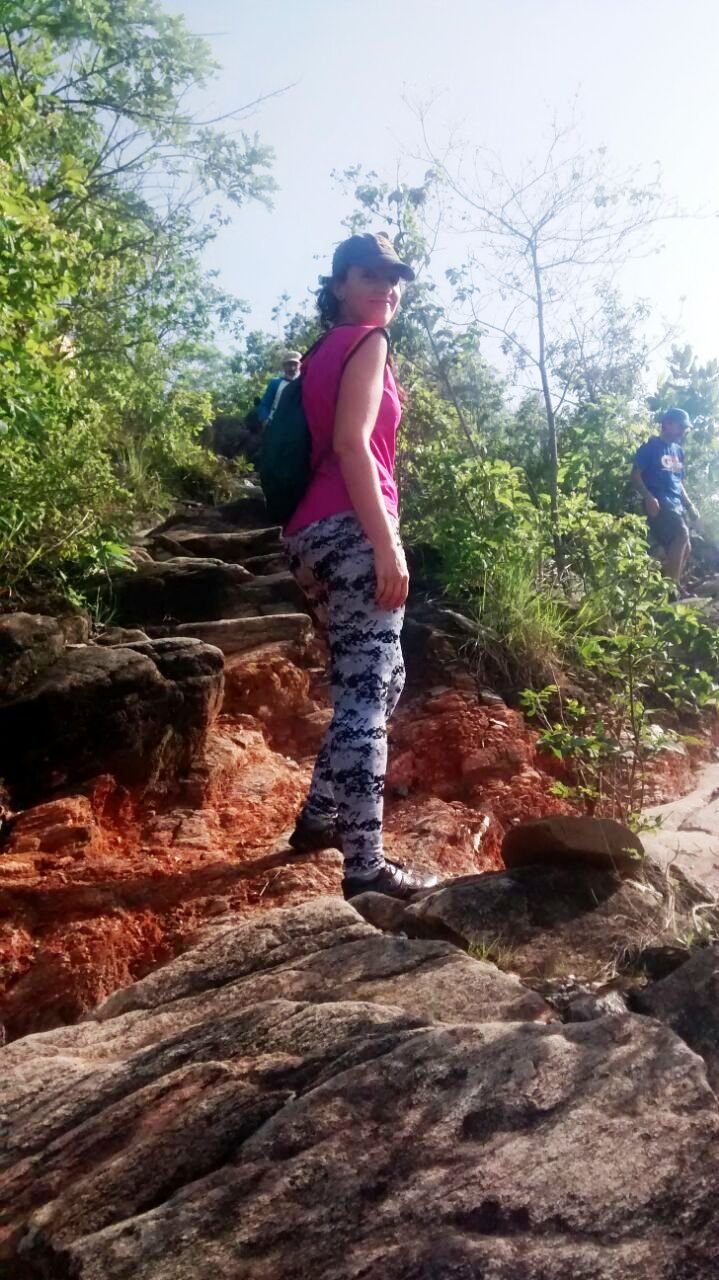 Cuando comienzas a subir la vegetación es abundante y el camino de tierra, luego llegas como a unas escaleras de piedra sin sombra y después de pasar por un refugio llamado "La Casita del Medio", el sendero continúa sin árboles y más empinado.
When you start to climb the vegetation is abundant and the dirt road, then you reach some stone stairs without shade and after passing through a refuge called "The Little House in the Middle", the path continues without trees and steeper.
Desde la cima puedes observar una vista general de la ciudad de Valencia. Dicen que hay muchos mamíferos por aquí, como venados, onzas o zorros, aparte de reptiles, pero no tuvimos la suerte de ver ninguno, sólo aves.
From the top you can see a general view of the city of Valencia. They say that there are many mammals around here, like deer, ounces or foxes, apart from reptiles, but we were not lucky enough to see any, only birds.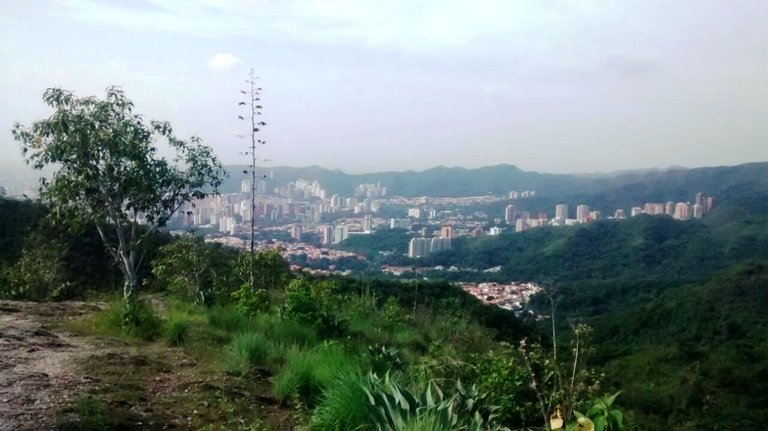 No todas las personas hacen el recorrido completo, cuando íbamos por la última parte sólo estábamos unas 4 ó 5 personas allí. Dependiendo del ritmo, en máximo 40 minutos se hace esta ruta.
Not all people do the complete route, when we were going for the last part we were only about 4 or 5 people there. Depending on the pace, this route takes a maximum of 40 minutes.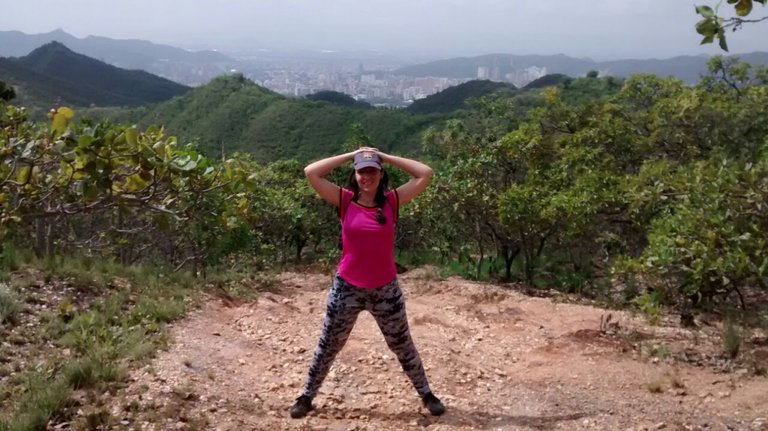 Hacer senderismo es de mis actividades favoritas y definitivamente es como una especie de terapia, estar en contacto con la naturaleza siempre mejora nuestra actitud hacia la vida.
Trekking is one of my favorite activities and it is definitely a kind of therapy, being in contact with nature always improves our attitude towards life.
¡GRACIAS POR LEER! / THANKS FOR READING!
Fotos hechas por mí con mi celular Orinoquia Y330 / Photos made by me with my Orinoquia Y330 cell phone