If you think that bringing classical music is a gamble then you have never seen Mozart In The Jungle. Whether or not you are a Beethoven, Vivaldi and company fan, it doesn't matter because Mozart In the Jungle will win over skeptics and make fans' eyes sparkle.
The series is written and conceived by the multifaceted Jason Schwartzman (who also plays in the series in some episodes) and especially by Roman Coppola, son of Francis Ford Coppola.
The idea behind it was to make classical music pop, trying to offer a light-hearted key to a genre considered niche and boring to most, especially young people.
From the meeting between the two authors was born a collaboration that resulted in the creation of a TV series that found its home in the newly born serial rib of the Amazon empire.
Who better than Gabriel Garcia Bernal could have embodied the desire to bring classic music on TV in a lively, cheerful, conflictual and free way?
And so the choice of the Mexican actor appears today as obvious, almost obvious.
The character played by the protagonist of "I Diari della Motocicletta" played by the master Rodrigo De Sousa, young and brilliant director of orchesta contended by philharmonic orchestras around the world despite an exuberant and unpredictable character.
He will be the man chosen by Gloria Windsor, president of the New York Symphny, to raise the fortunes of the famous symphony of the Big Apple, which has long been struggling with an economic, institutional and artistic crisis.
It will be there that the stormy and innocent souls of Rodrigo and Hailey Rutledge will cross paths, creating a unique artistic and loving interweaving.
The greatness of Coppola's series lies in having really talked about classical music without anyone feeling its usual weight, thanks to a series of colorful and carefree dynamics that have lightened its gravitas.
But Mozart In the Jungle is anything but a series where classical music is at the center and there is no room for anything else.
Rodrigo is shown to us as an eternal Peter Pan, a man who never grew up, who loves life, loves music and without it would not know what to do, how to exist in the world.
In the encounter with Hailey he tries to mature, to evolve, dedicating himself, almost unconsciously, to the human and professional growth of another human being.
Rodrigo tries to be what master Rivera was to him:
a point of reference, an inspiration, a guide.
But in all this it is love that wins and triumphs, and he does so in non-canonical forms. Lovers are such even when they let themselves go, when they create concentric spaces in which they do not even touch each other but where everyone is free to exalt themselves and enjoy their freedom.
Mozart In The Jungle is a treatise on art and freedom with few equals on TV.
The classical canons of human relations, social conventions, artistic and institutional architectures, are constantly avoided, and in itself this is already a great challenge to win if you put classical music at the center of everything, rigorous, iron and orderly in the common conception like few other genres.
Rodrigo is a source of heat that permeates the viewer, a volcano of ideas and a blaze of passions that explode daily in an existence lived without material or earthly constraints with joy and happiness as the only destination to arrive day after day.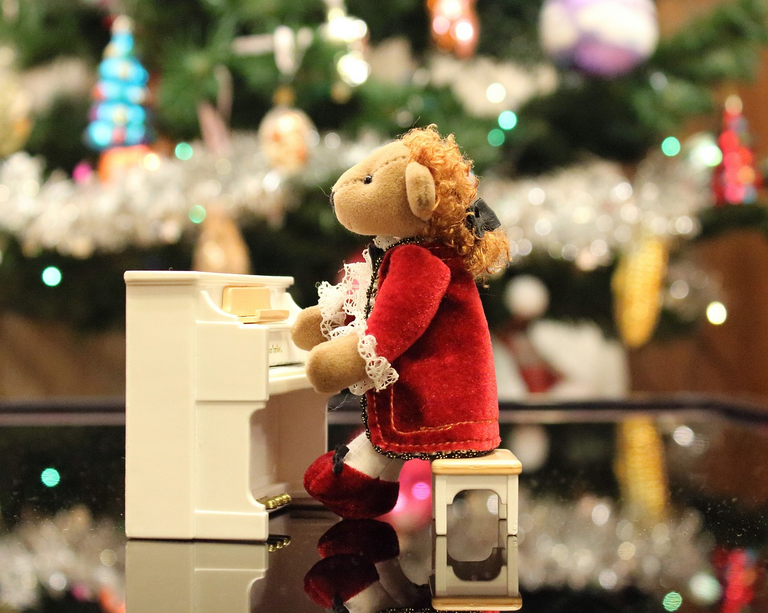 A freedom that we see in an outdoor concert or in a performance in prison, playing with children or walking by bike, in Venice or Japan, without brakes, without limits but always with clear goals in the heart even if not fixed in the mind.
It's a melody so simple and yet fantastic
will exclaim Rodrigo listening to the first live performance of the children of the Emilio Rivera Orchestra founded by him in honor of his master.
Sometimes it takes an injury to heal wounds
Another pearl that we listen to in the season (perhaps series) final of the fourth season.
A series of unique dialogues, situations and performances that make your heart beat faster and feel lighter in this amazing comedy that Amazon has proposed us and thanks to which it has won several awards including Emmy and Golden Globe.
The finale of the fourth season is perhaps the series finale (Amazon has clamorously cancelled the series) and leaves us with a final but open episode, to seal the freedom of which the series has become the bearer, in a symbolic triumph of sound, music, passion and love with Rodrigo silently on the sidelines to weave the ranks.
Play With the Blood
If a little teaching has been delivered to us is to play with blood, to live with blood, beyond all limits known to us, looking inside ourselves to fly high above what we can perceive, as Mozart would have done if he had got lost in the jungle, finding himself thanks to music.
Translated with www.DeepL.com/Translator (free version)
Follow me
WEBSITE
www.serialfiller.org
INSTAGRAM
https://www.instagram.com/nellamentediunserialfiller/
TWITTER
https://twitter.com/FillerSerial
FACEBOOK
https://www.facebook.com/Nella-mente-di-un-SerialFiller-112405587217122/