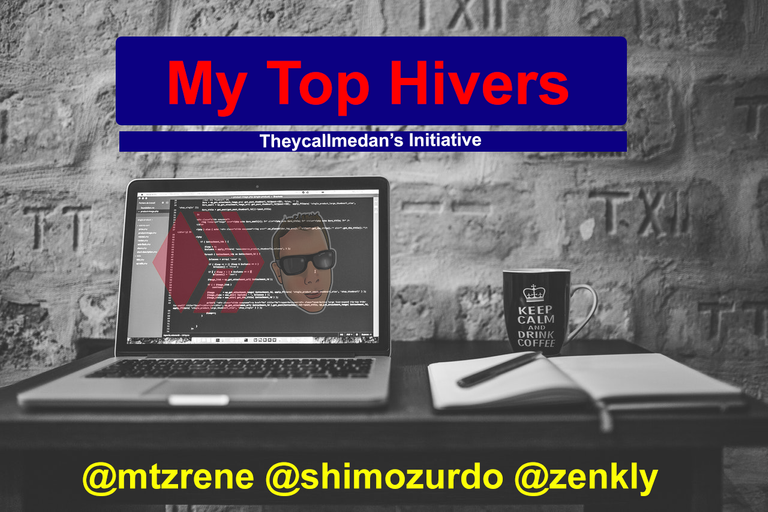 This is my contribution to @theycallmedan's #tophivers initiative, where he invites us to recommend from 3 to 5 top content creators.
Esta es mi contribución a la iniciativa #tophivers de @theycallmedan, donde nos invita a recomendar de 3 a 5 creadores de contenidos de primer nivel.


Me gustaría resaltar que los tres hivers que voy a recomendar son mexicanos con mucho talento tanto creativo como en la programación. El primero que recomiendo es a @mtzrene, un amigo de Ensenada, México que se interesó por entrar a la plataforma de Hive hace dos semanas. Además de su presentación nos ha compartido un par de publicaciones sobre cómo crear nubes de palabras para la promoción de Hive utilizando el lenguaje de programación Python. En el siguiente enlace pueden encontrar sus publicaciones https://peakd.com/@mtzrene/posts.
I would like to emphasize that the three hivers I will recommend are very talented Mexicans. They're very creative and they like programming. The first one I recommend is @mtzrene, a friend from Ensenada, Mexico who was interested in joining the Hive platform 2 weeks ago. Besides his presentation, he shared with us a couple of publications about how to create word clouds for the promotion of Hive using the Python programming language. You can find his publications in the next link https://peakd.com/@mtzrene/posts.

El segundo mexicano que me gustaría resaltar es a @shimozurdo, quien se ha destacado por sus publicaciones de graffiti con aerosol a baja presión. Sin embargo, otra de sus habilidades es la programación en nodeJS y Angular. El es el usuario que desarrolló el sitio web de la Comunidad Alebrijes en https://alebrijes.herokuapp.com en donde pueden solicitar delegaciones temporales, cuentas de hive y reclamar tickets para crear cuentas. Lean sus publicaciones en https://peakd.com/@shimozurdo/posts.
The second Mexican I'd like to highlight is @shimozurdo, who has become known for his low-pressure spray-on graffiti publications. However, another of his skills is programming in nodeJS and Angular. He is the user who developed the Alebrijes Community website at https://alebrijes.herokuapp.com where you can request temporary delegations, hive accounts, and claim tickets to create accounts. Read his publications at https://peakd.com/@shimozurdo/posts.

Por último, pero no menos importante, les recomiendo a @zenkly. Otro mexicano con mucho talento y conocimiento sobre la cadena de bloques hive. Después un largo periodo sin publicar, nos ha venido compartiendo una serie de publicaciones de alta calidad y participando en las iniciativas. Zenkly ha diseñado a Fisgón (un bot de discord) que interacciona con la blockchain de hive. El bot de discord es de moderación, el cual pide a los usuarios que voten y comenten una de las publicaciones en el canal antes de promocionar sus publicaciones. Esto ayuda a evitar el spam y aumentar la interacción entre los usuarios de la comunidad Hive. Los invito a descubrir las publicaciones de Ernesto en https://peakd.com/@zenkly/posts.
Finally, I recommend @zenkly. Another Mexican with a lot of talent and knowledge about the Hive blockchain. After a long period without publishing, he has been sharing with us a series of high-quality publications and participating in the initiatives. Zenkly has designed Fisgón (a discord bot) that interacts with the hive blockchain. The discord bot is a moderation bot, which asks users to vote and comment on one of the posts in the channel before promoting their posts. This helps to avoid spam and increase interaction between users of the Hive community. I invite you to discover Ernesto's posts at https://peakd.com/@zenkly/posts.

---
Es importante que participen en la iniciativa de @theycallmedan y compartan sus publicaciones en twitter para promocionar a Hive en otras redes sociales.
It's important that you participate in the @theycallmedan's initiative and share your publications on Twitter to promote Hive on other social media.
Saludos,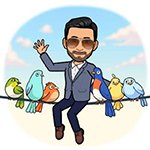 @ritch
Fundador de la Comunidad Alebrijes y Co-fundador de Hive México
---
---
---
---
Credits: The first image is of public domain from Pexels and modified by @ritch. The Hive Graphic was designed by @doze and I am using it with his permission.