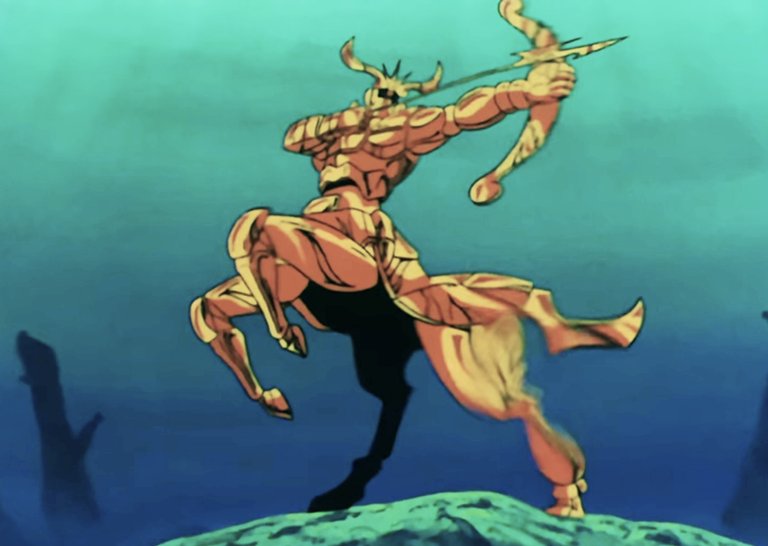 Screenshot in a scene from Saint Seya / Captura de pantalla en una escena de Caballeros del Zodiaco.
---
[ENG] Greetings community! I think is important to take care of our own thoughts, sometimes we find phrases that become a kind of mantra, that happens to me from time to time and I try to make them meaningful prayers and work as an impulse for every day's action and decision-making.
I'm 'following' some pages that go with the flow of stoicism on the instagram, I'm not trying to make propaganda, but I could name some of the ones that I like just in case you like stoic quotes, for example @dailyphilosopher, @mindofastoic and @theexaminedstoic. There is a lot of good phrases very interesting and a lot of ancient knowledge that make me think more lightly about life.
Today I share with you some of the quotes that I liked the most, such as a dose of self-control, meditation and motivation:
"Death smiles at us all, but all a man can do is smile back."
Marcus Aurelius
"What the wise do in the beginning, fools do in the end."
Warren Buffett
"You're going to pay a price for every bloody thing you do and everything you don't do. You don't get to choose to not pay a price. You get to choose which poison you're going to take. That's it."
Jordan B. Peterson
"It's not what happends to you, but how you react to it that matters."
Epictetus
"Sweat more during peace; bleed less during war."
Sun Tzu
I like to read this kind of quotes with regularity, I also preffer it to be different every day so each day I can think deep about some aspect in life.
Thanks for visiting, hope you liked!
---

---
[ESP] ¡Saludos, comunidad! Creo que es importante cuidar nuestros propios pensamientos, a veces nos encontramos con frases que se convierten en especies de mantra, me pasa de vez en cuando y trato de que sean oraciones significativas y que funcionen como impulso para la acción y la toma de decisiones de cada día.

Esta semana salí de una gripe, pero se enfermó mi abuela y mi tío que son personas mayores, he intentado pensar más objetivamente acerca de todo y mantener alto el entusiasmo.

Estoy 'siguiendo' algunas páginas que van con el flujo del estoicismo en Instagram, no estoy tratando de hacer propaganda, pero podría nombrar algunas de las que me gustan por si les interesan las freases estoicas, por ejemplo @dailyphilosopher, @mindofastoic y @theexaminedstoic. Ahí encontraran un montón de frases buenas, muy interesantes y mucho conocimiento antiguo que me hacen pensar más ligeramente acerca de la vida.

Hoy les comparto algunas de las citas que más me gustaron, como una dosis de autocontrol, meditación y motivación:

"La muerte nos sonríe a todos, pero todo lo que un hombre puede hacer es devolverle la sonrisa."
Marco Aurelio

"Lo que hacen los sabios al principio, lo hacen los necios al final."
Warren Buffett

"Vas a pagar un precio por cada maldita cosa que hagas y todo lo que no hagas. No puedes elegir no pagar un precio. Puedes elegir qué veneno vas a tomar. Eso es."
Jordan B. Peterson

"No es lo que te sucede, sino cómo reaccionas ante ello lo que importa."
Epicteto

"Sudar más durante la paz; sangrar menos durante la guerra."
Sun Tzu

Me gusta leer este tipo de citas con regularidad, también prefiero que sea diferente cada día para que cada día pueda pensar profundamente en algún aspecto de la vida.

Gracias por visitarnos, espero que les haya gustado!