Hello Splinterlands family
---
Time really goes by so fast. Another week is here with an opportunity for us all. Make sure to use it properly. While talking about that, we have another week of presenting one of our fierce battle in Splinterlands with everybody. This week we have an interesting monster, which I often use and it sure is one of my favorite in splinterlands.
---
---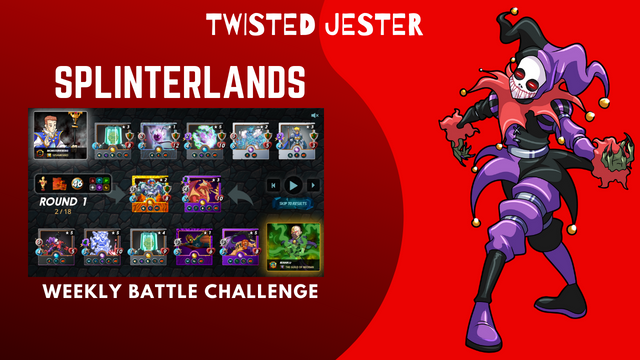 ---
Battle Link
---
This is the battle that has been played using the Twisted Jester.
Match info:
Total Mana: 46
Rulesets : Target Practice, Heavy Hitlers
Splinters available : All of it
---
Twisted Jester
---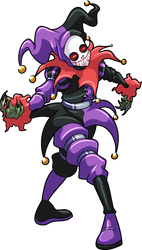 Splinter : DEATH
Rarity : RARE
Edition : Alpha/ Beta
Do not get fooled by the looks of Jester. He can be offensive to any opponents with his power. Viewers discretion is advised! At max level, it has 4 ranged attacks, 4 speed, and 6 lives along with Snipe & Dodge ability. It is a very important card IMO in death splinter. If you know when to use it, this card can be a lethal weapon in matches. Let me share the battle line up with ya'll.
---
---
Delwin Dragonscale
---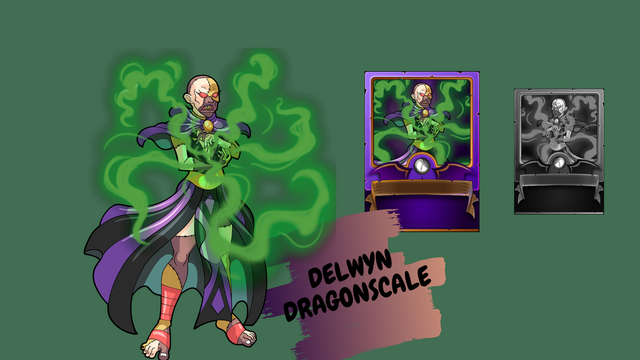 ---
One of the most underprivileged dragon summoner out in Splinterlands. Probably because of its abilities which is not that effective in certain battles. I have it at level 9. I got quite a bunch upon participating in a campaign of Splinterlands in the past. While choosing this was out of the blue and wanted to go with a little bit prepared with magic attack.
---
Red Dragon
---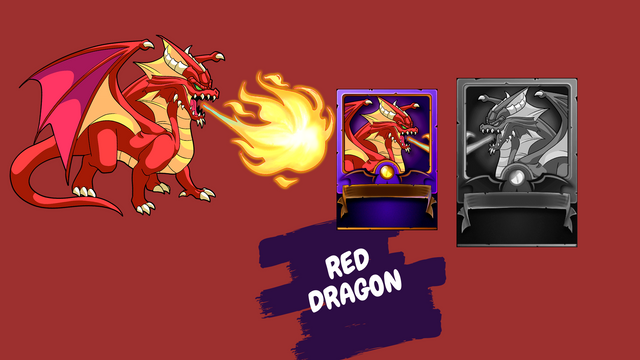 ---
One of my favorite cards. When it comes to magic and melee this is card is a lethal combination of both. Along with its healing ability, this card is a real charm. Since there would be the most attacks coming from an opponent in this place, this was the best option that I can think of.
---
Manticore
---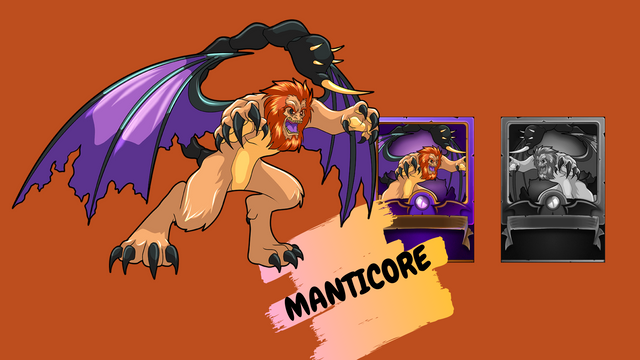 ---
In the second position, the manticore is probably my first choice. Well, why not? With its reach attack this really gives some additional support to the team. And I recently upgraded it to level 5 which also gives an additional perk of +1 melee attack.
---
Dragon Jumper
---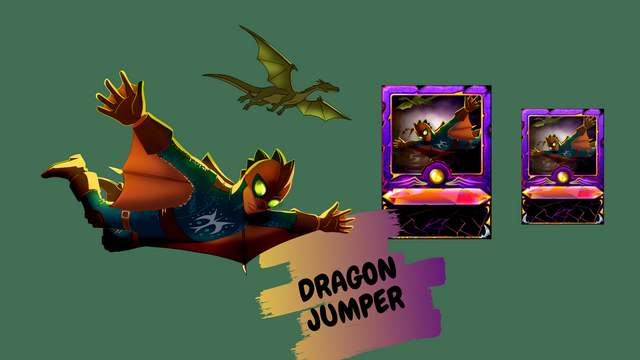 ---
Whenever I am having this sort of long mana game, I usually look out to use leg monsters. And among the choices D.Jumper does comes into the frontlist. Naturally, I like the ability of opportunity too much. And I try to use this monsters very often. And with its +3 damage and knock out ability this helped a lot in the match for myself to win.
---
Lord Ariunthus
---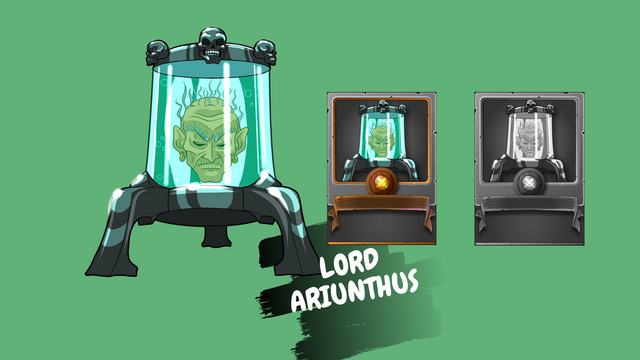 One of the reasons for choosing this position was, it was a perfect place and it could handle in both ways if any damage came from the opponent. And as you can watch the battle, LA was one of the main reason for myself to make a difference in the match. The reflect and the thorn was perfect match to make enough damage to the opponent and make a difference in the match.
---
Phantom Spider
---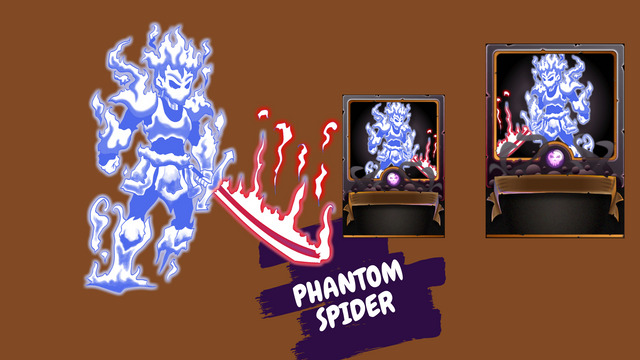 ---
With +4 magic it was a charm to use this monsters in the battle. The silence ability worked efficiently in here. As you can see the opponent prismatic monster was not able to do much of damage because of this silence ability. Besides, always a charm when everything works out in a perfect way.
---
Twisted Jester
---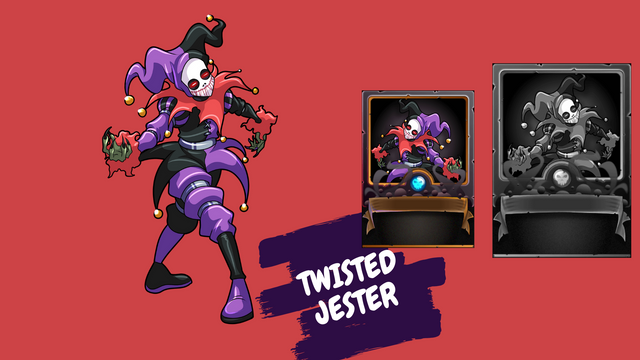 ---
Here comes the main character of today's show. Placing it in the last position was the most efficient way to make it work in this battle. The ability to evade ranged attacks made it a little secure to use it in this position. Plus the +3 ranged attack was the perfect monsters in this battle. I use it in my other account as well. And this was one of that monster which I look upon in my matches.
---
Did your strategy work? What will you try differently next time?
Well, it sure worked in my favor. And I won the match. It was nice to watch a decent match until the victory. Crushing the opponent is a lot of fun that you can think of. While getting crushed by the opponent is really not. I will probably make use of this monster in ranged rule as well.
---
Do you use the TWISTED JESTER often? Why or why not?
I think I have answered it above. And because of its low mana and more benefit from its abilities, it is worth using in different battles. But it also depends on the rule-set of the match.
---
It's always nice to share some of the knowledge that we have with each other. It allows us to grow little more and learn a thing or two from others. Excited to read some of the battles and get to know a little bit more about SL.
---
All the images related to Splinterlands are taken from splinterlands, unless stated otherwise!!!
---

---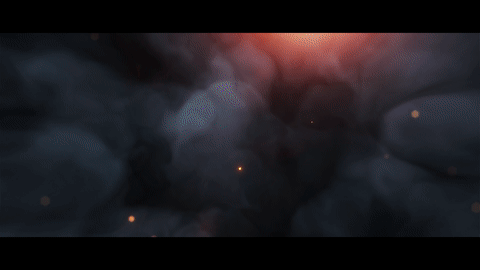 Want to Play in Splinterlands
---
---

---
Be a part of the community, which is not only supporting content creators from Bangladesh but from all across the globe!
---
---
Be a part of my Vlogging journey on DTUBE
---
Watch my Videos on Youtube
---
---
---
Best regards
Rehan
---