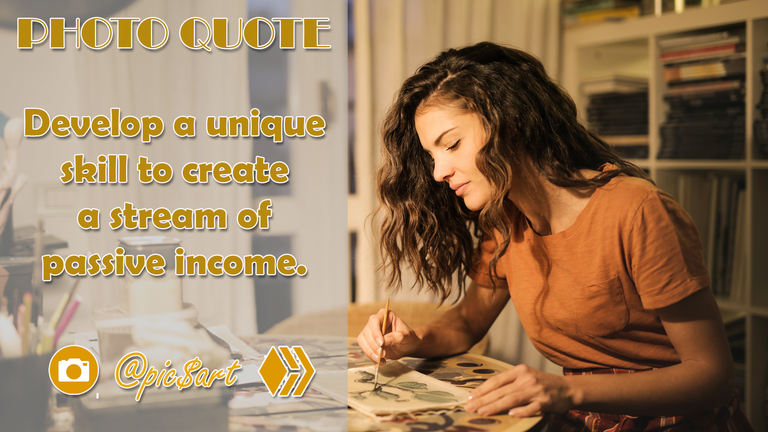 Photo Credit Click Here
"Develop a unique skill to create a stream of passive income."
The sure way to success is to develop and refine a skill that is rare in this generation. If anyone can acquire skill/s that is/are hard to duplicate and need a special talent to master it go for that skill. If the skill has a demand it will help anybody to become successful. Once you find one, you need to master that particular skill that others need to consult you regarding the matter.
Combine your skills with your passion. Something you love doing. Once you enjoy what you are doing, things will definitely shine on you. Everyone will ask for your help. Everyone will be asking for your service. Big companies won't hesitate to pay you a huge amount of money just to get your service. Always bring what you can do best on the table. As you do the extreme, new skills will be developed. It will make you superior to most of the people possessing the same skill.
Don't stop learning new things and developing your skills further. Knowing all the possibilities will help you project what's next for you. You will be able to demand things going to your advantage. You can teach other people, passing your skills to others will help you leverage yourself. That's what we call duplication. You can develop systems that will work for you. Systems that can make your work easier, faster, effective and efficient. Systems that can produce more innovation for you and grow your net worth further.
Now if you become an authority in a certain field you can write a book or make a video and sell it. It will create a passive income for you until the generations to come. Your family won't get hungry because the royalty of your work will rain upon them.
Being rare in this world is definitely an advantage. But you need people to work for you to accomplish different tasks. Don't forget to reward them to make them loyal to you. Be humble in whatever accomplishment you have. Always remember that everything that you have today is definitely from God above. He gave all blessings to men.

DEDICATION
I would like to thank @zord189 for his 50 Hive Power delegation so that I can continue to share with you my works.
I will appreciate if others can give more delegations I can receive so that I can help other newbies here by upvoting their post. Also if you can curate my post. Thanks again.

The Photohiver


You Can Now Join Hive. Click Here