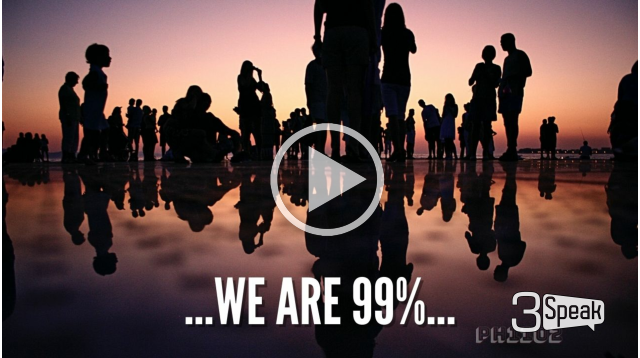 ---
I have recorded this video a couple of days ago, and I have forgotten where did I read the post about 99% of the population... So, I would like to apologize to the author that I didn't mention it here... If you are the author, please let me know in the comment section, I'm sure that I have commented on your post! Anyways, it was a post about the fact that only 1% of the population has wealth as the rest of the 99%...
Those numbers are just insane, and they are a big alarm that something isn't right with our society... We are doing something wrong when we have created such a bit gap between rich and poor... I know that that has already happened in the past, and history is usually repeating... Of course, the easiest thing is to blame someone else for this, but actually, WE are the problem that this is like it is...
How the heck am I the problem that Bezos has billions and billions and getting every day a couple of millions more??? Well, he didn't just print that money... (okay, this sounds like a joke here, but printing IS actually an option that some others use... lol...) Back to Bezos... He earned that money because YOU and ME have bought something from Amazon, and help him accumulate his wealth... We have to feed him, and his greed to have even more money...
It sounds a bit cruel and hard, but we have to admit some things about how they really are and take responsibility... How? Check the video for a simple solution that you and I can take, and show others how to do the same...
And one more thing... I was lured into a discussion about which platform is completely decentralized, and which isn't... As soon as we see that we are playing for the same TEAM (TEAM CRYPTO, team blockchain, team transparency) and unite our efforts, sooner we will see the change...
If you have to PICK A SIDE, pick the one where you have the RIGHT TO SAY what you want...
Thank you for your valuable time,
~ph~
---
Music in video:
Growing Up by Scott Buckley https://soundcloud.com/scottbuckley
Creative Commons — Attribution 3.0 Unported — CC BY 3.0
---
.:. .:. .:. .:. .:. .:. .:. .:. .:. .:. .:. .:. .:. .:. .:. .:. .:. .:. .:. .:. .:. .:. .:. .:. .:.
Don't forget to follow, reblog, and browse my Hivepage to stay connected with all the great stuff!
You can also find me on LEO Finance .:. Twitter .:. LBRY
.:. .:. .:. .:. .:. .:. .:. .:. .:. .:. .:. .:. .:. .:. .:. .:. .:. .:. .:. .:. .:. .:. .:. .:. .:.
---
▶️ 3Speak