It's been a while since I did this kind of tutorial... To be more exact, I have done the last time on the old blockchain in November 2019!!! Thinking about resurrecting this series (keep it in the same #schoolofhive format) as it is always good to remind users (new and old) about some very useful tool that can help them in embracing the Hive and all the great things here!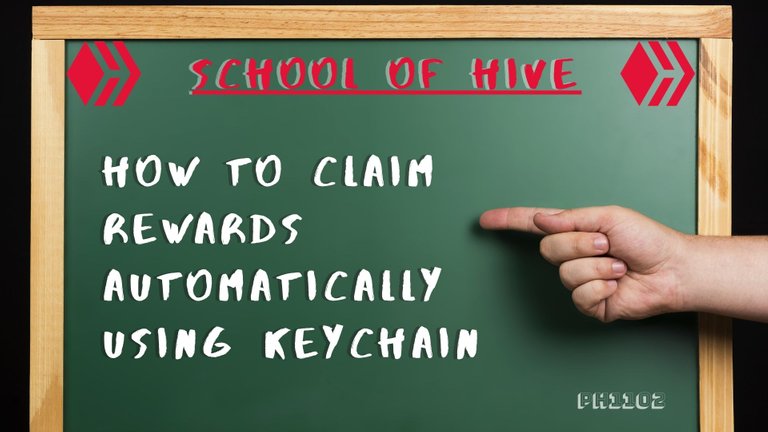 Created in Canva.com
Just a clarification what is it about? On HIVE blockchain, when you write a post, your rewards are accumulating for 7 days, when they become available for CLAIM... If you don't CLAIM your rewards, they aren't transferred to your wallet, nor you get Hive Power from them... Also, whenever you have some rewards on your comments or curation rewards, you receive rewards...
So, after some time, you will notice that you have rewards constantly, and you keep on clicking on that CLAIM REWARDS button...
I have decided to write this short tutorial about claiming Hive rewards automatically... I was doing that manually until 2-3 months ago when someone pointed out this option in the Keychain plugin that most of us are using either way... So, why not spare some time by doing a Hive rewards claim automatically?
-:¦:--:¦:--:¦:--:¦:--:¦:--:¦:--:¦:--:¦:--:¦:--:¦:--:¦:--:¦:-
First, go to the Hive Keychain (plugin, extension, add-on, or however you call it) and click on the three lines in the upper right corner... It will lead you to the main menu...
-:¦:--:¦:--:¦:--:¦:--:¦:--:¦:--:¦:--:¦:--:¦:--:¦:--:¦:--:¦:-
When you are there, scroll down (yes, there are more options under Import/Export) and search for the "Automated Tasks" option... Of course, click on that option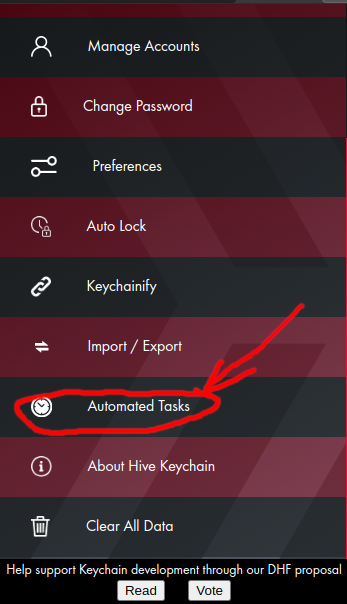 -:¦:--:¦:--:¦:--:¦:--:¦:--:¦:--:¦:--:¦:--:¦:--:¦:--:¦:--:¦:-
...and there you are... As the text says, the first option will automatically claim your HIVE rewards without the need for doing anything... Just check the box in front...
The second option is for claiming free accounts automatically (also a very useful option)... You can claim free accounts if you have over 5-6K staked HivePower... It uses your Resource Credits to create them, but RS refills overtime...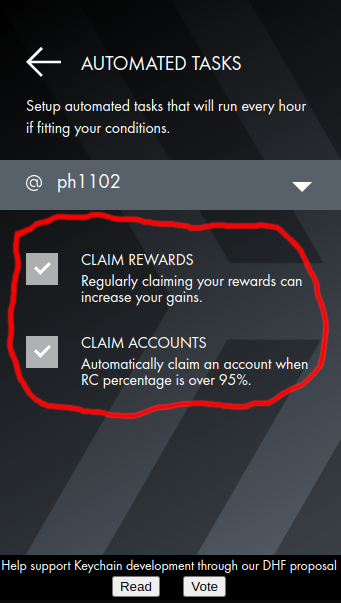 -:¦:--:¦:--:¦:--:¦:--:¦:--:¦:--:¦:--:¦:--:¦:--:¦:--:¦:--:¦:-
I know that there are a lot of these tutorials on the Hive, but there is always a need for having them in front of new users... If you have some doubts about the Hive, how it works, or you would like to see a tutorial about a certain topic, please let me know in the comment section...
Thank you for your valuable time,
~ph~
---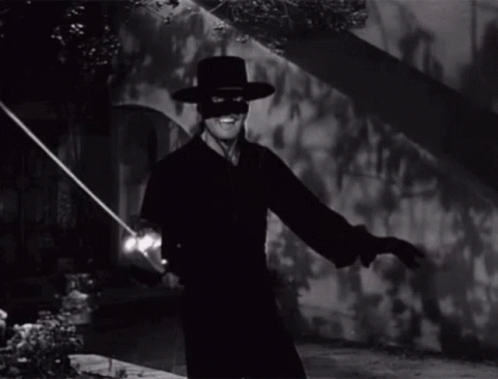 Don't forget to follow, reblog, and browse my Hivepage to stay connected with all the great stuff!
You can also find me on LEO Finance .:. Twitter .:. LBRY